Hai friends Surprise…so soon here is the next episode today. Hope you guys will like it
Episode begins
Kartik's movie has hit the screens and it's a huge success. Girl fans are drooling over him.
Urvashi is sitting with her friend Nisha
Nisha: Urr…did you see the papers today
Urvashi: Whats up
Nisha: Your ex..he is the talk of the town today
Urvashi: About his movie.❓
Nisha: Partly
Urvashi: What does that mean
Nisha brings in the paper
News: THE YOUNGEST TALENT IN THE INDUSTRY…YES MR.KARTIK GOENKA WHOSE MOVIE ISHQ NEVER FADES HIT THE SCREENS LAST WEEK IS THE CURRENT BOLLYWOOD SENSATION. BUT GIRLS HOLD YOUR HEARTS AS IT IS GONNA BREAK…YES..THIS YOUNG TALENT IS MARRIED. THE MOMENT WHERE HE WAS SHARING HIS HAPPINESS OF THE RESPONSE TO HIS MOVIE WITH HIS WIFE IN THE PUBLIC YESTERDAY NIGHT BY SMOOCHING HER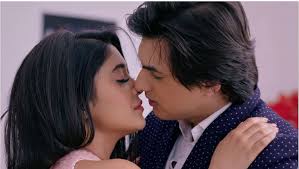 IS MAKING FANS GO CRAZY.
Urvashi throws the paper in anger
Urvashi: Is it necessary for them to write all this stuff..It's been months since Ishaan and Kartik threw me for another girl..when I'm trying to overcome them but these things just irritate me.
Nisha: Ishaan…is waste Urr..but Kartik…he is a gem..I don't think you should leave him
Urvashi: But..
Nisha: You are his first love…no one can easily forget their first love ..so what I say is somehow grab the heroine chance in his next movie..as I heard heroine hunt is going on..if you get that chance then things will start to fall into place.
Urvashi: I think,,I should…do this
She immediately picks up the phone to contact someone the scene freezes
Its Kaira home. Naira is looking at the same news
Naira: Kartik…did you see the news
Kartik comes out wiping his hair with a towel
Kartik: Whats it
Naira shows it
Kartik: So what..let them write..you are my wife and there is nothing wrong here
Naira: But…
Kartik: Naira…
His phone rings . It's Urvashi
Kartik: Why did you call
Urvashi: Kartik..listen to me..I just need the heroine chance in your next movie..I'm sitting idle at home with no chance and penny left..please
Kartik: Acha…ok don't worry the chance will be yours. I know about your talent so I'll definitely recommend you
Urvashi: Thank you so much..this means a lot
As the call disconnects Urvashi to Nisha : You  are right Rey..Kartik still has some thing for me. Don't worry I'll definitely win back my place in the films and my love now
The episode freezes.
PRECAP: NAIRA IS BLACKMAILED.ADI FINALLY PROPOSES ALIYA. URVASHI AND KARTIK's SENSUAL DANCE.
HEY GUYS SO THIS WAS THE EPISODE. NEXT EPISODE WILL BE POSTED TOMORROW.PLEASE DO TELL ME HOW YOU LIKED IT IN THE COMMENTS BELOW.