WHERE IS MY DESTINY? Episode 1
hi Everyone!!. Thank you for everyone who supported me for this FF. I hope you all like it and here is the first episode ☺️.
TANU HOUSE:
tanu dresses beautifully and she calls twinkle..
Tanu: twinkle…come and do my make up…
Twinkle: wait a minute tanu..I will come.
tanu gets irritated as twinkle just calls her name without calling her as mother…
Tanu shouts: how much times do I tell you to call me as mum?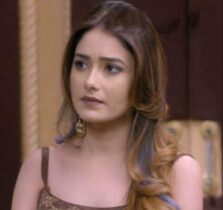 twinkle: first you behave like mother then I will call you as mum alright? Till now I have never seen a motherhood from you..I really have a doubt whether you are my mother or not??.you only make me to do your make up other than that you always chase me out….
tanu becomes furious…
Tanu POV: why should I be mother to pragya's daughter??.I am just tolerating this pragya's daughter to avenge pragya otherwise why would I bring this someone's daughter and call her as my daughter??….once my wish is fulfilled I will chase this girl out…
thinking this tanu smirks and sits for her make up and twinkle does her make up and finally she finishes the make up and twinkle goes away…. while tanu opens her eyes and sees her make up in the glass and gets shocked….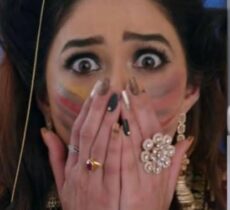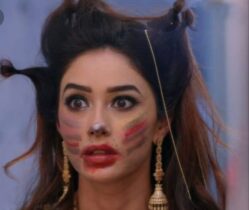 before tanu catches her twinkle takes her college bags and runs out of the house while tanu screams…
Tanu shouts: kiaraaaaaaa…I won't spare you today…
THE SCREEN FREEZES ON TANU UGLY FACE..
while twinkle is seen walking on the road..
Twinkle POV: till tanu behaves like mother I will torture her like this only..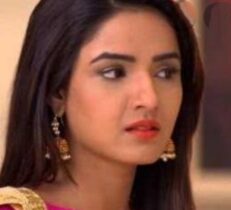 while twinkle is walking towards her college thinking about tanu, suddenly kunj sees her and thinks to flirt with her and he comes near her with his bike and starts to round her with his bike….
Kunj: hey beautiful lady.. come and sit in my bike or else some handsome guy will kidnap you seeing your beauty…so I will drop you safely…..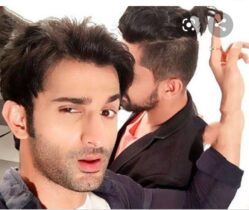 twinkle gets angry..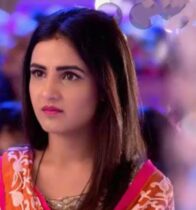 twinkle: ohh really? What matters to you if iam kidnapped by handsome guys?
Kunj: oye!! I thought to help you but instead you are talking too much.wait and watch now what I'll do…
Twinkle smirks and says: you are talking as if your going to help me from giant dinosaur… and don't think yourself as a hero then I will make you zero….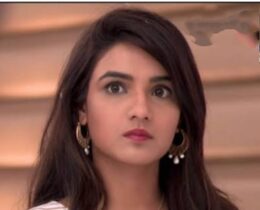 kunj gets angry and he gets down from his bike and comes close to twinkle which shocks twinkle…
Twinkle: hey what are you doing?
Kunj: iam repaying your attitude…
Twinkle: attitude?
Kunj: yes…when you can show your attitude then I can also show my attitude…
telling this he comes close to twinkle and holds her face and tries to flirt but twinkle pushes him away…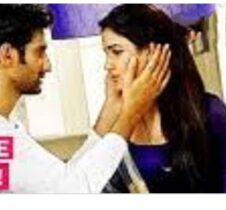 twinkle shouts: how dare you??you are so cheap man I have ever seen.. wait now I will teach you a nice lesson..
kunj laughs…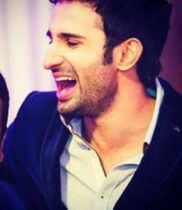 kunj: you are going to teach me a lesson huh?? You are doing a first class joke miss. Attitude…
twinkle gets angry and phones someone and asks that person to come and ends the call…
Kunj: who did you call?? Did you call your boyfriend or ex lover??
Twinkle shouts: shut up!!I called my bff and he will put you behind the bars now…. wait and watch….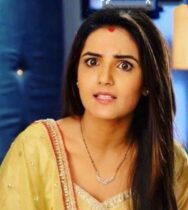 kunj: ohh..your bff can put me behind bars??let's see..
some voice comes behind…
Voice: yes her bff can put you behind bars because he is police..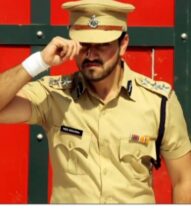 kunj is shocked to see a police while twinkle smiles seeing yuvraj….yuvraj comes near kunj and shouts…
Yuvraj: I have rights to arrest you now atself…shall I do it?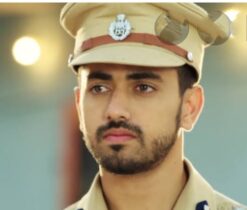 kunj gets scared…
Kunj: I..I just played and I ..I dint do intentionally…and iam sorry for that also…so please don't arrest me..
Yuvraj: ok fine.this is the last warning I give you understand?. Twinkle is my bff and if she phones me once then I will come within 5 minutes so be aware of that..if she complains me again then no one will save you from me understood?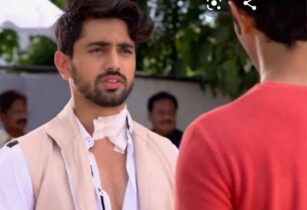 kunj (in scared voice): yes sir…sorry sir…
telling this kunj goes away while yuvraj smiles seeing twinkle…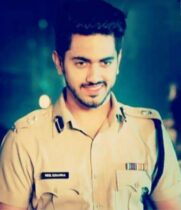 yuvraj: you are fine right?
Twinkle: iam fine but iam jealous…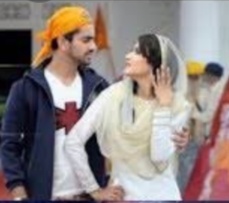 yuvraj makes a face and..
Yuvraj: of whom?
Twinkle: of your FG…
Yuvraj: FG?? I have heared gf but I have never heared about FG and what is meant by that?
Twinkle: it's future girlfriend…
Yuvraj: ohh..why are you jealous of her..do you love me?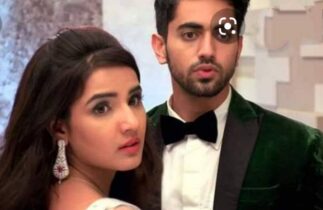 twikle: no..but your FG have no worries about these types of frauds and goons like that monkey who flirted me because you will always protect her as your police….
Yuvraj:ohh…but don't shout him too much then you will become his gf one day…
telling this yuvraj laughs while twinkle gets angry and starts beating yuvraj and both enjoy their time by teasing and playing with each other…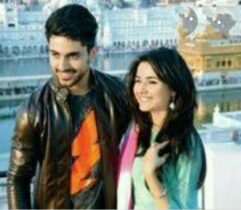 THE SCENE FREEZES ON THEIR HAPPY FACES..
mehra mansion:
in Mehra mansion abhi and purab had went to office while Aryan and prachi are busy in chatting with each other and suddenly they hear door knock…
Prachi: Aryan you wait here and I will go and see who it is…
Aryan: ok..
prachi goes and opens the door and sees ranbir and sahana standing there and she welcomes them in…
Prachi: hi guys… today you came so early..is there any special today?
Sahana: yes…
while Aryan too comes down and sees ranbir and sahana standing…
Prachi: what's special today?
Ranbir: today our college friend hina have organised party so she invited us to the party and that's why we came to pick you guys…
aryan and prachi gets excited…
Aryan: wow..party..it will be really fun…
Prachi: yes…
aryan sees sahana in one eye and starts teasing her..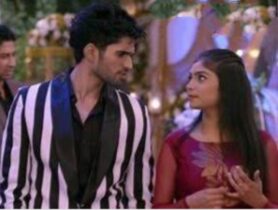 aryan: guys..if we take chatterbox with us then the party will be ruined right?
sahana understands that Aryan is teasing her and she gets angry and she sees chilly powder in kitchen and goes to take that…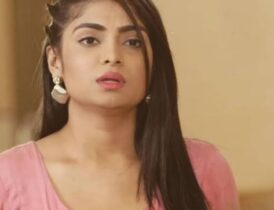 aryan: I think someone got angry and escaping…
suddenly sahana throws chilly powder on his face which shocks ranbir and prachi too…and Aryan shouts…
Aryan: aaahhhhhhoooooohhhheeeehhhh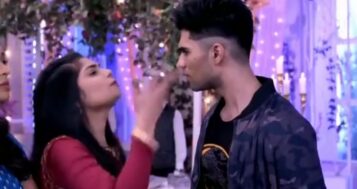 Sahana : how is my way of stopping your teasing Aryan? Do you like this method or do you want any other method??
aryan gets angry and he goes and wipes his face and comes angrily…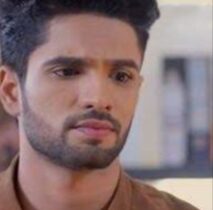 aryan : miss.chatterbox do you know how I used to repay their debts?
Sahana (in confused way): what debts?
Aryan: still you dint understand?
Sahana: no…
Aryan: then you will know it now..
telling this he lifts sahana and runs near swimming pool and sahana shouts…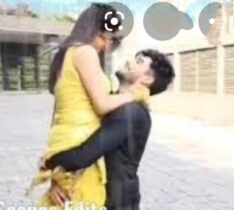 sahana: aryaan..leave me down…please….
Aryan: I will leave you now…but don't shout because my ears are crying hearing your scream…
telling that Aryan throws sahana in pool and laughs…
Aryan: this is called repaying debt. You paid debt with chilli powder and I relayed it with swimming pool…
sahana gets furious and chases Aryan while ranbir and prachi stop their Tom and Jerry fight and take them to party…
and four of them finally reaches their party…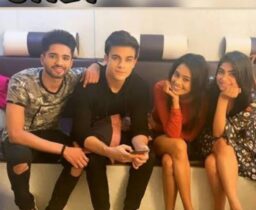 sahana POV: I won't leave this aryan today..see what I'll do now..
in the party they announce dance party and Everyone starts to dance while sahana plans to spoil aryan's party…
Sahana POV: I will spoil this Aryan's party now see…but iam so thirsty now what should I do now?
she searches for water and finally she sees it in a table with many glass of wine and she misunderstands it as water and she drinks three to four cups fully….
Sahana makes a face and says: why this water smelling bad? And suddenly how water changed into different taste??
suddenly sahana starts feeling the effect of baang and she starts dancing herself in middle of the party and she screams too and Aryan notices this and gets shocked…
Aryan POV: what happened to sahana? Why is she behaving differently??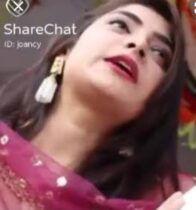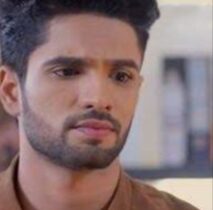 suddenly sahana goes and tries to hug some other man in the effect of baang but before she hugs …aryan comes in front of her so sahana hugs aryan…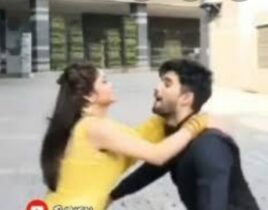 sahana: I want to dance with you….please dance with me…
Aryan PIV: sahana doesn't like dance then what happened to her now?
sahana hugs Aryan tightly and she makes herself Aryan romance her which shocks Aryan…
Aryan PIV: I should find what happened to her suddenly and how will I move from her now?
Sahana: won't you dance with me buddy?
aryan gets shocked but without hesitation he reciprocates her dance as he can't refuse in the party… so he starts dancing with her romanticly…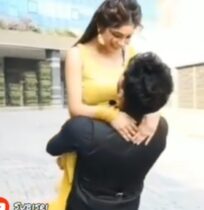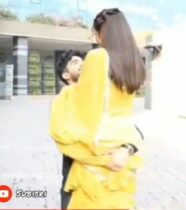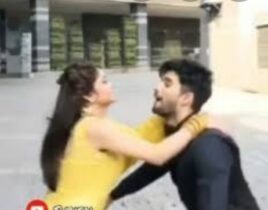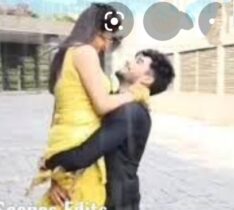 aryan gets mesmerized seeing her beauty…and suddenly sahana feels dizzy and falls on Aryans arm..
Someone takes video of Aryan and sahana intimate scenes…
Episode end.
precap: Aryan and sahana sleep on same bed and someone captures it. Kunj makes twinkle get punished from college. Pragya gets heart attack