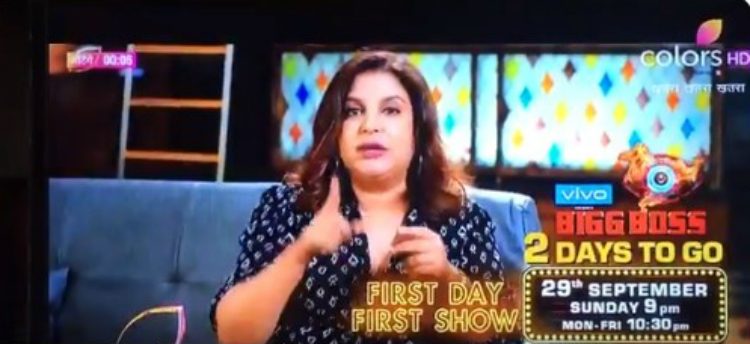 Watch and GUESS!! the Third contestant of Bigg Boss 13

Warning: A non-numeric value encountered in /home/ftpusers/tellyu/public_html/wp-content/themes/publisher/includes/func-review-rating.php on line 212

Warning: A non-numeric value encountered in /home/ftpusers/tellyu/public_html/wp-content/themes/publisher/includes/func-review-rating.php on line 213

The news of Colors' Bigg Boss 13 is buzzing everywhere and is spiking the interests of the viewers already. With two of the contestants already revealed in promos, them makers have shown us the third one too. We already know that Siddharth Shukla and Devoleena Bhattacharjee will be seen on the show.
In the latest promo, director Farah Khan and singer Neha Kakkar are seen talking about the third confirmed contestant of the hose of Bigg Boss 13. While Khan tells that this man is irritating and wily, Kakkar calls the contestant 'king of words'. Now, many are making their guesses as to who is this contestant.
Many of them opine that it is Wajid Khan, one-half of the music composer duo, Sajid-Wajid. However, there is a small chunk of people who feel it is Abu Malik, brother of music composer, Anu Malik. Want to guess? Well, here is the promo for you to see:
New promo: Farah Khan and Neha Kakar introduces a male contestant. Any idea who he is? #BiggBoss13 pic.twitter.com/NQDBMPYGYI

— The Khabri (@TheKhbri) September 27, 2019
The show will premier from September 29 and will have Salman Khan as the host.

Warning: A non-numeric value encountered in /home/ftpusers/tellyu/public_html/wp-content/themes/publisher/includes/func-review-rating.php on line 212

Warning: A non-numeric value encountered in /home/ftpusers/tellyu/public_html/wp-content/themes/publisher/includes/func-review-rating.php on line 213