Krishna took Pratigya to hospital.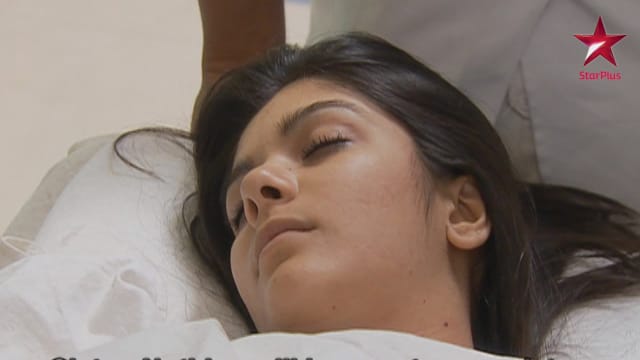 Doctor : She hasn't eaten anything and her body became weak, Let her take rest now. After the drips of glucose get over you can take her to home.
Krishna : Thank you Doctor.
Pratigya : Why you saved me ?
Krishna : That car was going to hit you as you was standing in middle of road .
Pratigya : Let it hit me and I should die. There is no use of living like these.
Krishna : Don't get upset . Every one has their own problems , please be bold. Don't get panic.
Pratigya : Why are you not looking at my face while speaking ?
Krishna : You fainted because of me only , if I look some one keenly or I stare some one anything can happen to that person.
Pratigya : What ?
Pratigya laughs when she heard this.
Krishna : You may not believe this, like you so many people doesn't believes it initially but later they themselves experienced it. Any ways I am happy that you laughed .
Pratigya : I want to see those captive eyes which put laughter on my eyes , please look at my face , my eyes .
Krishna slowly raised his face and looked Pratigya's smiling face and eyes.
Hey….hey….plays 
They both share an eyelock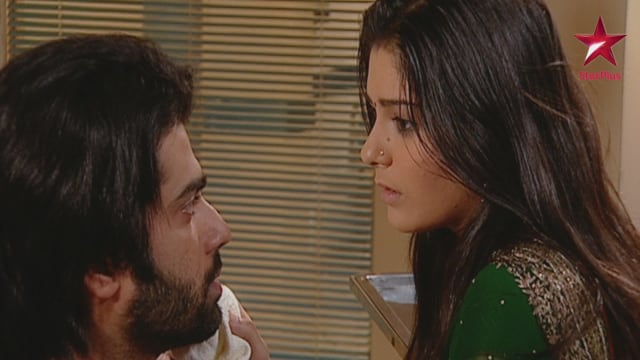 [Naan Pizhai Nee Mazhalai
Enakkul Nee Irundhaal
Adhu Thavarey Illai
I am imperfect and you are like a baby
If you are in my soul 
It's not a mistake 
Adi Azhaga Siricha Mugame
Naa Nenacha Thonum Idame
Adi Azhaga Siricha Mugame
How beautiful you and your smiling face are 
I thought you as a feeling at my heart 
How beautiful you and your smiling face are 
Nenacha Thonum Idame
Naan Pirandha Dhiname
Kedacha Varamae Oh…… Oh….
I thought you as a feeling at my heart 
I got you as a boon at the day when I was  born….Oh..oh….] plays
Krishna : I am Krishna
Pratigya : And I am Pratigya , see I am perfectly alright . Nothing happened to me when you looked at me for some time. That may be your illusion only.
Krishna thought : How can it be possible ? I looked Sitara's eyes also keenly , but nothing happened to her. Why ?
Pratigya :Krishna can you please drop me at my home ?
Krishna : Yeah sure .
Krishna dropped Pratigya at her home . There he met Pratigya's little sister Pari .
Pratigya ; She is Pari my little sister. Actually she is an autistic person. My parents passed away at an accident few years back. After that I was everything to Antara. Keep this card with you.
Krishna looked card with a surprise
Krishna : Why you are giving your profile to me ?
Pratigya : Actually this is a profile which was given in matrimonial site . I got some proposals too but thing is no one is capable of understanding that Antara is my world. I just put a condition that after marriage the bride groom had to look after Pari also . She will live with me and my husband. But none of the families accepted this. Finally a guy came , he was genuine and I blindly trusted him. He used to take care off Pari also. But thing is one day he demanded huge amount of money and I was unable to give that one to him. He said " Am I mad to bear the unwanted stuff of your home freely ? For looking you and your sister I need money and it's your duty to offer me money ." I made an arrangement of some money for that person even after he insulted my sister . That because I loved him and I was unable to say anything to him. But one day I saw him beating my sister with a stick cruelly and that day my anger went to peak level and I shouted much. He said that my sister is insane  and she has to be send to any mental assylum . I shouted a lot and our argument crossed all barriers and he broke up with me saying that he can't marry me , he can't look my sister. I was madly in love with him and I ran behind him without thinking anything .At the public road he slapped me and said that he never loved me . His focus was on money only, he was trying to snatch my home at his name after getting married with me. He said that he will send me and my sister some where once I agreed for this marriage. I realized that his eyes were on my property only and I myself broke up with that man . For some reason I used to love that cruel guy and that's why I was depressed and I was shattered.
Pratigya burst into tears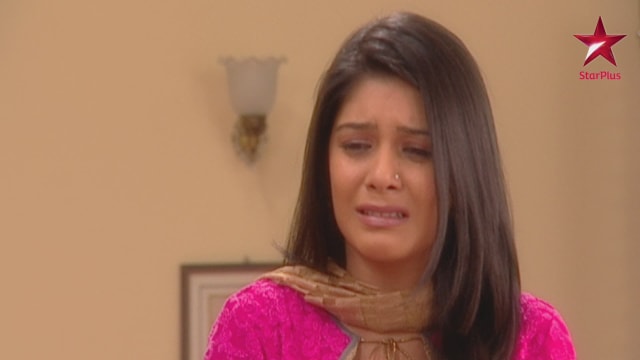 Krishna : Pratigya please calm down.
Seeing Pratigya in tears Pari came forward and asked : Didi kyun ro rahi hein ?
Krishna ; Nothing beta, di aapke liye chocolate nahi le paayi . Mein leke aaya hun naa. Lo
Krishna gives chocolate to Pari ……Pari gives half of the chocolate to Pratigya and hugged her
Pari : Didi , I need only half of the chocolate , baaki aap khaa lo.
Krishna : Pratigya how can you be depressed when you have these special sister's care and love towards you ? Please wipe your tears .
Pratigya wiped her tears and kissed at Pari's forehead.
Krishna : Bye, I need to leave.
Pratigya : Krishna please have coffee
Krishna : Phir kabhi awunga , bye
Pari : Didi yeh kaun hein ?
Krishna ; Beta mein Chocolate Bhai hoon. Mein jab bhi awunga aap ke liye chocolate le awunga
Pari : Sacchi
Krishna : Mucchi
They both share a hifi and Krishna leaves , Pratigya smiles
Next day at Night 9 pm
Krishna gets a phone call from his Buwa.
Kesar : Beta Krishna right from childhood you are staying at Mumbai . You hardly visited your home three or four times only.Your schooling, college, job everything was there . Beta how long you will stay there ? When you will come back , when you will see your Maa ?
Krishna : Buwa aapko pata hein naa mein kyun mana kar raha hun . Buwa if I will look my Maa I fear anything can happen to her. Villagers are still believing the curse only. See you and your husband are separated because of this curse. He dropped you when Paapa passed away and never came back to took you at to his home. Buwa you have been living a separate life from your husband for years. And Yashwant chaachu, he wasn't able to marry the girl whom he loved. Because that girl's parents said that their daughter will become widow if she will marry Chaachu. All these bad happenings are because of my birth only.
Kesar : So you will never come back ? You don't want to see your Maa ? How long we talk like these through video call ?
Krishna : Buwa I will come that day when I feel no one is affected due to my eye sight . Bye buwa,I have work.
Kesar : Bye beta.
Krishna cuts the call and he sees Sitara and Rocky arriving at the pub.
Krishna : Hi
Rocky : Who needs your Hi man ? You idiot do your duty only , Come baby .
Sitara simply pretended a smile and get into the pub with Rocky. Rocky started doing disco dance with lots of girls. He forced Sitara also to join with him.
Sitara : Rocky please , I can't
Rocky forcefully grabbed her hand and placed his hand on her hip. Sitara was feeling uncomfortable.
Rocky ; I said dance with me. I can touch anywhere at your body.
Sitara : Rocky please don't do it. Don't touch me like these it's paining.
Rocky again forcefully grabbed her, Krishna came inside and kept his hand on Rocky's shoulder.
Rocky ; What ?
Krishna punched on Rocky's nose and he fell down with a scream.
Sitara : Oh my god!!
Krishna : God has given hand to give punches to these type of guys who misbehaves with girls. Why you didn't slapped him ?
Sitara : He is my fiancee
Krishna : So what ? None of the boy has right to do this. Gave him a tight slap, I said slap him.
Sitara slapped at Rocky's cheek.
Rocky : You slapped me infront of this guard , Sitara !!!
Sitara : There is a limit for bearing your tortures, Rocky. I hate you , keep this ring with you. I don't need this any more.
Sitara removed the ring and throw it before Rocky .
Krishna and others clapped , Sitara smiled.
Sitara : You just made me free, Mr.
Krishna : Krishna , that's my name
Sitara : So sweet .
They both shook hands together and share an eyelock
[Amsama Azhaga… Oru Ponna Paathen
Paatha Odanae… Puncture Aanen, Aamampa
Amsama Azhaga… Oru Ponna Paathen
Paatha Odanae… Puncture Aanen, Aamampa
I have seen a goregous and beautiful girl
The moment I saw her my heart got a puncture 
I have seen a goregous and beautiful girl
The moment I saw her my heart got a puncture
Adhu Kannaa Illa… Current-Ah, Confusion
Ava Azhaga Pathi Paada, Illa Education
En Manasu Ini Unakku, Oru Play Station
Nee Irukkum Idam Enakku, Oru Hill Station
Good Vibration… Orey Sensation
Nee Venumunnu… Panna Poren Meditation
Are they eyes or current ? It's a confusion
I have no education to describe her beauty in words
My heart is for you , it's a play station for you
The place where you are is like a hill station for me
I gets a good vibration when I see you, it's like a sensation
I am going to do meditation for gaining you] plays
Krishna and Sitara started getting closer. Now it was a habit that every nights Sitara used to come at the pub and Kritara started spending time together .At the occasion of Sitara's birthday Krishna took her to a restaurant and he fed her a piece of cake . Sitara was much happy with this gesture
Sitara ; Krishna cake was so delicious , I loved it. You know what only because of my dad' s promise Rocky forcefully put the engagement ring .Actually my dad and his dad were friends and they promised that their children will live together. Only because of that I was bearing him. But now as I and he got a break up and I have moved on I have decided to tell an important thing to my dad .
Krishna : What's that ?
Sitara : Before telling to dad I should tell that to you who is really important for me.
Krishna : Sitara I am not getting it. Please tell me clearly.
Sitara : The guard who stole my heart , I am in love with you . I love you Krishna .
Krishna gets a phone call and in excitement he was looking Sitara only
Sitara : Your phone is ringing, pick it man.
Krishna picks the call.
Pari : Chocolate bhai why you didn't came last week ? Didi wants to tell you something .
Krishna : Yeah tell me Pari
Pratigya : Hi Krishna
Krishna : Hi
Pratigya : After thinking much I have took a decision. Better than you no one can look me and my sister so well. First I was not sure about my feelings but now I have decided it and I am very clear. Krishna , I…I really love you a lot.
Pratigya shyly cuts the call. He looks Sitara and also recalls the way Pratigya and Sitara told their love to him.