hello friends..🙂. Iam sorry for not replying comments on previous part as i was busy in project work. And thank you everyone for supporting this FF.. this FF will end on next part that is part 5 so kindly everyone support..🙂.
Ashi was walking on corridor and suddenly dadi pulls her inside her room and..
Ashi:dadi..what are you doing?
Dadi:i want to discuss an important matter with you.
Ashi:with me?
Dadi:yes..
Ashi: what's it dadi?
Dadi:iam going to tell this matter as your own grandma..so don't take it in wrong way okay?
Ashi:why will i take it in wrong way dadi? I consider you as my own grandma..so you can tell me whatever you feel.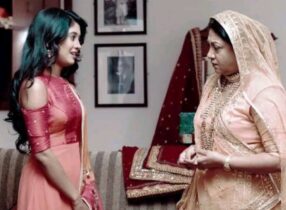 Dadi smiles and..
Dadi:i know your lover Abir have cheated you. But how long will you be living alone? one day every girls have to go to their sasural..so you should also marry a person. Now your age is as same as naira..and if you deny your marriage then the society will speak ill about you. So think about it..
Ashi gets shocked and stumbles..
Ashi in mind:i think dadi wants to search for an alliance as my age is getting high. But still iam not able to move on..so i need some time.
Dadi:you don't get scared. You can take a day to decide and tell your opinion..and this will be always your maayka even if you get married.
Ashi palely smiles and..
Ashi:thank you for considering me as your family member dadi. And i know you care for me so i will think and tell about my opinion soon..
Dadi smiles and caresses her face..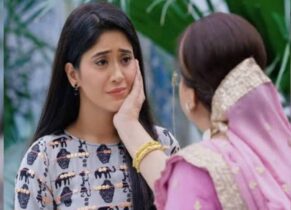 Dadi:sure beta. You can tell me after you decide..
Ashi:sure dadi..
They part ways..
At Evening:
Ashi meets her two best friends kripa and Elsa..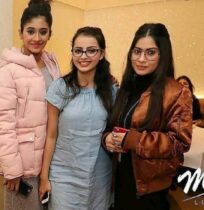 Ashi:hi..
Kripa:hi..how are you ashi?
Ashi:iam fine..how are you both?
Elsa: we are same as before..
Kripa :yes..
Elsa:ok..tell me why did you call us suddenly?
Ashi:i told you everything about whatever happened till now right?
Kripa:yes..
Ashi:now my dadi asked me to get married as my age is getting high but she dint force me. And she asked me to tell my opinion tomorrow..
Elsa:so what's your idea about it?
Ashi: don't know.. that's why i called you both. My heart is still loving Abir though iam trying to hate him..i don't know why. Now what will i do?
Kripa:then tell your dadi that still you haven't moved on completely so you need some months or a year. Then you try to forget him in those time..
Elsa:yes..kripa is right.
Ashi thinks..
Ashi:but i feel that if i deny dadi then she will get hurt though she will agree for my sake. She have accepted me as her own family member but if i…
Elsa gets angry..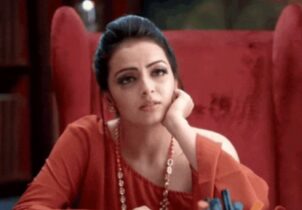 Elsa:are you stupid? If you feel like that then go and accept her instead of asking us.
Kripa:yes. Ashi this is your life so you should decide.. you should not sacrifice yourself for other's happiness. If you do so… then you will suffer later because you have failed to choose your path of happiness. So kindly obey your heart..
Ashi thinks for some time and..
Ashi:now i understood. You both are right..i will choose whatever my heart says. Now i will tell dadi that i dint move on still so i need more time..
Kripa and Elsa smiles..
Kripa:good..
Elsa:now..your problem got settled so let's enjoy for sometime.
Kripa:yes..
Ashi agrees and they have fun for sometime and they take photos..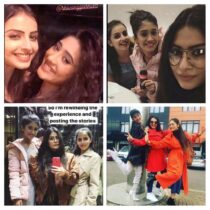 Later they bid goodbye to each other and part ways..
The next day Ashi informs her decision and dadi agrees to her and goes while ashi feels happy..
Ashi in mind:thank god..dadi agreed but i hope she doesn't feel bad.
Some weeks later:
Naira gets ready beautifully for her baby shower while kartik comes and back hugs her..

Naira:kartik..what are you doing?
Kartik caresses her face and..
Kartik:i came to compliment my wife. You know how you look?
Naira:i look very fatty..
Kartik:no..you are in such a way that even princess of the fairyland should come and beg for your beauty.
Naira smiles..
Naira: really?
Kartik:yes..infact you look more beautiful in your pregnancy than in normal time. I have fallen for you more deeply nowadays..
Naira suddenly changes her face and..
Naira:then why dint you do hayee today if your compliments are true?
Kartik:ohh noo… don't become angry. Actually i thought to compliment in different style..
Naira: you always compliment only with hayee as you love me more but you are complimenting differently as i look fat and ugly..am i right?
Kartik in mind:i think her mood swing started..now i should escape before she beats me.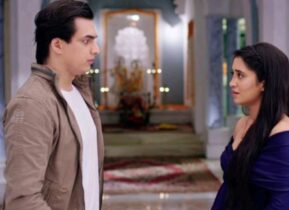 Kartik:naira..listen..i love you as same like before.
Naira takes a stick and chases him angrily..
Naira:then why dint you do hayee?
Kartik: because i thought to compliment in different way..
Naira:that is because you don't love me now as i look fat..you idiot.
Naira catches him and beats him while ashi suddenly enters and gets shocked..
Ashi:ohh my godd..what is happening here?
Kartik and naira stand silently and looks each other embarrassed..
Naira: actually..we..
Kartik:we..were..
Ashi laughs..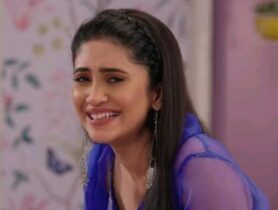 Ashi:i know about you two. You were fighting for a silly thing..am i right?
Kartik and naira:yes..
Ashi:fine. You can fight later on but now iam going to suprise naira..
Naira:suprise?
Kartik:ashi..this is not fair. I considered you as my sister but you are giving suprise only to naira..
Ashi smiles..
Ashi:jeeju..you consider as my sister and i consider you as my jeeju as well as my brother. But you are my 2nd brother because i and naira have own brother first..
Kartik:what? You have brother?
Ashi:yes..they are the suprise for naira.
Ashi brings Keerthi and naksh who was standing outside the room..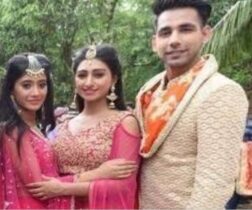 Naira gets suprised seeing them and she hugs naksh happily and emotionally..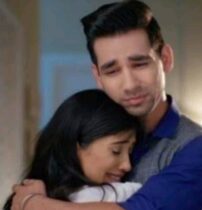 Naira:bhai.. when did you come from London? We were in contact with each other but you never told about your return.
Naksh:iam sorry.. Ashi told me that you have baby shower today so i thought to suprise you by coming secretly.
Naira:so ashi told you about my baby shower?
Naksh:yes.. actually she tells me everything whatever happens here.
Naira:ohh..so she is the messenger for you?
Naksh: ofcourse..you don't tell anything as i think you are busy with kartik. But ashi is free so she tells me everything. She even told me about her Abir..
Naira gets sad..
Naira:yes..i feel bad for her.
Naksh: when ashi told me about it..i felt like stabbing that stupid Abir for cheating.
Naira: yes.. even kartik too got angry but ashi stopped him.
Naira talks more with naksh and Keerthi while ashi talks with Kartik..
Ashi:jeeju..he is naksh bhai and she is Keerthi bhabhi. We are not related with blood but we are neighbours from my childhood so i and naira consider naksh bhai as our own brother. We all grown together though we are neighbours..
Kartik gets suprised..
Kartik:then why dint you and naira invite them for my and naira's marriage?
Ashi: actually naksh bhai and Keerthi bhabhi went to abroad..that's why.
Then ashi and naira finishes their talk and later Ashi and naira introduces kartik to naksh and both of them hug..
Naksh:what shall i call you?
Kartik:just kartik is enough..
Naksh jokes:ok..kartik. you should take care of my naira well orelse i will beat you black and blue.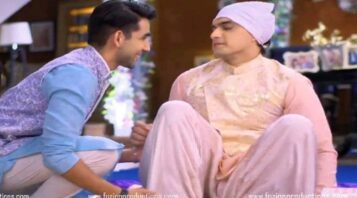 Kartik laughs..
Kartik: don't worry.. no complains will come about me.
Ashi:ok..lets take naira up..
Naira:up?
Kartik:yes..your baby shower is happening on terrace. There will be a big suprise for you..
Naira:ohh…that's sweet. Come lets go..
Then everyone takes naira to terrace and naira gets suprised seeing the beautiful decoration along with swing in between..
Naira:who did this kartik?
Kartik:who will do it when your husband is already here?
Naira: really? How did you got such talented brain suddenly?
Kartik stares naira while everyone laughs..
Kartik:nice joke miss.goenka. now come and sit on this swing my highness..
Naira smiles and sits on the swing while suwarna brings sweet and gives it to kartik..
Suwarna:kartik..feed the sweets to naira.
Dadi:yes..my grandmother used to tell that if husband's feed sweets to wife during pregnancy then their wish comes true..
Kartik:really? Then iam going get daughter for sure..
Naira:excuse me..dadi dint tell that only husband's wish comes true so even my wish can come true. So iam going to get son for sure..
Kartik:no..
Dadi:both of them shut up. Atleast stop fighting in this good day..i bless you both of their wish comes true by lord giving you both twins.
Kartik:you are right dadi..then bless my dear wifey to get twins.
Dadi blesses naira along with giving fruits to her as a ritual..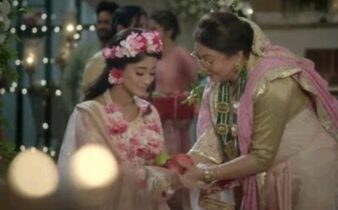 Dadi: blessing by giving fruits brings peace in a family. ok..kartik feed the sweets now.
Kartik:ok..
Kartik feeds the sweets while naira smiles and everyone clicks their photo..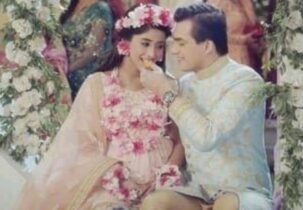 Ashi:why don't we dance to make this day memorable?
Suwarna:yes..ashi is right.
Manish:yes..even i have arranged for a music to play. Common let's dance..
Dadi:but naira..you should dance carefully okay?
Kartik: don't worry dadi…when kartik is here there shall be no worries for naira's safety.
Everyone smiles and the song plays and everyone starts dancing..
Ho..o..o..
Haan koyi chori chori
Meri sapno mein aaye
Haan yeh dil Anjaani
Dori se bandha jaaye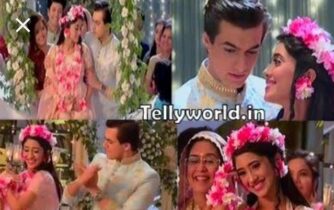 Vishwaas ka hai gath bandhan
Janmon ka yeh paavan Bandhan
Ek pal mein kaise jud jaata hai
Yeh rishta kya kehlata hai
Ho..o..o..
Yeh rishta kya kehlata hai
Manish and suwarna too dances romantically..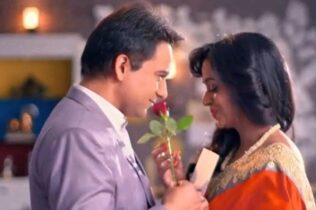 Haan aisi rasmon kasmon pe
Dil balhaari jaaye
Ho apne ho jaate hai
Jo kal tak the paaraye
Ashi too dances happily..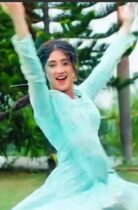 Armaanon ke aangan mein
Jazbaat ka hai sangam
Yeh toh do aangan mehkaata hai
Naksh and Keerthi too dances along with everyone..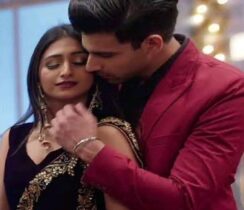 Yeh rishta kya kehlata hai
Ho..o..o..
Yeh rishta kya kehlata hai
Yeh rishta kya kehlata hai
PARALLEL SCENE:
Abir is sitting in the mandap as a groom waiting for the bride..
Pandit: miss. Meenakshi please ask the bride to come fast as mahurat time is ending..
Meenakshi:sure Panditji..Ashaji please bring prerna soon.
Asha:ok..i don't know what she is doing till now. I will go and get her here..
Asha goes to prerna's room and she brings her down while Abir sees her and imagines ashi in her place and smiles..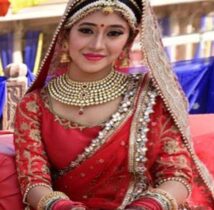 Then asha makes prerna stand near Abir which makes Abir comes out from his imagination and gets sad..
Abir in mind:why did you do this Ashi? Still i love you but you have betrayed me..
Prerna looks Abir and gets sad..
Prerna in mind:why did you betrayed me anurag? If you haven't loved me then why did you proposed me?..
Abir in mind:i agreed for this marriage only for my parents sake as i can't hurt them because of my love failure.
Prerna in mind:i agreed for this marriage only for my parents sake as i can't hurt them because of my love failure.
Meenakshi:ok..now let's start the marriage. Abir and prerna exchange the garlands..
Abir and prerna looks each other without any interest and they exchange garlands..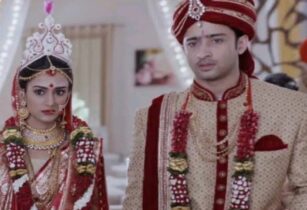 Everyone claps their hands and suddenly a voice comes from behind..
Voice:stop the marriage..
Everyone gets shocked and they turn and see a guy and his mother while prerna gets shocked..
Prerna shockingly:anurag?

Everyone stares her while anurag and his mother Mohini cries..
Mohini:we are sorry prerna beta..
Anurag:yes.. please forgive me prerna.
Everyone looks on shocked while prerna goes near anurag and slaps him..


Prerna:how dare you anurag to come and spoil my marriage? You betrayed me right then why are you here again?
Anurag cries:iam sorry..i never did it wantedly. Now i realised my Mistake.. please forgive me.
Prerna:how can i forgive you anurag? We both were in love deeply and one day you never came to meet me and so i came to your house but what did you do?
FB IS SHOWN:
prerna goes to anurag's house and rings their bell..
Prerna in mind:why dint anurag dint come to meet me? I will surely ask him..
Mohini opens the door..
Mohini:who are you?
Prerna:aunty..iam anurag's girlfriend prerna. Dint anurag inform you?
Mohini gets shocked..
Mohini:what nonsense? Anurag's girlfriend is komolika then who are you?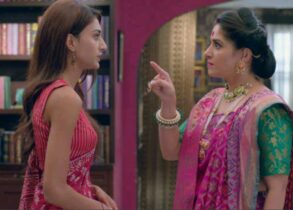 Prerna gets shocked..
Prerna:what? No..aunty. if you have doubt then you can ask anurag atself.
Anurag comes there with komolika and smirks seeing prerna..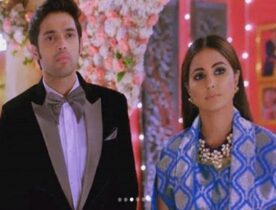 Anurag:mom..who is she? Why is she here?
Mohini: don't know..she is telling that she is your girlfriend prerna.
Prerna gets shocked..
Prerna:anurag..what happened? We love each other right then Why are you lying?
Anurag pulls komolika closer and..


Anurag:i don't know who are you..why are you doing drama here? I only love komolika. We are going to get married within 10 days..
Prerna gets shocked and stumbles..
Prerna:anurag.. what are you telling? You proposed me and we both loved each other a lot then why are you lying?
Anurag: shut up your nonsense story..i never knew who are you then how will i love you? As iam rich you want to enter into rich family to get money i think and that's why you are coming and doing this drama..
Prerna gets shocked and angry..
Prerna:anurag!! Mind your words.. i can even die without money but i never do any wrong for getting money understood?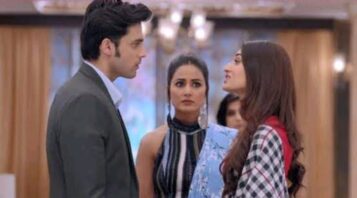 Anurag:if that's so then Why are you here?i told that i love komolika then why are lying that we both love each other?
Prerna: because that was the truth. I have proof..i will show our photos.
Prerna shows her and anurag's photos while anurag and Mohini acts shocked..
Anurag:ohh my godd..how can you be so cheap? You have taken my pics from net and you have morphed it with yours. I never thought a human can go this much extent for money..
Mohini:yes..my son and komolika are in love for years then how come this photos come?
Prerna gets shocked and angry..
Prerna: so anurag..am i lying about our love?
Anurag:what our love? I don't love you at all.. ofcourse this is your lie only.
Prerna:fine..iam asking one last time. Just look at my eyes and tell me whether you love me or not?
Komolika:why are you troubling my lover when he is telling the truth? He loves only me..so get lost.
Prerna:shut up..just anurag must answer me because iam asking only him.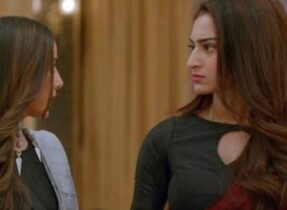 Anurag shouts:i will call police if you trouble me with questions..just get lost from here.
Prerna:why are you trying to avoid looking at my eyes? If you really don't love me then you wouldn't have avoided to look at my eyes.
Anurag looks at her eyes immediately and shouts..
Anurag:now iam telling looking at your eyes directly that i don't love you at all…so just get lost.
Prerna's eyes gets teary and claps her hands angrily..
Prerna:wow..you proved who you are mr.anurag basu. I never expected this..from now i shall never come in front of you at any cost.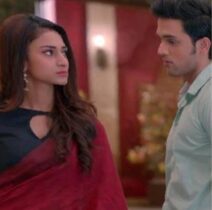 Anurag and komolika smiles..
Anurag:yes..you are right. Why should you come in front of me as i don't know who you are?. You shall get out now..
Prerna turns and leaves angrily..
FB ENDS..
Prerna:you just you never wanted to meet me as you love only komolika..now what happened? Did komolika ditched you?
Anurag cries..

Anurag:no..i never wanted to ditch you. That day i just did drama to make you away from me as i don't want you to suffer.
Prerna gets shocked..
Prerna:why will i suffer Anurag?
Mohini and anurag cries and..
Anurag: because i was diagnoised with cancer. I thought i would die soon and that's why I did drama to make you away so that you won't suffer when i die..
Prerna and everyone gets shocked and she stumbles..
Prerna:wh..wh.. what?
Anurag:yes..it's true. I felt dizzy the day before you met me and so i took tests and got the result as i have cancer. And that's why i took this extreme decision..
Prerna gets emotional and she cries and hugs Anurag immediately tightly..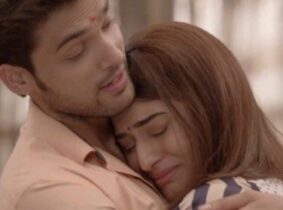 Prerna:why are you so good Anurag?i..i feel guilty now. I feel guilty as i have hurt your heart.
anurag pulls her and caresses her face..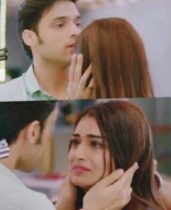 Anurag:no..iam only at fault. I only have hurted you very badly.. i cried each and every day after i did that drama. One day i thought to apologise but i controlled myself as i thought that i would die. Just five days before i got recovered and i felt so lonely and guilty..
Prerna:why did you think you would die Anurag? Is it because of a big disease?
Anurag:yes..
Prerna:if you have told me then i would have supported and give you hope..
Anurag:i was scared about your worries. I was worried that you will feel heartbroken if i die ..and that's why i did this.
Prerna becomes emotional and..
Prerna: anyways..lord has reunited us. That's enough for me..but promise me that you won't do any stupidity like this again.
Anurag smiles and promises her and they both hug..

Prerna:ok..tell me who is that komolika?
Anurag:she is my colleague. I asked her for a help and that's why she agreed to do drama.
Prerna:ohh..then how do you know that iam getting married here?
Anurag stares Abir and..
Anurag: i know it because of your fiance Abir.
Everyone gets shocked and looks Abir including prerna..
Prerna:h..ho..how is it possible?
Abir: actually yesterday i was coming to house from my office and suddenly i saw him sitting sadly..
FB IS SHOWN:
Anurag is sitting sadly in a park holding a photo while Abir passes by that side and he notices anurag and he comes to him..
Abir: excuse me..why are you sitting like this? Do you need any help?
Anurag gets up and..
Anurag: actually i am searching for my girlfriend for past five days but i couldn't get. There is someone living in her house..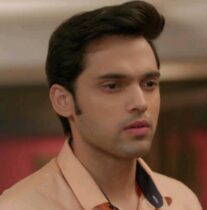 Abir gets shocked.
Abir:why.. don't you contact her regularly?
Anurag:no.. actually..
Anurag tells everything while Abir gets shocked..
Anurag:it's been 2 years now that iam away from her.. i got recovered just 5 days before and so iam searching for her for last 5 days but i couldn't find her..
Abir: she would been angry on you for 2 years..i hope she haven't married anyone in anger. You are such a good human..so let god help you to reunite with your love. Ok..show her picture.
Anurag shows prerna's picture while Abir gets shocked seeing her photo..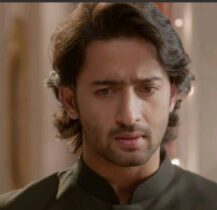 Abir shockingly:pr..pre..prerna..
Anurag too gets shocked..
Anurag:do you know her?
Abir:y..ye..yes. she is my fiance.. we are getting married tomorrow.
Anurag gets shocked and stumbles..
Anurag:wh.. what? Ho..how..di..di ..did she agreed to marry?
Abir: don't worry..may be she would have accepted because of her parent's wish. Even i have accepted on parent's request only as i dont want to hurt them and so she would have also done the same.
Anurag:th..then..
Abir: you come to my house tomorrow and take her because she is only yours.
Anurag:sr..are you no… not angry on me?
Abir:why should I be angry on you?iam just doing my duty to rejoin two lovebirds. Anyways i was not interested to marry anyone.
Anurag gets happy and hugs him..
Anurag:thank you so much bro..i shall never forget your help.
Abir smiles..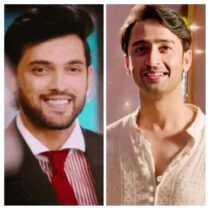 Abir:it's okay..ok here is my address.
Abir gives address to anurag and both of them part ways..
FB ENDS..
Abir tells everything while prerna and everyone gets shoked while prerna becomes emotional and comes towards Abir and..
Prerna:thank you so much Abir..i don't know how to thank you but thank you so much. You are really very good hearted..


Abir:i just did my duty so don't praise me or thank me too much.
Prerna:and..iam..iam sorry too for..
Abir: don't apologise. You dint do any wrong so you don't need to apologise..you belong only to him so you shall go to him.
Meenakshi feels heartbroken and..
Meenakshi:abirr..what are you telling? How can you let her go at last minute? I know they are lover's but you are her fiance..and we have arranged wasting money too.
Abir:maa..you decorated wasting 1 laksh for my marriage but that is not important here. Even if it is last minute we should make others happy. We should give the place where they belong too..so prerna belongs to only him so we should let her go to her real love.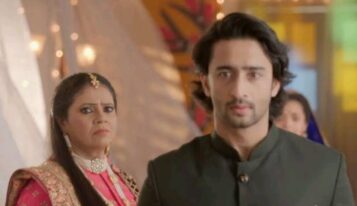 Prerna comes to meenakshi and..
Prerna: aunty..i know it will really hurt you leaving at last minute. But i never did intentionally..so please forgive me and bless me. I will pray that your son should get a nice girl soon. So please bless me..
Meenakshi gets sad and looks at asha while asha understands it and..
Asha:iam sorry meenakshi ji. I never knew that my daughter had a love story but i should support her in her decision because it's her life and also it's their real love..
Meenakshi feels heartbroken and she blesses prerna without any interest..
Meenakshi:may you live happily beta..
Prerna smiles and then she takes blessings from Mehul too..
Prerna:iam sorry papaji..
Mehul:no need to apologise beta. God always unites true love so you shall go and live happily with your true love.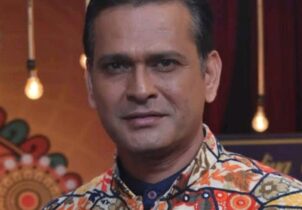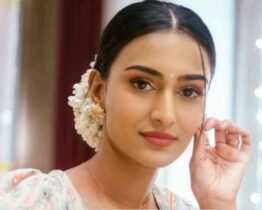 Prerna smiles and goes to anurag and Mohini and asha and bijoy too joins them and they all apologise and leave from there while Abir gets sad..
Abir in mind: prerna's love story is really miracle. But my lovestory is just dumb.. that guy anurag never cheated prerna but ashi cheated me..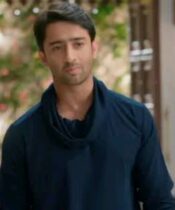 Meenakshi feels upset and suddenly she faints..
Everyone gets shocked and they run to her..
PARALLEL SCENE:
While everyone was celebrating happily suddenly ashi feels dizzy and falls down..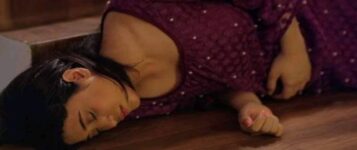 Everyone gets shocked seeing her and they run towards ashi and they wake her up..
Naira:ashi..ashi..what happened?
Ashi slowly opens her eyes and looks at every one and she holds her head and cries..
Ashi:my..my head is paining severely. Please take me to doctor immediately..
Kartik:ashi..just a headache. So don't worry..we will give you tablets.
Ashi feels more pain and shouts..
Ashi:no..its paining too much.so please take me to doctor immediately jeeju.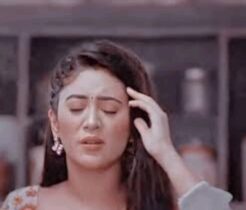 Dadi:kartik..i think she is feeling more pain. So you take her to doctor atself.
Kartik:ok.
Naira:i will also come..
Kartik:no..you should rest so you stay here. I will take your bhai and bhabhi naksh and Keerthi along.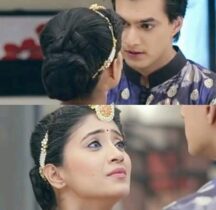 Naira:i will also come along please kartik. If i stay at home then i will go mad..so please..
Suwarna: kartik..let her come. Let her bhabhi Keerthi take care of naira in hospital and you and naksh look after ashi.
Kartik hesitates but later agrees..
Dadi:call us immediately and inform whatever doctor says..
Kartik:ok dadi..
Then kartik naira naksh and Keerthi take ashi to hospital..
PARALLEL SCENE:
Abir and his father Mehul brings meenaksh to hospital and they admit her immediately..
Abir: doctor.. please check her immediately.
Doctor: don't panic..we will check and tell you now.
Abir:ok..
Doctor takes meenakshi in while Abir and Mehul waits..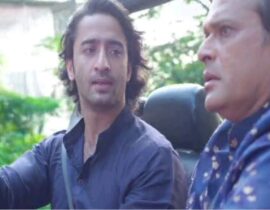 PARALLEL SCENE:
Ashi is brought to same hospital and naksh holds ashi for support and takes her while kartik Keerthi and naira follows back of them..
And they spot a doctor and..
Naksh: doctor..she is having severe headache so please check her.
Doctor:ohh..then wait for few minutes..there is a patient inside so we will call you once the patient goes.
Naksh:sure doctor.
They sit a little far from Abir and suddenly ashi cries..
Ashi:nakshi bhai..kartik jeeju..naira.. Keerthi bhabhi.. iam scared whether i would die because of this clot and i know my head is paining because of that only.
Naksh gets emotional and hugs her immediately and consoles..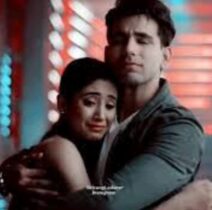 Naksh: don't be stupid ashi.. nothing will happen to you okay?
Kartik:yes..we all are here so we won't let anything happen to you..so don't cry.
Naira:yes.. ashi. It's just normal headache not because of clot. So don't worry..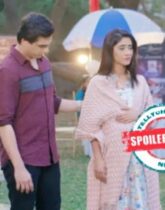 while Abir sees a water can there and..
Abir in mind:i feel thirsty..let me and drink some water and come..
Abir goes to drink water and suddenly he sees ashi and also he sees pregnant naira and gets shocked..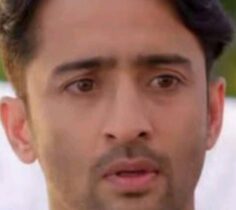 precap: Last episode..