Hai friends here is the next episode.I'm glad that you are liking this ff. Please keep supporting.
Episode starts
Abir is walking on the streets of Anna Nagar (Chennai) with his eyes full of sorrow and tears. He is confused with Mishti telling Rithu as a responsibility he denied.FLASHBACK ROLLS ON
Abir and Mishti are happily in love. Days have become months. They have roamed every place in Kashmir. They have created every possible memory. One day Abir is in his room playing his guitar when Mishti comes in. He pulls her into a dance .
Mishti: Abir slowly..I can't dance like this
Abir: Arrey don't be lazy na
Mishti: Abir….I'm pregnant..I can't be doing this
Abir stops abruptly and looks at her
Abir: Stop kidding
Mishti: I'm not…I won't be kidding in such a serious issue
Abir: How…
Mishti: Seriously Abir,,
Abir: Arrey nahi nahi..how many months…
Mishti: 3
Abir: I'm…im…becoming a dad….
Mishti: Haan….
Abir: No..No…Mishti..I can't….I won't be a good dad….I can't take risk
Mishti: What are you saying
Abir: If I become like my dad…and spoil the child like me…..
Misthit holds his face closer and: Don't overthink Abir…
Abir: But..
Mishti: Abir..marry me..let's live a happy life
Abir: Are you sure..do you want to marry me and have this child
Mishti: I'm as sure as I'm breathing
Abir: Then okay tomorrow evening four o clock at the register office
Mishti gets happy while Abir hugs her.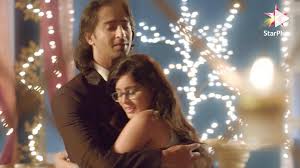 The scene freezes.
Reality:
Abir: Oh my….that's the reason then…oh fo…Abir..you are an idiot…how did you forget to inform her about your situation…she …my god…
Abir tries to contact Preesha
PRECAP: PREESHA RUDRA ON A MISSION.
HEY GUYS I KNOW THIS WAS SHORT BUT SORRY FOR IT. I WANTED TO GIVE ONLY THIS PART OF THE FLASHBACK SO THAT THERE IS SOME SUSPENSE ABOUT MISHBIR MARRIAGE . NEXT EPISODE WILL HAVE TWISTS AND FUN MOMENTS.PLEASE TELL YOUR VIEWS IN THE COMMENTS BELOW. MORE THE COMMENTS MORE THE SWEETNESS IN THE STORY 🤗🤗