Hai friends thank you so much for your support and love. Please keep loving and supporting. Let's go to the episode.
Its next morning Mishti is changing channels in the television when she stops at a news channel. She is shocked at the news
NEWS: Lieutenant Abir Mehra who got caught in the jail of the enemy nation during the war has returned back to the nation hale and healthy after being missing for 5 years and 9 months.
CHIEF: WE ARE GLAD TO HAVE OUR BEST FIGHTER PILOT BACK. AFTER 3 months of rest and 6 months of training Abir will be back to the war front.
Hearing this Preesha and Rudra too rush there.
While Mishti's eyes are wet with tears.
Preesha: Mishti…Abir is alive..he is back..I think
Mishti wipes her tears and: No Preesha not so soon. He won't accept Rithu and I can't tolerate it
Preesha: Why wouldn't he
Mishti: Because he is AM
Saying this Mishti goes inside the room and locks herself. Rudra takes Preesha out with him,
Abir is sitting in the cozy room with drinks in his hands while Mishti is sitting near the door sobbing. The flash back runs
As Abir regains consciousness he finds Mishti with him.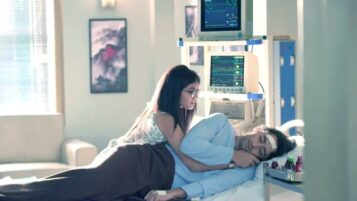 But due to sedation he couldn't talk and again falls to sleep. Next morning he wakes up to find Rahul and Preesha there
Abir: Arrey where is that doctor
Preesha: I'm here Abir
Abir: Not you…
Rahul: Acha Mishti..she went home just now..and now it's time for us to go..chief is calling you.
Rahul drags Abir with him. The scene freezes.
It's a the canteen and Preesha and Mishti are sipping their coffees there. Abir comes there
Abir: Hello Mishti I'm Abir Mehra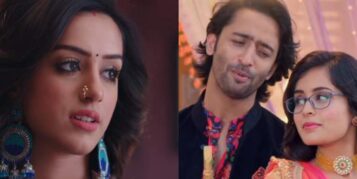 Preesha: Shortly AM
Abir: Did she ask you
He sits in a chair opposite to Mishti
Abir: You are Mishti Arora right..your dad told me..and do you know something
Mishti: You are the close friend of Vivek
Abir: How did you know
Mishti: In every call he would make Vivek will be singing your praises and stories but..
Abir: On meeting me they seem so less nah ..I know it
Mishti: Ji nahi..they seem over exaggerated
Mishti gets up and leaves
Abir: Arrey Preesha I have helped your love with Rudra. It's your time to help
Preesha:Abir..
Abir: This is that Sacha wala Pyar..please please
Preesha: Ok what should I do
Abir: Good..please bring her with you to the party tonight..rest I'll manage
Abir is brought to reality as his door bangs and he goes to open it
Rahul: Abir..I found something
Abir: Whats it..
Rahul: Mishti has joined a hospital in Chennai
Abir: Wow…
Abir gets excited to know about Mishti. The episode freezes
PRECAP: WILL ABIR MEET MISHTI.