TROUBLESOME LIVES AND UNENDING LOVE TALES – PART 23
AT UDAY'S CLINIC 
Uday ; Are you out of sense ? You think it's just a game only , Sara ? I am sorry to say but I can't let you here . Mental illness is a state of mind when a human being faces extreme difficulties. His circumstances, problems, sadness and whatever unexpected things which gave him shock results in pshycological problems, state of madness etc. And you have made it as a simple joke , won't you ? Have you ever realized their pain ?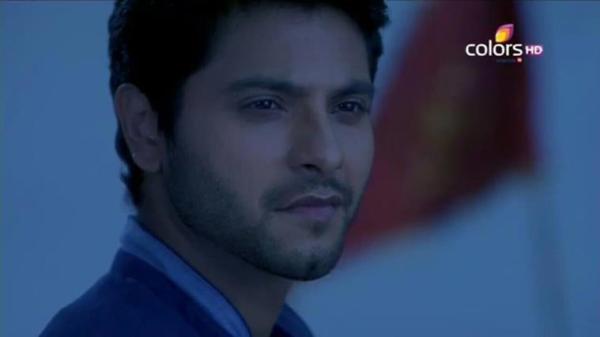 Sara : Yes doctor I know the pain, because my Abbu suffered it a lot. He was been in constrains for years. At a locked store room of our home and all said he is upnormal. I was so much small that time and I used to watch him through the window only. My  Ammi used to cry a lot and whenever she used to do namaz she never forgets to pray for her husband's well-being and one day I don't know whether he understood Ammi's pain or not we find that he has cut his hand's vein and no one took the effort to bring him at hospital. Ammi and Ammu got married years back breaking all the so called norms and beliefs . My Ammi belongs to a poor family and Abbu was one of the richest person of teh city. My Abbu was staying with his Phoopha and Phoophi who were greedy of money. My Abbu blindly believed them and one day when whole business went lose the workers of industry started shouting against Abbu.Phoophi used to bring tablets for Abbu and whenever Ammi questioned this she used to get threaten and beaten by Phoophi. My Abbu slowly started losing his mental stability and they made him as mad and locked him in a dark store room.  Later My Ammi got married to a man who is my so called Abbu now a days who is actually My Phoopha's brother and he is not less than any evil creature.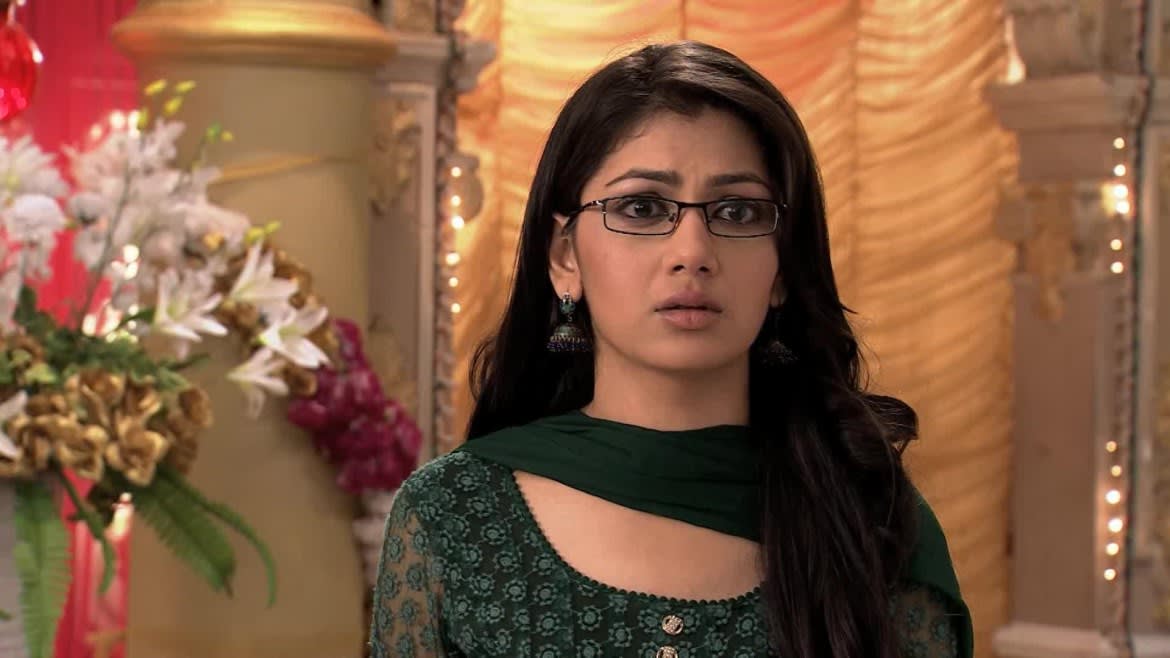 Uday : So sad to hear your life's story , but Sara I can't help you by treating you as a mental patient? It's against my part of ethics and profession. I am handling those part of human being which is highly important and I can't support any person acting as a fake patient even if the reason is genuine . So I can't allow you at this clinic.
Sara : It's okay Doctor. Mein chali jawungi. But when I opened my pain to you I got a relief .
Uday : Pain won't be healed with an ease but when we share it with some one our heart's burden will be reduced. I can do one thing certainly for you.
Sara : Ji
Uday : Please you just wait for half an hour outside my cabin. I will drop you at home and will convince your Phoopha not to do any harm to you and your mother.
Sara : No doctor . He is not like the normal man as you think. If I will go out My Phoopha will think that I have no disease at all and he will force me to accompany him. I don't want to go home .
Uday : What about your mother ? She will suffer a lot if you won't go with them . Do you want that ?
Sara : But Doctor
Uday : You may please leave….Please
Sara : That means you won't help me ? Haan…..Look at my eyes and say that you can't help me , I will go.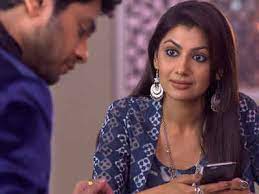 Uday starts writing some thing on his notepad without looking her face.
Sara : Doctor I am leaving. You don't need to waste your pen's ink just by scratching some lines in that paper , Bye …..
Right after Sara left Uday close his eyes and leans on the chair. He recalls Sara's wordings about her Abbu's pain. Uday looks at the wall pic of his parents . He recalls the moment when his parents passed away as they suffered AIDS and were ill treated by the relatives and society.
UDAY'S VIEW
Paapa , Mumma it was your dream that I should become a doctor especially  a pshychartist who can bring back many people back to their normal lives . You both were my role models as Paapa was the doctor and Mumma was the nurse in this clinic. You both devoted your life while treating patients and when you got suffered except Dadi me and Avantika no one were with us. But your lives poured inspiration to me and I fullfilled your dream . I am trying my level best to reduce pains of mind and heart , but irony I myself is a victim of biggest pain and I am not capable of finding any medicine to cure this. Whatever this girl said about her Abbu it just bought me back to those wounds which would be never cured.
AT OBEROI MANSION
Gauri : Ji Aap log ?
" Hum log sponsers hein Madam. Omkara Sir kabh tak paintings finish karenge ? Cultural meet ke din theen din ke baad hein. Abhi tak ek bhi painting gallery mein nahi pahuncha. Log poochenge toh kya jawab denge ? "
Gauri : Actually he is not well.
" If his health is not well then why he committed this project ? He has to pay attention towards his profession . Professional and personal life – both are not always in smooth pace. One has to keep balance in it . "
Gauri : Ji what you said is right, I will convince him and I promise within tomorrow evening we will bring paintings. Please trust me.
"Fine. We are believeing you Mrs. Oberoi, but keep your promise. Otherwise Omkara should bear the compensation ."
Gauri ; Ji I understand.
As they left Gauri starts thinking of how to convince Omkara back to his passion. She goes inside the work area of Omkara and finds him standing with a confused mind about completeing the sculpture.
Gauri : Omkaraji
Omkara : Gauri tum yahan ?
Gauri : How is the preparation going ?
Omkara : Which preparation ?
Gauri : Aapko ho kya gaya Omkaraji ? Sponsers have came home to remind you that you are an artist and you have to be committed towards work. Why you are not able to do any single piece of art now ?
Omkara : Whenever I tries to mold sculpture I find Mr. Oberoi's those face which is killing me. I am not able to focus at any thing.
Gauri : Dard toh sabko hein. Aap khud Bhaiya ko wapas laaye aur abb aap hee
Omkara : These paintings, sculptures, poetries are my heart's depiction,Gauri. I can't pretend any artificial colour on them .
Gauri : Toh apne dil ko strong banaye Omkaraji. Itna strong kee aap keh sake Dard maine tumhein bahut dekh liya. Abb tum mujhe nahi hara sakta aur phir aankhen band karke uss pal ko yaad keejiye jisse aapko laga kee wahi aapke dil kee sabse khoobsurat lamhe hein, Ek baar koshish toh keejiye.
Omkara shuts his eyes and first Tej's image strikes his mind. He opened his eyes quickly.
Gauri : What happened ?
Omkara ; I can't do it.
Gauri : Please Omkaraji, please.
Omkara again does the same and this time he feels so much realaxed. He gently opened his eyes and looks Gauri
Gauri : Kya dekha aapne ?
Omkara : Two sparkling eyes which were full of immense love and care for me who is my shield, my soul and it's you Gauri. I remembered that moment when I put sindoor on your forehead and you looked me with full of love and trust.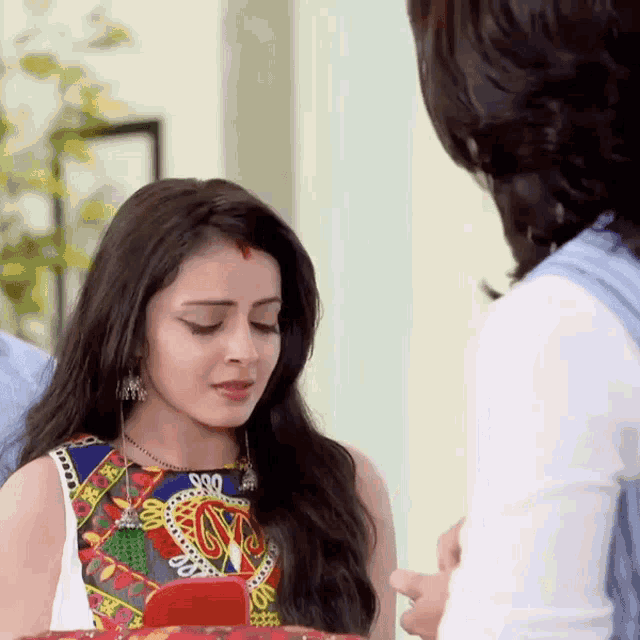 Gauri gets emotional.
Gauri : Omkaraji,Jab bhi mein haarta hoon tum aise hee mujhe encourage karna Gauri. You are my everything. If you are with me then I can be always the brave warrior against any sort of pains.
Rikara hold each other's hands and they share an eyelock…Oh Saathiya plays
AT HOSTEL
Tanuja : I am here to bring you back to your home Archu.
Archana : Ji
Tanuja : Ghar aa jawon beti, Tumhari badi maa ko badi di ko sabko tumhari zarurat hein. Kabh tak hostel mein rahogi tum ?
Archana : Kyaa sach mein aap mujhe lene aaye hein Badi maa ?
Tanuja : Haan beti.
Savita : Yeh aapne bahut accha kiya Sambhan Ji.
Archana gets surprised
Tanuja : Kya laga Archu mujhe pata nahi chalega ?
Savita : Mein toh kehati hoon donon betiyon kee shaadi ek hi mandap mein kara le
Tanuja : Pehale Swethlana kee sagayi ho jaane toh deejiye. Baad mein baat karenge.
Archana : Badi maa mein apna luggage leke aati hoon.
Maanav who was hiding at Archu's room pushes her towards him
Archana : Maanav aap ?
Maanav : Tum hostel chodke jawogi toh mein pehale kee tarah tumse milne roz nahi aa sakunga naa ? Isliye apni Mehabooba ko ek baar baahon mein smabhal loon
Archana ; Maanav, naa
Maanav holds Archu from behind and kisses at her neck and back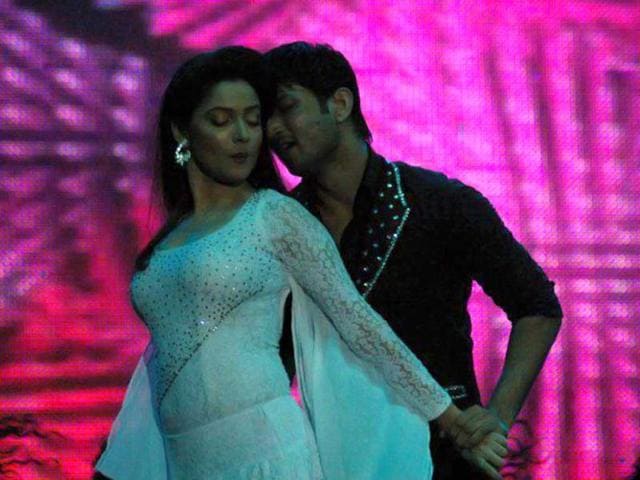 Archana blushes like red as strawberry , Maanav smiles and releases her. He gives a bunch of roses to her
Maanav : Let you stay like these beautiful roses forever my Archu, My first gift to my Soulmate
Pavitra rishta plays……
AT KAPOOR HOUSE [ DAY OF ENGAGEMENT ]
Sanky, Jhanvi, Rikara, Shivika, Rudra, Sowmya , BhavIth, Priveer, ArMaan , Khanna , Uday, Avanthika, Savitha, Sachin, Dadi, Yash's family   all are arrived there to attend the function.
Jhanvi : Tanuja ji thanks for inviting our family.
Tanuja : The real culprit is been catched now and why I should bear rivalry towards Oberois ? That's why I thought to invite you all.
Jhanvi walks near Swethlana and handovers gift to Swethlana
Jhanvi : Wish you all happiness at this new phase of life, Swethlana, Happy Engagement Day.
Swethlana smiles