Tore Apart (Kaira FF) – BROKEN SOULS MET (EP23)
---
Hey Guys!! Thank You for support❤️
🌸"What do you do when the one broke your heart,
         is the only one to fix it "🌸
Whole family was standing in the hall. Gayu understood what a big mistake she did again questioning her character followed by Samarth , Mishti and Keerti. But again will their so called " sorry " change anything. Her heart got stabbed again and now there one single word " Sorry " will make them free from guilt but will it again heal her broken heart… " No " then what is use to say there so called " Sorry ".💔😶🥀
Gayu came towards Naira followed by Samarth Keerti and Mishti.
Gayu – I am really very sorry
She was cut off between by Naira.
Naira – I need some time to think.
She said in a stern face which clearly shows how much hurt she was. Saying this she left the place.
Naira still didn't forgive anyone of them. Usually she tries to ignore these four but if they ask for forgiveness she just nods and leaves the place. But her nod clearly tells still she was angry and hurt with Four.
One day , Dadi Manish were sitting in the hall.
Dadi – Manish hum kuch soch rahe they.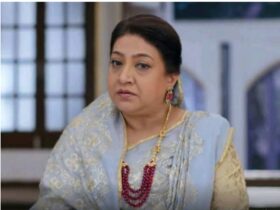 Dadi – I was thinking to plan a trip.
Dadi – Haa. Dekho na aajkal Naira kitni udaas rehti hai. Kahi bahar jayenge to uska bhi mann bahal jayega.
Manish – Haan Maa. Kahan chalein hum log.
He said entering the hall.
Luv – Yes Bhaiya is right. Cruise Trip in Malaysia.
He said descending stairs with Kush.
Manish – Idea is very nice. Par itne kamal ka idea tumhare dimaag mein aaya kaise?
Shubham – Bas aa gya Papa.
They call Everyone and told about their idea of going to trip on a cruise. Everyone agreed.
Everyone was in cruise enjoying but their were two hearts who were still yearning for each other and they were none other than Kaira. Now, naira's heart has started melting from that incident.
After Kairav tells Everyone the story Naira goes into his room.
Naira – Baby who told you the story which you just told to everyone?
Naira's POV
I think Kartik has realised his mistake and now I think I should also forgive him. It is not easy except your mistake in front of others especially his child but he did it.
POV Ends.
Everyone got ready for scuba diving. They were diving when some divers with "SORRY" Board comes in front of Naira. She got shocked. Everyone else reached the cruise except Kaira.
Manish – Where are Kartik Naira? They didn't reach the cruise till now.
Shubham – Papa Vo…. Actually…. ( There conversation is muted, you will get to know according to the story)
Manish – Oh Wow!! Nice idea… But I don't want anyone to force her.
Luv – No He will not force her.
She saw that everyone has left her.
Naira – Oh God! What is happening today? First those divers and now everyone left me here alone.
Just then she saw rescuing boat. She sadly went to them and askes for help.
Naira – Hello! Excuse me! Actually I was in cruise and by mistake my family members have left me here. Can you pls drop me there.
Person – Yup! You can sit in the motor boat.
Naira sits in the boat.Person calls someone.
Person (on call) – Hello!! Yes… She is with me now… Yes… I will bring her soon there.
The person starts steering the boat when a small island comes and the person stops the boat.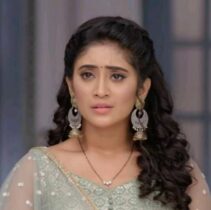 Naira – What happened? Why you stopped us here.
Person – Mam there is small problem in motor boat please get down.
She gets down and found the whole island dark after sometime she notices that motor boat is also not there and she is left all alone.
Naira – Oh No! Enough! From morning something to other is happened first everyone left me during scuba diving and now when I found a motor boat they also left me in this small island. What do I do? Even phone doesn't have network.
Just then she notices that a person rafting in the water and he falls in the water. She remembers her and Kartik's first meeting. Tears formed in her eyes.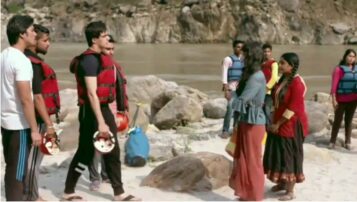 Just then one more boat passes in which two people were continuously arguing. She remembers her and Kartik's argument before marriage and a smile came on her face between the tears.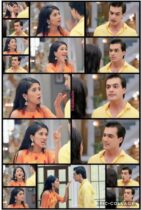 One more boat passes showing a couple marrying each other. Flashback of her marriage comes in front of her eyes.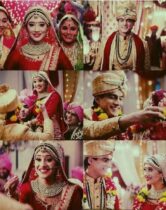 Heart beats fast
Colors and promises
How to be brave?
How can I love when I'm afraid to fall?
But watching you stand alone
All of my doubt suddenly goes away somehow
One step closer
Again a boat comes with a man manofying his pregnant wife. Naira remembers when she first time got pregnant. Tears falls from her eyes.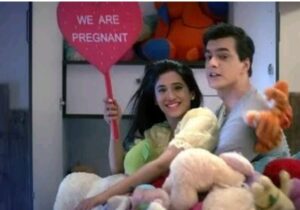 The other comes in front with a couple fighting. A man was unnecessarily shouting at the women. Naira remembers when 5 Years back Kartik asked Naira that question.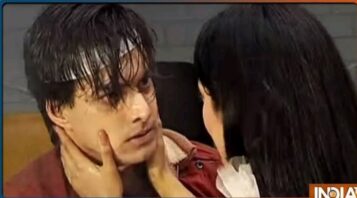 The women in the boat turns the other side to stop the argument and the man jumps in the water. Women got shocked seeing the sight. She falls on her knees and started crying badly and pleaded to the man to comeback. Memories of Kartik 's fake death flashes before her eyes and she also falls on her knees crying.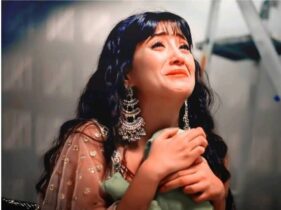 I have died every day waiting for you
Darling, don't be afraid
I have loved you for a thousand years
I'll love you for a thousand more
Just then two boat comes. Both of the boat were in different directions and in one boat man was sad sitting with a girl and in the other boat woman was hugging her child and was crying missing her husband. Naira's five years which she spend without Kartik crying flashes before her eyes.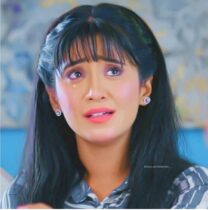 Time stands still
Beauty in all she is
I will be brave
I will not let anything take away
Little rain started. The other boat comes. The woman saving her child from rain she herself gets drenched. The other boat comes with the family members of women who are seeing her suffering but can't do anything for her. They goes to console her but she just nods. Naira remembers when family used to console her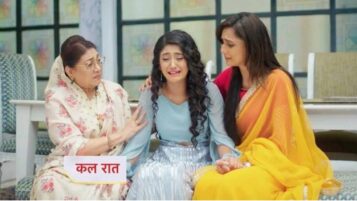 After sometime, the boat of man and woman came near each other by waves (Destiny). The woman got to see his man. She got angry and happy both and both had an argument. Naira remembers Kartik and her arguments.
What's standing in front of me
Every breath
Every hour has come to this
One step closer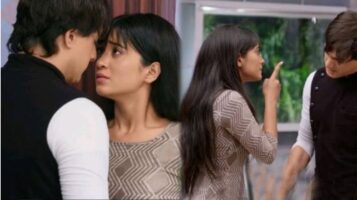 The man realises his mistake. But some family members came in other boat and broke the base of the boat. The girl in fear handover her child to the man and she herself remains in a broken boat. The man pulls her. Naira remembers when she got to know that Kartik has told that story to Kairav.
Again everything goes dark. Naira remembers her whole journey with Kartik from their first meet to the 5 Years she cried for him.
Just then few lights glow and Kartik enters. Naira sees him. Tears fall from there eyes.
Kartik – I am sorry Naira. I am really very very sorry pls of possible forgive me. I will not force you. If you want I can go back to London.
He said crying. Naira runs towards him. Both hugged each other tightly. Both were crying.
I have died every day waiting for you
Darling, don't be afraid
I have loved you for a thousand years
I'll love you for a thousand more
Kartik – I am sorry Naira.
Naira – It's ok Kartik. I forgave you.
Both tightly hugged each other again. Two broken hearts met today.❤️🥺
The 5 Years both yearned for each other. For their immense love, for their better – half.
Both were crying there heart out.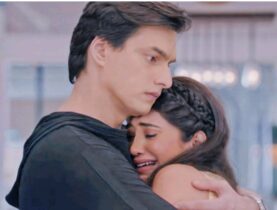 Kartik – I am really very very sorry.
Naira – Kartik!
Kartik – No Naira let me speak this time. I am very sorry. What I did was never expected Naira. You loved me alot but I… I… Broke your heart , broke your trust.I broke you. I gave you pain , loneliness, hurtness for five years. I stabbed your heart thousand times. I… I… Asked such a cheap question from you. Cheee…. I am very very sorry for it. Because of me you had to listen to those accusations. Being your husband I should have protected but I… I.. broke you more. I don't deserve you Naira. You deserve some one better. I always blamed you and fought with you. I never gave you love that I should. I promised your brother and father that I will always keep you happy , but I broke there trust. Moreover , I didn't trusted you. I am sorry Naira. I am so sorry.😭❤️🌸
And all along I believed I would find you
Time has brought your heart to me
I have loved you for a thousand years
I'll love you for a thousand more
One step closer
Both had tears in their eyes. Both looked at each other with immense love and their eyes lock. Both hugged each other.
Naira – I am also sorry Kartik. I should have seen if you are getting insecure I should have assured you that I am only yours and yours.
Kartik goes on his one knee and take out a ring. All the island glows up. The lights got dim. Only firefly insects were there , surrounded by moonlight.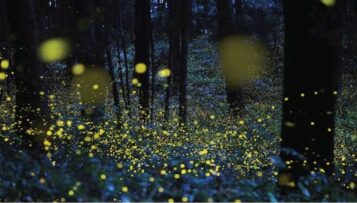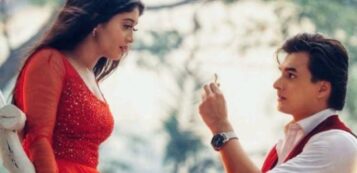 Kartik – I Love You Sherni❤️ This is for you. I am really very sorry for my past mistakes and want to give a new start in our life.
Tears form in Naira's eyes. She clutches her dress.
Kartik – I will not force you. I can give you time to think, it's ok.
He was about to stand when Naira also goes on her knees and hugs Kartik.
Naira – I Love You Too Mendak❤️ Anything can change in these 5 Years but Sherni only loves her Mendak.
I have died every day waiting for you
Darling don't be afraid
I have loved you for a thousand years
I'll love you for a thousand more
And all along I believed I would find you
Time has brought your heart to me
I have loved you for a thousand years
I'll love you for a thousand more