TERE HI ISHQ MEIN…. (EPI 10)
keerti the next day wakes up to find Naksh sleeping in the couch he was about to fall but she rushes to him and holds him , gently puts him back…
Keerti goes to washroom while on the way she feels dizzy and holds on to the tabel near her.. and a glass kept on it falls..
Naksh wakes in shock..
Naksh :Keerti !!!!
Keerti :I .. I.. am so sorry Naksh..
Naksh : Its.. okay.. are yo..you fine..
Keerti : Yes…
She goes to washroom… and gets dressedup..
And goes to downstaris following Naksh..
———–:—-
Akshara was waiting for Naksh & Keerti..
Akshara : Naksh.. we are all going to Yash and Rose's..
Naksh : We will also come with you… mumma..
Naitik :Nahi.. naksh.. you takecare of keerti..
Keerti :I am fine papa..
kaveri :Fine.. I can see in your face that you are weak. bahu.. lalla take good care of her..
Devyani : Gayu and mishti will be here.. ask gayu's help if you need something..
Karishma :Buy.. Gayu and mishti ready went to Akshara bhabhi's house.. for some projects and all..
Naksh :Its okay.. maa you don't worry.. I will take good care of her..
Keerti looks at Naksh..
They leaves..
Keerti walks towards her room.. while her leg slips.. but at the time Naksh holds her..
Keerti :Do want to ask me something??
Naksh :Woh..
Keerti :Comeon.. Naksh.. i am..your wife.. sorry your so called wife…
Naksh :Did you know about TARA..
Keerti(smiles) : Thankgod.. you asked.. Yes.. I know .. yash told me about her.. and her marriage the whole..thing.. But i was shocked seeing her at that function..
She walks..
Keerti :At any moment.. Naksh.. if you feel that this marriage is a burden.. you can freely say to me.. I always want to see happy..
She goes.. Naksh was shocked to here all those..
—————–USA———
Kartik and naira are in the streets of US.
Kartik :I think.. i should get this for keerti.. she likes antique pieces..
Naira :Oh..are you forgetting.. my bhai is there to buy things for my bhabhi.. so please..
Kartik :Oh.. then you husband is also there to by things for you..
Naira :My husband .. who???
Kartik : Me… Mr.Kartik Goenka..
Naira : So Mr.Kartik goenka.. i am not feeling to walk..
Kartik : I am here for you baby..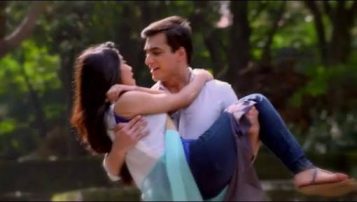 Naira : Kartik.. whatvif someone sees…
Kartik :Its US baby..
He kisses on her forehead…
————— SINGHANIA SADAN—–
It was about even and keerti was not yet out of the room.. He nocks the door several times.. but no response.. he then opens it only to find keerti lying unconsious in the floor..
Naksh was hurt..  he had no idea.. what he should do.. He scoped her in his arms.. and went to hospital..
Doctor checks her….
Doc : There is nothing to worry.. Mr. Singhania.. it happened because of the sudden BP loss.. things like this happen as if some medicines have there on sideeffects..
Keerti and naksh came out of the hospital. Keerti was unbake to walk so Naksh was holding her around her shoulers..
They reach singhania mansion..
Naksh severs her dinner and make sher eat it fully.. After eating the food Keerti starts feeling uneasy and vomiting tedencies..
She several times vomitted.. So Naksh asked her to change and sleep..
Keerti was changing while naksh was outside his room.. He gets the call of his clinet.. he forgets that.. keerti was changing.. he straightly walks in.. Here.. keerti was finding difficulty in tieing her backdori of blouse..
Naksh :I am..am sorry..
Keerti turns red and blushes..
Naksh realises that its difficult for her..
Naksh :Let me help you with it..
He ties her dori.. They both were so close..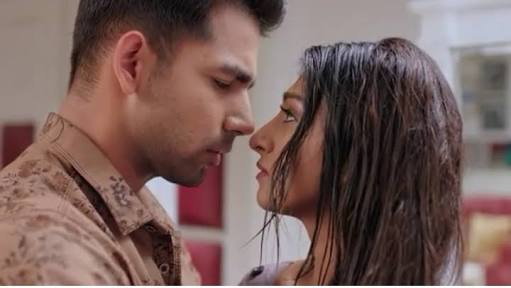 Keerti was able of hearing Naksh's heartbeat which was beating way more fast than normal ones…
After that he goes…
While Naksh gets a message from akshara which conveys that due to some reasons the roads are blocked and they will reach only in the morning..
Keerti :Naksh.. You don't need to take stress..
Naksh :Stress about what..??
Keerti :About me & Tara.. Naksh.. i don't want you to stay in any forceful relationship.. if you want to leave your life with the one you love. ..say it.  I will undetstand..
Naksh : Stop it.. keerti.. You are no one to tell me what i should do.. i can my life decision..
Keerti goes to their room..
Keerti sat on the couch.. and was thinking about the moments they spend together.  their wedding.. and all..
———– USA—–
Naira : Kartik.. did you told anyone about our relationship…
Kartik :No.. i haven't yet… but i will soon..
Naira :I won't even give you coffee.. until you.. tell it to anyone..
Kartik :We can together tell this na…
Naira :Huh.. no you will tell that you have fallen for me.. that too to your parents..
Karitik :Ok.. now give me my coffee..
Naira : Noa….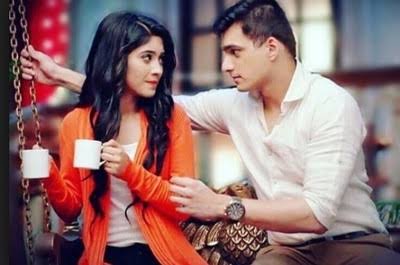 ————-SINHGANIA SADAN..—-
Morning there was someone on the sighania mansion… She rings the door bell..
As naksh opens thedoor he gets shocked..
Naksh : Tara..
Tara hugs Naksh..
Keerti witneses this seen from upstairs.. Naksh sees Keerti and sides Tara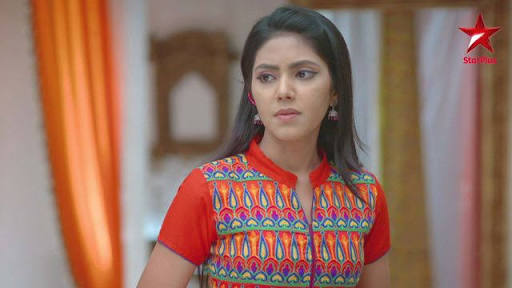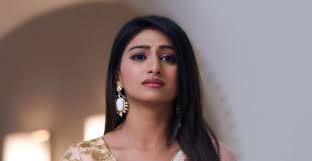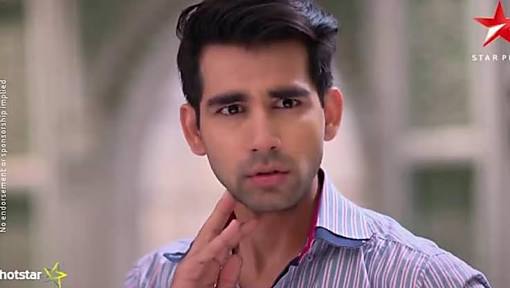 The screen stops at threes shocked face..