TERA FITOOR (Hate Full Of Love)~TWINJ SHOT 10
TERA FITOOR (Hate Full Of Love)??
Anxiety
Shot 10 …..
The Episode starts with Kunj waking up in the middle of night he sees twinkle side empty and was looking for her herre and there the whole room was dark ..
Where she went ??? Kunj said and got up he moved towards the door to find it locked ..
The door is locked from inside may be she is in balcony he murmured and went there ..he went and saw twinkle covering her body with her legs …he kept a hand on her while twinkle who was crying got scared and looked at him ..
Kunj tum ..twinkle said slightly ..
Twinkle Kunj asked with wide eyes you are crying ??? He asked while wiping her tears ..
No why I will cry twinkle said trying to move from there Kunj hold her firmly ..
Don't lie he said ..what happen twinklee he asked cupping her face …
Nothing Kunj trust me wo something went in my eyes so I came twinkle lied to him ..
I know you are lying it's okay if you don't want to say Kunj said hugging her I'll wait till you trust me twinkle he mumbled ..while twinkle too responded to his huh he moved into his embrace while he coocooned her …
Come let's sleep Kunj said while twinkle hummed and moved towards her bed side and Laid while Kunj too thinking about her thinking about their life …soon sleep took over them …
.
Next day ::::
Twinkle woke up and sees Kunj she got up and went inside washroom to get freshen up soon she went and was preparing breakfast when amaira joined her …the duo shared a talk while Kunj and bebe too joined them Kunj went for jogging with Yuvi nd Karthik while twinkle was with bebe and Amaira …
Soon they returned back and they all had their breakfast …
I'll go and pick up maa and Papa Yuvi said while bebe stopped him ..
No Yuvi puttar let Kunj pick up them I had work with you Karthik and Amaira she said while they understood and nodded ..
But bebe Kunj said ..
Kunj go na pls bebe said while Kunj agreed …
The day passed quickly Kunj went to pick up his parents …ushar came after the security check and was waiting when they find Kunj ..
He went and greeted them and touched their feets ..
Stay happy always Usha said and hugged him while Manohar too they were suprised finding Kunj …
Twinkle was at her work place as she had to bring amaira dress while bebe and others were at home ..
Kunj was driving while Manohar was sitting beside him and Usha on the back
We will pick up twinkle them we will go to my home Kunj said ..
Oh yeah Usha replied ..and they went to twinkle work place ..
Where are you ? Your work done ? Kunj asked parking his car ..
Yeah why you are asking ? Twinkle asked
I am downstairs come soon he said ..
Okay twinkle replied and they ended the call …
Soon she came downstairs and and sees Kunj waiting for her outside car her workers kept the dress while twinkle sees Usha and Manohar too stepping out she gets happy ..
Mummy ji Papa ji she said and touched their feets taking their blessings ..
How are you puttar ? Manohar asked ..
I am fine you both ? Twinkle replied back
We are too Manohar said and they smiled and sat in car while the 4 left for twinj house …
.
@ xyz place :::
The decoration were going on for the party while the workers were seeing off everything ….
Do work soon party is today only one of the man spoke and went …while the work continued …
Taneja family too reached Mumbai Suhasini rt and Leela were standing together while Abeer and Meher were handling their little one Ishaan ..
We are going to meet Bua ? Ishaan asked
Yes Abeer said while he jumped in happiness …
First we will go to guest house and then we will meet them rt said while everyone agreed ..and they went ..
Twinj reached their house with ushar and went inside they all met ..
Are it's good everyone is on time now get ready bebe said …
Haan amaira your outfit twinkle said and she opened her dress and loved it alott while the duo smiled …everyone was happy …
They went to get dressed twinkle and Amaira went in her room while Usha bebe in other room and Manohar in another Yuvi Karthik and Kunj was in hall watching match as they knows the lovely sarna ladies will take much time …
.
Twinkle dressed up amaira beautifully while amaira looked at herself in mirror..
This is looking amazing thank you bhabhi she said while twinkle smiled ..
Now you too get dressed she said smiling while twinkle nodded and went too change Kunj came in their room and sees amaira he smiled and looked at her ..
Bhai you ?? Ahaan you have to get ready too I'll go to bebe she said while Kunj nodded he sees his clothes already there kept by twinkle and smiled
Usha and bebe were ready too and Amaira Manohar joined them while Yuvi Karthik went to changed ..Kunj changed too while twinkle came out Kunj sees her from mirror she was looking amazing he smiled seeing her ..
Twinkle kept her duppata aside and looked at Kunj who was standing infront of mirror they both shared a eye lock ..
I am almost ready Kunj murmured applying his perfume and gave side so that twinkle can get set herself he sat on the bed .. taking his mobile while twinklee wss busy doing her make up ..
She wore her nuptial chain which got stuck in her hairs and Kunj sees her struggling he got up and went towards her ..
Why are you smiling help me na twinkle said and Kunj nodded in no teasing her ..
You know you are really bad twinkle said frustrated while Kunj chuckled ..
Acha let me help first he said and slowly turned her towards himself ..they looked at each other Kunj hands made his way towards her hairs ..while twinkle hold Kunjs waist taking the support Kunj moved more closer to her they both were in each other embrace completely ..Kunj side her hairs and was trying to remove the string in that attempt his lips touched on her neck while twinkle clutched his shirt and moan his name …Kunj smiled he was done with removing her hair string's from nuptial chain and made her wear that properly while twinkle was still standing closing her eyes with her red cheeks..Kunj looked at her and wrapped his arm around her waist …he kissed her on cheek and again moved towards her neck biting her slowly she moaned in pain while he suck the mark…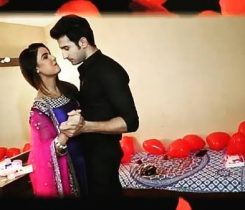 They heard a knock on door and twinkle gained consiousness she looked at Kunj who was looking at her loving they turned and Kunj opened the door to find Yuvi while twinkle took her duppata and set herself properly looking gorgeous ..
Haan ? Kunj asked opening the door ..
If you both are ready shall we leave Papa bebe maa and Karthik already left Yuvi said while Kunj nodded ..
Twinkle are you ready ? Kunj asked with a slight smirk ..
Yeah yeah twinkle said you both go I am coming in a minute she said while he hummed and left outside with Yuvi ..while twinkle touched her mark and blushed ..
Everytime he comes close to me I loose my senses twinkle murmured she blushed looking in mirror and went outside and joined Kunj and his siblings
They all went while Kunj was driving twinkle sat beside him and Amaira and Yuvi on the back …soon they reached the venue …
It was decorated beautifully they came out and went inside …bebe Manohar and Usha along with Karthik were already present ..
Ahaa your to be daughter in law is here bebe said looking at amaira while he in law's Neil and Ragini turned and looked at her with bright smile ..
She took their blessings while Kunj Yuvi too met them ..
This is twinkle my daughter in law Usha introduced them ..
So sorry we couldn't come in your wedding they had done in so short span of time Ragini said to twinkle ..while everyone smiled …
She is really beautiful Ragini complemented ..
Yeah yeah Usha said ..and do you know whose daughter she is she ended ..
Whose Ragini asked ..
My they heard a voice and turned to its source ..they found Taneja family there while twinkle was hell happy seeing them ..
She hugged her dadi them met rt and Leela and Abeer Meher ..she kissed Ishaan on his cheeks ..
Leela and rt came forward and congratulated Neil and Ragini for their anniversary …while they smiled ..
Your daughter is Usha bahu and her is mine what a coincidence Ragini said while the all three smiled they had met many times in their husbands business parties and developed a good bond ..
Twinkle dadi and bebe stand together while Kunj was with Abeer enjoying Ishaan teasing twinkle .. and nerag ushar and lert together ..
Are where is ansh ? Bebe asked ..
He said he is on the way Neil said and called him …
He will come actually he is coming with his cousin Neil said while they nodded ..soon nerag were attending other guest lert and ushar together while the youngsters teasing amaira ..
Your to be is so late may be his flight got delayed Karthik said …
You shut up kitttu amaira said ..
Aww someone's missing ansh Haan Yuvi added ..
Han yeah ? she will miss him after all childhood crush man Kunj said ..
And today amaira you are looking really pretty and the outfits is increasing your beauty more …Meher commented ..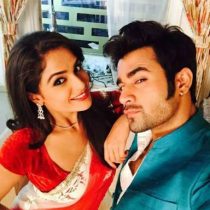 Yeah after all my wife designed it Kunj said with proud she is a perfectionist he said while the teasing amaira mission changed to teasing twinj ..
Awwww really all asked and Kunj bites his tongue and twinkle blushed ..
It's means love is on the air Abeer said ..tickling Kunj ..they all laughed teasing them ..
And my baby sister is looking too beautiful is it because of Kunj love Abeer asked ..
Bhai twinkle said with a blushy voice ..
Mumma Paani Ishaan said ..
Wait Ishaan I'll give you twinkle said she ran from there with Ishaan before anyone could say more ..
See ansh came Yuvi said looking towards entrance he was coming with his cousin and his fiance ..
Nerag smiled and made him meet sarnas and Tanejas elders while he took their blessings the youngsters were looking at him ..
He sees amaira and group and moved towards them met Kunj Yuvi and Karthik …he looked at amaira ..
Hi he said ..
Hey amaira replied they both playing with their fingers ..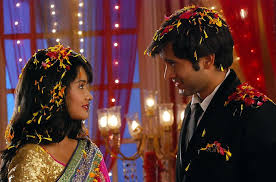 How are you ? Ansh Kunj asked ..
I am fine bhai and you ? Kunj said ..
Yeah me too he is Abeer my brother in law and she is his wife Meher Kunj introduce them ..
Where is your wife Kunj bhai ? Ansh asked ..
She was here only Kunj said looking for twinkle ..
Wait Kunj I'll send her Meher said and he nodded ..they continued talking ..
Meher sees twinkle and Ishaan and send twinkle towards Kunj ..
Kunj …twinkle said while he turned ..
Ansh and twinkle looked at each other ..
See she is ..Kunj started to say but he was interrupted ..
Anshhhh twinkle screamed with excitement ..
Twinkle tu ? Ansh said and they hugged ..while the rest were shocked ..
What you are doing here ? When you came back from Paris ? Ansh asked ..
Haha almost 2 months back twinkle said ..
Why ? He asked while the sarna siblings were confused ..
Are leave that I'll tell you later meet my husband Kunj twinkle said while ansh looked on ..
What a coincidence me and you in same family ansh said while twinkle was confused ..
I am ansh amaira to be he introduced taking amaira in a side hug while twinkle was shocked ..
Really ? It means ..that he is here too twinkle said while ansh nodded that's why I got late he added …
Kunj and the rest were still confused …twinkle sees someone and smiled …the man came towards ansh ..
Maasi(Ragini) is calling you bhai he said ..
Are leave her first see who is here he said and the man looked at twinkle ..
Twinkie he said while twinkle smiled ..they shared a hug ..
Sameer she said with smile she was happy meeting her best friend after so long while Kiara too joined them ..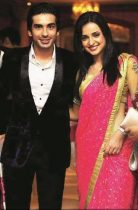 Sameera Kiara and twinkle were standing in a side hugging position ..
Sorry for confusing you all ansh said ..
He is Sameer my cousin and his fiance Kiara he said ..while Kunj and others greet them …Kunj was still jealous of Sameer who was talking with twinkle she was damn happy with them being around ..
Ansh ? How you know bhabhi ? Amaira asked ..
Are when I went to stay with Sameer there I met twinkle she is his and Kiara best Friend the trio are together since long ansh said ..
Oh Karthik replied ..
Yeah then twinkle became my friend too he ended their confusion ..
You know twinkie I missed you alott me and Kiara used to remember you everyday why don't you come to stay there for few days Sameer said ..
Oh I'll when I'll get time twinkle added …
Haan twinkie come na I missed you alott this Sameer huh she said ..
Are what I did complain queen Sameer said while twinkle was smiling seeing them ..
Are that is Kunj ? Your husband we saw his pics Sameer said ..
Yeah he is twinkle replied ..
Wait ansh is going to be your brother in law too Kiara said and they laughed ..
They all went when the elders called them ..sarna siblings standing together ansh twinkle Sameer Kiara Abeer Meher together who knows Sameer and Kiara too ..
Bebe dadi lert and ushar together while nerag were on stage ..
We all are really happy that you all joined on your happiness in our anniversary Neil said while all hooted ..
Yeah we are really happy to announce that we decided to take a retirement now .. Ragini added ..
My son ansh is now well settled and he is ready to start his family too so I don't want to delay any further as his alliance was fixed a year back only …Neil said ..
Now we want to make it official by getting them engaged Ragini said everyone were shocked except the elders ..
Ushar too joined nerag on stage ..are you ready amaira and ansh ?? They asked ..
While the duo looks at each other and nodded …and the elders smiled ..
Ahaa ?? so you are finally going to get married twinkle said ..
Yes ansh replied ?
Don't worry ansh I won't disclose your gf secrets to amaira she said while ansh choked ..
If you did na I'll kill you he said while Sameer and twinkle hifi ..
Are twinkle you shouldn't do this bhai amaira should know about ansh GF's Sameer said .
Yeah I am thinking same twinkle added .
Dare you both I really love amaira ansh said ..
Awwww they all replied ..
They were called on stage by their parents and their siblings stands beside them while the duo looks at each other smiling and exchanged the rings ..while the rest hooted for them …they all celebrated and went for a dance ..while the couple's went …
Twinkle and Kunj was together Kunj was looking at her the slow music was being played …twinkle was looking at Sameer and Kiara who was teasing her from opposite ..
Atleast now focus on me Kunj said with frustration while twinkle looked at him ..
What happen she asked ? ..
Nothing you were busy with your friends now atleast pay attention to your husband he said and turned twinkle back hugging her ..
So what Kunj I met them after so many days twinkle said ..with her happy voice ..Kunj felt his twinkle back her genuine smile back but he was jealous that those smile was not because of him ..
He loved when she had given all the attention to him now when someone else too was in her life he was jealous ..
Haan Kunj said with hurt in his voice ..he twirl her around while amaira was dancing with Kunj twinkle with Sameer and ansh with Kiara while the rest were with others ..
What happen twinklee ? Sameer asked ..
Nah nothing twinkle said …when you are going to get married Haan ? Twinkle asked…
As soon as Kiara is ready Sameer said while twinklee and he laughed ..
Yeah she got engaged to me ? but still scared of commitment he said ..
Yeah she has to because she had to live with you whole life twinkle said dramatically ..
Shut up bdw your husband is damn Sameer said ..
Don't put your eveil eyes on my husband okay twinkle said and the duo laughed again teasing each other ..while Kunj was seeing them ..
Bhai ? Jealous amaira asked Kunj ..
No why would I be ? Kunj replied back ..
Yeah why you would be amaira said and laughed ..
The dance ended and everyone went to have food …the youngsters again started teasing amaira and ansh ..Kunj and twinkle were sitting opposite to each other Kiara was beside twinkle and ansh was beside Kiara the trio playing with food …
Kha moti Sameer said stuffing Kiara and twinkle while the rest of laughed ..
I'll kick you if you call me moti again Kiara said …
Kick him double from my side too twinkle added and thy again hi-fi ..
The dinner got over soon and Everyone went back …
Where re you all staying ? Neil asked ..
Guest house rt replied ..twinkle looked at them ..
We are staying there too Ragini said ..
What really ? Leela asked ..
Yeah Usha you too come there till we are in Mumbai we will have fun Ragini suggested them staying together ..
But ? They are staying with me Kunj said ..
Acha …Kunj bhai you too come ansh said ..
We will stay in guest house Manohar said ..
Haan then we will call pundit ji and asked their wedding date too Neil said and all agreed ..Kunj and twinkle decided to go back home ..
But I am going to stay with Kunj bebe said ..
Even I want to stay with twinkle Suhasini replied ..
Acha maa you both stay with them and come back tomorrow rt suggested they agreed …while all of them left
Twinj went back to house with bebe and Shanti while they changed and was spending time with them ..
Twinkle made coffee she gave Kunj and bebe coffee and then went in her room where Suhasini was waiting for her ..
Kunj why you look so dull today ? Bebe asked ??
Nah nothing Kunj replied…
Don't lie to me atleast bebe said ..
See na bebe maa papa came today instead to staying here they went guest House Kunj said disturbed ..
Kunj they wanted you to stay there too and it was amaira wish to stay there she told them that's why bebe said ..
Acha Kunj said leave it …now I am used to Kunj said ..
You are happy with in your wedding na ? Bebe asked ..while Kunj was quiet ..
Don't know bebe what my destiny planned for me he said .. resting her head on his lap ..
.
On the other side :::
Twinkle puttar how are you Suhasini asked ??
I am fine dadi you ? Twinkle replied ..
I am good too so tell me hows your life going on are you happy ? Suhasini asked ..
I am so confused twinkle said ..
Why ? Suhasini asked ..
I can't understand Kunj ever twinkle said ..one time he says he doesn't love me but his actions shows something else twinkle said while Suhasini smiled ..
Just go with the flow twinkle everything will be fine she said ..and they hugged..
Now you go ..and sleep your wife would be waiting bebe teased Kunj ..
Haha it's nothing like that Kunj said slightly blushing …her dadi is with her he said ..
So ? Shall I drop you bebe teased again ..
Kunj and bebe went while they taunted each other friendly and went back to other room leaving twinj behind ..
The duo were tired they didn't spoke anything and slept ..
.
Next day ::
As decided they were going to guest house where everyone else was staying ..
Abeer came to pick them … Suhasini and bebe went downstairs while Kunj and twinkle was locking their house ..
They were going downstairs when heard a scream …they went to the other floor and sees a man lifting a girl in his arms was going downstairs while the woman was crying …
What happen to her Kunj asked some neighbours …
She tired to commit suicide the other man spoke while twinj was shocked ..
Why ? Kunj asked ..
Don't know he said …and left ..
How can someone commit suicide yaar Kunj said angrily …while twinkle looked at him scared …
Screen freezes
_________________________________________
A quick update ?
Hope you enjoy ? how was it do comments ????
Is this a silence before the storm ???
Thanks to all who commented on the last ? ..
Ignore errors no proof read …
Bye allahafiz ???