Episode 2
Scene 1
Paanchal nation is shown…The city is full of green fields and multi-storey buildings. All the people were happily getting ready for their nation's favourite daughter's suyamwar.
In the Palace…
Drona and King Durpad are seen discussing the suyamwar.
(In this FF, there is no dispute between both. In fact both the families are well bonded and Ashwathamma considers Draupadi and Dhri as his own brother and sister)
Durpad: My dear friend Drona, I always wished that Arjun should be my son-in-law. So only I arranged this bow-arrow task.
Drona: I understood your motive. Don't worry, Arjun will definitely take part in this suyamwar.
Durpad: Hope he wins.
Drona: Who will win other than him?
Durpad: I fear that Karn also has equal ability.
Ashwathamma: That won't happen Maharaj.
They turn and see Ashwathamma and Dhri coming.
Dhri: My sister won't marry a man who is lower in our caste.
Drona: Dhri, he may be lower in caste but he has a great heart. After becoming king, he does a lot of charity and an extraordinary warrior.
Durpad: That's my fear.
Ashwathamma: I'll speak with Duryodhan and make sure that he doesn't reach there.
Durpad: Thank you putr.
A servant girl who is actually a spy of Draupadi listens to this and goes to tell her.
She tells her about Karn and Arjun. Draupadi gets curious about Karn.
Just then Dadisa brings some men with portraits with her.
Drauapdi: Dadisa, whose portraits are these?
Dadisa: Before a suyamwar, the bride needs to see the men who are attending. Ramguru will explain about everyone.
Ramguru is Dadisa and Draupadi's favourite minister. They discuss the nation with him. King Durpad always consider the decision of both the ladies in all the issues.
Ramguru starts to tell about everyone. But Draupadi seems to be confused and not impressed by anyone. Just then he tells about the Kuru clan's prince Arjun.
Dadisa: Arjun….
She gets excited. Draupadi remembers her father's talk and listens to Arjun's description. Seeing his portrait, she gets impressed by his look which is both handsome and majestic.
Ramguru: He is Arjun, the third son of Maharaj Pandu and Maharani Kunti. He is the greatest warrior of this current generation. His speciality  Now he is taking care of the troops in Srilanka and he is the chief commander down south. He is indulged in a war with the Srilankan king but the war is halted now.
Draupadi: Why?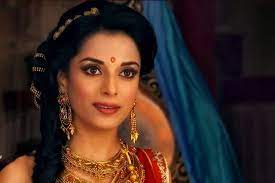 Ramguru: Srilanka's king is going to be a father after many years. The people are rejoicing on that occasion. So, the prince decided not to disturb their happy days and he halted the war. He is going to return soon.
Draupadi thinks highly of Arjun. Dadisa notices this and prays to God that Arjun should win in suyamwar.
Then Ramguru moves to the next portrait. It's of Karn. Draupadi sees that and gets attracted to that. She thinks this face is mixed with a calmness, majestic and of course beautiful face. But Ramguru takes that away.
Draupadi: Why are you taking that away?
Ramguru: Sorry Rajkumari, this came by mistake. He is not going to take part in this suyamwar.
Draupadi: but why?
Dadisa: Draupadi, I'll explain to you. Ramguru, you may leave now.
He leaves.
Dadisa: Putri, he is not the right match for you.
Draupadi: But why? Just because he is from a lower caste?
Dadisa: No, even I'm from a lower caste. I'm not a Rajkumari. Your Dadaji and I fell in love and got married. So, I'm not against that. Even I have a strong feeling that he might be a son of the lord himself. Look at his face, how devotic it was. But why I'm telling you it is wrong is because he is not on the right path. He faced a lot of discrimination in the past. So, he is with the wrong person Duryodhan. He is definitely going to lose against Pandavas.
Draupadi: But Ashwathamma is with Duryodhan, you are not saying anything.
Dadisa: We are all requesting him to switch sides, but he is not doing. So, think about it.
She leaves. Draupadi is in confusion. Both Arjun and Karn have impressed her. She feels hard to choose.
Scene 2
Hastinapur!!!!!
All the ladies see Draupadi's portrait in Bhanu's mansion.
(Each lady has a separate mansion which is connected to a single big palace)
Satyavati: She is the most beautiful and fierce lady. Definitely, Arjun should marry her.
Devika: She is charming.
Kunti: Hope Arjun returns soon.
Ambalika: Kunti, when is Arjun coming?
Kunti: He will be here in 2 days. He went to Dwaraka to meet Krishna.
Ghandari: He should have come here first.
(Arjun is everyone's favourite boy)
Ambika: After he comes, we need to ward off his bad sight.
Bhanu: Yes…
A servant comes and informs them that Duryodhan and Karn are coming there.
Just then they both come. They pay respect to everyone. He enquires Devika about her health. Everyone is stunned hearing this.
Duryodhan: My enmity is with my brother and for my rights. She is my bhabi and the child of this family. Always I'll have that concern.
Satyavati feels relieved. Ghandari and Kunti feel happy. Then the ladies leave.
Duryodhan and Karn see the portrait. Karn smiles seeing that.
Duryodhan: Whose portrait is this?
Bhanu: Draupadi…
Duryodhan: I thought we'll be seeing her in the suyamwar.
Bhanu: Yes, but I got it secretly from my spies.
Karn: Spies…
Bhanu: Yes bhai, I have spies all over this nation. I know all the gossip of this nation. I was so curious to see her as she is definitely going to come here.
Karn: How are you so sure?
Bhanu: Is there any doubt about this? Arjun devar is going to participate and he will win for sure.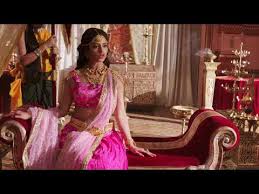 Karn is irked. Duryodhan sees his face change.
Duryodhan: Do you like her Karn?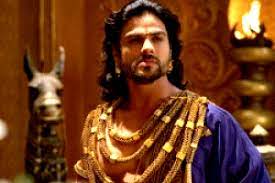 Karn: She looks beautiful with all the qualities needed for the queen.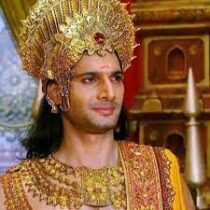 Hearing this, a servant girl drops hot tea in her hand. Bhanu sees that and calls Vrushali.
Karn and Duryodhan see that.
Bhanu: Vrushali, you should have been careful.
She tends her. Karn asks if she is fine. She nods yes.
(Karn and Vrushali are neighbours in childhood and always loved Karn)
Duryodhan: Don't tell Bhanu about this, let's go to suyamwar.
Karn gets happy while Vrushali gets sad thinking about Karn praising Draupadi.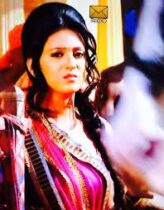 Scene 3
Arjun comes to Dwaraka.
He reaches Krishna's palace and searches for him.
Just then he hear a voice from the cow shed.
Arjun: Govindha, what are you doing?
Krishna: I like to tame these cows a lot. This was my profession and I'm an expert in it.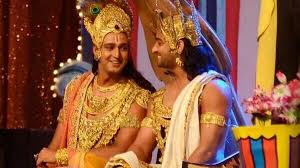 Arjun smiles and tells him about suyamwar.
Krishna: Draupadi is my sakhi. We both have huge respect for each other. The entire nation knows that you'll win but take care of her well.
Arjun: You are switching sides.
Krishna: No, I'm not. You are my cousin but she is my dearest friend. Everyone who meets her will love her for sure.
Arjun: Ok fine, let's talk about something.
Krishna: Don't feel shy.
He teases Arjun while he blushes…
Arjun: Will you be there on suyamwar?
Krishna: Yes of course. I'll be there before that itself. My friend needs my advice right now. I'll leave today.
Then Arjun and Krishna discuss Srilankan war and ethics. Then they both leave for Hastinapur and Panchal respectively.
***********************************************************************
Precap:
Krishna and Draupadi discuss about Arjun and Karn…
Vrushali expresses her love for Karn to Bhanu…
Yudhistr-Devika's love…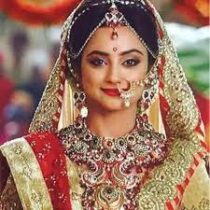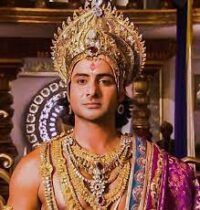 Bhim-Hidimba's love…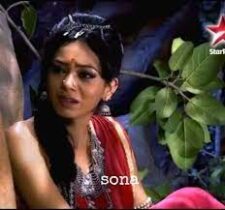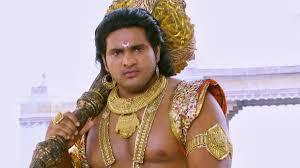 Nakhul informs about his love with Karunmathi to Devika…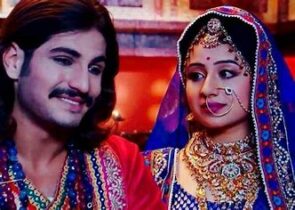 Sahadev-Vijaya's love affair…