Special one in our life #based on true story# (season-1) episode-26
Rithikha came out from the room.
Rithikha :- sorry Vicky! I need to go, mom I will be back in soon. Don't wait for me.
Vicky and her mom was shocked. Before they speak anything, she left.
Rithikha's mom :- Vikram! What happened to her? She was very fine before sometime but suddenly what happened? Do you both have any argument or a fight?
Vikram :- no aunty! But……. Mistakenly, a photo frame had broken.
Rithikha's mom :- photo frame? Which one?
Vikram :- right side of her bed.
Her expression changes………..
Vikram :- what happened aunty? Is their something wrong?
Rithikha's mom :- it's just a photo frame for us. But not for her.
Vikram :- what do you mean?
Rithikha's mom :- it is a greeting card.
Vikram :- what?
Rithikha's mom :- you know, in her past she had loved someone.
Vikram :- yes!
Rithikha's mom :- the greeting card is gifted by him. It's the last gift. I am really very afraid now, what will be going to happen.
I don't no, when she will move on. She had stuck at her past. Everyday, she cries in night times, but after you guys came into her life, somehow……. She start living, enjoying her life. But now!
Please, promise me vikram. You never leave her side. If anyone can help her. It's you. Only you.
(She start crying)
Vikram :- aunty please, don't cry! In fact, I am the main reason to become her life like Mersey. I don't realise at that time, what I was doing is wrong, but I promise you now. This time I am not gonna do the same thing and not gonna leave her.
The weather changes like in movies……..
It turns into very bad condition. The wind blows very speedily. It started raining.
Vikram :- aunty! I will go and search her. Don't worry.
He leaves from their in search of Rithikha.
Other side……………
Rithikha was sitting on the bench.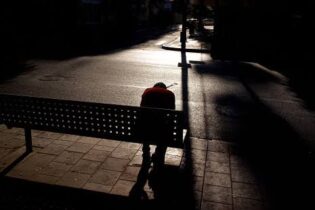 it was  heavily raining. She was crying very badly. She was crying, screaming and shouting.
She get up from the bench and walk a few steps and said,
Why ? (Very loudly)
Why? Every one play with my emotions. Am I a doll or human?
(She break down totally this time)
I think, I don't deserve any happiness in my life. I…….. I………. (She was crying very badly, continuously, she get hiccups)
(She slap herself)
She was hitting the ground by her hands. Her bangles get broke and hand start bleeding and she fall in unconscious state.
A person was watching all these and he felt very bad. He dailed to someone and he said something in phone.
Vikram was searching Rithikha.
He saw, Rithikha had fallen on ground. He stop the car and run towards her. He tries to wake her up but she didn't.
He lifts her up and take her to home.
In Rithikha's home……..
Mom :- Rithikha! Please wake up dear! Dear, what happened? Please wake up!
Vikram called doctor.
Doctor checked her, gave some medicines and gave an injection.
Her friends………. Tanu, harry, ram arrived to her home.
They ask what happened?
Tanu :- vikram, why did you call of us at sudden.
Harry :- what happened to rithu?
Ram :- is she ok?
Vikram explained everything to them.
Rithikha was still unconscious.
They all sat out and discuss something.
Precap :- I love you Vicky.