Sajna Veh Ff – Epi 28 – IshVeer's union or separation ?
Epi 28
---
---
@Dadi's room
@Raichand Mansion
---
---
All are shown gathered in Dadi's room.  Anahita is shown sitting very angrily .
Anahita – what the f**king nonsense is this . I cannot believe this .ranveer , so at the end u have selected a poor girl who cant produe hermes.
Ranveer looks on.
Ragini – mom, however it may be . Ranveer has corssed the limits of a lover. And now its his responsibility to give a name to his child.
Anahita rolls her eyes – swara and laksh are correct. There is no logic !
Swara – umm..its not about surname badi mom. I just don't want our family to face any defame.
Dada ji – that defame he has already done. Now running away from responsibilities wont make it any better beta .
Sanskar nods – Dadi. Its ur call.
Dadi looks on – no. I disagree. The family which has married anahita, suhana, suwara anika and ragini cant accept ishani. I agree she is a girl and she has a life. But we are very known family. what will society say . I cannot accept this. Anyone cant become a raichand.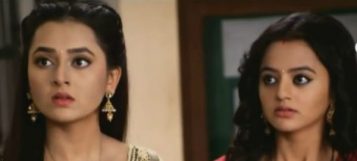 Anahita – atleast this time I thought I will attend my son's wedding .
Kanchi holds her shoulder-  ushouldnt have disappointed all like this Roody.
Shivaay – absolutely. Naam khoon khaandaan always matters.
Ranveer – enough. Please. Dadi, im sorry for my insolence. But im not a id anymore .  I will done a mistake and I will live upto it. I will amrry ishani. Even If I have to give up my very richie rich surname for that .
Ranveer barges off the room.
---
---
@Shivika's room
@Raichand Mansion
---
---
Ragini enters holding Shivika's baby Shivanya .
Now where is her pacifier ?
She searches the room .
This Anika has been careless since the very first day. Im so pissed off. She keeps her baby on one side and her stuff on other.
She cuddles the baby .
.have u seen the pacifier , huh little baby ?
She kisses her softly. She finally gets the pacifier .
Yes…oh..what is this ..a pregancy kit ?
Ragini thinks of something and checks the calender and smiles.
I have missed my date also..should I try this kit. Who knows..even I may be expecting . I will try t right away.
Ragini leaves the room.
---
---
@Lentil Café
---
---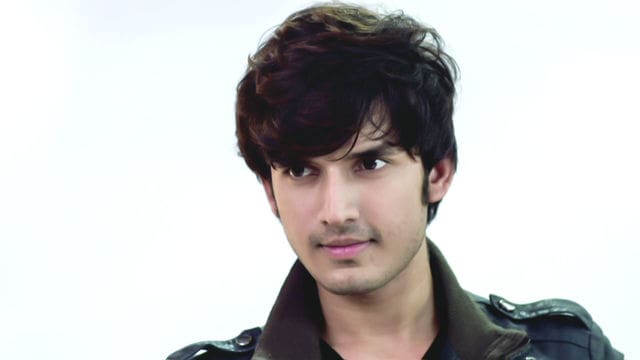 Prince is shown working on his laptop. While, kaanchi is writing something on paper .
Sp – kach kach ? u done ?
Oh yes. Just a little more.
Well , after this whole Roody bhaiya's inicdent. Im sure they will marry u off before u cretae sucha fiasco !
.what do u mean ha ?
U know what I mean baby .
Its not like that. There is not a single guy in mumbai that suits my taste.
Accha ji ? what guy do u want ?
Umm….
Kaanchi smiles.
---
---
@Airport
---
---
A plane is shown landed. A passenger comes down shaking hands with an air hostess. He is shown getting down the plane.
---
---
@Lentil café
---
---

Some one, calm. Very calm. Composed . cool.

---

---
@airport
---
---
The boy is shown walking on road in expensive shoes. He checks his phone. He smiles.
Hello ?
Sir sorry, ur cab is 15 minutes late.
Its okay. Ill wait.


---

---
@lentil café
---
---
Kaanchi continues.
Someone, who doesn't know the menaing of Ego . who is humble and treats servants like he would treat the prime minister.


---

---
@airport
---
---
A coolly collides with him , and his stuff falls down.  The coolly helps him pick it up.
Sorry sir. Galati se..
Its okay its okay. Thanks for helping.
Welcome sir .
Vaise aap ko lagi toh nahi ?
Ji nahi sir. Thankyou
Ur welcome
He smiles
---
---
@lentil café
---
---

But also someone , rich and posh. I have opened my eyes in a luxurious house. And I want a place I can practically adjust in.
Sp nods . he grins widely.
---
---
@Airport
---
---
The boy picks her phone and dials a number.
---
---
@Rohan room
---
---
Rohan is shown lying on bed. He gets a call. he picks up.
Hello? Who is it ? hello !!! hello!!


---

---
@lentil café
---
---
Sp smirks – aisa koi..hai toh..meri nazar mei !
Kaanchi raises an eyebrow – oh is it ? who is it ?
Sp smiles –Vatsal Bhai .
Kanchi looks on .
---
---
@Rohan room
---
---

I am back in india Ro !

Vattyyy !!!!!
Rohan almost jumps.
---
---
@airport
---
---
The boy removes his goggles. His hazel eyes are shown. His face is revealed. (vatsal seth) is shown.
---
---
@after a while
@Swasan room
@Raichand Mansion
---
---
Swara is shown pouting and moving her legs slowly over a pillow. She writhes in pain.
Sanskar comes searching for a file
I had some work ha..so I thought I will finish and ..hey..tumhe kya huwa ? are u okay ?
.sanskar !
Sanskar rushes to her and sits on the bed facing her.
sanskar      – .mera pyara baby..kya huwa ?
My legs are paining a lot .
What why ? let me..
.dur raho tum..its all because of u , u control freak. U and ur out of the world positions.
Sanskar goes all red.
He takes swara's legs and puts them on top of his lap and starts pressing them /
.kya..kya kar rahe ho..cho..choro ..choro sanskar
.kya
Ur my husband andi t doesn't suit u ..leave me
Now u don't behave like a 1920s wife okay ? if I can kiss ur legs and cuddle ur feet then why cant I press them when ur in pain ?
Swara looks on.
Nani looks from afar
Now these rich bahus will make my children press their feet. Anu ko samjhana padega, ki ameer bahu laake ranveer ki jeevan bhi na barbaad kare..Mere Lalla ki shadi toh us adhi gawar ishani se hi honi chahiya. Ha nahi toh !
She leaves.
Swara looks at sanskar with tearry eyes.
Sanskar !
Hmm ?
I love u sanskar !
I know
Sanskar winks at her. Swara gets up slightly to hug him. He hugs her back.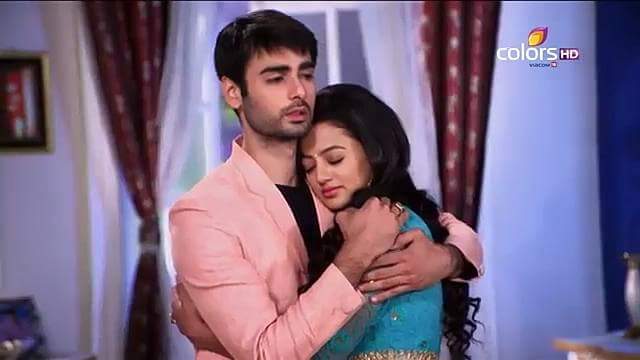 ---
---
@Raglak's room
@Raichand Mansion
---
---
Ragini comes out of the washroom. And holding the machine.
She keeps her eyes closed and crosses her fingers.
Laksh comes to her and jerks her .
What the f**k ragini. What are u doing ?
I want my baby laksh…
No !
But why ! 2 years have passed laksh.
No ragini.
Laksh !
I don't want a f**king baby
Ragini shouts – no….
She realizes there I no laksh and calms down .
Thnk god im imagining. Hey bhagwan..everything is on u …
She opens her eyes and looks at the kit. She gets shell shocked .
---
---
@Twinkle Ishani's room
@walia Mansion
---
---
Ishani sits holding her and ranveer's photo. She caresses her stomach.
Twinkle comes in.
Gopi mami ji is so upset. Even know she is barely talking Ishani.
I know twinkle. But what can I do.
She said clearly that she wont plead to raichands to accept u . she needs to be careful. That house is also viren bhai,arjun bhai and swara di's sasural.
I know I know.
But the question is . do u know Ranveer ?
Umm….what do u mean ?
What If he abandons u ??
Ishani looks on.
Twinkle nods her head in disbelief.
---
---
@Hall
@Raichand Mansion
---
---
Dadi and nani come down the stairs. The whole family Is gathered.
I have taken my decision. Whether ranveer will marry Ishani or not !
Ranveer looks on.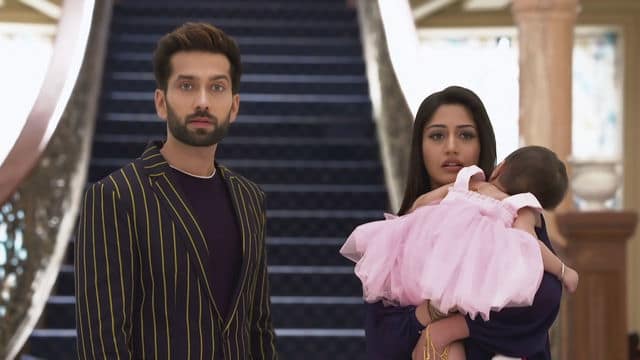 And my decision is final.
Dadi looks stern.
---
---
---
---
Precap –
---
@walia House
Anika teases – tu batati hai ki mai batau ?
Ragini – im expecting
Anahita smiles widely.Laksh looks on angrily.
---
Kanchi is shown walking on road. a truck is about to hit her. suddenly, vatsal pushes her and he falls down on top of her.
ROhan notices from his balcony and feels uncomfortable
---
Dadi – and my decision is ….
Ishveer are shown collaged .