Sajna Veh /E- 58/ -(Twinj Special) – "Not Pooja But Twinkle "

Warning: A non-numeric value encountered in /home/ftpusers/tellyu/public_html/wp-content/themes/publisher/includes/func-review-rating.php on line 212

Warning: A non-numeric value encountered in /home/ftpusers/tellyu/public_html/wp-content/themes/publisher/includes/func-review-rating.php on line 213

SAJNA VEH
---
---
Episode – 58
---
---
@Midnight 3 am
---
---
"Please just hold on!" Durga screamed, running towards him, in attempt to make it in time.
The branch was slowly giving out, letting out sounds of creaks and cracks.
"I can't it's going to brea-"
The branch snapped off. Durga finally reached him but it was too late. Durga looked down at the cliff, watching him Prince, tears filling my eyes that the fact Durga couldn't save him.
*SP !!!!!!!!!!!!!!!!!!!!!!!!!!!!!!!!!!!!!!!!!!!!!! *
---
---
@Katikies Hotel
@Naira , Kanchi and Durga's suite
---
---
Durga sat up breathing hard. Durga looked around her  dark room, taking note of everything Durga saw. Naira and Kanchi were sleeping peacefully . Durga wiped the sweat off her forehead and looked down at her phone. 3:15 am.
Wow that was awful, Durga thought to herself. Durga fell back into her blankets, still looking at her phone. It was a text from "SP:Super Man" (Prince Walia). Relief washed over her body as Durga unlocked her phone to check his message.
SP:Super Man ❤️: hey Durga know it's really late but I cant sleep. i know you're probably not even up right now
---
---
Durga Devi: its ur lucky day im up
SP:Super Man ❤️: oh sorry if i woke u up
Durga Devi: actually u just saved me from a nightmare so thanks .
SP:Super Man ❤️: oh really what was it about.. r u ok?
durga felt warm and happy knowing he cared so much for her. Even though it was just a little nightmare.
Durga Devi: im alright but in the nightmare , u fell off a cliff and i couldn't save u in time
SP:Super Man ❤️: oh Durga , I see u killed me off in ur dream
I giggled to myself and responded.
Durga Devi: and why would i do such a thing?
SP:Super Man ❤️: oh idk maybe because YOU WANT TO STEAL MY CAT  Oliver …
Durga immediately broke out into laughter.
Durga Devi: pssshh..lol….whaaaat !!no !!
SP:Super Man ❤️: I KNEWWWW ITT…YOU ARE AN EVIL MASTERMIND
Durga Devi: AND I ALMOST GOT AWAY WITH IT TOO
SP:Super Man ❤️: THATS IT IM BRINGING HIM IN MY FORT. SURROUNDED WITH PILLOWS, SO THAT KNOW ONE CAN SNATCH HIM FROM ME .
Durga Devi: you built a fort?
A few seconds went by before he texted back.
SP:Super Man ❤️: DONT JUDGE ME
Durga could just imagine him in his blanket and pillow fort clutching Oliver for dear life. It made her smile. Suddenly, Durga let out a giant yawn.
Durga Devi: thanks for talking to me SP?
SP:Super Man ❤️: well thanks for letting me live and keep Oliver to myself.
Durga Devi: it's the least I could do for you? I'm goin back to sleep
SP:Super Man ❤️: yea i gotta clean up Oliver's pee before Ro bhai gets up
Durga Devi: when did he pee?
SP:Super Man ❤️: when i picked him up i guess i scared him, so there's a trail of pee leading to my room
Durga Devi: ewww, good luck with that
SP:Super Man ❤️: yea thanks I'm gonna need it
Durga Devi: goodnight, i love youuuuu❤️❤️
SP:Super Man ❤️: love u too my dearest best friend
Durga sighed in disappointment . she put her phone back on the charger and snuggled with a stuffed bear. It didn't take long for her to drift off to sleep with amazing dreams of her and him.
---
---
@2 Days later
@Fly Away Creative Restaurant
@santorini
---
---
---
---
Biting her lips nervously, Twinkle's fingers found the edges of her dress and tugged at them .  She wasn't nervous! She was dying out of frustration and anxiousness. The day earlier , something had happened that had put her in deep discomfort .
---
---
@the previous day
---
---
Twinkle's dress.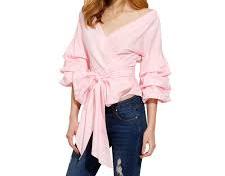 ---
---
Pooja is shown standing in front of the beach , when Kunj comes to her and touches her shoulder .
Pooja – hello there…Hashtag Hubby! What happened ? mood off ? you haven't been talking to me at all …agar shaadi ke baad Bhi…
Kunj cut her off – Pooja listen , before Dadi comes ,I need to clarify with you ..a few things ..
Pooja rolled her eyes – okay ji…go ahead
Kunj – pooja . I was in love ..in deep love with my former wife …as thus ..i didn't want to get married and ..
Pooja – and then you deci…
Kunj – and then Dadi got a heart attack and t forced me to agree. I didn't want to get married to you. and I still don't want to marry you. I ..i don't love you pooja…I don't..i don't like you either .  anything more than a friend , nope. Nothing . I still love twinkle and my life is dedicated only for her. I can never give you wifey rights , let alone love and children , our marriage will be a contract , I will pay for ur expenses and we will act of being husband wife and our marriage ..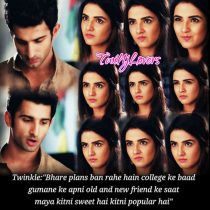 He said in one breath .
Pooja – never happen!
She said coldly . she could hardly choke her tears anymore .
Kunj – what ?
Pooja – yes . I will tell the family that we wont get married . you wont get the blame. Don't worry .
Kunj – but pooja .
Pooja – please kunj . you have reasons to never remarry . okay . but ..i have my whole life, why should I destroy my life by getting into a fake marriage .
Kunj nodded – okay .
Pooja – fine .
She was about to leave when she slipped and fell into his arms. Due to the swift movement, her hemline fell low, and exposed half of her right br*ast . kunj was about to look away , when he noticed a birthmark on it. He got shell shocked.
Grayscale effects are shown . Kunj recollects Pooja speaking in Punjabi dialect and saying Hai Rabba like twinkle , and then this mark . he was stunned . pooja got red in shame and was about to get up when he took her in his arms and started almost running . pooja was left shocked.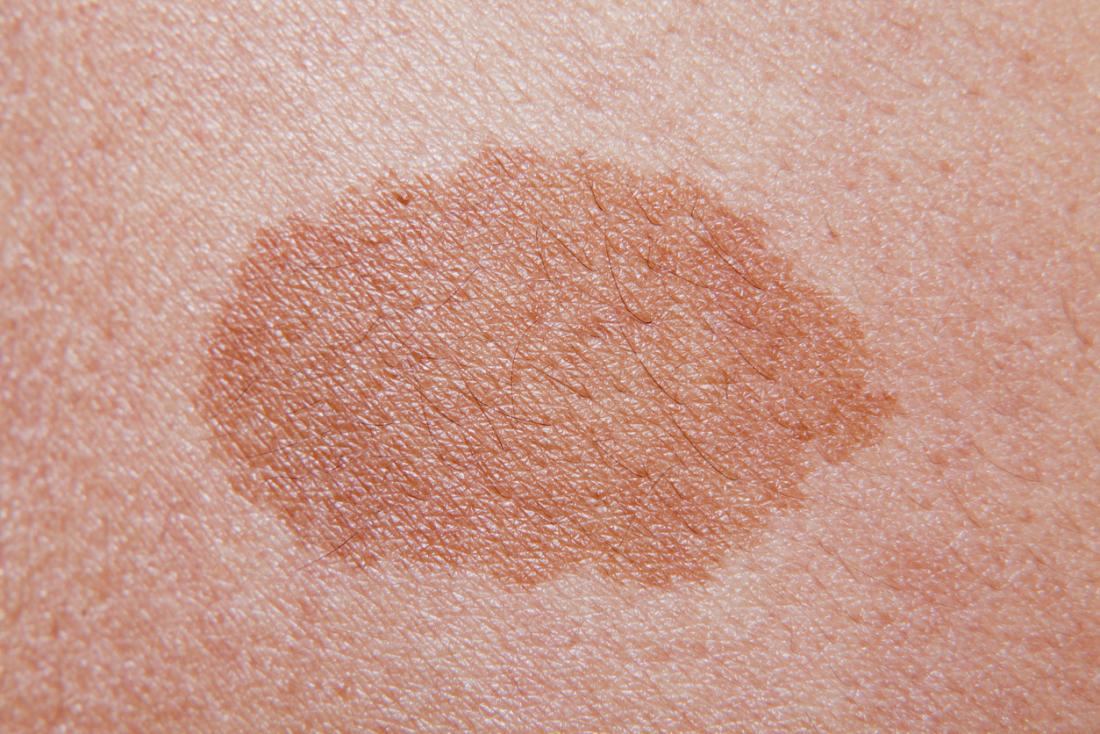 ---
---
@3 hours later
@Hospital
---
---
Pooja is shown standing outside doc's cabin with Ranveer.
Pooja – I don't get this. Why have you brought me here !!
Ranveer – to get some tests done and now see the results .
---
---
---
Mr.Iyer, Pooja and twinkle's father , ishani , Arjun, Jeevika and Swara , Dadi are shown  inside the cabin. kunj is shown palmfaced .
Doc enters . kunj stands up.
Doc – Mrs. Raichand, here are the reports of DNA test , and Sperm test reports of Ms.Pooja Iyer . as said by Mr.Kunj Desai, we conducted a dna test of Pooja and Mr.Iyer , and it matches. She is indeed his daughter .
Ishani rolls her eyes – uff…we know that na ..
Ranveer shushes her. Ishani fumes .
Doc – but we also matched a dupattta of Ms.Twinkle with Ms. Pooja and matches too.
Dadi – what ??
All are shown shocked. Kunj looks with a glint of Hope. Mr.Iyer looks at her with tears in his eyes .
Doc – we had done the virginity test of Ms.Pooja and its negative , she is a non virgin and the sperm test matches with Mr.Kunj .
Dadi – this….
Doc – yes this means…
Swara – she is …
Kunj – Twinkle !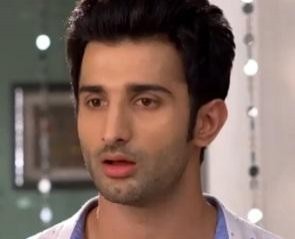 ---
---
@After a while
---
---
Arjun – this means the girl who got married to Kunj was Pooja ??? and this is twinkle ???
Ishani – what the f**k !!
Swara – but , then how did twinkle's DNA match with Iyer uncle !!?
Mr.iyer – the same way that she looks like pooja.
Dadi – what do you mean !
Mr.iyer – I had two daughters. Twins. But one was lost after her birth. We couldn't find her. Ever. But she had a scar, a birthmark on her chest . that she has. She is my elder daughter , our Aarti .
Swara – so now she was found by some orphanage and grew into Twinkle and fell in love with Kunj .
Dadi – and then some how she and pooja got exchanged and the dead one is pooja. Kunj had married pooja !!
Jeevika nods.
Arjun – but then how did the exchange happen ? and why didn't twinkle tell us ?
Swara – ab yeh toh twinkle hi bata sakti hai .
Ishani – but she doesn't have her memory ….
Jeevika looks on .
Jeevika in her mind – I wish I could tell them how the exchange happened. But then she will get to know that twinkle was aware of everything and yet chose to act dead . no, I cant reveal this truth until twinkle tells me to.
Dadi – now what to do !!
Kunj – karna kya hai. Now enough of destiny's play, me and twinkle will finally tie the knot.
Doc – but she doesn't know anything. And we cant stress her. So, you should only tell her that her name is Twinkle, and that her sister was your former wife. Bcz if she knows about her affair with you, the exchange , her sister marrying you and not her, and her death , twinkle will be shattered and she may never get her memory back.
Dadi nodded- don't worry doc. We will keep it in mind.
Kunj – its okay , I will make her fall for me all over again. And im sure she will fall for me, just like swara babhi did for sanky bhaiya.
Swara smiles .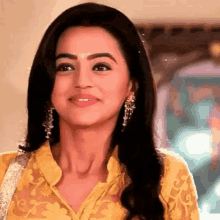 Kunj smiles widely after a huge long time of 4 months .
---
---
@Back to present
---
---
Twinkle was told so. That her name was twinkle and her sister was kunj's first wife. No other details were given to her. She still thought Kunj didn't want to marry her .
"Ma'am Your order?" the waiter asked
"Um.. I'll order later.. I am actually waiting for someone" she replied.
"Ms. Twinkle Iyer!" A male voice startled her.The moment her eyes met his, she knew it was all lost cause. She gulped as her eyes met his, Kunj. His hypnotizing eyes, or the biceps that he flaunted lazily under his tee or those fresh damp hairs in his head, nothing would tempt her. She had decided. Ths twinkle with no memory , knew that her dead sister's hubby loved his dead wife , and even she couldn't just drool at her once jiju , It was inappropriate !!! but she could hear her inner voices screaming just forget about everything, marry him and you can enjoy s*xy nights with greek god! She had to shake herself to bring her mind and body back on track. As her eyes landed on his, for the second time that day, she felt her insides churn. But she held her calm.
"Well, you said you wanted to talk."
"Um.. yeah.. I well.. you know.. i.."
Twinkle stammered not able to form right words.
"I wanted to talk to you about the marriage."
"Oh great! I thought we came for business meeting!"
"Oh may be it is. After all it is a deal right?"
"Is that what you think of the marriage?"
that's what you told me, and now even I think the same. What I actually wanted to say is..
He interrupted her by raising his hand,
"We can continue this conversation later if you don't mind. But now, we have to rush home"
Confused, Twinkle stared at him, "Our parents are waiting.. in the hotel Twinkle. We have to leave now.
---
As the car pulled in front of her house, he looked at her with intensity that sent shivers down her spine.
"Care to get down Twinkle Iyer, I can't stand here all day!"
She stumbled as she got out, but he caught her before she landed flat on her face. which somehow ended up with him leaning on the car for support and her almost hugging him for the support. When his fingers brushed the bare skin on her shoulders, she froze; his fingers were so cold, yet so warm.
---
At the hotel, the engagement date was set for the next day, at 9 am in the morning. Twinkle was shocked when Kunj had been so eager for the wedding , when Twinkle was expecting to end the wedding forever .
But what irked her was his smirk behind his smile, the mischievous glint in his eyes when they were seated together while fixing the date. She surely hadn't missed the flying kiss he had blown when they were leaving.
---
---
@at night
---
---
"You! You! You!!!" Twinkle hissed over the phone.
"Hello to you too! Yeah, its me, Cupcake Yours truly, Kunj"1
Twinkle crushed the ice-cream can in her hand. "It was all your plan isn't it?"
She heard him laugh from the other end.
"Tell me sweetheart,what are you doing now?"
"Why did you do this? You dont even like me, you like pooja didi..you love pooja didi. okay she is dead but you said that day that this wedding is forced then today ! How can you agree? I don't-"
"You speak too much! Have a peaceful night. I don't want any dark circles on my bride on our Sagai..Don't forget to dream about me okay sweetheart?"
Her lips formed a 'O' .
Answer me Kunj ..dare you cut the call..
And he did exactly that. Twinkle slept off tensed , while kunj couldn't sleep due to happiness. He had been dancing for 2 hours at a break dance, when sanskar, ranveer, shivaay and laksh forcefully make him sleep.
---
---
Precap – TWINJ KI SAGAI

Warning: A non-numeric value encountered in /home/ftpusers/tellyu/public_html/wp-content/themes/publisher/includes/func-review-rating.php on line 212

Warning: A non-numeric value encountered in /home/ftpusers/tellyu/public_html/wp-content/themes/publisher/includes/func-review-rating.php on line 213