Hii… I'm back with next part of my story…. 
Let's start… 
5 years later…. 
Kabir is sitting in a room thinking about flashback… He's writing something in a dairy….
That day I lost her forever after that I never saw her again…. That day pooja and bhai get married and I leave that city… I tell them that I'm having a businesses proposal from a famous company… That was a lie… I did that just because I can't see them together…. I leave them the same day… They tried there best to stop me… Pooja was aware that why I was doing this all but still she doesn't say anything…. Maybe she had lost all her hopes… I just wish that pooja have a beautiful life with bhai….. I always wanted her to be happy… That day ayaz also leaves me… He went to his home town as his father was ill…. He was the only one with whom I can share that pain… That feeling….i really miss my family and maybe pooja…
A tear fell from his eyes….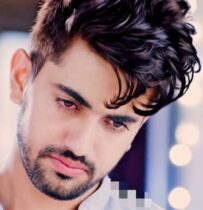 His phone rang…
Kabir: Yes..
Someone: There's a project…..
Kabir: You know that I'm gonna leave this city soon…
Someone:I know….but they want that there work will happen in your presence…. There is some construction work….
Kabir:Where?…
Someone: It's in a village… That place is very beautiful….
Kabir:ok… Send me information…
Someone: Okk…
Kabir leaves from there….
Kabir enters the village…. The streets are very Congested… So he park his car outside the village….
He enters and get amazed by the beauty of the village….kabir thinks: He was right this village is really beautiful…. It will be interesting working here….
He stays in a small cottage there….
A person comes and says: Come… Sir… I'll show you the complete village…
Kabir: Okk..
He was in the field…..Looking at the crops….The crop was almost ready for harvest….Suddenly his eyes fell on someone…He look at that person in incredulity….. That person also saw him…. And leaves from there….
Kabir thinks: Did i just?…. No… No… That's not possible….this can't happen… Some months back i talked to mom and she was saying that they're very happy then how?…. No kabir you're just imagining…. This is not possible… Focus you're here for work….
He leaves from there….
Whole night he thinks about that person… And finally he decided to call his mom next morning….
Parallel scene:
Someone is lying restlessly…. That he/ she was very sad or shocked or in a very confusing situation….. While thinking something deeply a tear escape from his/ her eyes….
Next day…
Kabir was looking after his work and again he saw the same person……He thought: This can't be truth……
His thoughts break by someone voice: What happen sir?…..
Kabir: Who is there??.. I saw her yesterday also….
He get shocked by his answer…..
Kabir calls Suman….
Kabir: Hii…. Mom… How r u??
Suman: Kabir my son… I'm good… How r u?…. And where are you?… You know how much we miss you?…. Dhruv daily ask me about you…. When will you come home?…. It's been 5 years…. You doesn't even came on festivals… I understand that you're busy in your work but still you can spare some time for your family…..
Kabir: I also miss you a lot…. And bhai…. You know that how much i love him…. Umm…. Mom.. How is bhai?… And how is… Pooja?…. I mean it's been five years…. Whenever i call….you said that she's busy in some work… Even on festivals…. She doesn't talk to me…. Is she alright?…. And how is bhai's married life going?….
Suman hesitates: Pooja… She's is very well…. And they're very happy together….
Kabir: Nice…. Where is pooja?… I wanna talk to her….
Suman: She…. Umm… Actually… She just leave for temple with dhruv……
Kabir: I just listen bhai's voice from behind…
Suman: No…. They're not at home so how can…
Kabir interrupts: Plz mom… You know that even on phone i can easily recognize bhai's voice…. Now will you plz tell me where is pooja??…..
Suman: Ohh sorry…. I forgot… Actually… She went to meet his dad….
Kabir: Ohhh…. I just talked to uncle…. He said that pooja is not there….
Suman: Why you're suddenly so curious to know where pooja is??….
Kabir: Because i just….
Suman: What?…
Kabir: Nothing…. I just wanna know where is pooja…. Did she left bhai??….
Suman: What are you saying Kabir?… What happened??
Kabir: Mom… Plz… Don't lie to me… Plz tell me the truth….
Suman: Ok… Then listen….
So… Hope you liked it…. Bye.. ❤