Abhi felt anger on Tanu and also he was doubting who send the photos to Shekhar's house. To clarify things Abhi went to the flat where Tanu was staying. There he saw a crowd and police team . Abhi enquired the matter and came to know that Tanu has committed suicide by cutting her vein. Police was reading the suicide note of Pragya at which she had written that "I am a burden to this whole world. I can't marry some one by cheating my heart. Abhishek Sir cheated me by saying that he loves me a lot. But he didn't accepted me before this whole world and asked me to marry some one else. He put the engagement ring too at my mid finger. Abhishek Mehra is the person behind my death. He refused my love and that's why I am commiting suicide. "
Abhi gets shocked when police read the suicide note.
Inspector : Accha huwa Abhishek tum khud yahan pe ho ? You have to come to police station as part of the case.
Scene shifts to police station
Abhi : Sir you knows my dad and my family very well. You really think I am behind this one ? Sir I don't know why Tanu did it. She never told that she loved me. Infact she knows my marriage was already been decided by my parents . She was my Personal Assistant and a good employee. What's written in this suicide note is not right.
Inspector ; What about this ring ? We got a photo from her room at which you are putting ring on her mid finger.
Abhi : Sir I put the ring, but it was not engagement.
Abhi explained the way why he did it.
Inspector : Kahani acchi hein. But who will believe this, Abhishek ? Evidence is against you,moreover that girl's suicide note . Until we finds truth you have to be in our custody.
Abishek ; Sir, sir please. Don't do it. If I will be here my Rhea will be alone. She is small kid. Please don't separate me from her . Sir please
Meanwhile Pragya entered there .
Pragya : Abhi!!
Abhi : Pragya !!!
They both hugged each other.
Pragya : What all things I heard , I know Abhi you can never do it. Tanu was your staff only.
Inspector : The suicide note is written by Tanu only. We checked the handwriting of Tanu. Infact Abhishek himself stated that it's Tanu's handwriting only.
Pragya : Abhi!!
Abhi : It's true , I know her handwriting well as she was a loyal staff.
Meanwhile Tanu's Mom comes there and screams
Tanu's mom : Sir, Don't give him any bail. He is a killer. Killer of my daughter. My Tanu…..I thought her hand would be red with the mehandi of wedding. But never expected that it will be wounded with her blood stains. Why you did this to my Tanu ? Why you cheated my Tanu ?
Abhishek :I am not a killer. Trust me I have no connection with this. Please …..
The case went to court ,though Pragya assigned an advocate in favor of Abhi unfortunately the case went against Abhi. He was charged as culprit. Court ordered a punishment of imprisonment for 8 years.  Meanwhile Aliya and Ridesh entered and demanded Rhea legally at family court.
Pragya : Mam , I am like her Mom. Please send Rhea with me .
"How can it be possible ? You don't have any  relation with her ? Any one can call a kid as beti , it doesn't mean that she should be her mom. Aliya is Rhea's buwa. As her big brother Abhishek is arrested and imprisoned , Rhea's parents Tej and Jhanvi are dead in bomb blast this court allows Tej's sister Aliya to take Rhea with her . "
Pragya : No!!! This is not possible, This woman is a vamp.
Aliya : Mam, Mr. Abhishek's mental stability is not fine. I lost my baby in womb itself because of him. And moreover I feels pity for Pragya. He maintained relation with Tanu and cheated Pragya. How can he take care of a small kid like Rhea ?
Pragya : Stop it, Why you are concerned for Rhea ? Are you plotting something to ruin her ? Tell me ….
Pragya tightly grabbed Aliya's hand
Shekhar : Pragya , Leave her. I already told we have no realtion with Abhishek Mehra. He and his family matters are not part of our life. A cheater , a culprit doesn't deserves my daughter . Let me remind you this is the last day you are seeing Abhi. If you break my words and come again to meet Abhi then I will forget that you are my daughter. You have to choose one -Abhi or Me !!!
Pragya looked Abhi and Shekhar again and again.
Vedashree ; Tumhein hum se zyada kal aaye iss ladke se pyaar hein , Kya hum donon kaa tumhari zindagi mein koi keemat nahi hein ?
Pragya : Mom!! Please, I need you all. You three are important for me.
Meanwhile Rhea started weeping badly when handcuffs were wore on Abhi and he was taken by the police. Pragya rushed on the way and touched Abhi's hand, her tear drops fell down on Abhi's palm.
Abhi : Pragya , If we lose our parents then our love has no value at all. If you loved me truely then go back with your parents and listen them .
Pragya ; I will go, but promise me that when you will be back from this prison you will come and meet me . I will wait for you Abhi, I will wait for you….
Police took Abhi into the police jeep, Abhi looked through the side glass and find weeping Rhea standing near Aliya.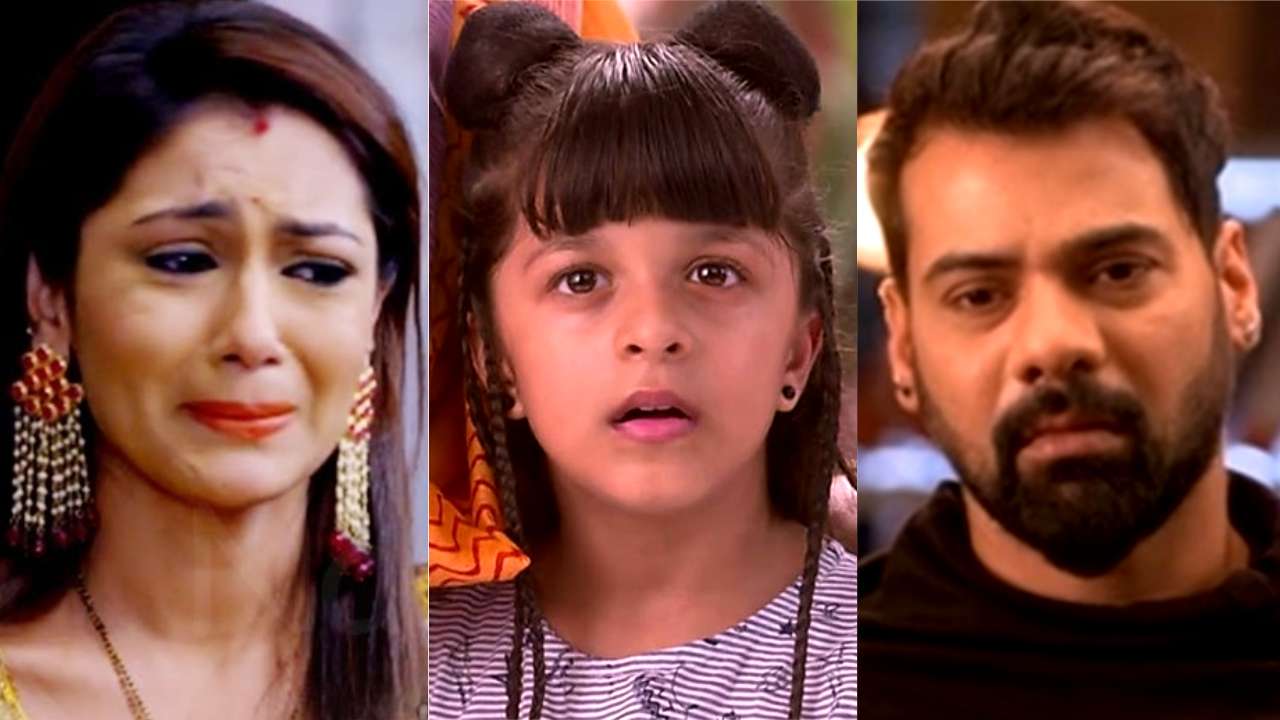 Pragya ran behind it and when the jeep was left from her eye sight she bend at her own knees and moaned her pain in deadful tears.  Aliya lifted Rhea and came before Pragya.
Aliya : Everything is fate's game ,now I will make this little princess Rhea as my hand's puppet. Wait and watch .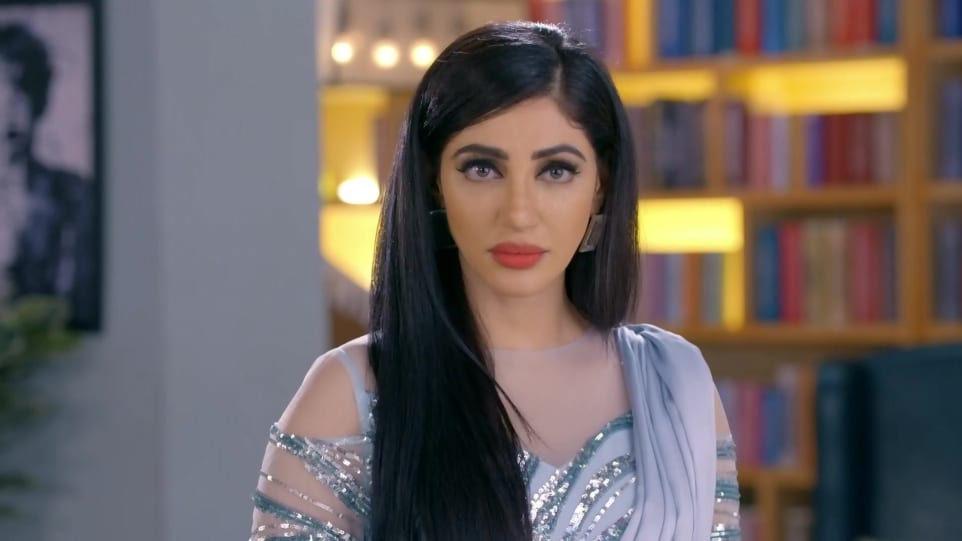 Pragya screamed : Rhea !!!
Rhea was crying throughout the way when Aliya and Ridesh took Rhea with them.
PRESENT TIME 
Rhea : I know the rest of the story . Slowly Aliya aunty and Ridesh uncle started manipulating my mindset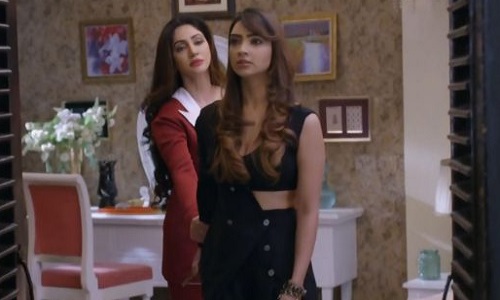 When I grow up I strongly believed that my Brodad is a wrong person, Pragya SisMom is his supporter only. That's why I hated him. When things were not in hand as Brodad was released he forcefully took me to Mehra house as I was blindly showing refusal for going with him. Now I am 16 and I am immatured. I believed Aliya aunty as right always. She showed me the world of modelling and at that colourful world I missed to look back the reality. She is so cheap that today she left me alone at midnight before a bad man. He would have molested me but Brodad came to save me.
Rhea's eyes went teary , Abhi wiped her tears.
Rhea : One thing I want to ask, what was going in between you both ? How you both bear the separation ? Sismom you never tried to convince your dad ?
Pragya ;Post Abhi's imprisonment I was so sad, though my parents were against Abhi they were feeling bad for my condition.  My dad underwent an accident while returning from office. That accident changed everything, his leg got fractured severely and he is on wheel chair now. My mom used to take him office and I used to go college for my work. Life has became mechanichal . As dad said when Abhi came back I didn't took the step to meet Abhi. But one day Abhi came to home and seeing dad in wheel chair he became shocked. That day my mom shouted a lot.
Scene shifts to another Flash back
Vedashree : Are you happy now ? Because of your mad love my daughter is not able to move on at life. We are not able to say her to accept a proposal for marriage. My husband has lost capability of standing in his feet. You came back shamelessly for asking the hand of my daughter ?
Abhi : I am sorry,Aunty
Vedashree : I am not your aunt
Abhi : Sorry , Mam. I won't trouble you anymore. Pragya I have decided it, we can never become one. Let's end it here. You are free and please move on. Your parents need you. Please don't come and meet me .
Pragya ; Abhi
Abhi ; It's over
Present time
Pragya ; Saying this he just left there. But what bought us together again was our concern towards our daughter Rhea only. When I find you on wrong path, I couldn't stop myself from coming to Abhi. How can be so irresponsible towards you ? Tej uncle and Jhanvi aunty gave their precious treasure to us and it' s you Rhea.
Abhi : Rhea bacchi, I can't live without you. Try to understand.
Rhea : I love you Brodad, I also can't live without you
Three of them tightly hugged each other and they were drenched in tears.
Rhea ; But we have to find truth .
Abhi : It's too late, beta.
Rhea : It's possible , I have a friend who is undergoing police training . Actually I met him during a photoshoot . He saved me that time when the whole set underwent fire. His name is Siddarth. He gave me his card too.
Abhi ; But beta it's been years and how can he find evidence ?
Rhea : He is the son of a CBI officer. He is brave and smart. Please Bro dad
Pragya ; I think we should listen her.
Abhi ; You both make arrangements to contact him. Before that I have to meet that vamp lady Aliya who trapped my bacchi.
Abhi droves his car towards Aliya's flat. He reached the flat . The door was opened already. Abhi came inside and he was shocked to see Aliya's hands, mouth and legs  were tied with tight white cloth. He saw the same producer there who tried to misbehave with Rhea.
Seeing Abhi Aliya's eyes went teary she looked Abhi with much pain. Abhi punched the producer and threatened him that if  he tried to mishbehave with some one Abhi will kill him. In fear producer left the place. Abhi removed the rope and made Aliya free. He made Aliya to drink a glass of water.
Abhi : Where is your Husband Vamp Buwa ?
Aliya : He has left me alone. Abhi he is not less than a beast. Whatever I did till now as per at his insistence only . But he is a bastard. He sold me to that cheap producer who was trying to….
Aliya started crying.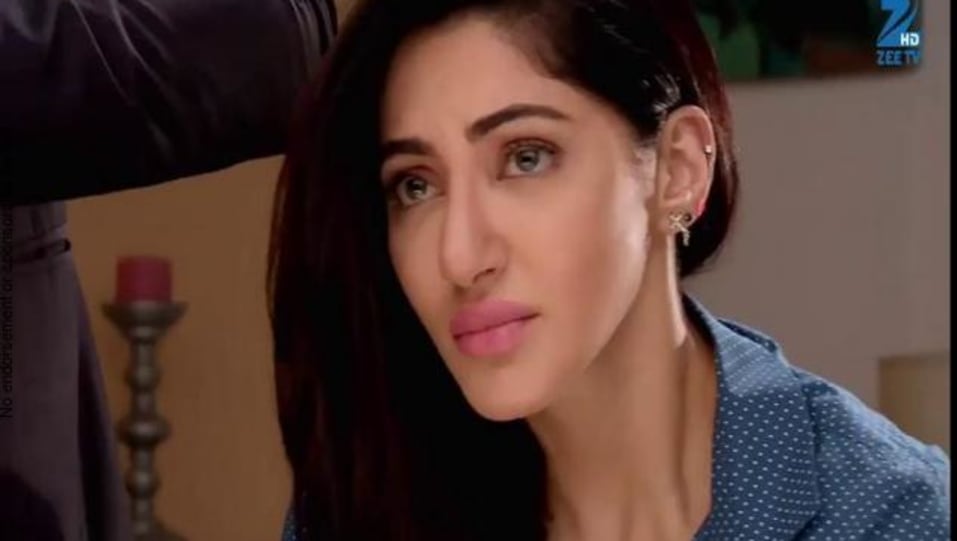 Abhi : God gives justice , may be it comes late . You deserves worst punishement and I came here to give that one to you.
Aliya : Abhi I don't deserve any forgiveness .Just kill me Abhi. My husband never loved any one even me also. I was a stupid to follow his plans and plotting. Everything was planned Abhi. Tanu's death was not a natural suicide , she was forced to do it as she was raped by this producer.
Abhi gets shocked.
Abhi : Tanu was ….
Aliya : Yeah Abhi , I am ready to say it any court , now I don't have any fear because I faced the worst in my life.
"Your statement is recorded, Mrs. Aliya . But you have to confess the whole truth . "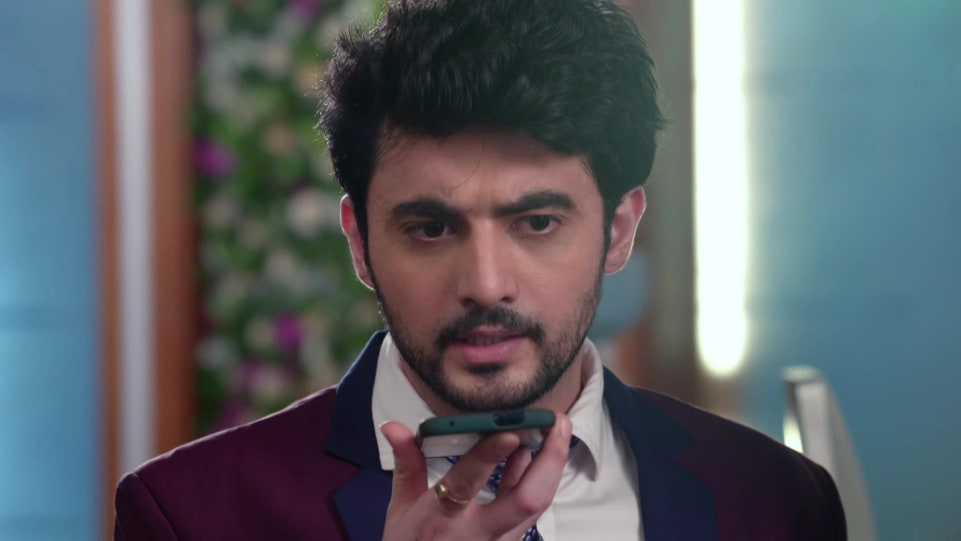 Abhi turned back and stunned to see Pragya, Rhea with a young guy.
Rhea : Dad he is Siddharth. Actually we followed you right after you left home. On the way we picked Siddharth also.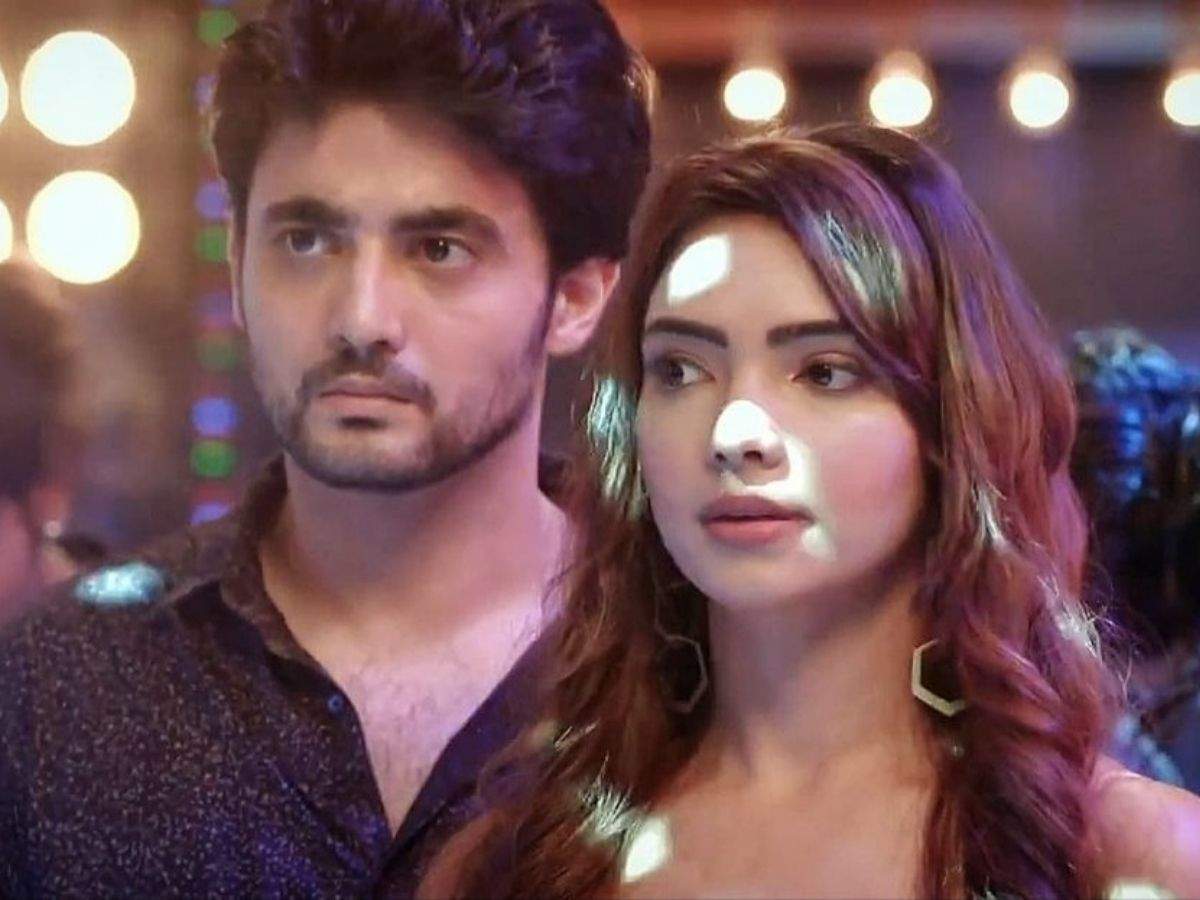 Aliya ; I will tell everything in detail. Riddesh was the mastermind behind every happenings except that bomb blast, Abhi.
FLASH BACK 
At a Flat 
Tanu was weeping in pain when the producer did the cheap thing to her. He left the spot immediately leaving Riddesh there.
Tanu : Why you did it ? My marriage was fixed with Arjun. You already kidnapped Arjun and threatened me to follow your instruction. When I tried to seek help from police you played your dirty games there also . Police also supported you because you bribed them. At per your instruction I acted innocent before Abhishek Sir and asked him to put engagement ring in my finger and Sir did it because he trusted me a lot as I am his loyal employee. You gave money to peon also for taking photos who was standing behind the shelf when Abhishek sir was doing it. I myself regret for doing that. Then you didn't kept your promise and now your man have teared my body , I have lost my self respect .
Riddesh : You have to do one more thing, a suicide note. Just write that Abhishek Mehra is behind your death, he cheated you etc.etc…
Tanu : No !!
Riddesh puts a C.D and shows her a video in the TV . She finds her mom and Arjun  been tied in rope and some one has put gun on her forehead.
Riddesh : For saving your mom and your fiancee you have to do it . Be a good girl, other wise at my phone call they will kill your mother and fiancee before your eyes. Just think do you want to see them dying before you ? So do it.
With trembling hands Tanu started writing the suicide note .
Riddesh : Even if you became alive and came back you think Arjun's family will accept a girl who is been raped ? Police will put this chapter to court and everywhere you have to narrate how he hurt your self respect ? Do you want that ? Usually that time girls will end their life by themselves .
Riddesh keeps a knife at the table and looked her with a crooked smile.
Tanu took the knife and pierced knife at her wrist and cut the vein  .She fell down with a scream.
Present time 
Aliya : Riddesh had influence everywhere, so he bribed the doctor who did post mortem and the report came as suicide only. What happened to her body was unknown to the whole world. When Tanu's mom and Arjun were released they thought Abhi as culprit. That's why that day Tanu's mom shouted at police station believing that Tanu committed suicide because of Abhi. Riddesh is a bastard . I am a super model and I loved modelling so much. When I was pregnant Riddesh manipulated me by telling that in modelling field only those can exist who are fit . I was actually deciding to take a break and to make a come back on the field as I was pregnant. But Ridesh told that by becoming a mother I will lost my beauty and then I can't sustain my image .That's why I intentionally floatted oil on the floor and blamed it on Abhi. I am sorry , Abhi
Pragya : What kind of woman are you ? You killed your own baby ? Real beauty exists in heart , Modelling is a profession , it's not life. At pregnancy every woman take a break from her work. There are so many models who works successfully after becoming mother. They seeks help of fitness trainers, they do exercise ,yoga and much more. Through them your body will be more healthy and you will be more beautiful and certainly you would have pursued your modelling being a mother. Instead of opting those methods you killed that little one's life who was yet to arrive at this world. How can you be so cruel ?
Aliya : Pragya please, Living with Riddesh have killed the entire humanity in me . I was so cheap that I insulted my brother and called him as an orphan . I did very much bad to Rhea and I did the worst thing by trapping her to these kind of producer who played with life of girls. I am sorry Abhi, I am sorry Pragya, I am sorry Rhea. I deserve the worst punishement and I don't deserve your appologies. Still I am really sorry.
Siddarth : You are under arrest Aliya as you was also being a part of Riddesh's cheap strategies. By killing an infant you have crossed all limits.