Hello everyone i am so happy from your response
Today i was supposed to update a long episode but a news left me devastated
Our dear friend @s aka tanishka  died on sunday on her birthday her surgery went unsuccessful
Today i am posting for paying condolence to her i req to all to pray for her that may her soul rest in peace
I literally shed silent tears for her  and i couldn't able to fullfill her last wish of posting 100 episode is pericieng my heart but i will try just for her.
Wherever you are dear you will always remain in my heart..
Few words for you
Na tumhe kbhi dekha tha na tumse kbhi mile the
Phir bhi tumhe taqleef me dekh kr hme rab se bohot gile the..
Aaj tum sth nhi ho..
Aj tum hmare pss nhi ho..
Phir bhi hmare dilo me rhogi tum.
Hmesha hmare bich rhogi tum
#aishaD
I was not in frame of mind to write anything but i wrote this please i beg your pardon for this episode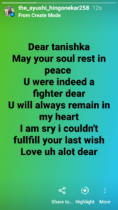 @rahul if you are reading this i wanna say to you just think twice before saying something if you can't make someone happy then you don't have any right to make someone sad
Episode starts here
Scene 1
Riddhima – Bhaii!!!
She looks at angre with tears
Her pov
How couldn't i recognize my brother he was in front of me i don't deserve to be your sister bhai
Pov ends
Although he hates her but seeing her in this condition is not in a brother's principles he goes to her and hugs her
Riddhima started crying badly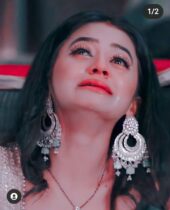 Riddhima (crying) – I missed you bhai..
I m sorry..
I couldn't recognize you but i got my memory back
He patted her back and console her
Riddhima sees siya and hugs her
Siya( crying) – i knew it that you are my riddhu di i missed you alot..
Riddhima – Now i am here na don't cry
Vyom (awkwardly) – Shivanya i mean riddhima how are you
Riddhima (smiling) – i m riddhima for them but for you i am shivanya..
They both hug each other..
At last her eyes fell on vansh
Vansh is standing there with blank face
His pov
I hate you but i can't see your tears
I want to punish you but i can't hurt you
Ye kesa shatarnj ka khel hai
Jaha chaal bhi meri hai or kaat bhi..
Jaha jeet bhi meri hai or haar bhi. (Remember this dialogue guys uff!!)
She is my riddhima whether i hate her or love her she is mine.
She can't be someone else (possessive vanshu😂)
Pov ends
Vansh (firmly) – How are you know
I am sorry because of me you are again here.. ( shi pakde hai.. har dusre din bechari ko hospital pohocha deta hai)
Riddhima – It's ok vansh you gave me My memory back that memory in which i have you i have bhai i have my whole family
Vansh's POV
Oh finally she remember that i am also a part of her life still she can hug vyom but not me
Pov ends
Riddhima – Vansh am i not worthy of a hug from you
Vansh look at her for a moment (thinking – zada zor se soch lia kya 😂) then comes forward
And hug her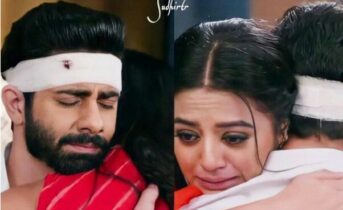 Riddhima started crying in his arms
Which pierces his heart more
They both cry..in each other embrace
She says
Jo chutt gaya wo zindagi ka kissa hai..
Pr jo ruth gaya wo tute hue dil ka hissa hai..
#By AishaD
Suddenly anaisha comes
Anaisha – Mumma!!mumma!!
Riddhima takes her in lap and kiss her all over her face
How is my baby
Anaisha – I am ok but how are you..
I won't trouble you please get well soon
Riddhima – I am fine baccha don't cry..
Suddenly anaisha sees vansh and started shouting
This uncle is bad he always hurt my mumma!!
Don't come near my mumma she is my mumma!! You are bad i hate you
Riddhima (weeping her tears) – no baby uncle is not bad..
Looking at vansh.
He is the best person in the world. He can't hurt me never ever
Say sorry to him
Anaisha runs from their without saying sorry
Siya runs behind her..
Siya makes her sit in her lap
Siya (caressing her face) – You know baby your mumma forgot something and vansh uncle Helped her to remember he is not bad
Don't hurt him please
Anaisha – He won't hurt my mumma
Siya – Never ever!! Your mumma is so special for him
She goes to vansh
Vansh takes her in his hands
Anaisha – I am sorry uncle please forgive me
Vansh (kissing her forehead) – its ok i am not angry on you
And she leaves
Riddhima – Bhai I want to tell you about that night
Suddenly vansh gets angry
He shouts
What you want to tell us ha
That you killed an unborn child in his mother's womb
You killed your to be husband dreams
You made your brother's life hell
She startes crying
Riddhima – Just listen to me please
Vyom – Dont you dare to say anything vansh
We can't give stress to her
It will lead to
Riddhima cuts him in between
Let him speak vyom
Vansh (shouting) – Don't you dare to speak between us
Angre – we came here just to see u riddhima
We can't forgive you better you understand it soon
Riddhima – Bhai please listen to me..
Suddenly vansh phone's ring
Vansh – Hello !!! What!!
We Are coming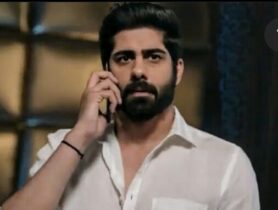 Vansh – Ishani is showing some movements lets go angre
And vangre with siya rushes to VR mansion
Riddhima – Ishani is in coma till now
Vyom – Yes please don't cry shivanya
He hugs her to comfort her
Scene 2
VR mansion
Dadi – doctor said that her condition is improving
May be she will get up soon
Siya – I am so happy i got my both di back
Dadi – Both!!
Siya hugs dadi
Siya – Dadi shivanya is our riddhu di..
Her memory came back
Dadi (crying) -My bacchi!!
Vangre leaves from their being angry ( or koi kam hai ki ni tum dono ko😏)
Scene 3
Vansh and angre are sitting in pool area having man's talk
Angre – i know you are angry that why riddhima didn't hug u first
She first  utter my name hugged me
Vansh (smiling) – no angre no
I am not angry with her on this
I understand the relationship of brother sister
How can i expect from her to utter my name first
When i myself expect ishani to hug me first when she will wake up
Our sister are just like our own child we took care of her we protect her we love her
And seeing her with someone else give jealous vibes but at the end we know she deserves this love
He says
Khwaboo me tum pass the..hakikat me tum aas the…laakh ruswaiyoon ke baad bhi raat ki tanhayi me sirf tum hi saath the…
#By AishaD
Angre hugs vansh.
Angre -What next bhai
Vansh – Let her recover then i will break her..in thousand pieces
Angre has blank face
I don't know bhai i will i punish her
I didn't even rose my voice on her since childhood but that day i slaped her i even kicked her out fro the house..
I can't be a brother i don't deserve this what she did was not right but what i did and what i am doing is also not right but i am helpless bhai
Scene 4
VK mansion
Riddhima comes home
Riddhima -Something is bothering to you na vyom
Tell me i am your best frnd na
Vyom holds her hand
He says
You got your memory back
The day i feared the most has come now.
Will you leave me and my daughter
Riddhima – correction !! Our daughter
I didn't give birth to her but i am her mother
I will not leave her
Whether i will be with you or vansh or none i will be always her mother
They both hug each other
Riddhima – I have to go to VR mansion i have many things to tell them
Vyom -They hate you shivanya
Riddhima -But i love them
I will go alone
I have to talk to vansh
She says
Tere haatho se chhuti hui ret (sand) hu..
Fir bhi teri yaado me kaid hu…
Mere har zakhm ki wajah tu tha..
Phir bhi na jane kyu..
Tujh se judi har jung ki juned (solder) hu..
#ByAishaD
Scene 5
Riddhima comes to VR mansion
She comes to main door screaming
Dadi!! See you riddhima is back siya see your riddhu di is back
Bhai where are you.
Mom see you daughter is here
And she got the biggest shock of her life!!!
She screams
Noooooooooooo!!!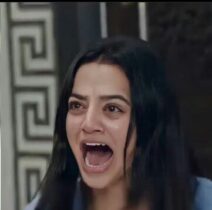 Done for today guys
Pardon me if this is not upto ur expectations but i was not in frame of mind
Target is still 30
Guess what she saw..
You all know the ans guess guess