Trying to be regular to chaliye suru karte hain 😂
______________________________________
While the family was doing chit chat Bansal's come
Kabir: riddhi
Kabir hugs riddhima
Riddhima: bhai, you don't know how I missed you
Kabir: I missed you to baccha!
Riddhima: maa
She hugs kalpana
Riddhima: mamma! I love you!
Kalpana: mera baccha mamma loves you too!
She sees Avinash standing with teary eyes
Riddhima: papa!
Avinash: riddhu!
Both hugs
Avinash: I would have been died! But kabir gave me his sake!
Riddhima: how dare you dad??
All laughs
Riddhima: but how you all know that I came? I mean who told you?
Aryan: one and only Aryan Rai Singhania!
Kabir: no let's go!
Vansh: let's go where?
Kabir: home!
Vansh: she's already in house
Kabir: you both are not married till now so her home is RB Mansion!
Alok: guys guys I have a idea why not Bansal's and Singhania's spent some time! I mean you all stay here only!
Avinash: good Idea!
SCENE 2:
Siya: why are we sleeping on floor with this thick mattress?
Alok: because we want to!
Avinash: yes like old good days!
Alok: Exactly and All ladies will be sleep there and all men's will sleep here!
All: ok!
Riddhima was going kitchen but someone pulls her
Riddhima: who?
Vansh: it's me sweetheart!
Riddhima (blushing): what are you doing vansh leave me!
Vansh: not that easy you have to come terrace!
Riddhima: are you mad I'm not coming
Vansh: I'm not asking I'm saying
Riddhima: ok fine
At terrace: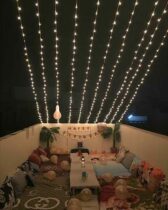 Riddhima: wow
Vansh hugs riddhima from back
Man yeh sahab ji jane hai sab ji fir bhi banaye bahane! Naina nawabi ji dekhein hai sab ji fir bhi na samjhe ishare!! Man ueh sahab ji han karta bahane naina nawabi ji na samjhe ishare! 
Vansh takes her to his arms and kisses her forehead!
Dhire dhire naino ko dhire dhire jiya ko dhire dhirere saibo,, dhire dhire begana dhire dhire apna sa dhire dhire lage re saibo! 
Downstairs:
Avinash: where are riddhima and vansh?
Abhay: mamu and mami? They both are at terrace I saw them!
Dadi: it's good let them spend time alone! Too much happened past 2 years!
Ishani(shouting): you can stay there bhai (aur unko sunai bhi diya wahh)
Riansh blush
Surkhiyan hai hawaon mein do dilon ke milne ki hooo arziyan hai nazaro mein lamha ye tham jane ki oo kaisi huzuri ji ye lab dikhlaye!! Chuppi lagake bhi gazab hai ye dhae!! 
(this song is love 💜💜)
They both sleep in each other's arms
______________________________________
Hlooo! This rangbiranga change in my ff credit goes to dhuk dhuk dhuk dhuk gauriiii a.k.a attractive user 😂 itna bada dil leke kahan jaun? 😂