RiAnsh~ A lifetime of Love 'Prologue'
Vanu baby come here don't trouble your mumma please. Please drink this milk.'
Shouted Riddhima at her 4 years old daughter Vanya who was refusing to drink the milk.
'Vanu baby don't trouble your mumma and drink this milk like a good girl'
Said Vansh being all ready to go to his office.
'Papa, but Vanu don't lites milt it's chee chee!'
Said Vanya in her childish tone pouting at her mumma and pap.
'Ohh so now Vanu baby doesn't loves her papa that's why she is refusing to drink this milk. I was thinking to gift vanu a new doll but it's OK I will gift that gift to vanu's mumma'
He said acting like he is angry with her while she made a sad face and ran towards Riddhima snatching the glass full of milk 🥛 drinking it in one go while Vansh winked at Riddhima and she smiles.
'Now you will gift me doll dadda plijjj'
She said showing him his puppy eyes while Riansh smiled at her.
'Sure baby, your papa will bring the doll for you when he will come back from office.'
' Pinky Plomise'
'Pinky promises
He said and she hugged him tightly while riddhima also hugged them and they shared a long and warm family hug.
_______________________
Vanya Raisinghania, Riddhima and Vansh's daughter who completed their small and sweet family by coming in their small world RiAnsh world.
It's an one shot story on Riansh and their daughter Vanya, their lifeline❤
________________________
I hope you'll liked the prologue, do leave your reviews in the comment section and please do vote for it.
Cover by me: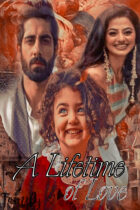 How's it👐
Your Author
Tanya❤