Bahu Hamari Rajni_Kant Review: Life Ok's adorably dramatic take on "Small Wonder"
Bahu Hamari Rajni_Kant started on Life Ok on 15th February 2016. It is a comedy take on a serious saas-bahu concept. The bahu is a simple and perfect girl with no flaws to mention, which makes the Saas disbelief the possibility of having such daughter in law. Riddhima Pandit and Karan V Grover play the leads in the show. Riddhima plays the super robot Rajni in the show. Rajni has many shades to her role. She wants to meet all expectations of her mother in law as well as her inlaws family.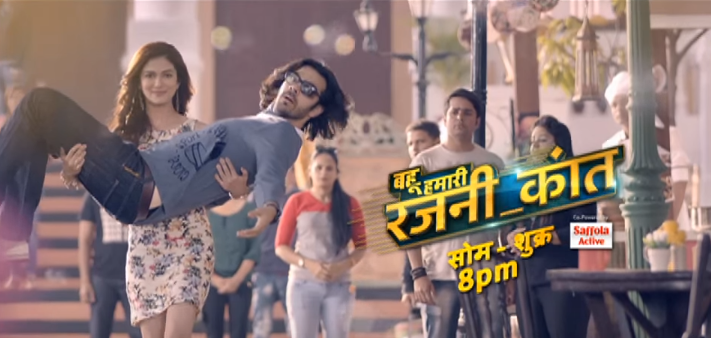 Rajni is made by scientist Shaan to ease out the problems in his dysfunctional family. Shaan wanted to create a one stop solution for every problems which humans are dealing every day. Shaan wants Rajni to help all the needy people like the superheroes do. Shaan has given her a beautiful face, which adds up to his problems later on. Shaan's mother chooses Rajni as her daughter in law. Shaan marries the robot he made and the story progresses on how Shaan deals with his life with his robot wife.
Main Characters:
Shaan Kant: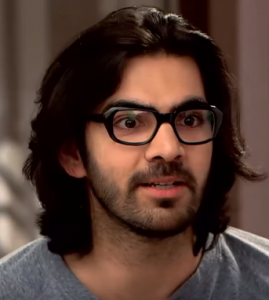 He is a genius with nerdy looks. A scientist who wants to contribute something good towards the society. He has invested his important years in his science and robotics inventions. He is brilliant in his field. He is fed up seeing the women tantrums and wants someone to give a better image of the women in society. Shaan is proud of his smartness and is hardworking guy. He wants to make his invention and his theory get respect. He has put in thousands of hours behind making Rajni. He is inspired by all the great scientists of the world. Shaan presents his robot make Rajni to ease the problems he witnesses around, but ends up marrying Rajni. He has tough time to manage a robot wife.
Rajni: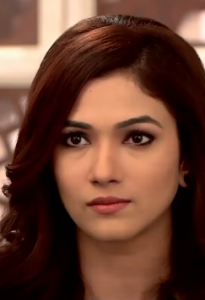 Rajni is abbreviated for Randomly Accessible Jobs Network Interface. She is the eighth wonder of the world, as remarked by her maker Shaan. She has all the intelligence of the best computer systems and has much superpowers. She is beautiful and has much charm with an innocent appeal on her face. Rajni has all the knowledge and data fed in her memory which will be used by her to solve all the human problems arising in the city. Shaan names her a Super robot. Rajni is a combo of all the good qualities any girl would possess, along with the robotic skills. Rajni becomes the super bahu, after marrying Shaan.
Kant Family: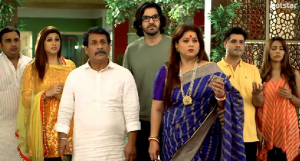 Shaan's parents Amrish and Surili are a combo of Punjabi and Bengali backgrounds. His parents argue over their cultures and this leads the family to divide into Punjabi and Bengali groups. Shaan has two brothers Gyaan and Dhyaan and two Bhabhis Maggie and Sharmila (One Bengali and One Punjabi). Kant Family depends on the maid Aishwarya, who is very demanding. Shaan's mother Surili treats the maid very well and pampers her a lot. Shaan fires the maid Aishwarya, after making Rajni. Shaan is troubled by his family's incapability and arranges a help for them in the form of Rajni. Kant Family is sweet, adorable and lazy. Shaan is the only smart and hardworking person between them. His elder brother Gyaan starts his day by seeing his Surili's face. While the Punjabi-Bengali fights go on, the bahus have tough time to impress their mother-in-law. They are a loving, but dysfunctional family.
Cast:
Riddhima Pandit as Rajni – A Super Robot
Karan V Grover as Shantanu Kant/Shaan
Vahbbiz Dorabjee as Maggie Kant (Daughter-in-law)
Tanvi Thakkar as Sharmila Kant (Daughter-in-law)
Pankit Thakker as Dhyan Kant (Shaan's younger Brother)
Mehul Nisar as Ghyaan Kant (Shaan's elder Brother)
Rajendra Chawla as Amrish Kant (Shaan's Father)
Neil Motwani as Dev (Shaan's Friend)
Divyanka Tripathi as TV News reader ( Cameo)
Story So Far: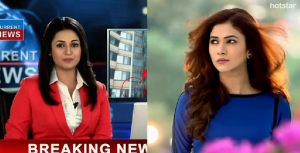 The breaking news shows Rajni climbing the hotel building like spiderman/superhero. Few hours ago, Shaan wakes up by the preset machine slap. Shaan feels proud of his creation and prepares for a meeting to present his robot. Shaan sees his family who is unable to do any work without the maid's help. He feels sorry for them and angry on the maid. He fires the maid from the job seeing her demands of advance. Shaan's mother pampers the maid with double advance. Shaan's mum and dad argue sweetly over their Bengali and Punjabi cultures. A little about Shaan's family is shown, who appear sweet and loving, yet dysfunctional.
Shaan is keen to create something useful to mankind.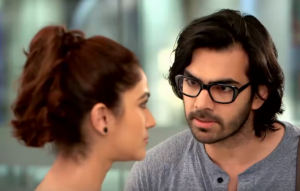 Shaan's mother tells her daughters-in-law about the Working Women's Day event held at hotel Plaza. His mother and sisters-in-law attend a Working Women's Day function. Fire breaks out due to short circuit and Rajni gets triggered knowing about the fire incident. She reaches the hotel and climbs there by using her robotic hand. The media captures Rajni and this makes her a breaking news. Rajni saves Shaan's mother Surili, who was caught in the fire. Shaan feels proud of inventing a super robot, Rajni.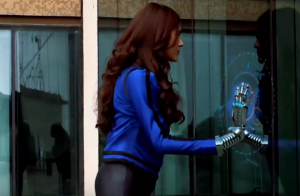 Rajni rescues Shaan's mother, Surili from a fire accident that breaks out during the women's working day celebration at a hotel. Surili is eager to meet Rajni and wants to thank Rajni for saving her life. Shaan commands Rajni to come back to him. Rajni is not allowed to share her details with anyone. Shaan wants to make Rajni presentable infront of Mathew and takes her to beauty parlor to get her makeup set right. Shaan has tough time to hide Rajni from his family ladies in the parlor. Rajni's circuits gets damaged by the water. Shaan tries to repair her soon. He tells Rajni how he created her, and his family is his inspiration.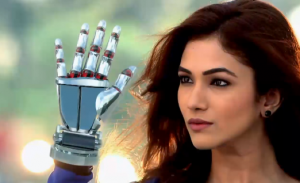 Shaan has invested his everything in making Rajni and hopes the presentation goes well. He checks Rajni whether she is obeying his commands and asks her to follow him. Surili wishes to get Shaan married soon, and tells the good qualities she is looking in her bahu. Rajni does not fulfill the commanded duties well and messes everything. Rajni Ruins Shaan's presentation. Mathew gets angry and calls Shaan's creation a garbage. Amrish jokes to Surili that she will need a robot bahu to get all the qualities in one bahu. Shaan gets disheartened as backup chip also does not work on Rajni. Surili dreams about an ideal Bengali girl as her youngest daughter-in-law. Shaan asks Rajni to go wherever she wants. His words echo in her ears and she accepts his command.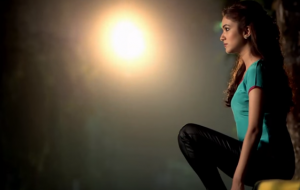 Rajni sets off on a lonely road and sits somewhere. She sees an abandoned baby and asks the people about who can leave a child like this. Rajni tells them about the woman's importance who takes the family ahead. She gives great women examples and people clap for Rajni. Rajni hands over the baby to his mother and encourages her to fight with her inlaws for baby's rights. Shaan does not tell Surili about Rajni, as Surili has electronics phobia. Surili tells him about the girl who saved her life in the hotel, she was Devi's avatar. Shaan feels bad of shouting on Rajni. He rushes to look for Rajni in his lab. Rajni sees an intruder getting in Shaan's lab and beats him up. Shaan finds out that Rajni has caught up his friend Dev. Shaan hugs Rajni on finding her and apologizes for shouting on her.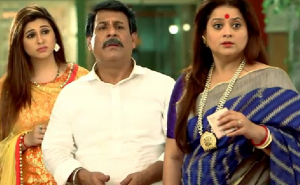 Amrish tries convincing Shaan to get married. Shaan tells him that he does not want any controlling wife. Shaan takes Rajni seeing her with Gyaan. He hides Rajni from his family's sight. Shaan gets a message from Mathew, who is asking for his investment returns. Shaan takes some time from Mathew. He tells Rajni that she is his motivation and decides to make Rajni fine. Shaan asks Dev's help in getting another motherboard for Rajni, as he can't lose her. Shaan needs a high amount to repair Rajni, and agrees for marriage to get his share in Nana's will. Surili then agrees to help Shaani in financial crash in his project when he nods to get married. Shaan provokes Amrish to find a Punjabi girl for him. He slows down the bride hunting process by using the Punjabi versus Bengali bride choices. He tells Rajni that he just likes her, and does not want any Punjabi or Bengali girl.
Our Take: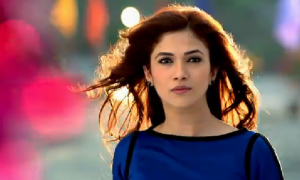 The show has a simple and sweet concept. Such story was earlier seen on Star World's family entertainer Small Wonder, wherein the scientist makes a robot daughter. The difference here is the robot daughter in law. While the concept will definitely go well with the saas-bahu concept fans, there is something there for all type of audience. There is humor, drama, emotions and even love between Shaan and his robot Rajni. The show has funny liners by Shaan's family. A good efforts in the dialogues gives fresh appeal to the show. It's a smart take on an old concept.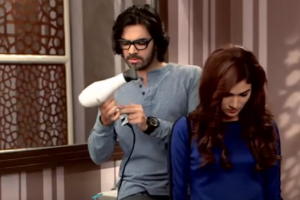 Karan V Grover superbly portrays Shaan, while Riddhima Pandit as robot Rajni is amazingly stunning in her portrayal. She expresses the robot expressions well with an innocent look and charm. Supporting cast as Kant family is okay in their roles. Their characters are sweet, natural and funny to make it an adorable and fun loving family. It is a light hearted show, which will take everyone on a stress free and relief ride.
Overall: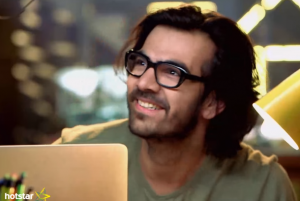 The show brings a funny take on family relations after they get a robot bahu. Shaan hides the fact about Rajni being a robot. This situation leads to a humorous series of events in Kant Family. The show brings some inspiring and dramatic moments as well. It presents a modern saas-bahu concept from a man's view. It is a good family entertainer and would go well with people interested in robotics. Watch it for a good laugh and technical stuff.
Our Rating:
3 out of 5
Feel free to post your reviews in comments below. All off-topic comments will be deleted.