Pyaar Ko Ho Jaane Do Review: Well-outlined and apt story of love, relations and secrets
Sony TV's Pyaar Ko Ho Jaane Do is a love story of Ishaan and Preet. The couple has a strong marriage of four years, and yet they don't have any marital relations between them. They are a perfect husband and wife for the world. Ishaan and Preet stay in a rich influential family. The Hooda Family runs many businesses and also earned a name for successful arms business with tie up with government. Hooda family has three children. The head of the family Mr. Hooda trusts Ishaan and Preet a lot. The family counts on the couple for everything.


Ishaan cares for everyone a lot. Mrs. and Mr. Hooda are relieved as Ishaan is always there for them. Similarly, Preet is responsible for all the household matters. She takes care of all duties well and never gives a chance to anyone to complain. The family values Ishaan and Preet's efforts and does not know the secret of their marriage. Ishaan has a girlfriend, about whom Preet has no knowledge. Preet is never tired of doing efforts. The family would make efforts to bring Ishaan and Preet together. How the family brings love in Ishaan and Preet's lives forms the story of the show.
Main Characters: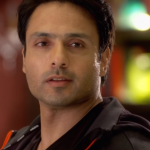 Ishaan: He is handsome, rich and a smart guy who knows to handle business and family with a right chord. He loves his family a lot. He has a guilt on his soul. A secret he has been hiding from his family. He has his best friend in his wife Preet. Both Ishaan and Preet are the most caring people in Hooda family. Ishaan hides about his linkup with Sana, a mysterious girl who knows a big secret about him, which could shatter his life and family. Ishaan becomes the vice president of Hooda industries, but regrets to lose his sister's trust on him.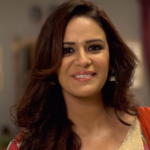 Preet: Preet is mature, caring, loving, responsible and an honest person. She blindly loves Ishaan and trusts him a lot. Preet is loved by everyone in the family. Preet respects her husband Ishaan a lot. She is very confident that Ishaan can't bring anyone between them. She does not know about Ishaan's girlfriend Sana. Preet has a sweet and charming personality, who can win anyone's heart by her patience and way of dealing situations.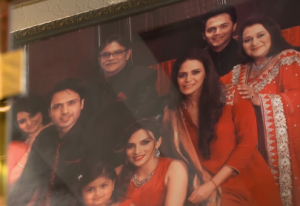 Hooda Family: Mrs. and Mr. Hooda are the eldest members. They love Ishaan a lot and respect him for the never asking for anything quality. They value Ishaan and Preet's efforts for keeping the family united and balanced. The family has much love and understanding. Though they are very rich, but they are down to earth and humble people. Niti, Sid and Trisha are children of Mrs. and Mr. Hooda. Preet loves Niti and Trisha as her sisters and have a good bond with Sid, whom she regards as her brother.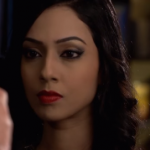 Sana: She is the mysterious lady in Ishaan's life. She can't bear to see Ishaan with Preet. She holds some deep secret of Ishaan's life. Ishaan goes to meet her when he is unable to bear any emotional stress in his life. Sana does not give him freedom to get close to Preet. She keeps reminding him her rights on him. Sana enters Hooda family as the wedding planner. She plans to separate Preet from Ishaan. She wants to win Ishaan by doing anything.
Cast:
Mohammed Iqbal Khan as Ishaan Hooda
Mona Singh as Preet Ishaan Hooda
Micky Makhija as Mr Hooda/Bade papa
Pushtiie Shakti as Niti Khurana
Parag Tyagi as Kiku Khurana (Niti's husband)
Mansi Sharma as Trisha Hooda
Lavin Gothi as Siddharth Hooda
Story So Far: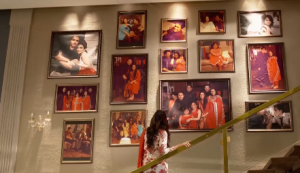 Preet introduces her inlaws family, whom she regards as her Maayka. She tells how her husband Ishaan is the soil for all the roots of relations. She has strong relations with her Bade Papa, Bade Maa, her sister in laws Niti and Trisha, and her brother in law Sid. Preet looks at the family pictures on the wall and expresses her relations where she found parents, sisters and brother in her inlaws. She says she has removed the term inlaws from her dictionary so that she treats them as her own family. The family looks very lovable towards Ishaan and Preet, even when Bade Appa is Ishaan's uncle. Ishaan does a lot for his uncle and aunty by genuine love for them.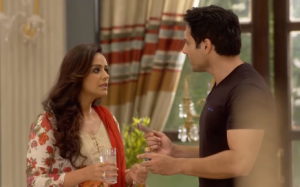 Ishaan's entry is shown after all the family members are introduced by Preet. Ishaan is shown as a protective person. He tells Preet that today is big day for him, as Bade Papa is making Sid the Vice President of his company. He has to see the party arrangements and guests. Ishaan regards Mr. Hooda as his own father. Ishaan manages the meeting at office. Trisha is an active member of the company who works with Ishaan and Mr. Hooda in Hooda industries. Later on, Preet does all the party arrangements. The guests talk about Ishaan and Preet who are the perfect couple.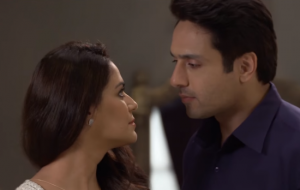 Preet talks to Mr. Hooda and pacifies his tensions. The party goes on well. But it is revealed that Sid does not want to join the company, and wants to become a comedian. Mr. Hooda does not accept this and shouts on Sid. Ishaan is glad that meeting with investors went well. Preet breaks the matter to him about Sid's interest. Ishaan does not like the stand up comedian dream of Sid. Ishaan says Bade Papa's dreams are most important for him and gets angry. Preet stops him from talking to Sid and takes the responsibility on her to explain Sid well. Preet convinces Sid to go for the meeting.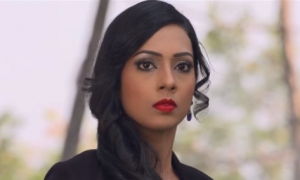 The family tells Preet about Ishaan having a gift in his pocket and assumes its for her. Preet asks Ishaan for the gift. Ishaan lies that he has no gift and will find the best one for his queen. Preet tells about her relation with Ishaan, where there are no marital relations between them. She says they have just one thing between them, that's trust. Ishaan wakes up at night and goes to meet some woman. He gifts her the same thing and its shown that the lady knows some secret of Ishaan, which he is hiding from his family.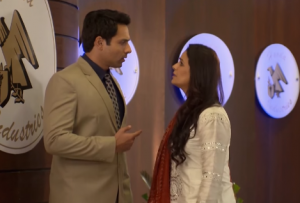 Later, Preet wakes up by a dream where she sees a bride getting shot. Ishaan asks Trisha about her support to Sid for pursuing his comedian career. Trisha tells him that she has worked hard for the company and this is her passion. He promises her that he will talk to Bade Papa about making her VP. Ishaan gets his girlfriend's call and Preet answers the call. The lady says she got the gift and he has not come to meet her. Preet asks Ishaan does he have any affair. He gets worried. Preet says she trusts him a lot. He thinks Preet blindly loves him. Ishaan and Preet's daughter Kavya is introduced. Bade Papa chooses Ishaan as the VP, instead Trisha.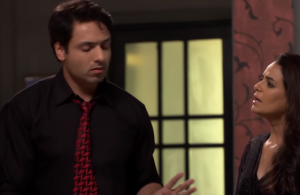 Trisha calls Ishaan selfish to use them for money. She gets into an argument with him. Ishaan gets shattered and drinks. Preet pacifies him. Ishaan asks her to trust him, and let him go to meet someone. He meets the same lady/his girlfriend and stays there at night with her. He comes back home in morning and Bade Papa asks him about her whereabouts at night. He lies about office work. Preet manages the situation. The family then plans an outing and goes on a holiday to Nainital.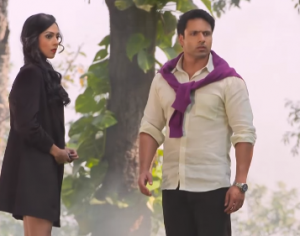 The family gives some space to Ishaan and Preet. Ishaan says their love is eternal without any physical relation between them. He says no one will come between them and asks her to always trust him. He gets stunned seeing his girlfriend there. Ishaan makes excuse and goes to meet the lady. He gives her the pendrive which she wanted and asks her to leave. The lady gets closer to kiss him. Sid spots Ishaan close to that stranger lady and calls him out. Ishaan gets tensed seeing Sid. Sid says Preet is finding him and feels sad seeing Preet's blind faith on Ishaan. Ishaan introduces the lady as Sana, the wedding planner, whom he called for do arrangements for Bade Papa and Bade Maa's 40th wedding anniversary. Sana starts coming at home on pretext of work. She gets jealous seeing Ishaan with Preet. Sid realizes Sana is trying to break Ishaan and Preet. He decides to not let Sana succeed.
Our Take: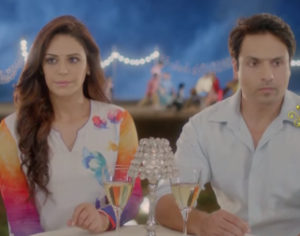 The show has got a good storyline. It holds some suspense behind Ishaan's character sketch. The secret of his life adds up interest in the household drama. The scenes are good to watch as lavish homes and well shot frames capture the eyeballs. Iqbal Khan and Mona Singh are the USP of the show. Their chemistry is really amazing with a natural feel to their scenes. Mona is very earthy in the role and looks effortless. Iqbal Khan looks fresh in the role. He has much to explore. His character has many shades. The supporting cast is appropriate and well convincing. The story looks less fictional. It succeeds in drawing attention and making person watch out the next episode out of curiosity. The show has good pace with non dragging, apt and nicely sketched scenes.
Overall:
The show airs for one hour on weekdays. It makes one have enough of the drama with many parallel tracks. The good thing holding much interest is the leads. Ishaan and Preet's sweet nothings look endearing. This show follows the lines of Bade Acche Lagte Hai from the same channel Sony. This one fits good for the family entertaining slot. It is watchable and appreciable too. It has all the drama, suspense and love content dealt with ease and cleanliness.
Our Rating:
3 out of 5
Feel free to post your reviews in comments below. All off-topic comments will be deleted.