PRANBIR, SIDNEET & SHARBHI FF – You Are My love (Episode 1)
Hi guys, here's the chapter one… So read and enjoy….❤❤
Episode Starts with.
It was a beautiful morning, sun was shining brightly wind was blowing slowly making the atmosphere little cold.
Here in MEHRA MANSION:
Three girls in their early and mid twenties is seen sleeping peacefully cuddling their pillows. A woman in her late- thirties came their and slapped her forehead slightly seeing her daughters sleeping till now. She goes towards them shake them a bit to wake them up.
WOMAN: Girls wake up see its too late.
GIRLS: Mumma 5 minutes please…. ( in sleepy tone. )
WOMAN: No, get up now or else you will get late for your college and Kiara you for going office.
After many pleading the girls waked up rubbing their eyes like a small child and hugged the women.
GIRLS: Good morning mom.
WOMAN: Good morning Kiara, prachi and rhea.
And kissed their forehead one by one.
Yes, the girls were none other than Prachi, Kiara and Rhea. And the woman is Pragya.
PRAGYA: Go and get ready.
They nodded at her and ran to the washroom. While Pragya went to kitchen to make breakfast.
After sometime Kiara came outside wearing a white colored top & blue Jean's with open hair and minimal makeup.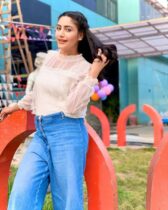 Prachi came wearing a maroon colored suit with minimal makeup and opened hair.
Rhea was wearing wearing a multicolored top and blue knee length skirt  with opened hair and hairband with minimal makeup.
Trio give hi five to each other and looked at each other with attitude in their eyes.
They went downstairs and took blessing from elders. They went towards Abhi and hugged him.
TRIO: Good morning dad.
ABHI: Good morning princesses…
They sat down on dinning seats and started their breakfast and was doing some chitchating about random topic.
After doing breakfast, Prachi and Rhea bid bye to the Mehra's and went from there to their college. While Abhi also left from there for office with Kiara..
SCENE SHIFTS TO KOHLI MANSION.
A boy in her early twenties is seen doing gym in his private gym room in the Mansion. A boy in his mid twenties is seen punching the boxing bag beside the first boy.
PRIVATE GYM ROOM:
After completing their gym sessions, they open their t-shirts and cleaned their sweat from their faces and looked at eachother with  challenging look.
BOY 1: Bhai are you ready for todays challenge??
BOY 2: You are underestimating your bhai, chhote. Today also I will win in the race.
BOY 2: We will see bhai, who will win and who will lose.
BOY 1: Deal.
He said while forwarding his hand to him. Boy 2 looked at his eyes and did hand shake with him.
BOY 2: Deal.
They both were none other than Ranbir & Rishi.
Both smiled at each other and went from there to their respective rooms.
After sometime Ranbir came outside from his washroom wearing a black tshirt with red jacket and black jean.
He went towards his mirror in his room and set his hair with gel. Wear his watch and apply a perfume and smiled at him self. He was not looking less then a Greek god.
SCENE SHIFTS TO RISHI'S ROOM.
Rishi was standing in his lavish wardrobe choosing clothes for himself.
HIS WARDROBE:
After sometime he selected clothes for himself and went for getting ready. After few minutes he came wearing black tshirt with black leather jacket and black pants.
After getting ready, he started going towards the hall where everyone was waiting for them for the breakfast.
In corridor he bumped with someone and was about to fall but someone holded him by his shoulder. Rishi looked at the boy and was shocked.
RISHI: Siddharth yaar dekh kar nhi chal sakta kyaa tu.
( Rishi: Siddharth yaar, can't you see and walk?? )
Yes the someone was Siddharth.
SIDDHARTH: Sorry bhai, I was getting late, and you know naa how is mom she will start shouting.
Just then they heard a voice of Pallavi who was shouting their names. And they both burst into laugh.
PALLAVI: Rishi, Ranbir & Siddharth come fast.
They both ran towards the hall where everyone was sitting including Ranbir who came just now listening his mom's voice. Rishi & Siddharth took blessing from elders and settled themselves for the breakfast while Ranbir said.
RANBIR: Dad actually I was thinking to come office today as today is off in college.
SIDDHARTH: Me too..
VIKRAM: Yaa sure aur seekh bhi jayauge business ke bare mai…
After having their breakfast Vikram along with Rishi, Ranbir & Siddharth went towards their office…
PRECAP: RishBir ( Rishi & Ranbir ) bike race. KiRish's ( Kiara & Rishi ) romance.
That's all for chapter one, hope you'll liked it. Do tell me how was it in the comment section. And give me your review on my this FF.
Your Author
Tanya❤