Pinjara Khubsurti Ka Review: Mayura's battle with her own beauty
Colors' Pinjara Khubsurti Ka revolves about Mayura's life. Mayura defines beauty, which often gets her criticized by her contenders. She feels beauty is the only factor for which she is judged always. He wants to be judged by her qualities, smartness and talents. She yearns to get her freedom and fly free without anyone caging her beauty. Mayura becomes an obsession for Omkar, who wants to win her love to defy his fate. She ends up in the unwanted marriage with Omkar. Omkar cages her to preserve her beauty. He gets obsessed with her beauty and becomes a control freak. He feels he owns her beauty. He cages Mayura and also her dreams. Mayura remains trapped in the golden cage of her marriage. Her struggle to achieve freedom begins.
Main Characters:
Mayura: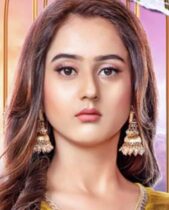 Mayura is a simple-hearted, cultured, pretty and talented girl. She is a perfect example of grace, beauty and intelligence. She is much disturbed that the world just sees her beauty, not her traits. She wants the world to know her for what she is. She wants the people to stop judging her actions based on her beauty. She feels beauty has become a curse for her. She doesn't like to win a praise, which works negative for her sister Megha. Mayura wants to see her family happy. She loves them a lot. She lands in big trouble when she comes into Omkar's sight.
Omkar: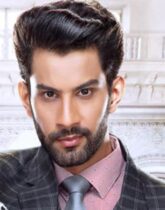 Omkar is a strong-headed, smart, confident and rich young man. He has changed his fate by his hardwork. He used to work as a labourer in a small factory. He now owns a marble business all on his own. He is a devoted son. He made his mother proud of his success. He likes to control everyone around him. He doesn't want any bad luck to follow him. He doesn't think a person should cry on fate. He believes in writing own fate by sheer determination. He wants to achieve love in his life. He comes across beautiful Mayura and falls for her beauty. He overlooks her values and just gets after her pretty looks. Omkar faces a rejection when he proposes her. Marrying Mayura becomes his life's only mission.
Cast:
Riya Sharma as Dr. Mayura Dubey
Sahil Uppal as Omkar Sanyal
Gautam Vig as Piyush Sanyal
Jaya Bhattacharya as Manjari Sanyal
Anindita Chatterjee as Surekha Dubey
Iqbal Azad as Akhilesh Dubey
Uma Basu as Trivani Dubey
Story: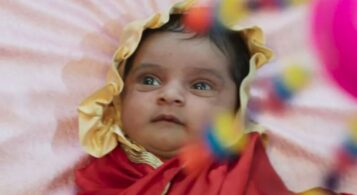 The story begins with Mayura's birth time. Her parents wish for a healthy baby. They aren't wishful to get a beautiful daughter. They are criticized for their dark-skinned daughter Megha. Mayura's mum gets into labor and delivers the baby in the temple. Mayura is much beautiful. She gets praised for her looks. Megha is excited to get a get a beautiful sister. The baby gets a name Mayura, since she is beautiful like a peacock. Mayuri's Dadi Triveni is much happy to get Mayura, who is just as her wishful.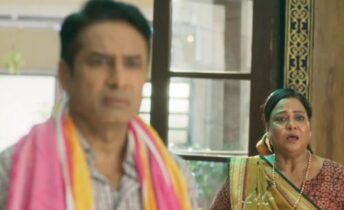 She invites the society to show off the beautiful baby. Her parents are worried that Mayura's beauty will leave Megha upset as the time passes. They don't want their daughters to get hurt because of their contrast personalities. They fear that the comparison between them daughters will make their lives tough. Mayura's mum fears that Mayura will face more problems because of her beauty. She doesn't want the beauty to turn into a curse from the blessing. Mayura grows up into a beautiful girl. She doesn't like the caged birds. She believes in freedom. She wants to give wings to everyone bounded, so that they stay happy. She tells that happy people look beautiful.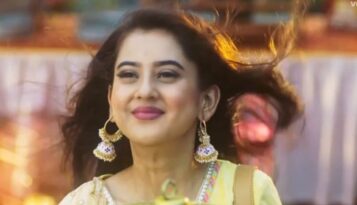 She begins to hear the taunts from some people. She is much pampered by Dadi. She visits her college and gets her answer sheets. She learns that she has got the marks because of her beauty, not her talents. The professor flirts with her. He falls for her beauty. Mayura feels caged by her own beauty. She wants to protect herself from such evil eyeing people. She faces troubles because of her beauty. She doesn't want her family to know what she is going through in the college. She appears happy when she returns home. Dadi wants Megha to take a step to beautify herself. She also tells Mayura to handle her beauty. Mayura expresses her feelings. She doesn't wish to be beautiful. She tells them that she just wants to be their daughter, without any biasing. Her dad explains her that he would always love her, no matter how she looks. He cheers her up. Mayura feels she has blurted a lot out of frustration. She faces criticism and hatred from Megha, who doesn't think her marriage can get fixed when her sister is so beautiful. She is upset over her dark looks.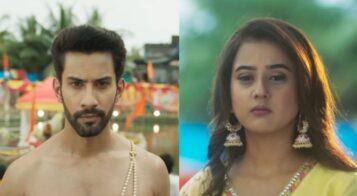 Mayura apologizes to her. Megha vents her frustration on Mayura. She tells that fifty guys have rejected her alliance, just because she isn't beautiful. Dadi wants her to have a sweet tongue at least. Megha misbehaves with Dadi in anger. Mayura feels responsible for messing up Megha's life. She tells that she is trying hard to get beautiful. Mayura prays for her sister's good future. She feels suffocated because of her beauty. She wants to break free from the invisible chains. Omkar comes across Mayura. He learns that he isn't lucky enough to marry the girl he loves. He is determined to change his fate and find the love of his life so that he can marry her. He has become a rich man by his determination. He gets stubborn to make his own destiny. He falls for Mayura's beauty. He begins to search for Mayura.
Our Take: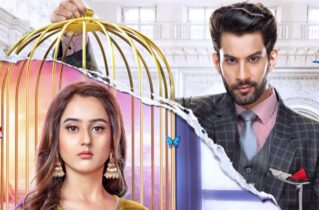 The story holds the interesting elements. Omkar and Mayura's characters are poles apart. That's the attractive element in their scenes. The other characterizations are just normal as per the script. There isn't anything striking to amaze further. Mayura is a sharp girl and can take a stand for her dignity. Her personality changes when she gets caged by her husband Omkar. The twist when Mayura opposes Omkar to achieve her freedom and the point when Omkar falls in true love with her and happily lets her free, will be the two high points in the storyline.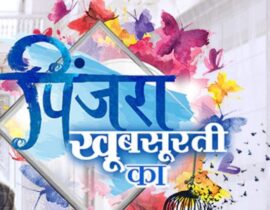 The story moves forward on a good pace. Initial episodes introduces the characters in a way to keep the intriguing factors. Riya and Sahil's pairing is fresh. They put best efforts to make their characters look real. Sahil is convincing as obsessed Omkar, since he has played a similar role in Colors' Shakti. Riya as Mayura looks appealing. The love chemistry between the two will be something to watch out for. Rest of the cast are suitable for their roles. The detailing about the sets and costumes is pretty average. The makers should focus on retaining the basic concept of the show, breaking the shackles of beauty.
Overall:
The show is a good watch with a social subject of colour discrimination. Not just Mayura's problems due to her beauty, but also Megha's problems because of her plain looks add up much drama in the story. Colors attempts well to bring a different show.
Our Rating:
3 out of 5
Feel free to post your reviews in comments below. All off-topic comments will be deleted.