Gungun : I never expected that the one whom I meet at the road just now will come to see me .
Anubhav : Even I never thought that I was trying to cheer up that girl whom my parents wanted me to see.
Anubhav's dad : Oh !! So that's the matter
Gungun's dad : Some times by co-incidence certain people cross our paths and it's quite surprising when those path crossers came close . This is like that only.
Anubhav : Yes uncle .
Anubhav and Gungun looked each other and smiled
Kabhi kabhi ittefaq se plays……
Anubhav's mom : I think they both looks good together
Anubhav's dad : Priya, let them decide it . We should not force anything on them.  But yeah I too find the same.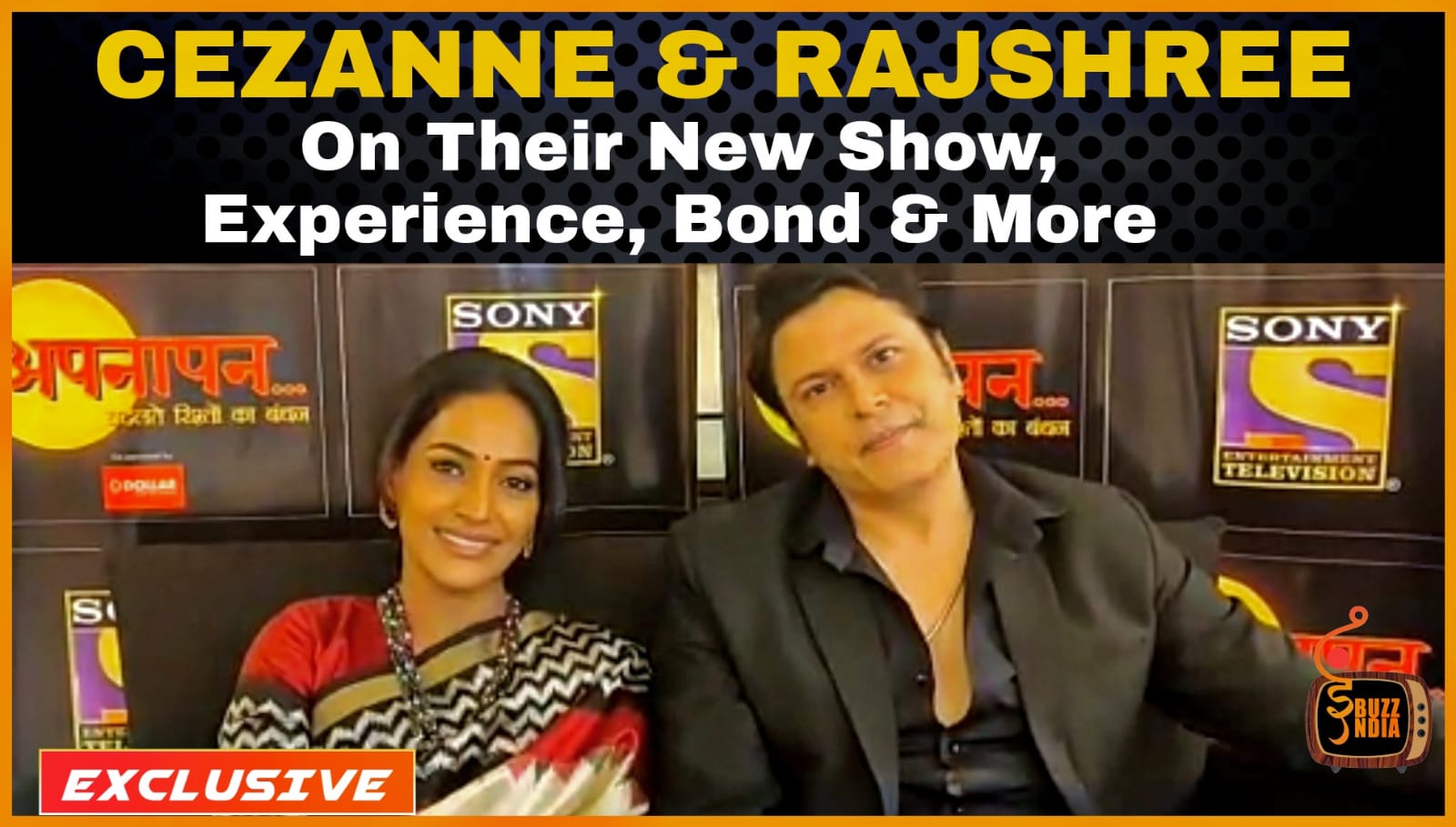 Gungun's mom : So Gungun please come inside beta.
Gungun : What mom ?
Gungun's dad : Nothing. Your mom wants you should make coffee for the guests and you need to serve it for all.
Gungun : What ? Me and coffee !! Mom , you know naa I like to sip coffee but don't know to make coffee . Me and Kitchen are like north pole and south pole .
Priya : Gungun beta , You don't know to make coffee , seriously
Gungun : Yeah Aunty. Seriously I don't know to make coffee
Gungun's dad : My beti has never entered inside the kitchen . That's the bitter truth Priya Ji .
Gungun's mom : Aap bhi naa !! What will they think about our daughter . Mmhh….Gungun What I am telling is I will make coffee and some dishes . You please serve it to them. Deal
Gungun : By the way I am not that boring ladki who does all these stuffs when ladka come to see her. My mom have definitely did it , but not me. Still I will serve because this Chasmish guy cheer up my mood with an ice cream .
Anubhav : Chasmish !! Oh so you liked my glasses
Gungun : Yeah , you looks so professional wearing these glasses.
Anubhav : It's my companion and I have short sight.
Gungun : Oh I see.
Anubhav : By the way what you felt after seeing me ?
Gungun's mom : Beta why are you asking this before all ? We parents will move aside and you both can talk privately.
Anubhav : I just want to know the straight answer and I guess Gungun can tell it before all if she have guts.
Gungun : What you want to say ? I don't have courage to face things . Listen , you are nice guy. But this time I am not ready for anything . I can't think about marriage.
Anubhav : Thanks for clarifying it. Dad, Mom let's leave.
Gungun's mom : Aise-kaise ? I mean you people didn't had coffee – tea and don't get upset about what Gungun said. I will convince her.
Anubhav : Please don't do it . Gungun wasn't able to take any decision which I clearly observed when I met her at the road itself. I don't know what's exactly is making her sad but I definitely want she should move on from that thing. That's why just to provoke her I said intentionally she can tell it before all is she is having guts.
Gungun : What ? But the way I spoke was so harsh .
Anubhav : Not at all. What happens even if we both got privacy to take decision ? You will be telling the same only that you are not ready for marriage . Perhaps that I have to understand through your facial expressions only. May be you will not say anything too. If already it's a No , then it's better that every one should be aware of truth rather than keeping hopes.
Gungun : What about if I ask you the same ? What you felt after seeing me ?
Anubhav : A good hearted girl and when you said you don't know to make coffee I liked the way you are being honest . I have nothing to do with that coffee but you certainly matters to me .
Gungun : What does it mean ? Yes or No
Aubhav : Sorry , But I don't have guts like you to say the decision quickly before every one. It was nice meeting you . Hope we will meet at any other path
Anubhav extended his hand to her. Gungun and Anubhav shook their hands together and smiled
Gungun : I will surely remember you , specially the ice- creams which can melt tensions and sorrows.
Anubhav : Take care and have more ice creams.
Gungun : Mmmh…Can you give me your number ? Let 's be in touch with each other.
Anubhav : Sure
They both gave phone numbers to each other. Their parents watch them silently. That night both of them recalled the happenings
Priya : Beta , you really like her ?
Anubhav : Mom leave it. I feels headache . So I am going to sleep now.
After few days 
Gungun calls Anubhav
Gungun : Chasmish !! Are you free now ? I wants to talk with you.
Anubhav : With me , but why ?
Gungun : Please meet me at the restaurant  now. Okay bye
Anubhav : Gungun, Gungun!!
Anubhav feels confused as why she has called her . They both meet at the restaurant
Anubhav : Why you called me ?
Gungun handovers a wedding invitation card to him.
Anubhav : Varun weds Himanika . Who is this Varun ?
Gungun : My past, My Love. He opted this Himanika because her dad offered him a big post in a company. Varun who was very much passionate about music left all those things and moved on. One day he just made a phone call and said that now he doesn't wants to keep any sort of relationship with me . How easily he break my heart with just a phone call ? Afterwards I tried to meet him to make him understand that he was wrong. But he refused meeting me all times and one day he came infront of me in anger and show his engagement ring and said Loving me was a mistake . I can never offer him millions of money and the music which I admired him he cruelly ignored it by stating that music is good to hear only, it can't offer the luxury . He throw this invitation card before me and said that everything is finished and I was shattered .
Anubhav : That's why you was not able to focus on anything when I asked you to take the car, right ?
Gungun nodded her head .
Anubhav : Your heart was broken and I was telling having ice creams . I am a big stupid
Gungun : No Anubhav . Your way of consoling me was quite new to me . My parents always tried all possible ways to make me smile back after knowing the truth. You was right I am honest and I didn't hidden anything from them. Today is Varun's marriage and I don't know what to do . Will you help me ?
Anubhav : I don't know how to help you at this state. But I think you should go and attend the marriage .
Gungun : What ? How can I ?
Anubhav : Listen , I know you are courageous. And this time also you needs to show it . Go and show them that you are not at all bothered about the person who didn't valued your feelings. If he can be practical then you may also prove that you are also very practical. It will be hard for you to face the harsh reality but believe me once you face it bravely you will become more strong that in any toughest phases of life you can survive much better than this .
Gungun : Whatever you said now has filled very much positivity in me. But I won't be able to face it alone. Please will you come with me ? Please…
Anubhav : Okay
AnuGun attends the marriage of Varun and Himanika . While people started giving gifts at the stage AnuGun also came at the stage. Varun was shocked to see Gungun.
Himanika : Varun, who are they ? Are they your friends ?
Gungun and Anubav handovered the gift to them
Gungun ; Wish you both a happy married life ahead. Varun , As you have moved on I wish all success in your ways . You both looks so good with each other.
Himanika : Thanks a lot, Aapka naam ?
Gungun : Gungun , Varun's ….I mean….Varun's friend. And he is Anubhav. My …my…
Himanika : Oh!! Understood, He is your fiancee, Right ?
Gungun : Actually you are right. He is my fiancee …..
Himanika : Wow, we wish you both all happiness in life . Varun they looks so perfect with each other , Hey naa ?
Varun : Yeah.
Anubhav ; What will he say ? He is now confused . I mean …..Words are lacking to say anything. After long time unexpectedly he has meet his past friend naa ?
Gungun helds Anubhav's hand : Past has gone and present is more important. It's good to see my friend moving on every aspect .
Gungun and Anubhav smiles and walks from there. As they reached the exit Gungun left Anubhav's hand
Gungun : Anubhav , did you see his face ? He was drowned in sweat when he was looking me with you.
Anubhav : You are happy now , isn't it ?
Gungun : Of course. I thought I should tell Himanika about the whole truth. But then I felt why I need to spoil the function ? Varun hasn't told anything to her and she also don't know anything about it . What will I gain by spoiling their happiness ? So I just wished them
Anubhav ; For wishing the one who ditched you , you must need much courage and a big heart. You are blessed with both of them.
Gungun : When Himanika telling that you are my fiancee , you didn't refused .
Anubhav : Even you also didn't said anything .
Gungun :I was feeling something new at that time and perhaps I could say in a serious way that I have really moved on and has decided to tie the knot.
Anubhav ; It will be a great thing. See the one who gets to know your honesty, your courage and your goodness will definitely support you at each step of your life.
Gungun : And what if you became that person ?
Anubhav : Gungun!!
Gungun ; As nothing is hidden from you , why can't you held my hand forever , Anubhav ?
Anubhav was dumbstruck and stared her .
Gungun : Will you stare me only Chasmish or will say anything ? Let me leave, you don't have guts to say it.
Gungun turns to walk, Anubhav helds her hand  and looked her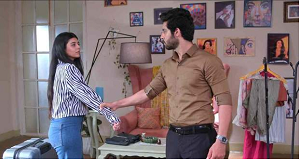 Anubhav : Yes Gungun. I am ready to hold your hand forever.
Gungun : What you said now , Please tell it once more .
Anubhav : Mmmh….I said it's a Yes. What if I needs to tear my heart and prove that it's full of you ?
Gungun : No , but to prove it you have to take me on a Melting Date
Anubhav : What's that ?
Gungun : My heart is already melted in love for you . Just that I was confused between past and present. But now it's clear and I really want to melt all sorrows and pains and flourish it with strawberry flavours of love.
Gungun : I really love you a lot, Anubhav. I never thought at my path of life I can again fall for some one. You bought me back to life
Anubhav : You crossed my path and it was the most beautiful moment of my life. I started loving you from that time onwards Gungun. I love you deeply.
Gungun : Then why didn't you say that day itself when you came to see me at my home ?
Anubhav : Because I don't have that much courage like you .
Gungun : You are unbelievable Anubhav.
Anubhav : So let's go for the date ? Our first Romantic Ice cream Date ?
Gungun nodded her head
They both hugged each other passionately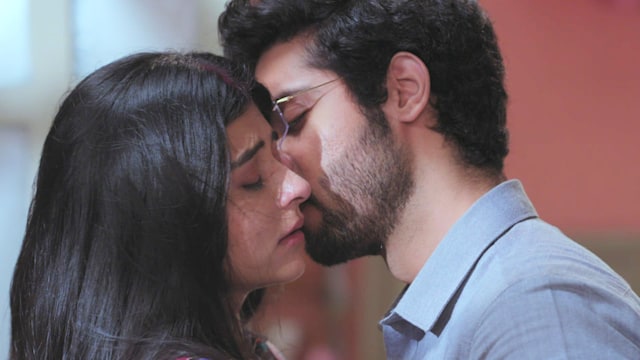 AnuGun's parents are assembled together as AnuGun wanted to tell them some thing.
Gungun's dad : Guys please tell us what you want to say
Anubhav : Sure Uncle . Gungun and me …I mean…..
Gungun : Tumse nahi hoga…..Dads and Moms from both sides , attention please. Anubhav and Gungun have decided to ….
Gungun stares Anubhav
Anubhav : Get Married ….That's it.
All the parents said same thing : Wow!!!!!
Priya : But Gungun , Anubhav really likes coffee  . What if he will tell to make coffee ?
Gungun : Then teach me Aunty how to prepare it . I am ready to learn all things.
Gungun's mom : Gungun really likes to have chole -bature . And what about that ?
Anubhav : So aunty you may teach me how to make it . I am ready to make all those things which my future wife likes .
Gungun's dad : Yeh huyi naa baat !!
Anubhav's dad : We are so happy for you both .
Gungun and Anubhav smiles and afterwards  they spends some time together
Gungun : Why you removed that glasses ? You did it because I calls you Chasmish , right
Anubhav : Not at all. You are with me and doesn't matter if I wear it or not. As I will held your hand always my eye sight will be more clear and visible .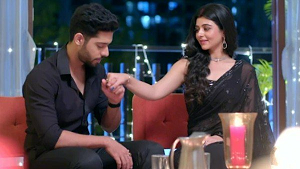 Gungun : I am able to see the waves of love more deeply at your eyes . It's really making me to feel special
Anubhav : I will make more special .
Anubhav kissed at her palm
They both melted themselves at the feel of love at that moment.
AN : THANKS  TO ALL FOR READING AND COMMENTING AS THIS STORY IS ENDING HERE.. HOPE YOU ALL LIKED THIS ONE . NEXT ONE WILL BE FEATURING WITH ABHIGYA AND WITH THAT ONE LOVE SEASON WILL COME TO AN END. I HAVE WRITTEN ON SO MANY PAIRS AND WANTED TO WRITE SOME MORE PAIRS WITH TWO SHOTS .NEXT ONE 'S NAME WILL BE  'COME FALL IN LOVE 'FEATURING FIVE  PAIRS. I AM LISTING THOSE PAIRS HERE.  SELECT YOUR FAVOURITES AND ALSO SUGGEST ME ANY ONE PAIR ONLY APART FROM THESE WHOM YOU WANTS TO READ A STORY FROM ME AS I HAVEN'T DECIDED THE FIFTH ONE. 
Ajooni and Rajveer – Ajooni
Dev and Pari – Gud se meetha Ishq
Armaan and Diya – Yeh Jhuki Jhuki See Nazar 
Ahaan and Pankti –  Tu Aashiqui