PART 46 ANKAHEE ANSUNEE BATEEIN MERI DIL KI AABMDK
Part 46 05/08/2019
Mehak' S POV
I can't remember what time we both slept but whatever happens last night was a euphoric moment. I still feel my cheeks getting warm even imagining about it. I can't believe that we did "that" and now we belongs to each other by body and soul. I blushed when my thoughts went back to the moment how his hands snakes around me, his warm touches made me squirmed and his skillful mouth caused instant arousal in me and how I moaned in pleasure and how tender my voice uttered his name when he did his ministrations. It was all new to me when he undone my dori of the blouse but I held them covered my bosom with hands. His stubble cheek were against my back as he create havoc in me. Unknowingly my hand went away from my bosom and revealed my modesty. He nuzzled between my valleys as his hands came to cover them. Before he enters me, he looked at me lovingly, he looked s*xy as his usually set hair falling over his forehead and told me what is going to happen next and asked me grip him tightly. The first wave of pain shook me as I screamed his name. He enveloped me protectively and murmured some loving words to calm me. It was exhilarating as the pain subsided away. After the first round I was holding Shaurya tightly due to the intense pain with the pleasure I felt for the first time. He crushed me with his weight but I wanted the assurance that he is there with me. He was resting at the crook of my neck as catch his breath and lifted his head blow some air at my neck and pecking my lips few times. He smiled at me with his usual smile which melted me like sugar. He traced my hairline pushing the flying tendrils away from my face. The candle lights shadow and we being close in this form just made my heart skipped a beat. My hands roam around on his muscular torso to his broad shoulders caressing his muscle down at the biceps. Suddenly he gripped my both arms and pinned them above my head.
Shaurya: Now we are one and you belong to me, my love. (Pecking her lips)
Mehak: giggling away and kissed his forehead.
Shaurya: Thank you my love for giving me something very precious to you to me. I love you for accepting me as your husband and as your soul mate.
Mehak: I love you Shaurya for being beside me, for making me feel safe, the warmth I feel when I holding on to you, for hugging me tightly whenever I needed, for all the smiles you bring on my face and how you make my heart flutter every time you look at me lovingly.
He slide down off me and rested with his arm balance at the side of as he plays with my curls. Then in his husky tone…
Shaurya: Are you tired or sleepy?
Mehak: Maybe a little, why?
Shaurya: Because it's time for second round…
Before I could protest he started all over again and I can't remember when we fell asleep. Now when I woke up I realized I am in his shirt and not anything else made my cheeks burned. His distinctive smell of cologne surrounded me and I love this feeling in me. I didn't want to turn to see him as he is sleeping soundly after our last night encounter. I slowly moved a bit to go to the bathroom just then I gasped when his strong arm came around my waist and pulled me towards his back. He kissed at my nape.
Shaurya: Good morning my love.
Mehak: (suppressing her smile turning slowly to face him) morning patidev.
Shaurya: letting out cackle, wow patidev now. Hmmm. I want my mornings to be beautiful like this. (Slowly tracing from her forehead, to her nose then touching her lips then his finger moving down from her chin to her chest.
Mehak: (quickly gripping his finger and looked at him as she pouted at him) what you doing?
Shaurya: Nothing… so are you okay?
Mehak: A little bit tired and pain down there, let me go and shower first. (Pushing the comforter away and trying to get up from the bed)
Shaurya: (pulling her gently) I thought we can start the day with something special, but since you are not okay ….
Mehak: Cheee Shaurya the whole night you didn't let me to sleep and now also you are thinking about the same. Have some control you know…. (Pushing him away and wants to step her feet down again but she was pulled again to him)
Shaurya: After last night I don't think so I can control myself any longer, so you should know that, I will need this more thereafter so you should knew it.
Mehak: Shauryaaaaaaa, don't you feel ashamed at all for saying all these? Let me go, it's already late for breakfast. (She manage to get up from the bed)
In the bathroom I smile at myself looking at the huge mirror as I unbuttoned the shirt, and went to shower myself. I feel some burning sensation here and there and some red spots on me. My skin has visible red marks and upon checking them closer on the mirror it's the love bites and beard burns I earned from him. I smile and shook my head I came off from the shower in the bathrobe as I wipe my hair. I noticed that our bed has been made and the room look neat from earlier. I remembered he throw my saree somewhere and the rose petals was all over the floor but it's all been swept off and tidy now. I was standing in front of the dresser, detangling my hair when the brush snatched off from my hand.
Mehak: Arey…
Shaurya: You can comb later, now have this tea first. (He placed the tea cup on her lips as she held it and slowly sip the tea) He rested his chin on her shoulder. Breakfast is at balcony, let me take a quick shower and we can eat together okay, till then enjoy this tea and this (as he place a kiss on her cheek)
My face lit up with his warmness and I quickly give him a kiss on his cheek.
Shaurya: Don't do all these baby, later you can't walk, by now you should have known how tough I am on the bed.
I pushed him away showing my angry pout and as my eyes widen with shock. I put the tea cup on the dresser and wrapped my hands over my chest.
Mehak: What are you talking, since morning you are talking all these stuffs? Do you know how painful it was, you have not left a single spot on me giving me love bites and I have beard burns all because of you. (Pointing at her shoulder blade).
Shaurya 🙁 With a devilish grin on his face) what to do. I have the most demure and shy wife I can't keep myself controlled. (Slowly pushing the bathrobe off her shoulder planting a wet kiss there) Do you know the time we were locked up in the apartment during the karwachauth?
Mehak: Mhhmm… (Controlling her smile)
Shaurya: You are such a temptress do you know that. While you were sitting in the corner there wiping your hair off? Never had I thought Paranthe Wali Gali Mehak Sharma can be hot pattakka too…
Mehak: Okay enough you don't start anything early morning, I am hungry now, and you freshen up quickly and come let's eat breakfast. (As she push him into the bathroom)
Shaurya: Mehak, Mehak listen to me, come lets shower together, and I can check the wounds and apply medicines too.
Mehak: No, I can apply medicine on my own. Now you go quickly shower and come out. (This time she manage to push him inside and lock the bathroom from outside) He was knocking the door and pleading to listen to him but she just replied that she didn't hear him and went to dressing table to brush her hair smiling at herself. She heard the shower turned on and quickly change her clothes.
He came off quickly and she waited for him at the balcony admiring the well maintained garden. Both sat together and enjoy the warm breakfast together. After that they went for a stroll around the villa and Mehak played in the swing which was hanging on the old tree. Not a single moment Shaurya leave her hand as he held it with his. Both played chase and running after one another when Mehak stealthily fell on the ground holding her knee and ouches in pain. Looking at her in pain Shaurya rushes to her side and rolled her pant up to see what happened.
Shaurya: Mehak what happened? Are you okay, I am sorry now you are injured because of me? Tell me where is it paining? (While checking her shins and calf)
Mehak: Its very pain there pointing at her leg. (Suppressing her laughter and admiring his concern stricken face. She knows she can't hold it too long and she push him away and started to run away from him, sticking her tongue out) Khadoos kumar you are too good for your own. Finally I am able to trick you. (Laughing at him she started to run backward looking at him.
He gets up off the ground and dust off the dirt off from his trousers and rolled his tongue inside his mouth as he looked at her amusingly. She started to run off from him after seeing his smirk. He didn't even have to pace up his speed as he knows he can catch her with his usual pace. She giggled seeing him coming after her. Within no time he scooped her up off the ground and throw her on his shoulder like a caveman. His laughter of victory reverberated the garden as he balanced her on his shoulders like a sack of gift of Santa. Mehak yelled at him asking him to put her on the ground but he didn't listen to her as he continue to walk. Just as they continue with their banter they heard a familiar voice. Shaurya turned to see little Janhvi came running towards them. He saw Ruben and Diya looking at them as they held a big smile on their face. He quickly put Mehak on the ground. Mehak kneel down to Janhvi and enveloped her into a bear hug asking how she is. They joined the others and Diya gave mischievous smile looking at Mehak. Mehak knowing the smile just suppressed hers and looked away. Shaurya and Ruben walked in front as Janhvi skipped along going around the fresh blooms in the garden. Diya quickly hooked her hand with Mehak and dragged her in another direction.
Diya: So Mehak Ji tell me was everything alright last night?
Mehak: Blushing hard…Haan everything was fine.
Diya: Aww Mehak I am so happy for you (squeezing her into friendly hug) I am so happy that you have given your relationship a chance. I can see you are genuinely happy today.
Mehak: I should thank you Diya, it was because of your encouragement and words that I could do this. By the way, thank you so much for the room decoration. I was stunned to see the room setup like that and when Shaurya enter the room he didn't understand too and thought this is for you guys. But later I need to tell him that it was for us. Quiet an awkward situation though but all thanks to you for arranging for us.
From far Ruben waved at them signing them to join inside the villa. After lunch they departed back to the city. The bus dropped Shaurya and Mehak at their home. Mehak was in kitchen preparing some light food when Shaurya wrapped his arm around her from behind. She gasped a little with his sudden action and turn to look at him in her side ways. She raised her eyebrows in confusion asking him what but he smiled at her as he plant a kiss on her cheek.
Mehak: Shaurya, I am preparing dinner right now and what are you doing?
Shaurya: I am helping you with the dinner preparation. Anyway I can't stay away from you even for a second. I want to be like this hugging you, holding you tightly feeling you all the time.
Mehak: Okay but let me finish this first I can't stir them if your hands keep touching me here and there.
She shot him a playfully glare as he started to nuzzle the softness of her neck. But all her pleas didn't work so give up and did whatever she can to complete the cooking. Though she tried to free from his arms it didn't work either. She pouted at him and asked him to set the table and he let go of her reluctantly. They retired to their room and Mehak was standing facing the dresser brushing her hair when Shaurya flashed his wicked smile made her to tremble. He inhaled deeply and Mehak he whispered her name she felt like the ground is slippery hearing his soft s*xy tone. Before Mehak could protest, he scooped her up in his pounciful arms and carried her to the bed for another love making session.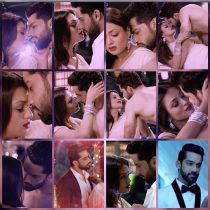 These are the images I wanted to insert for Diya & Ruben's wedding pictures unfortunately it went missing so I am inserting them now.  Do check them out and give me your feedback please. I am sorry for the delay as I was very ill and on medication. I am still not fully recovered but I cant keep my readers await for me so I am posting this chapter for time being. hope you guys enjoy them.