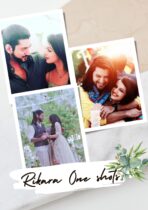 Pain.
What a simple word to express such a haunting emotion. If only the word managed to have the power to express the feeling that the young woman was feeling as she ran through the narrow roads between houses with no sense of awareness. Awareness of where it lead.
She ran and ran without a thought, but each step she took was becoming harder than the previous one. She had no idea where she could run off to for anywhere she went, they would find her. There was no way she could hide from them in Bareilly. She had to escape this hell but it was getting harder to continue running as the adrenaline that had helped her to continue her race so far had finally began to subside and the pain she felt in her limbs had begun to call out to her, begging her to tend to them.
But she couldn't stop, not after whatever happened. She wasn't safe here. Although there weren't any voices behind her, she knew they would be coming for her any moment. After all, the villagers weren't going to forgive her for running away from her marriage with the so called king of their village, Kaali Thakur.
But what could she do? He was trying to get her married to his brothers along with him. Besides, he was an old man, nearly as old as her dad who wasn't even alive. She had agreed to the marriage only because they had kidnapped her mother, but now that her mother was no more, she didn't have to be their puppet. She squeezed her eyes tight, trying to stop the tears that were coming from her eyes as her mind that kept replaying the moment when she found her mother's lifeless body. Her mother had killed herself so she could escape from those evil men. Although she could never forgive herself for being the reason of her mother's death, she knew the only way to honour her death was to fulfil her last wish.
To run away from this hell.
So she kept running, not caring to tend to the wounds in her legs that had formed as a result of falling down again and again. Neither did she stop to catch a breath, she couldn't waste even one second. But as she continued running, her vision started to blur out, her lungs ran out of air, and a burning sensation had begun in her limbs but still she couldn't stop.
Clutching into her heavy skirt that was embroidded with silk threads and made with great works, she kept running. But the heavy lehenga combined with the jewelries were only making it harder for her.
She stopped for a moment as she realised the change in her surroundings. She wasn't running in that narrow road anymore. She was in the middle of a street that had the woods on either sides. She hadn't even realised when she had entered the woods.
She lifted her leg to continue running but her leg stood frozen in place, unable to move. Dread filled her as she turned her head to the side hearing the sound of a car! They were here! Her vision began to blur even more as nausea struck her. The world around her moved in circles as the sound of a horn rang in her ears.
Beep!
But she stood there frozen on the spot as she held up her arm to cover eyes from the blinding lights of the car's headlights. The next thing she knew, she was on the ground, her head throbbing in pain as she tried to not give up the fight.
Was her effort going to go down the drain now? Had they found her?
As she laid there on the ground, the car that had come to a halt beeped it's horn once again and then she heard the sound of a door being shut. She tried to look up to see what was happening but her body wouldn't move an inch.
"Excuse me?" Came a manly voice from beside and she looked at him. He had long hair and was wearing a black suit. His facial features and everything else had not even registered in her brain as he seemed like a blurred image. "Are you okay? Can you get up?"
Since when did Kaali's men start to talk with such politeness?
She wondered in amazement.
Hearing no reply from her even after calling her multiple times, the long haired guy picked her up in his arms. She was too weak to show any kind of reluctance. But she knew that in this cruel world the only person she could trust was she herself.
"Please don't take me…back…I don't want to…marry him.." She let out in bare whisper before she passed out.
Her eyes seemed to have connected with his, telling him an unspoken story just before she shut them down.
He looked at her in concern and then safely placed her inside the car. Taking his water bottle, he sprayed some water on her face but when she didn't open her eyes, he decided to take her to the hospital. His car hadn't hit her and there wasn't an head injury which bled but looking at her condition it wasn't hard to guess that she was too weak.
*******
Beep!
Her eyelids fluttered, trying to adjust to the light that fell on her face. Her head felt too heavy to be moved. She opened her eyes and looked around but her vision was blurred. Then, she closed them and opened them again. After continuing this exercise for sometime, she was finally able to see her surroundings. Slowly getting up from the bed with her hand on her head, she looked around. Noticing an unusual place that seemed like a hospital, she tried to force her brain to think about what had happened to her that led her here. And all of a sudden, the memories came rushing to her as if it was some movie playing.
She clutched onto her heart as the picture of her lifeless mother crossed her mind. A lone tear escaped her eye. She wanted to scream and cry out but before that she had to escape from here.
"You're awake!" Came a manly voice and she looked towards him as he entered through the door. "How do you feel?"
There was a tiny bit of surprise, relief and concern in his eyes on seeing her awake. She observed him carefully, top to bottom and couldn't help but wonder if Kaali had imported goons from the city or the underworld to catch her. Sure he looked decent, but what if the city goons were like that? Dangerously good looking.
"Are you crying?" He asked walking closer to her and Gauri prayed in her heart that Kaali wouldn't get to her.
"Who are you?" Gauri asked in panic, "Where am I? Why did you bring me here?"
"Calm down, mam." The guy said gently, "You're in a hospital right now."
"Where is Kaali?" She asked directly, not beating around the bush.
"Kaali?" The man asked in confusion at the mention of such a weird name. "Is that your pet? If it is, then I'm sorry to say but that's a weird voice of a name."
She frowned at him in confusion and annoyance. Why was Kaali's men making fun of him?
Just as he was about to sit on the chair next to where she lay, she forced herself out of the bed and immediately regretted it as pain shot in her leg, through her wounds that were still not completely healed. She lost her balance and was about to fall but he caught her on time. Their eyes connected at an instant and to him her eyes were intriguing. It seemed lost yet confident, innocent yet bold, her eyes showed a raging fire that his artistic eyes couldn't miss. There was so much pain in her eyes and for some reason he got an urge to fight away all her evils.
To her, his eyes seemed honest. There was a sense of truth in his eyes that provided her some comfort. But how could a mere stranger who could potentially be one Kaali's men give her comfort?
He placed her gently on the bed and said, "Listen, you shouldn't be walking right now. The wounds in your leg haven't healed yet. Please take rest."
Her wide eyes stared at him in disbelief. "I won't marry him." She stated hoping that he would understand her firm resilience and leave her alone. "Not until there's life in my body!"
"You're safe here." He said with a gentle smile. "And whom are you talking about? Were you forced to marry? Is that why you ran away? And who in the world is Kaali? Is that even a name?"
She looked at him in disbelief wondering why on earth was Kaali's man behaving so weird with her. Wasn't it time for him to shut her down and hand her over to Kaali?
"I'm sorry." He said shaking his head with a small chuckle. "I'm Omkara, Omkara Singh Oberoi. Nice to meet you miss..?"
He forwarded his hand and looked on at her expecting her to answer. Finally she said, "Gauri, Gauri Kumari Sharma."
They shook hands and Omkara sat on the seat beside her.
"Wanna talk?" He asked with a shrug. "So how did you end up infront of my car? You know you could've been hit right?!"
"So you're not one of Kaali's men?" She asked innocently and he couldn't help but chuckle at her.
"I don't even know this so called Kaali you are talking about." He replied shaking his head trying to control his laughter.
For some reason, Gauri got lost admiring his laugh, finding a certain warmth and security in him that she had never in her life found anywhere. Dramatic as it may sound, she felt like she knew him, that she could trust him.
"He's a goon but as per the people of our village he's their king." She said nervously as if the wall had ears too. "He's nearly my father's age, who isn't alive anymore. He wanted to marry me. I didn't. But he offered money to my chacha and chachi and they sold me off to him. When he understood that I was adamant not to marry him, he kidnapped my mother.." Her breathing became irregular as she thought of that unfortunate night and a lone tear escaped her eyes and her lips trembled as the image of her lifeless mother flashed across her eyes.
When she didn't continue, he became even more concerned about her. He was getting this tremendous urge to comfort her and protect her but she was only a stranger to him and she could be lying too. But his heart told him otherwise, there was truth in her eyes. Her eyes looked like they were robbed off of life and instead filled with an haunting memory with echoes pain.
"Gauri," he called out gently placing his palm on her shoulder. She flinched at the sudden contact and looked around as if realising her surroundings.
"I need to leave." She said firmly, wiping away the tear that fell.
Omkara looked at her in disbelief. Hadn't he just told her that her wounds weren't healed yet?!
"But your wounds-" he started but was immediately cut off by her. It seemed like she was alarmed all of a sudden.
"I've seen wounds bigger than these. This is nothing." She said, shrugging it off and Omkara couldn't help but wonder about the troubles that life had thrown at her. His heart went out for her.
She got up from her bed and limped forward trying to ignore the growing pain. How long had it been since she passed out? She wondered.
But before she could take another step, her legs fell weak and she was about to fall but Omkara had managed to catch her in time. He made her sit on the bed not giving in to her pleas.
"You know you could've been hit by my car." He said in a serious tone and Gauri knew better than to argue. He was right and this tone of his was a little intimidating to her. He had only been sweet to her so far. When she gulped in nervousness, he sighed. "Whatever it is, I promise you'll be safe with me."
It surprised both of them to hear that. He hadn't expected himself to say it and she hadn't expected anyone to ever tell her that. For her, she could trust no one but herself when it came to her safety. However, he didn't regret saying that. He knew somewhere deep down, it was true and he was willing to give his everything if it was to protect the woman infront of him, who was just a stranger that his heart had begun to feel for.
"I mean it." Omkara said looking at her wide eyes that looked at him in surprise. For a second he had seen hope in them and her lips curled up into a smile but that smile dropped the next instant as her lips trembled again.
"He'll kill you too." She said looking at him terrified, as the picture of that girl crossed her mind, the very girl who helped her escape. Gauri had seen her being shot and the life leaving from her body right infront of her eyes. They hadn't seen her. "Please, let me go. He's dangerous. You can't do anything to him."
Omkara was taken aback at the revelation and her statement made him wonder who it was that Kaali had killed. He must have killed someone infront of her.
"Gauri calm down." He said clutching on to her shoulder as if holding her from breaking off. "We can inform the police."
She looked at him in disbelief as if he was the most stupid person in the whole world. "Don't you understand? The whole village worships him! Including the police! They're all his men! You think I'm so stupid to run away like this without telling the police!? I would've told them if they were truthful. But they would catch me and hand me over to him instead."
"But-"
"No buts. I've seen his power. You haven't. I don't want you to loose your life showing heroism that wouldn't help anyone." Gauri replied raising a hand up to stop him from saying anything. "How long have I been here?"
"I found you around eleven. Now it's four." He replied.
"Thank you very much for what you did, for saving my life. But this is where we have to part ways." Gauri said. "I'm sorry for the trouble I caused you. Right now I don't have any money to offer you but-"
"You don't have to offer me money. It's okay. But listen to me. You need rest."
"I've to leave."
"Where will you even go to?" He asked.
She looked at him, lost. He was right, where would she go to? She had nowhere to go.
"Somewhere away." She answered in the end, realising that he was waiting for her to answer.
"Come with me then." Omkara said almost immediately and as soon as the words left his mouth, he was surprised.
"What!?" She shrieked, scandalized.
"Calm down, you can stay at my place in Mumbai until you're safe." He explained, "My family lives with me. Plus, there's security. You'll be safe."
He didn't know why he wanted to help her, he didn't know why he was going out of his way to make sure she was safe. And he definitely had no idea why his heart decided to trust her.
"No, I'll manage-"
"You don't look fine, Gauri. Atleast till your wounds heal, you can stay there. And I assure you, no Kaali can get to you in my presence." He said.
For some reason Gauri felt like believing his words, it was the first time in her life when some one went out of their way to help her and more importantly, assure her safety.
"Please."
"Thank you." She said with a soft smile.
****
Omkara glanced towards his side while he was driving to find her already asleep. He couldn't help but admire how innocent and beautiful she looked. He had to fight the urge to embrace her and keep her safe from the whole cruel world.
Meanwhile, he recalled how he and Gauri had just got out from the hospital in time just a minute before Kaali's men arrived. He hoped that they would not get caught and could make their way back to Mumbai, safe and sound.
But her words rang in her head, of how powerful Kaali was and that made him not want to risk her safety so he called up his brother, Shivaay.
"Hello, Shivaay." He spoke.
"Yes Om, how are you? Where did you reach?" Shivaay questioned.
"I need a help, Shivaay." Omkara said. "Can you please arrange a chopper?"
****
"Helicopter!?" Gauri asked in shock as she stood along with Omkara waiting for the strange flying vehicle to land.
Seeing her eyes go so wide Omkara couldn't help but chuckle. "It's a chopper."
"Whatever, I thought you were going to drive…then.."
"We'll reach quickly and this way we won't have to fear Kaali." Omkara reasoned.
"But how did you get this helicopter?" She asked still recovering from the shock.
"This is my helicopter, Gauri." He replied with a chuckle.
"WHAT!?" She gasped shock wondering if he had gone nuts. "How did..?"
"Oberoi? Remember?" Omkara asked raising his eyebrows.
"You are this rich!?" She asked in shock while Omkara just nodded with a chuckle.
"Are you sure you're family will be okay with a stranger living with them?" Gauri asked in concern as they landed on Oberoi mansion.
"Don't worry about it. I'll manage." He said with a smile as he led the way and she trailed along, the pain in legs had reduced now.
Gauri looked down at her hand as she felt something- no someone hold her. His touch tender yet firm, unlike Kaali. She looked up at his face but saw that he was looking ahead as the door to his house opened. The lady who opened the door smiled seeing Omkara but it soon turned into a frown seeing a girl with him. Her eyes instantly fell on their hands that were held together.
"Om, yeh….?" She asked softly asking him to introduce.
"This is Gauri, mom. I met her in Bareilly."
Pretty soon, the whole family had gathered in the hall curious to know about their new guest while Gauri stood behind Omkara timidly making him sigh.
"Gauri…" He began and went on to narrate the whole incident on how he met her and how those goons were behind her. Every one looked at him in shock and amusement wondering how Omkara had so easily trusted a stranger.
But knowing that this was his decision, no one opposed. Gauri looked at Omkara, her heart filled with respect while he just smiled at her.
This is not an end, but the beginning of a beautiful story.
Omkara and Gauri still have a long way to travel to reach their final destination but meanwhile, they'll explore eachother a little, knowing colours like never before and feeling emotions that are deeper than the shades of pain! But for now, these two souls have connected giving eachother a sense of comfort.
~Thank you for reading!~
Stay safe