Rajeshwari faints by hearing sarva is
Dead.
Scene shifts to shiv temple ..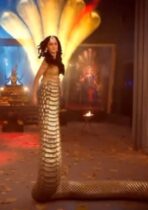 Bhavya :- shivji had given this power to shape shift to save and help others but you used it to harm innocent people. No one gave us the rights to snatch the lives of innocent people..
Vinalini :- I know everything . You dont try to teach me . I tried to kill him because you started loving him . You came to this house to take revenge on the killers . And also you are married to darsh . Remember that bhavya .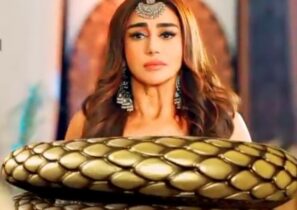 Bhavya :- yes I know everything , before marrying and coming inside to this family I pretended like loving him . At that time I realised he is a good and a kind hearted person . And you said about darsh right?? He didnt love me . He eloped with naagin pratibha .
Vinalini :- Are you sure Bhavya ?? How did you knew this ??
Bhavya :- when we came to shiv temple last time naga guru only told this to me.
Vinalini :- why did he pretended to love you ??
Bhavya :- He pretended to love me and married me to get the naagmani and become the nagaraj of the entire naagvansh. Because till the new nagarani comes I was given the responsibility to save the naagmani. He tried to influence me to against the naagvansh but I was loyal to my naagvansh. He understood that he will not get the naagmani and in anger he made me pregnant and abandoned me .
Vinalini :- But why are you taking revenge for the baby because of him .
Bhavya ,:- for every mother her child is important in her life . I had the child in my womb for 10 months . No matter about the father.
Vinalini :- yes I can understand your pain .bhavya. but you should not fall in love with sarva .
Bhavya :- vinalini,I think you misunderstood me by seeing  me kissing him . I knew the pain of losing our loved ones.  So, at that time I dont to how to console him so,I kissed him and I tried to make him forget about his father's loss.
Vinalini in tears :- sorry bhavya I only misunderstood you.
They both hugged each other
Vinalini:- After taking revenge for
Your baby . We will also kill that darsh..
Bhavya :- Now I have to go and save sarva