hello friends..here is the next episode. Hope you all like it..ia sorry for not posting for months. I will be posting regularly from now..😊😊..
Sonakshi was very silent seeing something and was following it holding roti stick and Rohit enters her room and gets shocked seeing her..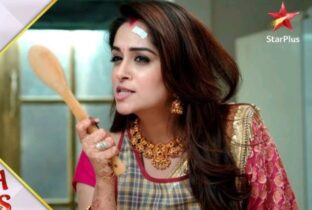 Rohit:sonakshiiii!!! What are you doing? Why..
Sonakshi gets shocked seeing him and he shuts his mouth before he tells something..
Sonakshi:please shut up for sometime..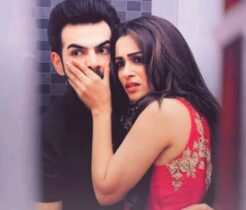 Rohit pushes away her hands..
Rohit:why should I?it's my mouth..i can talk whenever i want.
Sonakshi:i don't know which official gave permission for you to become doctor..you are brainless.
Rohit: don't be jealous as I am a good doctor..
Sonakshi: i hate doctors..why should I be jealous of you?
Rohit:then do you mean you hate your bestie?
Sonakshi gets irritated and and beats him..
Sonakshi: can't you keep your mouth shut for sometime. You are disturbing my work..i told i hate doctor profession not you..now understood? Now please keep quiet. I should do my work..

Rohit: what work are you doing with this roti stick? Are you doing roti's in walls and floors?
Sonakshi gets more irritated..
Sonakshi:yes..iam doing roti's in floors for you to kill you.
Rohit acts shocked..
Rohit:you are mad women.
Sonakshi:even you are!!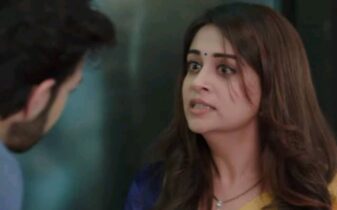 Suddenly the lizard jumps on sonakshi's leg and she sees it and screams..
Sonakshi:aaaahhhhhhh!!!
She hugs Rohit in fear and screams..
Sonakshi:rohittt..pleaseee chase that lizard away..iam scared of itttt..pleasee..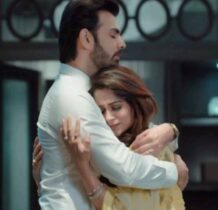 Rohit laughs..
Rohit: a ghost became kitten..
Sonakshi: stop your stupid jokes and Chase it out orelse ill become mad.
Rohit: already you are behaving mad..
Sonakshi gets angry and pushes him away and goes out and his preeta..
Sonakshi:sorry preetaji..
Preeta:its okay Sonakshi. By the way..you can just call me as preeta as I don't like someone respecting me like elders..
Karan comes there and..
Karan:yes.. Sonakshi..call her as preeta the princess of devils.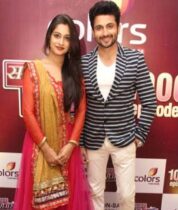 Preeta gets angry..
Preeta:how dare you? Wait.. what I'll do..
Preeta was about to hit Karan but Karan runs away laughing and Sonakshi laughs seeing it..
Sonakshi:more than you both looking like romantic couples..you both are looking like funny couples. I guess your both life will be filled only with laughter and not romance.
Preeta: i don't know how god created a human like Karan and i don't how god made me fall in love with this mad guy..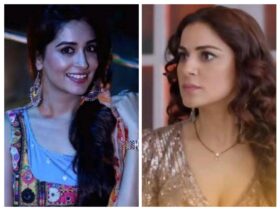 Sonakshi: Destiny is such.. but I swear you both so cute together.
Preeta:even you and Rohit look cute..i heared your both fight now..i think both brothers are mad and we should tolerate them.
Sonakshi blushes unknowingly..
Suddenly she realises and makes a weird face..
Sonakshi:i and Rohit are just friends. Moreover I was about to hit lizard silently before it escapes with roti stick but Rohit made lizard fall on my feet…such a big dumper.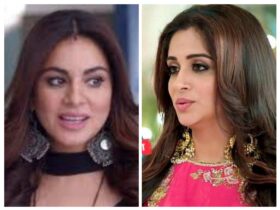 Preeta laughs..
Preeta: anyways..i feel that you are perfect match for Rohit. But I won't suggest you this..as i respect whatever you feel for him as feelings should be respected..
Sonakshi smiles..
Sonakshi: anyways.. it's time for suhaagrat…i mean first night..all the best preeta..
Preeta blushes and suddenly she makes faces..
Preeta: I don't know whether it will be first night or worst night with this mad guy..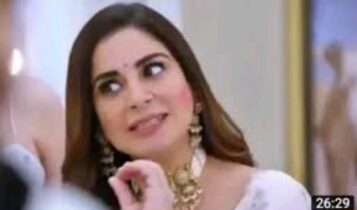 Sonakshi laughs..
Sonakshi: whatever..all the best.
Sonakshi pushes her into room and goes..
Rishabh Agastya and Rohit teases Karan..
Rishabh:Karan..i guess you dint drink any wine to be awake this whole night..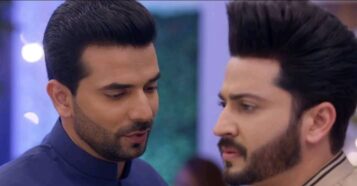 Karan hits rishabh for fun..
Karan: iam not such sleepy guy to use something to keep me awake..iam 24 hours bright guy.
Agastya: whatever guy you are.. kindly don't irritate my bhabhi tonight please..i really feel pity for her as she has to tolerate you this whole night..
Karan:you!! I will take revenge on you guys.. wait and watch. You all should get married one day na.. that day you will see how Karan luthra going to make fun.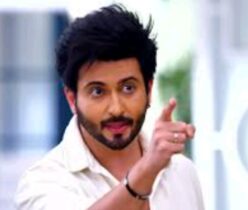 They laugh and they send Karan into room and runs away..
Karan slowly walks further and sees preeta and gets mesmerized..
Karan:waah preeta..you have planned to murder me tonight with your beauty i guess..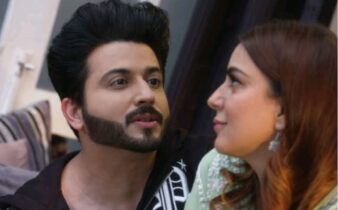 Preeta turns away her face in anger..
Preeta:i dint ask you this weird dialogues mr.luthra. just go and sleep..
Karan runs to her and he pulls her towards him..
Karan:arrey it's our first night..how can you ask me to sleep.. isn't it fair for you?
Preeta pushes him away and..
Preeta:i should ask you this question. It's our marriage day today..but isn't it fair to call me princess of devils? If I am devil then why do you think to celebrate first night with me? You are an angel right..so go and sleep.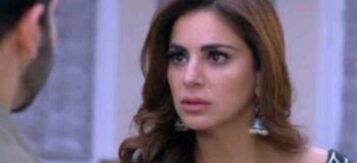 Karan:arrey..iam sorry yaar..i just did for fun..
He makes sit ups but preeta remains angry still..
Preeta: everything is only fun for you.. what's the reality for you.
Karan gets upset and he switches off the lights and he takes a candle and comes near preeta..
Karan:preeta..i will apologize by keeping my hands on this fire that I am really sorry preeta..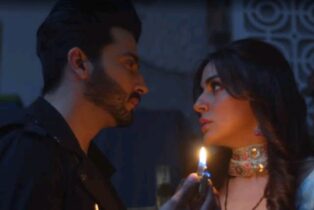 Karan was about to keep his hands on fire but preeta holds it immediately and gets emotional and hugs him..
Preeta:are you mad or what? Don't you know that you will get hurt..
Karan:but iam more hurt seeing you upset preeta. The pain which fire gives me will be lighter than your anger..
Preeta caresses his face emotionally and..
Preeta:you fool..iam not angry..i just faked anger as you made fun..i really love you.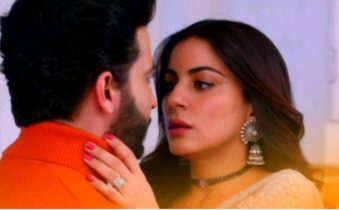 Karan:even i too love you preeta..
They both look into each other eyes romantically..
Karan:this night is special for us..
He runs his nose on her cheeks romantically and preeta feels goosebumps on feeling his breath and he slowly kisses her hands romantically making preeta blush..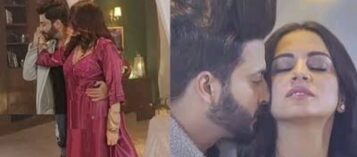 Karan:i wish the time gets freezed now.
Preeta: we can't freeze time but we can freeze ourselves..
Preeta smiles and encircles her around his neck..
Karan:woah..my biwi is getting romantic..

Preeta: because I am girlfriend of romantic man too..
Karan smiles and he slowly kisses her palms..
Then he slowly takes her to bed and they both look each other romantically with passion..
Karan:,i love you preeta..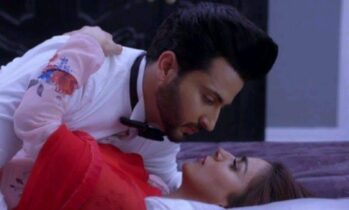 Preeta:even i love you too Karan..
They both get passionate with each other..
Pakhi is seen writing letters..
Pakhi in mind:i will write my wish that is i love Agastya all and keep this before lord and pray..so that he will fulfill my wish as per rakhi aunty told.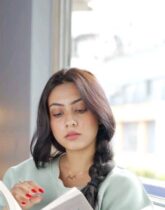 Pakhi writes i love Agastya in a letter and she runs towards god's statue holding it..
Pakhi in mind:i hope my wish comes true..
Suddenly she hits agastya and falls down and they both gets suprised seeing each other..
Agastya: you have became my hitting girl.. from now if someone hits me when I am in closed eyes..then I can surely tell that it's you…you always hit me. I don't what I did to you in past life that you are targeting me in this life..
Pakhi laughs..
Pakhi: it's our destiny. I think we will meet everytime only by hitting each other..
Agastya: Hitler is famous for his arrogance and i will name you as hitter as you are famous for hitting me.


Pakhi:then i will name you as dumbo as usual..
Pakhi laughs..
Agastya:you!! I thought to spare you but still you make fun of me.. wait I'll take revenge on you.
Agastya chases pakhi and suddenly pakhi slips and agastya holds her and they both meets with an eyelock while flower petals fall over them which was tied above..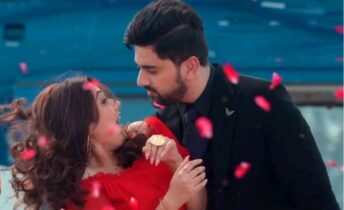 Rohit comes there making pakhi agastya alert and they move apart in a reflex..
Rohit: what you both are doing here?
Pakhi:bhai..i..i came to pick my things up..that's it. Now i will be going back to my house is some minutes.
Agastya :i..i was going out..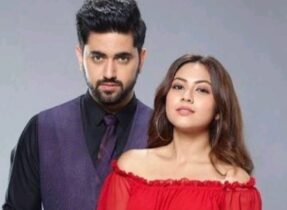 Pakhi and agastya goes from there while Rohit smiles..
Rohit in mind: something is brewing between agastya and pakhi for sure.
He too goes..
Next day preeta thinks to go to kitchen and she goes towards kitchen and suddenly she slips and falls on a wall nearby and the wall falls down shocking preeta..
Preeta : what's happening here? How can a wall fall down?
She notices a royal place with huge staircase leading above inside that area and gets stunned..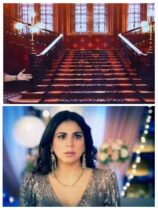 Preeta :there is such a huge building behind this wall..why is it hidden behind it? What's there inside?let me go and check..
Preeta goes inside the wall and she climbs the stairs and she sees a huge iron door closed..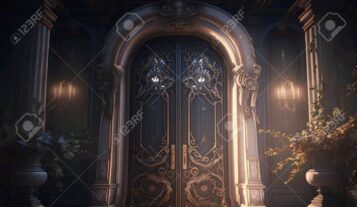 Preeta in mind;there is huge iron door too..this place looks like ancient and also it's so dark royal and untidy. anyways..why is this door like this? Let me go and check what's there inside..
Preeta opens the door and a huge wind blows from inside and preeta controls the wind hard..
Preeta:ohh my godd..such a huge wind. Is there any big windows inside?
She slowly goes inside the room and sees room with ancient things and scary items and gets shocked..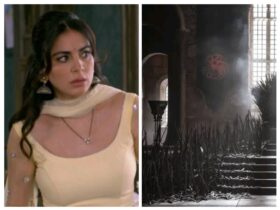 Preeta:it's looking like as if this building is 500 years old building..
Suddenly she sees a huge four portraits of nageshwari aakesh sangram and agastya and gets stunned..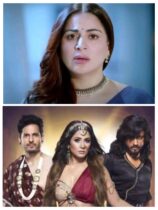 The hugs wind blows again the door gets shut shocking preeta..
Preeta shouts:hey..who is it? Who did closed the doors now?
Suddenly the room becomes more darker making preeta scared..
Preeta in mind:is..is th..this a gho..ghost house?

A white soul appears back of preeta while preeta stands shivering without noticing back and the soul approaches preeta..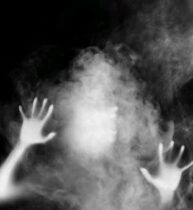 precap:- Preeta behaves weird. Pakhi dances with Agastya. Sonakshi gets shocked..