hello readers..here is the next episode. Sorry for late as i got emergency works…
After certain hours karan and preeta were brought near a huge pot..
Karan:why is this huge pot? Are you all going to serve me special food in this?
Mahesh:i thought my son will become matured if he gets married but my assumption is wrong..he is still that funny man.
Rakhi:mahesh..he is getting married for first time..so he doesn't know this rituals..so leave it.
Mahesh :Rakhi.. everyone gets married only once..why are you talking as if we get married many times?

Rakhi becomes embarassed..
Rohit:ok..leave it..now we will focus on the rituals first. Karan..you and preeta have to search the ring inside the pot and whoever gets it will..
Karan:will get whatever he asks am i right?
Pakhi:shut up bhai.. whoever gets it will be the winner and his or her partner have to obey him for their whole life.
Karan:wow..it's so nice. I thank the person who founded this ritual..now preeta can't escape from me..she has to obey me for whole life.
Preeta:first find the ring then we will see..
Preeta and karan dip their hands inside the pot and searches for the ring while everyone claps their hands..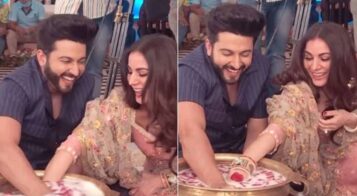 Rohit:common karan..you can win..
Pakhi: i will support my bhabhi..preeta bhabhi win and make him loser so that atleast he obeys you..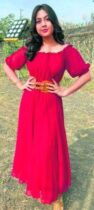 Everyone laughs..
Karan:pakhi..wait..i will take revenge later.
Finally preeta takes the ring..
Preeta:heyyy..i won..
Agastya:now my dear friend has to obey his wife.
Karan:preeta..this cheating..you helded my hand and took the ring..
Preeta makes a shocked face..
Preeta:lier.. don't try to escape. Now you have to obey me hereafter.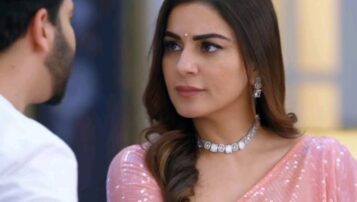 Mahesh:like i do with my wife..
Rakhi stares mahesh..
Rakhi:mahesh..
Mahesh:what? Iam not scared to tell the truth..
Everyone laughs..
Yamini: now lets leave bride and groom inside their room..so that they can rest for sometime and get ready for reception.
Rakhi:yes..
Rohit and pakhi leaves karan and preeta inside the room and they leave while karan pulls preeta closer..
Preeta:karan.. what are you doing?
Karan: now i don't need any validation to romance you..you are my wife.. so i can romance whenever i want..
He comes closer to kiss her..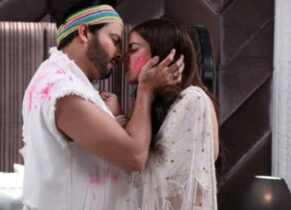 Preeta smiles and pushes him away and runs..
Preeta:i agree iam your wife. But as i won the rituals..you have to obey me..so you can't romance me now.
Karan :lord..why did you make my heart to fall for such a boring girl..see how she is boring. Very very boring wife..iam very poor guy who has to tolerate this boring wife now..
Preeta:hey drama king..stop doing emotional dramas. You are talking as if i told not to romance for whole life..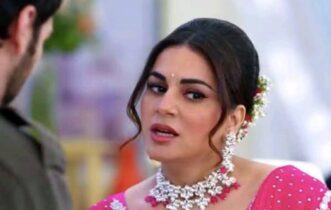 Karan:then can i romance you?
Preeta: ofcourse but there is a condition. You have to catch me first..
Preeta runs while karan smiles and chases her and finally he catches her on the bed but both of them slips and falls on the bed..
Karan:ohh.. even this bed is jealous of our romance. Once i helded you..it pushed us to stop our romance..how cunning is everyone against our love.
Preeta laughs seeing his cute face while karan too laughs seeing preeta..

Sonakshi was watering the plants after attending Karan's wedding..

Rohit comes that way talking in phone and he stamps the water tube by mistake and Sonakshi gets shocked as water doesn't come out from pipe..
Sonakshi in mind:what happened? Why is water not coming? Is tube got stuck or is water not coming?
She takes the water tube towards her face and checks the hole..
Sonakshi in mind:the tube is fine only.. nothing is stuck..then..
Suddenly rohit moves from there and water pierces out and it splashes on sonakshi's face as rohit left the tube from his leg..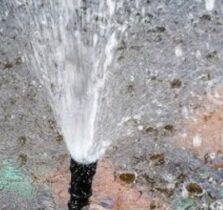 Sonakshi:aaahhhhhhhhh..
Rohit gets shocked hearing her voice and he immediately cuts the cal and turns and sees Sonakshi drenched in water..
Rohit:Sonakshi..
Suddenly he notices the tube in her hand and understands it and starts to laugh..
Rohit:so..so (laughs) so you got bathed through (laughs).. through this pipe..haa?
Rohit continuously laughs while Sonakshi stares him angrily..
Sonakshi:do you find me funny mr. Angry looking psychiatrist?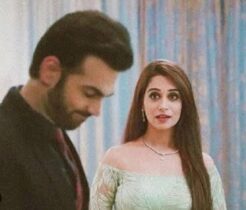 Rohit senses her anger and he tries to control the laughter..
Rohit: actually..no..(laughs) no..but..but
Sonakshi gets irritated and she comes towards him taking the tube and she makes him drench in water by watering him through the tube..
Sonakshi: you don't what is really fun mr.angry looking psychiatrist..now see how you looking funny.. infact you look like a funny looking psychiatrist now. If you make fun of others then you will look funnier than others..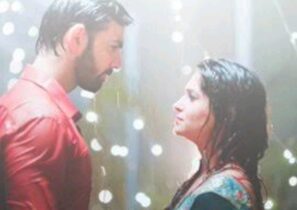 Sonakshi laughs while rohit stares her..
Rohit:how dare you spoil my reception dress? I changed my dress now only for reception but you spoiled it..now i won't leave you..i will take revenge for it.
Rohit tries to hold Sonakshi but Sonakshi runs and rohit chases her..
Sonakshi:no..no..mr.angry looking psychiatrist. Iam really sorry..
Rohit gets irritated..
Rohit: first of all stop calling with that ugly name..and anyways you can't escape from me now..i will totally spoil your looks now..wait.
Sonakshi runs and suddenly she slips while rohit comes there running and he holds her Saving her and they both meet with an eyelock..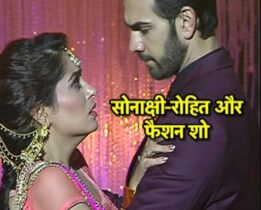 Pakhi comes there Calling rohit..
Pakhi:rohit bhai..rohit bhai..where are you?
Hearing Pakhi's voice Sonakshi and rohit realises the situation and immediately they move away..
Rohit in mind: what happened to me suddenly? Nowadays i..iam getting lost whenever iam near Sonakshi..it's so strange feeling.
Sonakshi in mind: why am i feeling so comfortable and nice whenever i make fun or play with rohit? Till now..i felt just as friendship but today i felt different when i fallen on his arms.. what's this strange feeling?
Pakhi comes there and sees rohit and Sonakshi drenched..
Pakhi:arrey rohit bhai..Sonakshi di..how did you both got drenched?
Sonakshi and rohit together:it's all because of her/him..
They point fingers towards each other..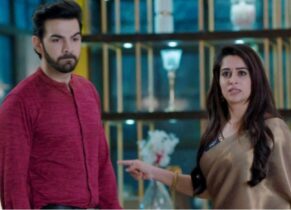 Pakhi laughs seeing them..
Pakhi:still you both have the habit of blaming each other. I wonder what kind of friendship you both have.. anyways now it's getting time up for karan bhai's reception. So both get ready soon.. and rohit bhai get ready and come and help in arrangements.
Sonakshi:i attended karan's wedding so..
Pakhi hugs Sonakshi and..
Pakhi: Sonakshi di..i consider as you as like my sister so you have to attend my bhai's reception. You may be this house's gardener's daughter but for all of us you are like our family..so please get ready and come..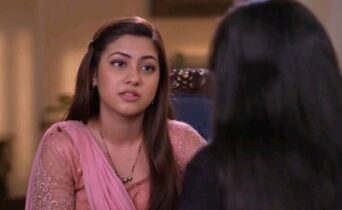 Sonakshi:thank you pakhi for considering me as one of your family member. And for sure i will attend Karan's reception.
Rohit:if i had told this to her..then she would have accepted after arguing with me but she accepted with you just like that.
Sonakshi: please shut up..
Rohit:hey..how dare you tell me shut up? Iam a psychiatrist..so you should give respect to doctors.
Sonakshi: that's why i respected you with just three words please shut up.. orelse i would have argued more.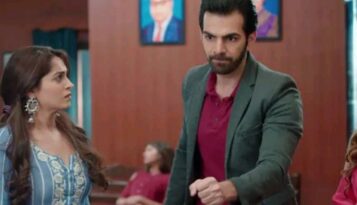 Rohit:how dare you miss. Irritating queen?
Pakhi pulls rohit..
Pakhi:bhai..bhai.. you can fight with her later..now come it's time up.
Rohit:i will see you later..
Sonakshi makes a face and..
Sonakshi:fine..even i will see you..haha..
Sonakshi goes laughing while rohit goes with pakhi irritated..
After few hours..
Agastya and Rishab were making arrangements and rohit too joints with them..
Agastya:rohit bhai..i heared that you were playing with water with Sonakshi. I never saw you talk with any girl but now..
Rohit:shut up Agastya. I dint play..
Agastya:but i saw with my two eyes.. don't lie bhai. Do you like her?

Rohit: arrey.. what happened to you suddenly? You know that i and Sonakshi are friends since childhood then why are you doubting my intentions? Actually.. actually i dint play with water with her..it's just revenge that's it.
Rishabh:we doubt you as we saw you lost in her during wedding and also now when you holder her for saving..
Rohit gets irritated..
Rohit:you both are like cameras .. always watching me. Anyways i don't love her..she is just my friend that's it. Now don't irritate me more then i will leave from here. Just focus on arrangements..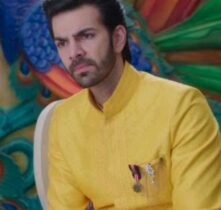 Rohit goes and make arrangements while rishabh and Agastya too starts making arrangements..
Suddenly a girl dashes on Agastya and she was about to fall but Agastya holds her and they both meet with an eyelock..

Yes..it's pakhi and Agastya moves away immediately..
Agastya: why did you hit me pakhi?
Pakhi:err..i was..i was concentrating some where..so.. only..iam sorry.
Agastya:it's okay. Anyways don't do this on someone because they may fall for you as you look so beautiful..
Pakhi smiles and she makes a confused face too..
Pakhi:are you warning me or complimenting me?
Agastya: both. Nowadays most of the men's have bad eye on beautiful girls and that's why i warned you. and you look beautiful too with this wear..so i complicated you..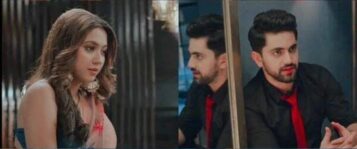 Pakhi:ok..thanks..
Agastya smiles and he turns and goes while pakhi admires Agastya..
Pakhi in mind: if men's gets attracted by falling on their arms..then i will keep falling on you Agastya..so that you will fall for me. Today you complimented me for first time..i felt like jumping from mt.everest…one dy i will make you propose too.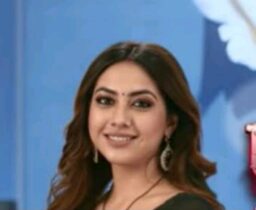 Pakhi smiles and goes..
precap:- Preeta gets shocked. Rohit panics. Pakhi writes love letters..