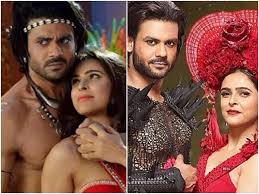 Mother of all FIGHTS; Madhurima and Vishal fight like wild animals
Nach Baliye 9 is a show of love where feelings and emotions are expressed through dance but this year the stage of Nach is witnessing more of hatred. After Madhurima Tuli and Vishal Singh got eliminated from the show the last time, Madurima told an entertainment portal that they should have been careful before bringing their personal issues in front of the media. Now they are back to the show and the news which came in has shocked all of us.
Again something has happened and the reports say that it is the mother of all fights. As reported by a tabloid, the two have again been in a fight and this time they fought like wild animals. The fight started when they started discussing about their personal opinions. The discussion soon became a fight and it got so out of hand that people had to intervene to pull Madhurima and Vishal apart.
But till that time Vishal was already bleeding badly. Not just the two of them, the choreographer and the entire production team got affected by their fight. They were not just fighting verbally, they clawed each other and it turned blo*dy very soon.
Their first eviction too was because of their consistent fights and they both agreed that should have behaved maturely on the show. But even after getting a second chance they seem to be indignant about the fact that the world is watching and judging them. When a portal contacted Madhurima's mother, she confirmed the news and said that the matter didn't escalate to a level where police's intervention was needed.