Hello all here is next episode 
Recap: Prerna , Manvi and Ritik go in search of Naveen and the girl. Prerna is in a lonely spot, Naveen lusts for her and comes behind her to touch her shoulder. Adi is selected for the Indian Team, Naira rejoices. Naksh joins office, takes up Jindal deal while Naira handles Kapoors. Kartik and Manish have a disagree which is overheard by Naksh while he visits Rohit to apologise. Rohit and Sonakshi have a funny banter. 
Evening Vadhera House
Anurag carries an unconscious Prerna inside
and he is followed by Manvi and Ritik. Viren sees this and panics
Viren: What happened to Prerna?
Jeevika: Viren ji wait…let him make her rest
Anurag places Prerna on the couch
Ritik: Ill tell them 
Flashback 
Prerna gets into an isolated spot and Naveen is so close to her…he gets near her and touches her shoulder.
Prerna turns towards him and finds his nasty look. She is irked and gives him a tight slap.
Naveen: Woah what a soft hand
Prerna: You scoundrel …help….Ritik……
Hearing her shout Ritik and Manvi run to them. Naveen takes something from his pocket and injects it in Prerna's arm. She shouts in pain, before Naveen could do anything to her he receives a blow from Ritik. Manvi rushes to Prerna and removes the injected particle.
 Manvi: Are you alright? 
Prerna: Not until he is punished Manvi. Chi his lustful look is still irking me
Ritik tries to drag Naveen out but Prerna collapses suddenly. Ritik and Manvi are shocked. Naveen uses this to escape
Reality
Ritik: We took her to the hospital for treatment 
Viren: What is injected?
Anurag: Its a sedative, much powerful one. I gave her antidote bhaiya..we thought of keeping her in the hospital but Ritik wanted her brought here
Ritik: Until I catch Naveen let Prerna be at home. He even knows her cabin in hospital and its a public place though it is owned by Anurag and family 
Anurag: I too agreed on the safety quotient thats why I brought her here
Jeevika: That idiot must be punished soon
Ritik: Di its my responsibility 
Sweety: When will Prerna get consciousness?
Anurag: Mostly by morning only Aunty ji. Dont worry I have given her IV fluids so she wont be starving whole night. Now Ill leave Aunty. I have a kid in the NICU
Viren: Dinner?
Anurag: Ill have with bhai, If I don't force him he will never have it
Anurag leaves from there. The scene freezes 
Night, Palatial Restaurant 
Adi is blindfolded by Virat who is taking him in
Adi: Where are you taking me ?
Virat: Oye chup chaap aajao…surprise for you
He takes him to the vip suite, removes the blindfold and walks out saying: Have a nice time
Adi: Anyways its dark…
Before he could finish the door closes and the lights get on. He is surprised to see the decorations . He is hugged from behind by Zoya
Zoya: Surprise my love
He breaks the hug and pulls her forward 
Adi: This is all your plan?
Zoya: Haan
Adi: Virat?
Zoya: He helped me…we cant make an entry together still..and I used it for my advantage 
Adi: We will get public soon my dear 
He gives her a peck on her forehead
Zoya: Now it's celebration time….
She claps and a sweet song starts to play and Zoya pulls him to a dance
Main wari jawan
 Main wari jawan
 Sathhoya ki ho ek sur re
 Main wari jawan 
Main wari jawan 
Dil to hoya majboor 
Main wari jawan Main wari jawan
They sway to the song with eyes locked with each other. There is love filling the atmosphere 
Chuliya tune lab se aankho ko 
Mannate puri tumse hi
 Main bari jawan
Tu mile jahan mera 
Jahan hai waha 
Rounke sari tumse hi
Zoya takes him to the dinner table lit with candles. He makes her sit and seats himself. They feed each other and have a blissful time
Chuliya tune lab se aankho ko 
Mannate puri tumse hi
 Tumile jahan mera 
Jahan hai waha 
Rounke sari tumse hi
 Piya o re piya 
Piya re piya re piya 
Piya o re piya 
Piya re piya re piya 
******
Next Morning, Singhania Diamonds
Kartik walks into the office with a fresh mood. Naksh spots him and walks to him
Kartik: Good morning sir
Naksh: Well Kartik Goenka…is it good to hide your surname from your company?
Kartik is shocked 
Kartik: Sir ..woh…..I wanted to create a career for the degree after my name and not for the surname after my name thats why sir. I don't have any other hidden intentions.
Naksh smiles and hugs him
Naksh: Sorry I overheard your conversation with your dad yesterday in the hospital . Waise Kartik dont stay away from your parents, Im saying this from my experience.
Kartik: I can understand that sir, but the need to prove my capabilities are there. Im not angry with papa, its just I don't want to enter family business right away and just sign files and cheques. I want to learn business from people like you
Naksh: Good to hear that you are hungry to learn. You are with Naira in Kapoor project right? As the project manager?
Kartik: Yes sir
Naksh: So please make sure that she succeeds in it by giving your full support 
Kartik: Sure sir, Ill put my best in it 
Naksh smiles and walks away as he gets a call
Kartik in mind: Making Naira win is my only goal now. Its the best thing I can do to win her love
Thinking this he walks to the files room and opens the door to collide on a girl carrying heaps of files, the papers fly away and Kartik holds the girl as she slips. He immediately lets her on feet 
Girl: Sorry Im very sorry
Kartik: No issues..by the way I haven't seen you here till now
Girl: Im new here, the new PA for Naksh sir
Kartik: Achaa..by the way Im Kartik
He extends his hand
Girl: Im Gayu…sorry Gayathri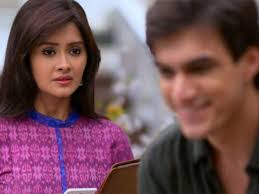 They shake hands. Kartik helps her with the files while the clerk comes there
Clerk: Kartik sir Naira mam wants you in her cabin, and mam is in a grumpy mood
Kartik: Ill come sir
He hurriedly stuffs the papers in the files, places it near Gayu who is on the floor collecting the papers, takes the files he needs and runs out muttering: Bhaag le beta Madam in a bad mood is a bad sign
Gayu is attracted to him but she is currently too confused with the papers to think about it. The scene freezes 
Naira's Cabin
Kartik knocks the door
Naira: Yes come in
Kartik walks in with a serious face. Naira doesn't look up from her laptop
Naira: Kartik the Kapoors will be here in half an hour. They want to verify whether we will be able to finish their target
Kartik: Mam how many times ever they verify they will come to the same conclusion that no one else will be able to do it the way we do
Naira doesn't react. Kartik senses her frustration 
Kartik in mind: These big companies always underestimate the new talent. Even Mr.Goenka was mocking when Naira took over the company. Luckily I quit that CEO job and joined with someone who values work. Krishnaji dont let any hurdle stop Naira. Give us strength to face all challenges 
Naira: Make the conference room ready and make sure the files are proper
Kartik: Sure mam
Sometime later , Conference room
Naira is conducting the presentation again for the Kapoors who  with new partners listen to it like the first time. Kartik is lost in Naira. He admires her confidence, her expressive face, the bold eyes.
He is unable to think of anyone other than her. His thoughts are broken when
Mr.Kapoor: You are afterall a girl..we heard that your brother has joined back why don't you let him and step back
This angers Kartik and he is about to react when his mind: Stop it Kartik, its her dream project..dont let your anger spoil it..but how can I hear him showing her down with gender….
Kartik: Excuse me sir I would like to answer this question in the right of a project manager
Naira who was shocked and at loss of words at a remark against her gender looks at Kartik with expectations in her eyes. She hasn't done this to anyone before when she faced the same remarks since joining business but Kartik was different.
Kartik: Sir business acumen and skill are not gender based. Sorry if this sounds like questioning your thoughts but sir we assure you that we will accomplish this project under Mam's guidance. She has put her heart and soul into this and no one else will be able to guide us through this better than her. 
Mr. Kapoor grows silent and then he discusses with his men.
Naira in mind: He is my employee…his duty is to support me..why am I feeling so happy for it? I could have answered….could I? These remarks aren't new but why did my heart expect Kartik to support me to Mr.Kapoor..why am I not head strong?
Mr. Kapoor: Okay fine we give you this chance. Go on with the production. 
Kartik: Thank you sir
His eyes fall on a confused Naira. He expects her to react. Naira's thoughts are broken by this conversation 
Naira: Thank you, we wont disappoint you
The Kapoors leave. Kartik walks to Naira
Kartik: Mam we need to start the production 
Naira: We will…Kartik… thanks 
Kartik is surprised by it, he smiles wide with his eyes shining
Naira catches this change 
Naira: Dont get too happy…I just
Kartik: Sorry mam
Naira: Better call me Naira. Im not that old
Kartik: Par mam…
Naira stares at him
Kartik: Naira..okay Naira Ill call you like that
Naira walks out leaving a surprised Kartik
Naksh's Cabin
The clerk tells the happenings of Kapoor Meeting to Naksh
Naksh: These hypocrites and their thoughts, wish I was there
Clerk: Kartik sir gave a good reply
Gayu walks in
Gayu: Sir…Project Incharge of Jindals is here. She wants to meet you
Naksh: Let her in
Gayu walks out followed by the clerk. Keerthi walks in
Naksh: Aap….?
Keerthi:Aap?
They remember meeting at the airport 
Naksh: Im Naksh Singhania…nice to meet you
Keerthi: Im Keerthi Jindal
Naksh: Its strange that our first meet was like that
Keerthi: Yeah..and yesterday papa signed the deal with you right?
Naksh: Yes 
Keerthi: Actually Im handling this project and yesterday I was bit down so couldn't meet you, thats why I came today 
Naksh: Thats completely fine Keerthi ji. I was planning to visit the exhibition hall..which will be the first part of our project 
Keerthi: Do you mind me coming too?
Naksh: Not at all. Shall we go now?
Keerthi: Sure
They get out of the cabin. The episode freezes 
Precap:
Naksh and Keerthi's similarities

 

Jeevika and Viren's anniversary

 

Kaira's over night office bonding

 

Prerna has a stalker

Rohit saves Sonakshi