Hey all lets start with a full recap
Grand Recap : Naira is managing the Singhania diamonds. Naitik is in Coma. Kartik left the Goenka house and company due to feud with Manish. He is working in Singhania diamonds as the project manager. Aditya Singhania is Naira's elder brother. He is an aspiring cricketer. His love with Zoya is not known to people other than Naksh and Virat. Virat and Zoya are co stars of hit show Beyhadh. People consider them as a couple. Raima is Zoya's friend. She died 3 years ago. Dr.Rohit Sippy has the guilt of killing her. Dr.Anurag Sippy and Dr. Prerna Vadhera are in love. Prerna learns about a 19 year old girl getting forcefully married to a 50 yr old man who suspects her character. Manvi is Jeevika's sister and lawyer. She is working under Viren who is a leading lawyer and Jeevika's husband. Sonakshi Goenka is a successful television actress of the show Kahaani Parvati Ki a hit show. Naksh Singhania left the house after Raima's death. He is back now. Naira who was angry wit him, forgives him. Ritik is an IPS officer and a good friend of Manvi. He loves Shivanya. 
Now coming to previous episode Recap Zoya visits Adi's match and watches it. Sonakshi has a fracture and is admitted in Sippy Hospital. Kartik is with her. Kartik dreams of Naira. Manvi and Prerna find out about the man who was trying to marry a 19 yr old girl. A lady overhears their conversation and informs someone. 
Episode starts
Midnight, Singhania Sadan
Naira is busy with her laptop.
But her mind is around Adi and his match. Him not taking her calls worries her. Thats when ,She hears the calling bell and rushes down. She opens the door to find Adi with his kit bag. His face is gloomy. Naira understands
Naira: Bhai..its okay leave it..you will get one more …
Suddenly Adi lifts Naira up
Adi: Naaiiraaaa…..all your sacrifices got their reward…mein qualify hogaya….woohoooooo
Naira leaves a sigh of relief and she starts to cry. Adi leaves her down and holds her
Adi: What happened? Aren't you happy?
Naira: Cant you call us after the match and inform? Do you know how stressed I was..I couldn't sleep too
Hearing Adi's shouts Akshara and Naksh come
Naksh: Naira you aren't asleep yet?
Akshara: Yeh toh roz ki kahani hai Naksh..working till late night..sleeping less and then running to office..for the past on year this is her routine 
Naksh hugs Naira
Naksh: Sorry Naira..I let you suffer…I…
Naira: Bhai…you were also not chilling there…but ab chodiye un saari baaton ko..bhai has been selected in the match..thats more important now
Akshara and Naksh get happy, they hug and congratulate Adi
Naira: Why didn't you call us bhai?
Adi: Woh..Naira..after the match I had meetings with the board members of the council..they said that they will send my name to BCCI for recommendation. Before that Ill be playing for Ranji Trophy next month. Official news will be coming in the papers tomorrow. And in that confusion my mobile battery got dead..then my team took me for a dinner..so…
Naira: Anyways Im so happy bhai
Naksh: Haan Adi..you fulfilled the promise with full sincerity and dedication 
Naira: Promise…?
Naksh realises what he said…
Naksh: Kuch nahi..ab tum aake sojao…its very late. From tomorrow Im joining the office with you.
Naira: Woah bhai..good news ke upar good news…
The siblings share a trio hug. Akshara is very happy. The scene freezes 
Next morning Sippy hospital 
Kartik feeds Sona when Rohit walks in
Kartik: Good morning doctor saab
Rohit: How are you feeling Ms.Sonakshi ?
Sonakshi: Better now
Rohit: Good to hear
He checks Sona. Their eyes meet for few seconds but they drift away soon. 
Rohit: She has to be here for atleast a week
Kartik: Week kya doctor..keep her for a month too if you want. We have no problem 
Rohit: But its not good for the hospital. Already the courier counter is full of bouquets to Parvati. If she stays for one month then…
Sona: Thats because people love me
Rohit doesn't react and walks out. Sona punches Kartik
Sona: Kiddo…its hard to stay for a day and that man is asking to stay for a week and you want me to stay for a month…then how will shooting happen? What answer will I give to the producer?
Kartik: Your injury is the responsibility of your production house..they are the ones answerable
Swarna walks in
Swarna: Kartik is right..they apologised and said that you need not rush and come after you recover
Sona: Muma..where is papa?
Swarna: He is outside beta
Sona: Why?
Kartik: Im here na..anyways maa Ill come in the evening and relieve you. I have to leave for the office. My boss doesn't like late comers
Kartik takes his files and comes out, he bumps into Manish. But he doesn't talk anything and rushes out. The scene freezes 
Vadhera House
Prerna and Manvi get ready and come down
Manvi: Prerna we will go to the girl's house today
Prerna: Yeah..I already informed the hospital that Ill be late
They are about to leave when Shivanya and Ritik enter
Ritik: We will come too
Manvi: You ?
Ritik: Did you think that you can hide from me?
Manvi: But..
Shivanya: Yesterday you left for the NGO only right..thats where Im attached too..so I got to know about the issue and about you involved too
Ritik: I know that you girls are powerful but this matter needs my involvement too..Im a police officer I can help
Viren: Ritik is right..take him with you girls
Prerna: Okay bhai..chal lets leave
They leave. 
The scene shifts to Singhania Diamonds
Naira and Naksh reach the office. Everyone get happy to know about Naksh's return. Naira leads him to Naitik's cabin..Naksh is surprised to see his name board under Naitik's
Naksh: Naira..
Naira: Papa wanted you to take over his place and he wanted to retire and bask with muma
Naksh: Im sorry Naira..but..
Naira: Muma gave her cabin to me bhai..this cabin always belongs to you even in your absence as ..Im sorry  I was angry but papa always knew you will be back and he made this name board specially for you
Naira takes him inside. 
Naira: Beto ji..now all responsibility is yours..I need not take load and work happily under my bhai..just handle my projects while my bhai handles the stress
Naksh hugs her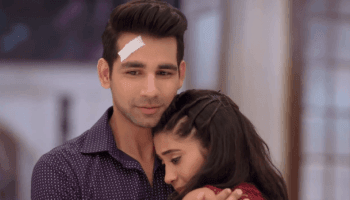 Naksh: My chotu sister took all pressure on her shoulders in a tender age now Im here Ill not allow any trouble to reach you
The door is knocked and Naira's PA and Kartik enter
Kartik: Congratulations on your first day sir..
Naksh recognises Kartik and smiles. 
Naksh: Naira can you tell about the current projects..woh..
Just then the Secretary walks in
Secretary: Naksh beta..good very good to know your return…
Naksh gets his blessings. The secretary is shocked
Naksh: Aap bade hain..bless me
Secretary: God bless you beta..and regarding projects..Kapoor project is going on and the Jindals meeting is happening today
Naksh: So Naira which one do you give me? I don't want you having stress so give the complicate d one to me
Secretary: Sorry to interrupt you..Kapoor project is bitiya's dream project. Woh..
Naira: Ji…
Naksh: Let him tell Naira
Secretary: Beta woh.. Naira bitiya took over the company within weeks after graduation after Naitik saab ….went into coma..many ridiculed her they said she will collapse the company in a month. Big projects left the company. Only now after her one year struggle Kapoor is the first big project for her so…
Naksh: My sister will succeed in this and prove herself..I dont want people to think that beti of Naitik Singhania is not capable of doing it and she needs other's doing things for her. Naira my full support for you prove yourself and prove others who ridiculed you wrong. Ill handle the other matters and Jindal project
Naira: Thank you so much bhai..you are here now Ill work with double strength 
Kartik in mind: Krishnaji..Im..im the project manager for her dream project..not only her bhai..she has my support too..Ill do anything to make her win this project…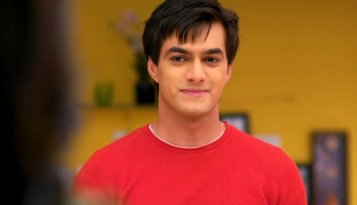 Naira turns to Kartik
Naira: Kartik…are you going to stand here all day or are you going to come with me? We have to meet the Kapoors
Kartik gets to reality and follows a rushing Naira. The scene freezes 
A small house outside the city
Manvi, Prerna , Ritik and Shivanya find the girl's house. They find no one there and search for them by splitting . Naveen watches them from a distance. His eyes get stuck on Prerna..lust takes over him.
His eyes are filled with lust and he follows Prerna. Prerna gets into an isolated spot and Naveen is so close to her…he gets near her and touches her shoulder. The scene freezes 
Sippy hospital, evening 
Naksh enters the cabin of Rohit. Rohit is shocked to see him. Flashes of a weeping Naksh on the corridors before the OT come to Rohit. He flies back to that night..and his eyes well up
Naksh: Dr.Rohit..Im…Im…sorry..for that night…I know it was an accident and not a deliberate mistake…sorry …sorry for cursing you.land hurting you
Rohit: Please dont apologise..losing a loved one is very painful..it was your emotions. I can understand it..Im so guilty for it
Naksh: I came to tell you that please dont be guilty..because I now understand how much pain guilt can cause…I left home after that night..left my family…that led my father into coma…and now I knew how much heavy the burden if guilt is….
Rohit: In coma? Oh my goodness..be strong ….he will recover soon
Naksh: I wish the same..and please accept my apology
Saying this Naksh walks out. Rohit feels better and lighter after meeting Naksh. But still his mistake pricks him.
Naksh on the other hand is walking out wiping his tears which flow due to guilt for Naitik and pain for Raima….he hears a familiar voice and stops to see
Manish: Kartik beta…I wanted you to be responsible…thats why I sent you out..please dont avoid me for it
Kartik: Papa..sorry Mr. Goenka Ill prove myself then I will take the privilege of being your son..till then please dont disturb me
Manish: Kartik…
Kartik: And about The CEO post you have …I don't want it…Im very happy with the job I have..my company gave me job for my degree and not for the son of Manish Goenka…so actually I must thank you for sending me out if not…
Kartik in mind: If not I could not have the opportunity of meeting the girl I love, help her with her dream project and be with her most of the day
Manish: If not?
Kartik jerks and: If not I could not have seen what Kartik without Goenka is worth of
He walks inside the room. Sonakshi and Swarna were listening to their conversation 
Sona: Kiddo..both of you should leave your ego..please come home Kiddo..papa ask him to come home
Manish: No..
Kartik: Not until I prove my worth didi…ab mein ek aam employee hoon..I cant afford the rent of Goenka villa
Manish: Kartik…that was not what I meant 
Sonakshi: Please both of you dont fight…please ..maa tell them
Kartik: Maa Im here to relieve you…you go home and take rest
Swarna tries to tell something but Manish stares at her and she leaves without a word. The scene freezes 
Precap
What happened to Prerna?

 

Zoya's surprise for Adi

Kartik bumps into Gayu

Keerthi Jindal