hello readers..here is the next episode. In this episode there won't be much couples scene for some reason but from next episode there will be much couples scenes.  But please do read this episode and give your views on it..
Next day..
Kartik wakes up and sees his phone and gets shocked seeing the date…
Kartik:to..tod..today is Niya's birthday..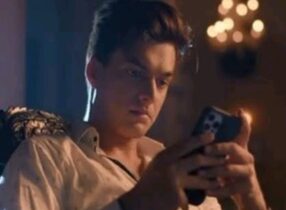 Kartik recalls his promise with niya..
FB IS SHOWN:
Niya and kartik are sitting together..
Niya:kartik..iam a celebrity.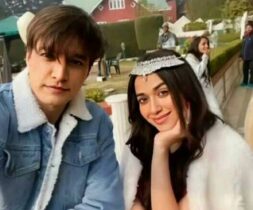 Kartik:i know you are best actress..
Niya: the media always spreads rumours about me and my co stars whenever i finish shooting a movie..
Kartik:that's the only media's work..what else? Don't mind them..
Niya:but let's put an end to that rumours..
Kartik:how?
Niya:come with me..we will announce our love to the world..let everyone know that actress niya loves professor kartik and mr.goenka..
Kartik gets suprised..
Kartik:wow..that's nice idea. But first i will tell my family about our love..
Niya:that's good..when will you tell?
Kartik:on my love's upcoming birthday..i will tell them and then reach Mumbai as iam going udaipur for annual vacation and we will together tell before the world too..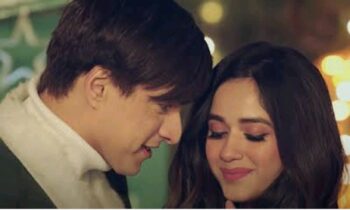 Niya smiles and hugs him..
Niya:thank you so much..iam eagerly waiting for my birthday..this will be the best gift..
Suddenly kartik pulls her closer shocking her..
Niya:kartik..what are you doing?
Kartik: romancing my girlfriend.. don't i have rights?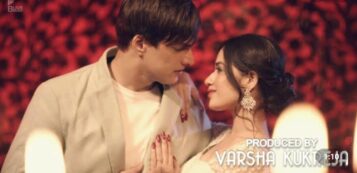 Niya smiles and they both spend time together romancing..
FB ENDS..
kartik's eyes gets teary..
Kartik:i..iam sorry niya..i thought i will make your birthday more special by announcing our love but..
Naira wakes up and sees kartik teary and goes to him..
Naira:kartik..what happened?
Kartik: nothing.. just eye irritation that's it..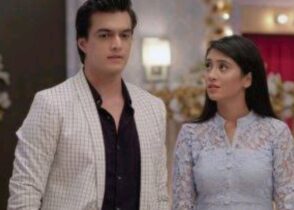 Naira:ohh..then rub it with cloth and it will get alright.
Kartik:haan..
Kartik goes out of the room thinking something..
Kartik in mind: naira shouldn't know that iam sad because today is Niya's birthday as she will get upset..
Naira in mind:why do i feel he is lying? I will follow him to know what happened to him..
Naira follows kartik while kartik goes to the balcony and takes Niya's pictures and cries seeing it..
Kartik: why lord do injustice with us? I thought we will live together always but our fate changed..i thought to make this birthday your one of the best memorable moment but the truth is its your worst birthday ever..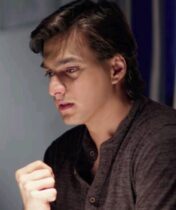 Naira gets shocked and gets sad..
Naira in mind: i really forgot Today is Niya's birthday..i know today kartik thought to announce his love to family and also to world alonng with niya..but..
Naira too gets teary and runs to room and cries standing before mirror..
Naira: but our marriage ruined your life kartik..iam sorry..iam really sorry..iam feeling very guilty.

Naira thinks something and wipes her tears and..
Naira: i will make everything fine kartik..you shouldn't sacrifice your life for me..i can and i will live alone but you should live with your love happily. I will divorce you..i will talk about it to you now.
Naira goes to kartik..
YOUNG GROUP:-
The young gang puts conference video call for everyone except kartik and naira..
Abir:hello all..it became so long since we all got together except in naira's marriage.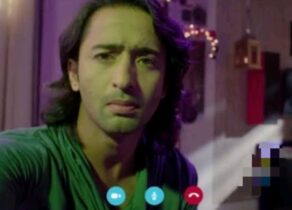 Bani:yes..you are right Abir. After kartik and naira's marriage..we became so busy.
Veer:yes..you re right and especially you who got busy by getting blackmailed..
Bani:ohh..shut up veer.. please don't remind me of that scoundrels..
Mishti:hey guys..today is..
Naksh: Niya's birthday..i don't know how kartik will feel and even naira will feel bad..

Bani:yes bhai..you know right that kartik thought to suprise niya by making it public along with niya as she is actress and also he thought to inform it to family today..
Abir:now..now all went upside down. There in mumbai niya will be waiting for kartik and here kartik will be feeling bad and also naira…
Mansi:i don't why god plan something else when we plan something..it's so unfair. All the three lives will be feeling sad and bad today..
Mishti:naira di told that when fate is written then no one can change it either it's good or bad..if it's good then we shall celebrate but if it's bad then we shall not sit sad instead we should make bad into good…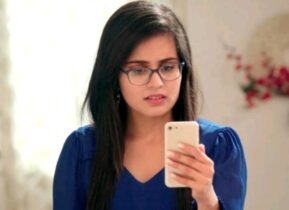 Veer:yes your di have told right. We should do something to distract their thoughts and make kartik and naira happy today..
Naksh:but we can manage kartik and naira..what about niya? She would feel betrayed..i..i don't know whether kartik spoke with niya after marriage or not but still..
Mansi:naksh leave it..it's Niya's fate..she has to face it and come across this and no one can do anything to change her fate so let her fight her fate. First we will focus on kartik and naira..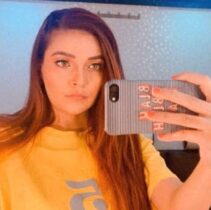 Abir:Mansi is right..let niya fight her fate. Now what shall we do to make kartik and naira's mood cheer up?
Bani:Abir..why don't we go outing like before?
Veer:it's very useless idea..
Bani: don't talk as if you will give universe's best idea ok?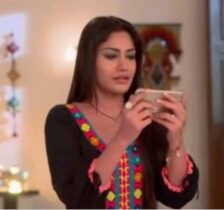 Veer:i accept that i wont give best idea but your idea is waste because kartik won't agree to come out as his mind will be focused on niya..
Naksh:veer is right..we shall do one thing..we will fight so that Kartik's and naira's attention will change from Niya's thought to us..
Mansi:what? How can we fight?
Naksh:arrey..iam not saying to fight for real but just to pretend to gain their attention..
Abir:wow..it's very gpod idea. Akshara aunty is really great..
Naksh:what? I only told idea but why are you praising my mother?
Abir: because she only gave birth to you..if not you would have not got this brain..
Everyone laughs while naksh gets irritated..
Naksh:acha..now stop laughing without irritating me everyone..now let's start our plan.. we will go to Goenka house.

Veer:right..come soon..we are waiting.
Naksh:bani..i and Mishti will come and pick you up at your house ok?
Bani:sure..
They cut the call and they all disperse to get ready to execute their plan..
MUMBAI:-
Niya sits with her friend sadly..
Niya's friend Hema: niya..seems your boyfriend had cheated you..
Niya pokes finger on her..
Niya:how dare you speak ill about my bf? I know he is not picking my calls for some days but that doesn't means he have cheated me..understood?
Hema:but that's the reality of boys niya. See..he promised to make public your both love on this day but why dint he turn up? And you told your fans and audiences that you will introduce your bf today..now what will you answer media? Within some hours media will surround you asking for your boyfriend.. what's the answer for that?
Niya cries..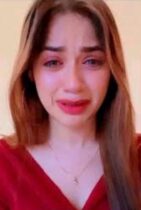 Niya:i ..i don't know..iam feeling restless..i don't know why. Is it god's punishment for me?
Hema:no..why are you telling like that?
Niya: i want to tell you truth which i have hidden. I dint love kartik first..i loved rehaan.
Hema gets shocked..
Hema:what are you telling?
Niya: Yes..i loved rehaan and one day i got to know his reality..he is very poor who was just living in but and i got very shocked and heart broken seeing it. Iam a big actress and you know the value of actress and tell me how can i live with him?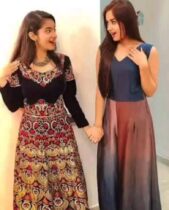 Hema looks her mum..
Niya:so i broke up with him..and one day i met kartik when he saved me from danger. He was so handsome and we met regularly due to some coincidence and we became friends. Then one day he told about his family and profession..thts when i got to know that he belongs to Goenka family the richest family in udaipur..i thought that i can marry him and live happily as he matched my status..so one day i proposed him and he accepted as he started to love me…
Hema:that means you just proposed him as he matched your status and not with feelings?
Niya:yes..but i started to have feelings after spending more time.
Hema Pat's her and..
Hema:there is no mistake in you..so don't feel bad. But if he is good then why is he not picking your call and even he is not calling you back?
Niya:he just doing this for past 5 days..i don't know why. But i guess he maybe having some works..so i should not think wrong.
Hema:but tell me what are you going to tell media?
Niya:now i got idea.. everyone knows Goenka diamonds company. And i will tell that i love mr.goenka's son kartik Goenka to media..
Hema gets shocked..
Hema: don't do silly things..you should only make public with his concert.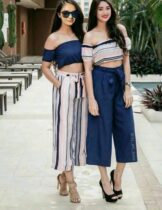 Niya:he already told that we shall make public on this day then what's more needed? He maybe having works..so i will make public without him so that he will also gets suprised..
Hema:but he told that you both will make public together then if you do alone then it will become wrong.. don't do it..
Niya:no..it won't be wrong. Iam sure he will like it..iam going to do it now.
Niya smiles and goes while hema worried..
GOENKA HOUSE:-
Naira comes to kartik..
Naira:kartik..i want to talk something important..can you come to room?
Kartik:haan..i will come.
Kartik goes to room and naira shuts the door..
Naira:kartik..i know you love niya so much. And still you sacrificed your life for saving my inauspicious things and from getting insulted from society…and thank you for that.
Kartik: whatever it is..i value every relationships neither it be friends or relatives or love…i can't see anyone suffering so it's my duty to protect you and i did it..no need for thanking as we are friends.
Naira: you have saved me from that mandap and now divorce me as there won't be any problems..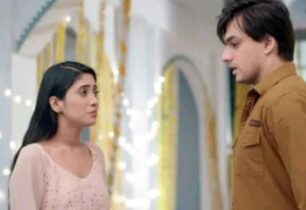 Kartik gets shocked..
Kartik:wh..what are you telling?
Naira:kartik..you have saved me from the situation of bad but now it's all fine..you can divorce me and live happily with niya.
Kartik:are you mad or what? I dint marry to make you a divorcee naira by just saving you from that situation..i married you to support you for whole life. I can't see you suffering alone..i know it's hard to move on and trust others but you can trust me right? I married you to be there for you always…
Naira cries hearing it..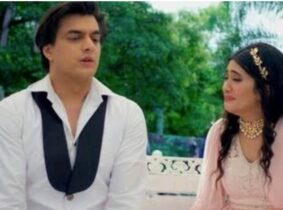 Naira: i can live alone kartik..but..but how can you live happily without niya? And think about niya..
Kartik:then think about the family. If i tell now that i love niya then what will they think? I married you by my wish not with anyone's force and if i tell them then think about the situation of worse.. and also i have decided just to be a friend with niya. Every love story doesn't end only with marriage and in the same way my love story ends with friendship. And iam happy about it..
Naira:but..
Kartik:see naira..my happiness lies on everyone's happiness. Now everyone are satisfied and happy and so iam also satisfied and happy. If i tell them that i love niya then you and my family will be broken down as your life will become more strange..and even i can't live with guilt of leaving you alone.
Naira:but..
Kartik shouts:if you talk about this anymore then i will get angry naira..i am telling again for one last time..i wont divorce you at any cost.
Naira cries while kartik gets broken and he holds naira's shoulders..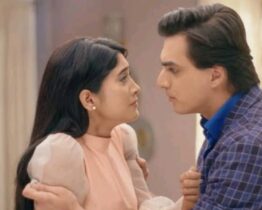 Kartik:iam sorry for shouting naira..even if i marry niya..i wont be happy because i can't be happy seeing you alone. My happiness lies on you and my family..so please..
Naira cries and..
Naira:i understood kartik..but tell me for one last time..do you feel happy with me?
Kartik:what question is this? Your my friend so iam really happy with you being here with me..if you think about niya then I'll scold you because i myself consider her as friend now.
Naira:achaa..
Kartik:ok..come we will go down..
Kartik and naira goes down and gets shocked seeing their gang fighting..
Naksh:what nonsense veer?
Veer:shut up..i should ask you that question..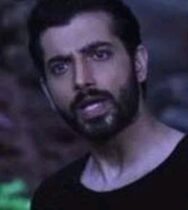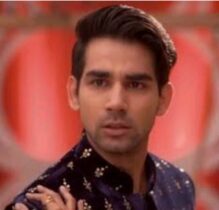 Kartik:arrey.. everyone shut up.. what's happening here?
Surekha:kartik..i don't know what happened but they all came and they started to fight.
Naira:what's the reason guys?
Naksh:veer left bani alone in middle of the road and came home and when i saw bani in road she was fighting alone with a bad guys in the road..think what would happened if i dint see her? This veer is nuts to leave a girl alone and come..
Bani and veer looks on and..
Kartik:ohh..this is the reaon.. silly. Veer.. don't you have common sense to drop bani home? Already she has crossed the tragedy now only buy you have been careless..
Veer in mind:wow..naksh acted really well according to our plan and now i will act best..
Veer:huh? She..she this bani was keeping on irritating me with her useless talks while driving..that's why i left her in middle of the road..
Bani gets angry and goes to veer and holds his collar..
Bani:hey..what did you tell? Do you find my talks irritating? Then get lost.. don't talk to me hereafter..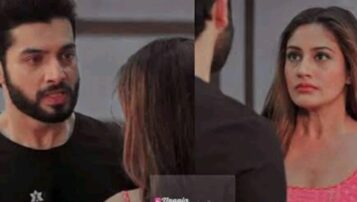 Veer:fine..i womt talk herafter.. but please you don't come and plead to talk with you as you always do when we fight..
Bani:i wont..you.
Kartik and naira comes and holds them..
Kartik:what's wrong with you veer? It's was your mistake to leave her alone and now you are again fighting with her..did you gone mad?First ask sorry and end the matter..there should be no fight in friendship.
Naira:bani..whats wrong with you?
Bani:see..how he is behaving..he is telling my talks useless and also left me alone in the road..what shall i do?
Naira:so is fighting is the only way to make him understand? Just ask sorry..


Bani:why should i?
Naira:to show your true friendship..i know he did wrong but you can make him understand rather fighting so that he will also never do mistakes and friendship will also be pure..
Veer and bani agrees and both asks sorries to each other and smiles..
Mishti :i don't know from where did god made kartik jeeju and naira didi..they always do the things which no one can do.
Abir: they are sent to the world from heaven and you are sent from a universe which is not even founded yet as you always do nothing..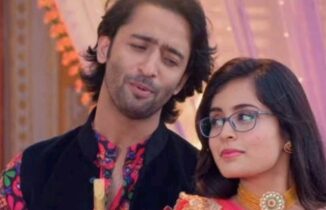 Mishti:hey..what did you tell?
Mishti holds abir's collar..
Mishti:then shall i tell about you mister funny monkey..
Abir:what? Am i looking like funny monkey for you?
Mishti:yes..you are.. because you know only to make funs thats why i named you funny monkey.
Abir:how dare you..
He takes away her specs and runs..
Abir: you won't get specs until you ask sorry..

Mishti:stupid..i wont ask but i will get it from you myself..
Abir:if you have guts..then take it from me and show..
He runs while Mishti chases while others frowns..
Kartik:first veer bani and now Mishti Abir started..gosh!!
Naksh blabbers:veer bani's fight was not real as it was pre-planned but this Mishti Abir is fighting for real..
Kartik and naira gets shocked while others stare him..
Mansi:naksh..
Mansi signals naksh and naksh realises that he blurted out..
Kartik:what? What are you telling naksh?
Naira:dint they really fight?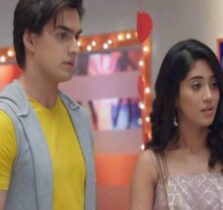 Bani:woh..naira..we are sorry.. actually..
Mansi:we thought to make you guys distracted as today is Niya's birthday. We were worried whether you both will be sad..
Kartik:ohh..that's the reason..silly!. Yes..i was sad first because i never let my promise broke and this was the first time i broke promise but i wasn't sad for that i couldn't live with niya. I already told you all that i married naira by my wish and i will not regret even for a second..and for niya i consider her as just friend now.
Naksh:ohh..we are sorry for planning useless..
Kartik:your planning idea was good but should have planned for other reason..
Veer:other reason?
Kartik:yes..you guys should always plan to keep naira busy orelse her mind will fill with stupid and idiotic thoughts..
Naira looks him like baby..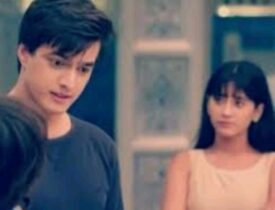 Naksh:what did my sister do?
Kartik:your stupid sister asked me to divorce her as she wants me to live with niya sacrificing herself..and iam not idiot to do that and i explained my decision.
Everyone gets shocked..
Mansi:bhabhi.. please don't become like bhai who thinks himself as sacrificing hero. You be yourself and be as my bhabhi always more than kartik's wife.. please don't think like this again.
Kartik:hey are you making fun of me or pacifying her?
Mansi: i told truth bhai..you always sacrifice everything for loved ones that's why i told.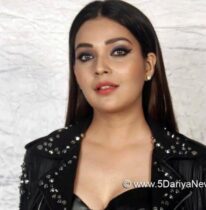 Kartik: because i will be happy only if my loved one's are happy and now iam really happy as everything is fine after marrying naira. Naira's family is happy and my family is happy and even iam happy..
He stops as he realises something and kartik naira stare each other..
Naira:we both are happy..
They all smile while kartik feels something..
Kartik in mind: sometimes i should lie for everyone's happiness..it's tough to move on from niya but i will try as i can't live with her seeing naira suffering alone..since childhood i can't even breathe if naira suffers for anything so i won't let her suffer alone and also shatter family..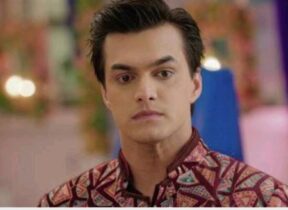 Sometimes later Abir and Mishti comes..
Naksh:so both of them finished your fight?
Abir and Mishti:haan..
Veer:naksh..you should have made them do fight drama..it would have been very aptable for them.
Naksh:if i asked them to do then they would have made fake fight into real and made everyone tensed..that's their usual job.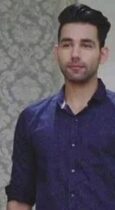 Everyone laughs..
Abir:ok..ok.. don't tease us.
Mishti sees the time and gets shocked..
Mishti:ohh godd..it's time up..i should reach college within 5 minutes orelse iam gone.
Abir:come I'll drop you..
Mishti:no thanks..I'll go with bhai.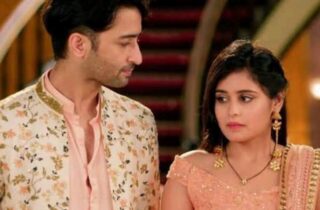 Abir murmers: attitude queen..
Mishti:what?
Abir: nothing..i was just telling ok..that's it.
Naksh:ok guys..lets go and do our works. We will meet again at evening..
Veer:yeah..
Swarna and sumitra comes there..
Sumitra:why don't you all eat here and go? Naira..naksh Mishti and bani are your brother and sisters..so call them na..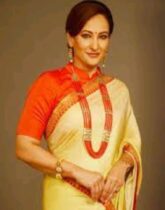 Naira:yeah..bhai everyone eat breakfast go.
Mishti:then they will kick me out of college..sorry di..I'll eat next time.
Naksh:even me too..today vip is coming to my restaurant so should mke arrangements for that.
Bani:aunty..we will come next time for sure.

Swarna:ok beta..but next time no excuse.
Everyone agrees and they leave while veer leaves for his work and Abir Kartik and naira goes in..
NEW PROMO:-  Kartik and naira leave for mumbai. Niya gets shocked. Mishti gets a love letter. Veer and bani spends some time together..