hello dear readers..here is the next episode. Please kindly give your views of how is the storyline. 
Next day..
Mishti comes to know what happened previous night and fights with naksh..
Mishti:why dint you wake me up bhai? This much serious problem have happened and you..

Naksh :if i had waked you up.. would you have been able to save bani?
Mishti: atleast i would have helped you all..even naira di helped you all right?
Naksh:ok..ok.. don't get angry. Actually i don't want to bring tensions everywhere so i dint inform either papa you or Karishma and Naman uncle..
Mishti: fine..then i will meet bani now.
Naksh: dint you go college? Today is ramp walk rehearsal right?

Mishti:i will go after seeing bani di..
Naksh:ok..
Mishti goes to bani's house and later goes towards college..
GOENKA HOUSE
Naira is sitting dull without getting ready while kartik enters the room and notices her..
Kartik:still you are upset for that idiot huh?
Naira:haan..i feel uncomfortable myself because he..
Kartik comes and keeps his finger onnher lips preventing her to talk further and they meet with eyelock..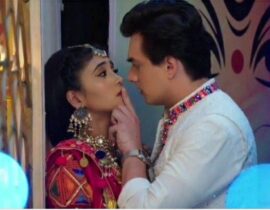 Kartik:shhh.. don't talk about the past naira. Either good or bad but past is past.. we cant change the past or prevent that incident now..but we can forget it by Focusing on something right?
Naira moves his hands and..
Naira:but i can't able to focus on anything..my mind is just recalling Kabir's idiotic act..
Kartik thinks and..
Kartik:i thought i will introduce you to my colleague friends who are coming today here but i can't introduce you now…
Naira:why?
Kartik: because you are looking like ugly duck..my college friends will be so beautiful and attractive unlike you. What will they feel if they see you? They will think that a handsome guy like me is just having a ugly duck as his wife na..that's why.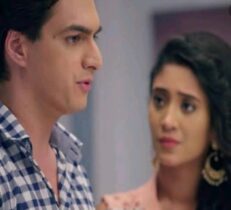 Naira gets shocked and gets angry..
Naira:so do you have girfriends also?
Kartik: ofcourse..they will be so beautiful especially in dressing sense..
Naira acts to punch him shocking kartik..
Kartik:hey what happened? Why are you angry on me?
Naira: so you like dressings of your girlfriends and not your wife huh?
Kartik: ofcourse..see now also you have dressed like ugly duck only.
Naira:shut up..see now what I'll do. I'll dress in such a way that your eyes Will get burnt seeing my beauty and your girlfriends will feel jealous..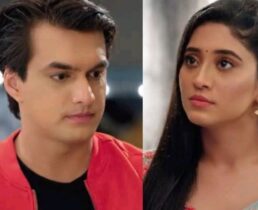 Kartik laughs..
Kartik: don't talk impossible things..
Naira:you.. wait for few minutes then I'll show who is naira..
Naira goes angrily to washroom to change her dress while kartik smiles..
Kartik in mind: i know how to change your upsetness naira..
Suddenly he sees naira coming out wearing beautiful saree with readied and gets mesmerized…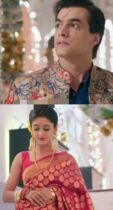 Naira sees him lost and smiles and she comes near him..
Naira: what happened Kartik? Why are you staring me like that? Did your eyes got burnt seeing me huh?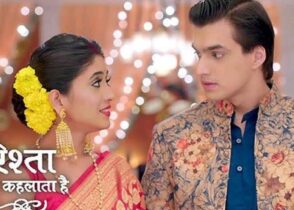 Kartik comes out of trance and brushes his hairs..
Kartik in mind: what happened to me? I really got stuck seeing her…she is really a magician. Whatever she says..she does it and now she really burnt my eyes..but i should not show off orelse she will tease me.
Kartik jokes:no..i stare like that because i got shocked of how a ugly duck turned into a ugly monkey..
Naira:what?
Naira chases kartik..
Naira:stop..stop orelse i wont spare you..
Kartik:if you have guts then catch me..
Kartik climbs the bed and naira too climbs but naira slips while kartik comes and holds her and both fals on the bed due to imbalance and they meet with an eyelock..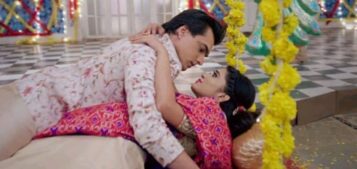 Naira's hair disturbs her face while kartik slowly moves it to her ears looking her mesmerized..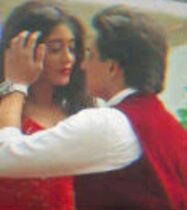 Suddenly dadi shouts from downstairs..
Dadi:kartik..naira.. come down soon..
Hearing her they break their eyelock and get up immediately..
Naira:I'll take revenge on night.. wait and watch.
Naira was about to go but kartik holds her hands and comes in front of her and
Kartik: actually iam sorry..i just made fun of you to make you forget the incident which was running in your mind. And infact you look so beautiful which really burnt my eyes as you said..
Naira smiles..
Naira: thank you kartik..you are the best. If you dint make my mind change i would have really looked like ugly duck only without dressing up properly..
Kartik:wait..i told not to thank me..
Naira:huh? Then even i told you to not tell sorries..
They both look each other and laugh..

Naira: sometimes we do things without our own knowledge and then we remember it..
Kartik:yes..you are right.
Naira:kartik..us really your friends coming or did you created a story to pacify me?
Kartik: my friends are really coming and with that reason only i made a plan to make fun of you to make you smile..
Naira:acha..so you really have female friends too?
Kartik: yes.. like how you have Male friends.
Naira:then are they really more beautiful than me?
Kartik:why? Are you feeling jealous?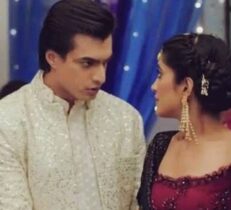 Naira:no..no why would i? I just asked simply as you was talking as if they are the heroine that's why i asked.
Kartik:i told just to irritate you..that's it. You are more beautiful..
Naira smiles and dadi shouts again..
Dadi:kartik..naira.. please come soon..
They both rush..
Naira: we forgot dadi in talking too much..
Kartik:yes..yes..
They both rush down and sees everyone standing ready..
Swarna:lets go and meet bani and console her and come as she have met with the tragedy.
The goenka's goes to Maheshwari's house and meets bani..
Dadi:bani beta..how are you now?
Bani:iam fine dadiji.
Surekha: who is he beta? Do he have grudge against you?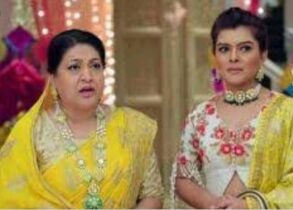 Bani: actually he was my colleague. He was very bad and he molested many girls and one day i saw him molesting a girl along with my friend's dad and so i complaint to police and made them arrested. And now he have escaped from jail and killed his good twin brother and lived on his name..and he tried taking revenge on me..
Abir: that's really disgusting..he is a cheap idiot.
Veer:what about drugs bani?
Bani:woh..he told that he kidnapped my friend Shanaya and asked me to bring drugs which were left in his house as he can't go to his house because he was acting as his twin brother..but the truth is shanaya is his team and she was also tried to kill me along with Daksh as i put her father on jail…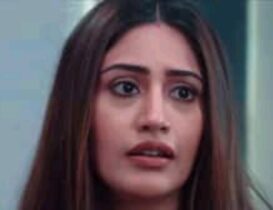 Everyone gets shocked..
Manish: they are so stupid to take revenge. They did wrong but taking revenge as if bani did wrong to them..
Kartik:yes..now police will handle him bani. So now you can be free from his tensions..
Bani:haan..
Naira hugs bani..
Naira:you know how scared was i when i saw you in that tank? Thank god you are safe..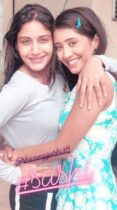 Abir:all credits goes to naira only. If she dint meet with accident then we wouldn't have found bani and also she fighted very well..
Bani gets emotional and holds her hands..
Bani:thank you so much naira..if..if you dint come then i would have died..
Naira: don't talk like that bani..god knows when and how to save good peoples and in the same way he have made my control loose to find you in that hidden tunnel..so you should thank god and not me..
Abir:and the real hero here is veer. If he dint get doubtful and followed bani then we couldn't have found the location..
Bani stares veer while maheshwari's thanks veer..
Varsha:thank you so much beta..even i couldn't find that bani was lying but you have found..thnk you so much.
Shaurya:yes.. if you dint get doubtful then anything could have happened to my daughter..thank you so much.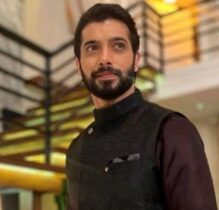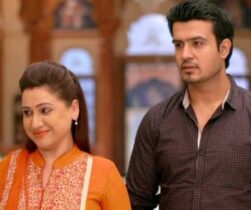 Veer:arrey..its a friend's duty to help friends..so need to thank me. Even if it was someone else i would have helped as humanity is the first fact that keeps people United.
Rajshri:you are absolutely right beta..
Dadi:ok..we will take leave now.
They all leave but bani stops veer..
Bani:veer..can i talk with you alone?
Veer:why not?
Everyone goes while veer alone stays in bani's room..
Veer:what's the matter bani?
To his shock bani hugs veer and cries..
Bani:i..iam really sorry veer..i..i should have told you the truth when you asked but..but i hided inorder to save Shanaya but infact i just got fooled. If..if i had told..this much problem wouldn't have occured.
Veer holds bani's face and wipes her tears..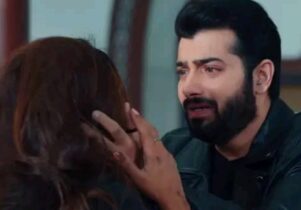 Veer:tears doesn't suit for cute face like you bani. Forget whatever happened..it dint happened according to our wish..it's our fate. Moreover everyone are fine also..so don't think about that again.
Veer somehow convinces bani and makes fun..
Veer:you know what..iam going to propose a girl..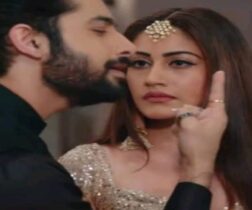 Bani:what? When did you got such guts? You used to tell that you are afraid of commitment huh?
Veer:i told iam Just going to propose and not proposing for love or marriage..
Bani makes a weird face..
Bani:what kind of proposal?
Veer goes on knees and forwards his hands and..
Veer:miss. Bani Maheshwari..will you come out with me for long drive ?
Bani laughs..
Bani:so this is your proposal huh?
Veer:yes..iam getting bored..so i was thinking what to do to kill the time and suddenly i got this idea when you stopped me and i proposed..so what's your answer miss.bani?
Bani holds his hands and smiles..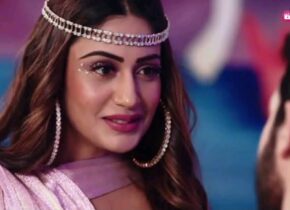 Bani:yeahh..iam okay with it.
Veer and bani go for long drive in car chatting and having fun..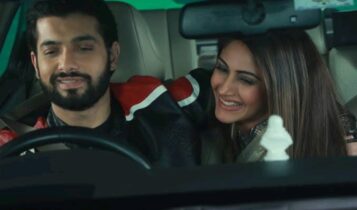 In college..
Everyone gets shocked seeing Mishti in saree while her pair Rohit gets angry..
Rohit:what are you wearing Mishti? This is ramp walk..not any functions..why did you put saree and came?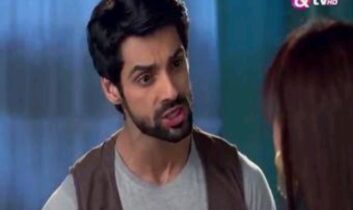 Mishti gets stunned and recalls abir's words..
Mishti:but only the way we present matters right? Is there any rule that we should not put sarees for a ramp walk?
Rohit in mind:i thought you will come hot in modern dress..but..
Rohit:Mishti..there is no rules such..but..
Mishti:but what Rohit? Am i not looking beautiful in this?
Other student Timisha: Mishti..you are really looking so nice..saree is very suitable for you. I guess you will get selected from our department..
Mishti smiles while Rohit frowns..
Mishti:thank you Timisha.
Rohit:Mishti..but i wanted us to look modern..
Mishti gets angry..
Mishti:then go and select a girl who wears modern dress..why me? There are many guys who doesn't have partner so i will select among them..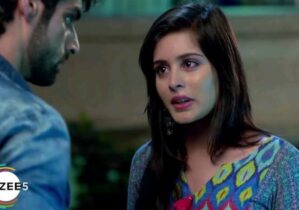 Rohit in mind: stop your brainless act Rohit..you can't expect a lottery at starting atself..you have to get her only slowly. So be patience..
Rohit:ok..iam sorry..
Then the rehearsal begins and each pairs starts to do ramp walk..
Finally Mishti and Rohit's turn comes and they do ramp walk confidently..
Once they finish Rohit sees Mishti lustfully..
Rohit in mind: one day i will make you mine Mishti..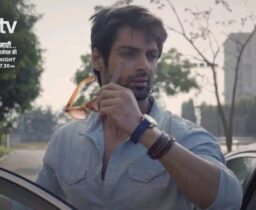 Soon the rehearsal gets over and the culturals commitee announces Rohit and Mishti's pair as winners and the pair from their department for culturals..
Mr.yogesh: congratulations Mishti and rohit..
Mishti gets so happy..
Mishti in mind:thank you so much Abir..it's you who made this possible. I don't know how to thank you but thanks..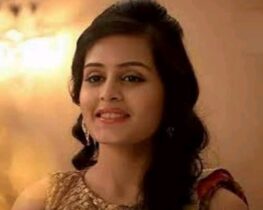 The college gets over and Mishti asks Abir to meet her in park and they meet..
Abir:what happened? Why did you called me urgently?
Mishti hugs him tightly in happiness suprising Abir..
Mishti:thank you thank you so much Abir..your selection is best. because of you..i got selected for ramp walk in culturals..

Abir:ohh..so that's why you are so happy huh? Anyways congratulations..
Mishti:thank you once again..
Abir acts to faint but Mishti holds him and they meet with an eyelock..
Mishti:what happened?
Abir:i got tired of hearing your thanks..
Mishti:what?
They both laugh..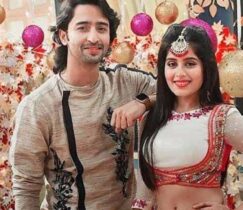 Abir:acha..come i will buy and give your fav chocolate icecream as a gift for your first victory..
Mishti:wow..thank you so much Abir.
Abir: arrey.. don't thank me again and again.. i may die as i already fainted now because of your thanks..
Mishti:acha..acha.. you please don't start your drama..mr.drama king.
Abir buys and gives her favourite icecream and she enjoys eating it while Abir admires her..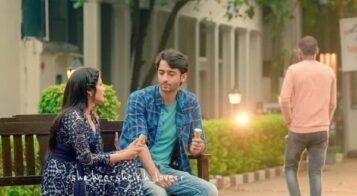 GOENKA HOUSE
At evening kartik takes naira with him while dadi stops them..
Dadi:where are you both going?
Kartik:dadi..i told you na that my college friends are coming to udaipur to meet me and they asked about my marriage and so iam taking naira with me to introduce to them in a hotel..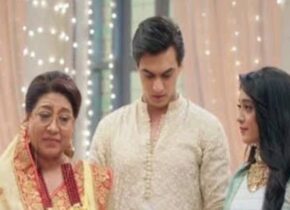 Dadi:acha..go and come home safely.
Kartik:ok dadi..
They take blessings and go to the hotel and they go inside and suddenly creepers bursts suprising kartik and naira..
Kartik's friends: congratulations!!!! Happy married Life our idiot kartik..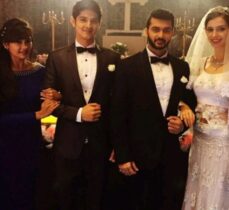 Kartik and naira smiles..
Kartik:thank you so much for this suprise guys..
Naira sees two girls and two men's as his friends..
Rashi: arrey..you kept your marriage suspense and now we kept the suprise and our visit suspense..
Raj:haan.
Laksh:now please introduce your wife to us na kartik..
Kartik holds Naira's hands and..
Kartik:she is my wife naira..my childhood friend too.
Shesha:thats so sweet. When we marry our own childhood friend..we feel lucky.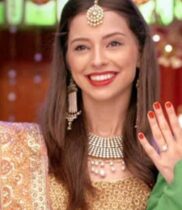 Kartik and naira recalls their love and gets upset..
Rashi:arrey what happened? She dint tell anything wrong right?
Kartik:no..no..we just thought that she told wrong as we are more luckier than lucky..
Laksh:ohh..wow.. and you look very beautiful mrs.goenka.
Naira smiles..
Naira:thank you so much..
Raj shakes hands with naira..
Raj:hello.. congratulations for marrying my friend. And by the way iam raj..

Naira:thank you so much.
They talk with her more..
Kartik feels jealous it..
Kartik in mind: she is my wife..he is talking as if she is his.. can't he stay silent after congratulating?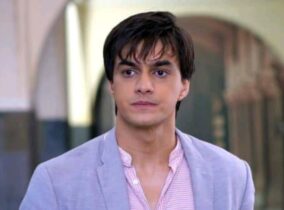 Rashi comes to kartik..
Rashi:hello..kartik..why are you staying silent?
Kartik:nothing..
Naira notices them..
Rashi: anyways..you forget me right?
Kartik:why will i?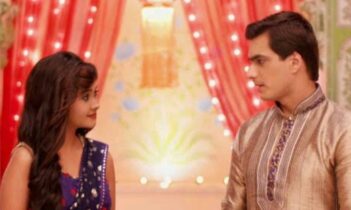 Rashi:then you forgot what you say to me always..
Kartik smiles..
Kartik:ohh..that..
Kartik pinches rashi's cheeks and..
Kartik:you are very cute and buttery as usual my dear friend..
Naira eye's him and feels jealous..
Naira in mind:what kind of girl she is? He got a wife and she is behaving as if he is single..she should understand that she can't do that whatever she did before as kartik got married to me now..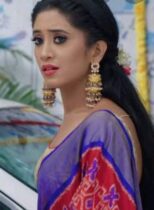 Shesha:ok..guys..we have planned a dance party too. So why don't we dance now..
Kartik:wow..that's great idea.
Shesha:but dance as couples.. especially the main couple that is kartik and naira..
The friends clap their hands while kartik and naira feels strange and looks each other..
Raj:kartik..why are you looking her as if you don't know her? She is your wife only right..then start your dance.
Laksh:yes..yes..
Rashi:i will put the music on..and everyone shall also start dancing.
Rashi puts the music while everyone dances and kartik and naira too dances..
Their feel their heart beating faster when they dance closely but they ignore it and they dance sensually forgetting themselves..
Marhami sa chand hai tu
Dilzala sa main andhera
Ek dooje ke liye hain
Neend meri khwab tere
Tu ghata hai phuhaar ki
Mein ghadi intezaar ki
Apna milna likha issi baras hai na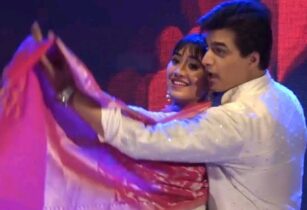 Jo meri manzilon ko jaati hai
Teri naam ki koi sadak hai
Jo mere dil ko dil banati hai
Tere naam ki koi dhadakh hai na
Hoo, koi bandhni jooda odh ki
Babul ki gali aao chhod ke
Tere hi liye launugi piya
Solah saal ke swan jodd ke
Pyaar se thaamna dorr baarik hai
Saat janmon ki ye pahli traikh hai
Door ka ek main sirra
Aur tere hai dusra
Judd sake beech mein
Kahi tadap hai na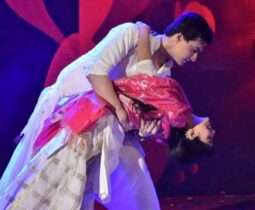 Jo meri manzilon ko jaati hai
Teri meri ki koi sadak hai na
Jo mere dil ko dil banati hai
Tere naam ki koi dhadak hai na
Their finish their dance and everyone claps hands for them..
Laksh:you both look amazing.. infact i became fan of this couple more than celebrities.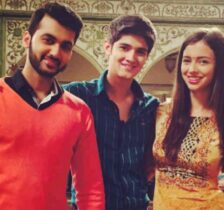 Everyone laughs while kartik and naira looks each other..
Shesha:you guys are expert in staring each other..wow.
Then they all tease kartik and naira and they finish their meeting and go while kartik and naira goes towards their house..
EPISODE ENDS..
Next promo:-. Naira asks kartik to divorce her- guess what will be kartik's reaction?. Niya's mistake is shown. Abir veer Mishti bani and naksh plans something..