hello friends..here is the next episode..❤️❤️
KARTIK'S HOUSE, MUMBAI:-
Mansi comes to home and sees everyone slept except Abir..
Abir:Mansi.. why are you so late? Can't you come earlier?
Mansi holds her ears as apology..
Mansi:iam sorry bhai. It's all my friends fault..they took away my phone so that no one disturbs me while enjoying  and later on my phone got off when i thought to call you..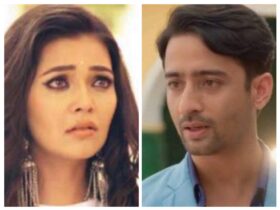 Abir: fine..this is last chance for you. This is new city..so don't roam around lately..
Mansi:sure bhai. And what was you telling about some important matter?
Abir smiles and..
Abir: it's a suprise. I'll tell and show you at morning..
Mansi:bhai..i can't be patience till morning.. please tell now..please.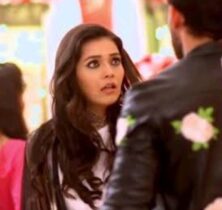 Abir smiles..
Abir:if i tell now..then you will break the house by jumping in joy due to happiness..so i won't tell now as everyone's sleep will get disturbed because of you..so try to be patience my sweety..
Abir punches her cheeks and goes while Mansi makes face irritated..
Mansi:stupid bhai had killed my sleep..how will I sleep when there is a suprise? Now i don't know how iam going to sleep in excitement..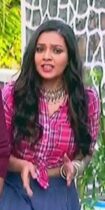 She goes to her room and lies on the bed..
Next day..
Kartik gets ready wearing beautiful sherwani while naira gets ready in washroom and comes out and gets mesmerized seeing kartik and holds her chest..
Naira:hayee..hayee..
Kartik blushes and gets shy..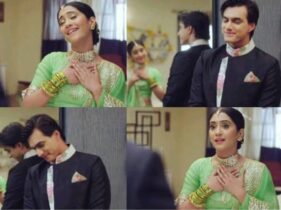 Kartik: ohh..iam getting shy..
Naira jokes: woww.. you look so cute while you are shy. Let me capture it in camera and show everyone that Kartik Goenka is getting shy..
She clicks photo shocking kartik..
Kartik:hey.. what are you doing?  I thought you are loving me but you are just making fun..wait..i won't leave you for teasing me.
He chases naira while naira runs laughing..
Naira: I'll be drenched in love and romance..if you catch me. Common catch me and show..
Kartik smiles..
Kartik: This KG exam is very easy..see how I'll catch you in seconds.
Naira:it's impossible..
Naira runs here and there and suddenly she stops tired and kartik holds her smiles..
Kartik:waah… your lost..haha. i thought you are sherni but you are just a kitty..
Naira pokes her finger and..
Naira:aii..
Kartik holds her finger by his finger and..
Kartik: B..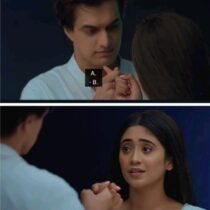 Naira angrily:you!!
Kartik: naira..did you fail in kg classes? It's c after b not U..
Kartik laughs while naira gets irritated and pushes him and goes but kartik holds her hands and pulls her closer..
Kartik: you are breaking your word. You told that you will drench in romance if I caught you..but you are trying to escape..Common fulfill your word.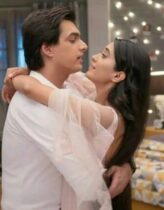 Naira:it's because you irritated me.. I won't fulfill my word as you irritated me..
She tries to go but kartik holds her tightly and comes more closer..
Kartik:acha..iam sorry for irritating you..I'll compensate it with a kiss my darling..
He slowly bends and comes closer to her lips while naira gets shy and pushes him away and runs and stands near the door and smiles shyly.. while kartik goes smiling and holds her and he pushes her and pins her against wall and kisses her back romantically while naira closes her eyes in shyness and she breathes heavily as she feels as if current is passing through her body when he kisses her back..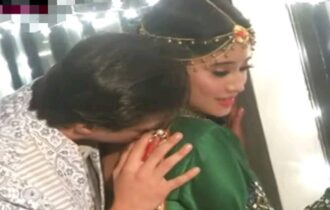 Slowly kartik turns her towards him and interlocks his hands with naira's and locks her hands against the wall and looks her romantically..
Naira: kartik..i love you..
Kartik: i love you too..
Slowly he moves towards her neck and kisses while naira smiles in shyness and turns red due to kartik's love..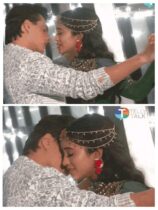 The air around them turns hotter as their love fillbs the air..
Then naira pushes him on the chair and sits above him romantically..
Naira: you think only you are romantic hero?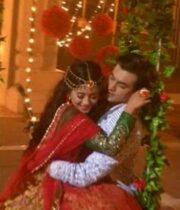 Kartik: ofcourse..you are boring baby. You just tell that you are romantic but truth is you are very boring..it's me who is cherishing our relationship with romance..
Naira: how dare you? Now see..how I'll romance you where you will realise that no one can be romantic like naira..
Kartik: really? Then show me your romance..
Naira smiles and comes closer towards kartik's lips while kartik closes eyes in excitement of getting a kiss from naira..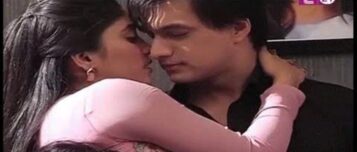 Suddenly someone opens the door and they both get scared and move away and they fall down..
Naira: ouch..
Kartik:ouch..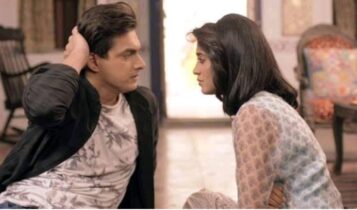 Abir and naksh enters and gets shocked seeing their position..
Abir: what are you both doing sitting down?
Kartik gets irritated and..
Kartik:huh..we are sitting and playing Ludo..idiot. can't you knock and come?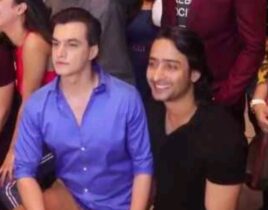 Naksh understands what they were doing and teases them..
Naksh:kartik..  you should have romanced by door locked so that we would have knocked..
Naksh and Abir laughs while kartik and naira gets embarassed..
Naira:bhai..you are teasing us as you haven't fallen in love yet..there will be a day where we will embarass you by interfering your romance when you fall in love..
Naksh thinks about Keerthi and smiles..
Kartik:arrey you are blushing..wait..did you fall in love with someone?
Naksh gets embarassed and comes out of thoughts..
Naksh: yeah..i fallen in love..
Abir kartik and naira gets suprised..
Abir:who is that lucky person?
Naksh: myself. I have fallen in love with myself..
Naksh laughs..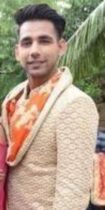 Abir:very bad joke. Ok..we came here to tell that in 2 hours we have to go to court for divorce proceedings..
Kartik:i will surely slap that idiot Aditya for destroying my sister's life.
Naksh: even I won't spare him for troubling Keerthi and accusing me and Keerthi in false affair..
Abir: ok then..now let's go nd eat breakfast..
They all go to have food..
KAPOOR HOUSE, UDAIPUR:-
Priya is seen sitting sadly while ram comes to her..
Ram: anika.. what happened? Why are you sad?
Priya cries suddenly shocking ram..
Ram: anika.. what happened? Are you okay? Why are you crying?
Priya: i..i..iam feeling lonely. I Miss my parents..but equally I am angry on them. I dreamt about me and Priya today..so I also miss Priya even though I Don't remember her properly. Then I miss myself and our relation too as I find emptiness myself without my memories..
Ram feels bad for Priya and he tries to console caressing her face..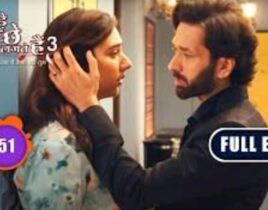 Ram: i can understand your feelings anika. But please be strong .. everything will be alright soon. Your parents will understand you and you will soon recover too..
Priya hugs ram..
Priya:you are my strength now. If you haven't came to Ahmedabad..i don't know how i would have handled myself..
Ram: that's why God created me for you and you for me. Iam your strength and you are mys strength. Whenever or whoever faces problems..lets be each other's strength and support.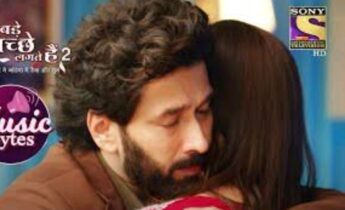 Priya:you are right.
Suddenly Ram's phone rings and the display shows it as bani and he attends..
Ram:hello bani..
Bani:hai ram. I called you to inform that i will be back to udaipur in 3 days..then we..
Ram: then we can part ways bani as matters are settled.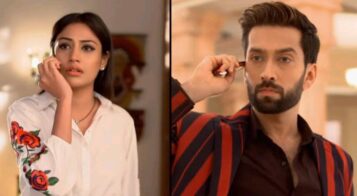 Bani gets suprised..
Bani: what? How? Did your mother got well?
Ram:no..but some miracle happened. My..my anika is alive..
Bani gets suprised and happy..
Bani: what? Really? It's so happy news.. congratulations..your love won.
Ram:thanks. God gives us sorrow for sometime but also good results too after testing us..
Bani:you are right. Even same situation happened in my family. My sister fell from cliff and was declared dead and my jeeju was so traumatised. But after some months..we got to know she is alive and now we are rejoicing with them..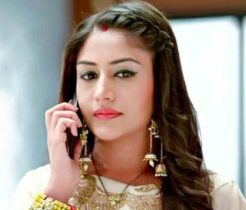 Ram gets suprised..
Ram:that's so nice. I wish they stay happy hereafter..
Bani:even I too wish same for you and anika.
Ram:wait a minute..I'll video call you and show my anika and anika may get suprised seeing your face.
Bani:sure.
Ram video calls bani and shows it to anika and anika gets stunned seeing her face while bani too gets stunned..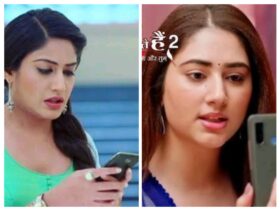 Bani:ram..is she anika? She was looking like me in photos..
Ram: in accident anika lost her face as it was disfigured. So anika had done plastic surgery of her sister priya's face..
Bani:ohh..
Anika: ram..who is she? Why is she looking like me?
Ram and bani explains everything what happened and anika gets suprised..
Priya: thank you bani for managing the situation. You have helped ram and jhanvi maa..iam so grateful to you.
Bani: don't thank me.. i did what i should do. Anyways nice to see you..
Priya: even me too. I want a favour from you like you did for ram. I lost my sister Priya..so will you be my sister?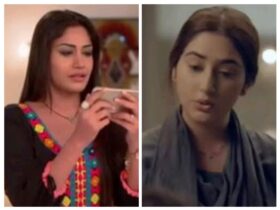 Bani smiles..
Bani: why not? We will be sisters too. I will come and meet you once i come back to udaipur.
Priya smiles and later they cut the call and Priya lies on Ram's shoulder..
Priya: ram..i..i feel happy today. I lost my sister but god gave my sister in other form. She is like anika myself d and I am like Priya..i think we both reborn nowatself.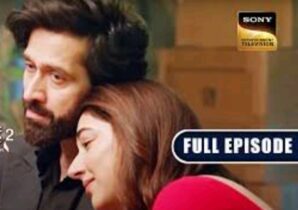 Ram: see..now only you was sad..but God made you smile.
Priya:yes..you are right.
They both talk a lot together..
KARTIK'S HOUSE, MUMBAI:-
Mansi gets ready and bani blindfolds her eyes..
Mansi: bani..why are you blindfolding me? Are you guys kidnapping me?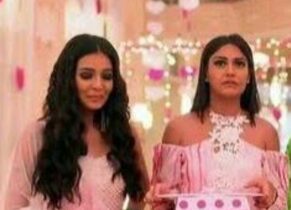 Bani:oho.. Mansi shut up. If it was someone else then they would have asked whether it's a suprise but you are insulting your friends.
Mansi giggles..
Mansi:just for fun.. anyways tell me why are you blindfolding me?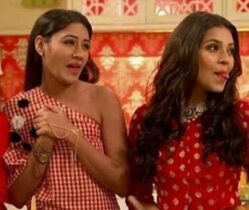 Bani: ofcourse it's a suprise..
Mansi: suprise for me? But today is not my birthday..
Bani: it's not only suprise for you..it was suprise for everyone of us and we saw it. Now you have to see it..
Mansi:acha..
Bani takes her out and removes her eyes and mansi gets shocked seeing naira while naira smiles seeing her..
Mansi shockingly:naira bhabhi? Wait..am i dreaming? Abir bhai..slap me na.. I'll check whether it's dream or not.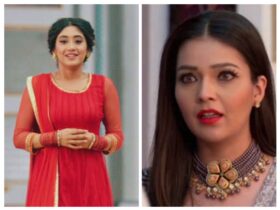 Naira comes and hugs her.
Naira: only slap will make you realise whether it's a dream or real huh? My hug and touch can make you know whether it's dream or not..now you yourself say whether it's a dream or not.
Mansi gets emotional and holds her face..
Mansi:bhabhi..you..you are alive? I..i couldn't be.. believe this miracle..it's really miracle. Iam so so so happy to see you alive bhabhi..i always missed you and now I am more happy. I will thank god for returning you to us..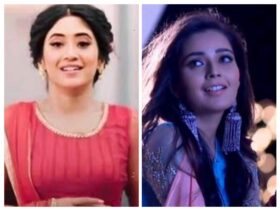 Naira smiles..
Naira: i specially cooked kachoris for you as you like it..come and have it.
Mansi jumps in joy..
Mansi:kachoris..wow..i really missed your kachoris too..now let me fill my stomach with kachoris.
Everyone laughs and Mansi enjoys eating kachoris..
HIGH COURT, MUMBAI:-
Later everyone go to court for divorce proceedings while kartik and naksh stops naira..
Naira:what you both are doing?
Naksh: you don't come in..
Naira:why? I should support my nanad and my friend.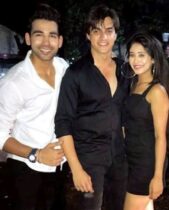 Kartik:woh naira..Aditya is a crap. He thinks you are dead..if he sees you alive then he will make a scene there by accusing Keerthi that she wantedly stayed in my house to gain naksh's attention by lying naira is dead…so..
Naira: i understand kartik..i will stay out. I will pray that Keerthi's divorce gets successful sson.
Naira waits outside while others goes in and the case starts..
Aditya 's lawyer Raghuveer: my lord..miss.keerthi have cheated Aditya with naksh. She was staying along with him for past 5 months.. they are having an affair. But still Aditya is ready to forgive her and continue the relationship..
Kartik and others get angry hearing this..
Kartik:idiot and fool Aditya. How his mind is so cheap..
Abir:if it was outside..i would have banged him..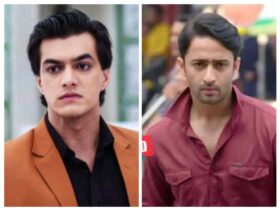 Keerthi's lawyer Arvind: my lord.. Aditya is totally wrong. He is the one who cheated Keerthi with other girl in front of Keerthi's eyes. He have also harassed her many times and tortured her so much. He abandoned her from going to her maayka for many months. And naksh is her friend since childhood..so there is no affair.
Raghuveer: if it's friendship then why was she staying with him in same house?
Arvind: because that house belongs to Keerthi's biological brother mr. Kartik Goenka. She has full rights to stay in her brother's house..so stop your nonsense. And we have proof that Aditya cheated Keerthi..
Aditya and raghuveer gets shocked..
Aditya: what's that proof?
Keerthi brings a girl named Sara shocking Aditya..
Aditya shockingly:Sara..
Judge:who is this mr.arvind?
Arvind: she is aditya's girlfriend.
Aditya:lie.. I don't know who is she..
Arvind: my lord..you can hear confession from Sara if you couldn't believe us..
Judge: Sara..go on..
Sara: i and Aditya was in relationship for past 3 years but he never mentioned that Keerthi was his wife..he told that Keerthi was his ex wife. One day when Keerthi went to temple..he called me to his house but unfortunately Keerthi came sooner and saw us and she left Aditya in anger. Even I got angry and left him after that for lying about Keerthi…
Everyone gets stunned while Aditya stares her angrily..
Sara: yesterday I bumped into Keerthi and she asked me to help her in getting justice for her. So I came here to tell truth to get justice for her..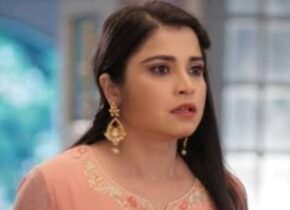 Everyone gets stunned..
Judge: so i conclude this case with Aditya is victim. He will be arrested for harassing his wife and having an affair.. now he must sign the divorce papers.
Everyone gets happy and suddenly Aditya gets angry and he immediately runs near a police ans takes the gun immediately and points at Keerthi shocking everyone..
Kartik: Aditya.. what are you doing?
Aditya: if I don't win ..i won't let my opponent win too..if i lose the case then you lose your life Keerthi..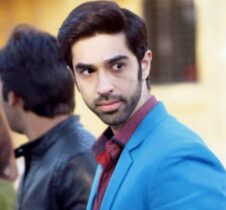 Keerthi gets scared and cries while naksh gets angry seeing her tears..
Naksh:you scoundrel Aditya!! I won't leave you alive if you do anything to her..
Aditya : why are you getting angry naksh? Is it because you love her?
Naksh recalls his moments with Keerthi and also dreams and realises his love..
Naksh: yes..i love her.. what's wrong? I love her wholeheartedly.. I want to erase her sorrows.. I want to erase her all the bad memories especially you..i won't let you harm her.
Everyone gets shocked at his confession while Keerthi gets emotional..
Keerthi in mind: i thought I was only loving naksh..but he too loves me.
Aditya: then you too die with her. There is a say that one who loves each other either live together or die together..so you both die together that's better.
He was about to shoot shocking everyone but before he shoots naira bangs him in his head making Aditya fall..
Naira:how dare you try to kill my bhai and my sister in law? I won't leave you..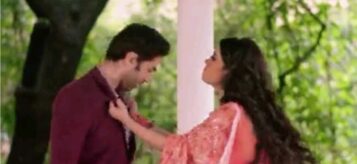 She thrashes him while others gets stunned seeing naira..
Police comes and takes away Aditya from naira..
Police:miss..thank you for saving the lives and the situation..now we will arrest Aditya with extra case too for trying to kill.
Kartik:naira..how did you know that Aditya..
Naira: actually.. i came inside to give the documents which you left in car.. that's what I saw Aditya pointing gun..and so I immediately rushed in and banged him..
Abir:you are really sherni bhabhi..kartik is right about you..
Aditya shockingly: i heared she is dead..how come she is alive?
Naksh: it's her Destiny for her deeds.. that's why god saved her. Now face your destiny for your deeds..as god is going to punish you.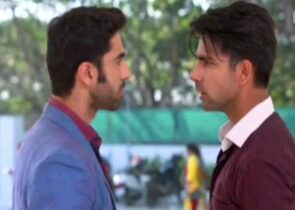 Police: now sign the divorce papers and come with us to jail..
Police makes Aditya sign divorce papers and they take him away while others rejoice and hugs Keerthi..
Swarna:now every problem got solved..my daughter is saved from that animal and kartik naira got married..what's more happier than this?
Abir:yes..yes..and one more thing too..naksh loves Keerthi..this is also other happy news.
Kartik:wait..let me ask her opinion about it keethi what's your reply to naksh's love? Do you love him..
Keerthi blushes while everyone teases naksh and Keerthi while kartik hugs blushing Keerthi..
Kartik: congratulations Keerthi for your love..i know you will surely be happy with naksh and iam sure he is best for you.
Keerthi smiles..
SINGHANIA HOUSE, UDAIPUR:-
Akshara starts breathing heavily shocking naitik devyani and bhabhimaa and they panic..
Devyani: what happened to akshara suddenly? Let's take her to hospital soon..
They immediately take her to hospital and admit her while naitik cries..
Naitik: i..i was alive only for akshara. If something happens to her..then I can't stay alive as i already lost my princess.
Devyani and bhabhimaa prays to God..
Bhabhimaa: ohh lord..you can't keep testing us like this. Please save akshara and bring her to normal state.. Naitik is totally broken..he can't be happy without her.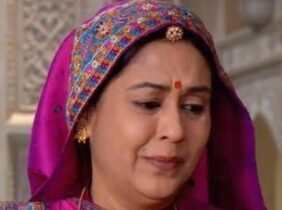 Doctor comes out after checking akshara and naitik rushes to him..
Naitik: doctor.. doctor..how is my wife?
Doctor: sorry to say..her pulse is very low. And her breathing is becoming difficult. It's very hard for her to survive.. only god can do miracles to save her.
They get shocked and cry..
Doctor:you can go in and be with her..
They go and sit near akshara and cry..
Naitik: what are you doing akshara? Don't you fight for your life for me and naksh? We can't survive without you akshara.. please don't leave me and go. I love you so much akshara.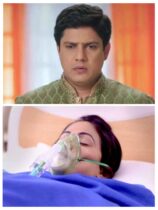 Tears fall on akshara's face..
Devyani:I'll call naksh and inform about it. Maybe hearing naksh's voice Akshara may recover..
Devyani calls naksh and informs about the condition of akshara while naksh gets shocked..
Devyani: iam so scared naksh..
Naksh cries: mumma..wait..I'll come there immediately in some way..
They cut call and Naksh goes alone and cries thinking his moments with akshara..
Suddenly kartik comes there and gets shocked seeing naksh..
Kartik: naksh.. what happened? Why are you crying? You should be happy as you love Keerthi..
Naksh tells the matter shocking kartik..
Naksh: kartik..i can't bear if..if anything happens to my maa..
He breaks down while kartik hugs him..
Kartik: naksh..i can understand your pain. But be strong.. only our strength can make your mother recover. We shouldn't break down like this..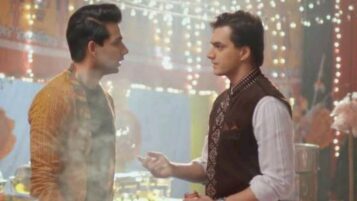 Suddenly kartik gets an idea..
Kartik:naksh..now see how your mother gets fine.
Naksh: what do you mean kartik?
Kartik:your mother went to coma because of naira..now she will get fine because of naira too. Lets make naira's voice hear to your mother. If she hears her daughter's voice..then she will surely recover.
Naksh: then should we tell naira the truth? Won't it affect her health?
Kartik: I'll handle her.. don't worry. Nothing will happen to naira unless I'm here.
Kartik calls naira out and tells the matter of how akshara went to coma and her condition now shocking naira..
Naksh: naira..we ..we dint tell you the matter as fear for your health only..we are sorry. Now only you can make our mother return..
Naira recalls her moments with Akshara and gets shattered and cries..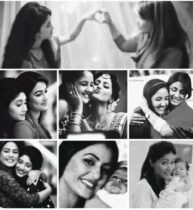 Naira:mumma…
Kartik hugs her tightly to comfort her sorrow and to take the sorrow to himself..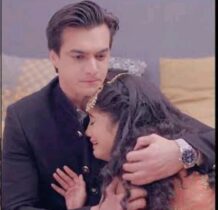 Mishti gets a call and she goes out privately and talks..
Once she cuts the call and she turns to go but suddenly she hits Abir and was about to fall but he holds her and they both meet with an intense eyelock..
Mishti: you here? What are you doing here?
Abir smiles..
Abir: i was following you..
Mishti:why?
Abir: as everyone was inside..i thought to steal some romantic time with you..
Mishti gets shocked..
Mishti: Did you lose your brain?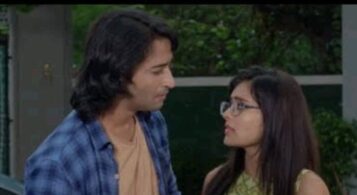 Abir: why?
Mishti: who will romance in public place?
Abir: Lovers who loves each other truly and unconditionally will romance.. by the way..there is no restrictions to romance in public place too.
Mishti:is it so..fine i accept that there is no restrictions to romance in public place but what will you do if any of our family elders sees us? Only our friends knows that we love but not elders..
Abir:let elders know about our love. Then we don't have to convince them later on..
Mishti: you are mad..you aren't understanding..
She turns to go..
Abir: Agree that you are scared to romance. You are scaredy cat.. just namesake girlfriend.
Mishti gets angry and turns..
Mishti: what? What did you tell?
Abir: scaredy cat..a namesake girlfriend. You don't keep our relation fragrant..
Mishti:how dare you accuse me? See..now what I'll do..I'll romance you in such a way that you will ask sorry for whole life for accusing me like that..
Mishti immediately goes and pushes him down and goes to kiss his lips while Abir smiles..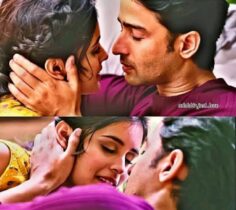 They hear some footsteps and they get scared and immediately gets up..
Abir:who is that our 1st villain?
They see a cat going and they laugh..
Mishti:so cat scared us..cat is our 1st villain
Suddenly Abir sees a heart balloons seller and he goes and gets it from him and he kisses it and gives it to mishti..
Mishti: what is it?
Abir: mera pyaar ka..
Mishti smiles and gets it and kisses it back..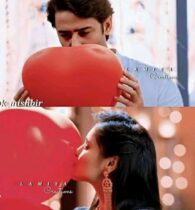 Mishti: thank you..i love you..
Abir: i love you too..
They both hug and someone watches them..
PRECAP:- Arjun meets kartik. Naira and akshara's emotional moment. Ram and Priya spends time together. Bani irritates veer.