hello friends..here is the next episode.
UDAIPUR, GOENKA HOUSE:-
The Goenkas discuss about going to Mumbai after discharging from hospital by taking permission to do surgery in Mumbai..
Akhilesh: we need someone young men for help to take care of veer till we reach mumbai. I guess we can call naksh as Abir and kartik aren't here..
Manish: that's right.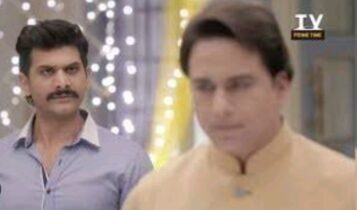 Bani:don't worry uncle..i will inform family and ask naksh bhai about it..iam sure he will surely accompany to Mumbai.
Andy:ok..then you go and tell your family about it beta. Ask them to pray for veer..
Bani:sure uncle..
Bani goes while everyone starts their preparation to go to Mumbai and Manish gets phone call from kartik..
Manish:hello kartik..
Kartik cries:dad..iam really sorry..i..
Manish gets shocked..
Manish: what happened kartik? Why are you crying?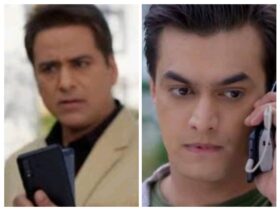 Kartik:i..i couldn't fulfill your long wish..i failed to convince Chopra's for merger.
Manish gets shocked..
Manish:what are you telling kartik? You prepared the best presentation then how come..
Kartik:i did wrong by giving responsibility to naira. I asked her to keep pendrive safe till i come from college but she was careless and broke that pendrive which contained every informations..and Chopra's refused to do merger with us as they couldn't see our designs.
Manish gets sad and upset more..
Manish: it was my life's best dream to get merger with them..but..but naira have spoiled it. Now..my dream is shattered…
Kartik: i can never forgive her for this.. we were trying for many years to contact Chopra's but she spoilt in fraction of minutes. Iam really sorry dad..
Manish: leave it.. whatever happened is happened..now it's no use to get sad thinking about it. First..lets focus on veer's surgery.
Kartik gets shocked..
Kartik: veer's surgery? What are you telling dad?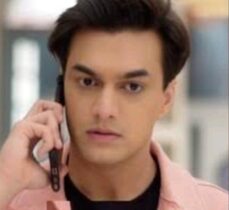 Manish tells everything about veer while kartik gets shocked..
Kartik: ohh God..veer have hid this big thing from us. Anyways…lets focus on his surgery now.. you all come soon..i will wait for you all.
Manish:sure..
They cut the call and Manish was walking more sad while dadi and swarna notices him..
Swarna:Manish..why are you upset suddenly? What happened?
Manish:my lifelong dream become shattered. We couldn't collaborate with Chopra's..
Dadi and swarna gets shocked..
Dadi: how? You asked kartik to meet Chopra's and..
Manish:yes..but naira have spoiled it. She broke the pendrive where kartik have stored the informations and presentations of our company..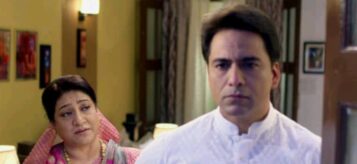 Swarna and dadi worries..
Swarna: why every bad things are happening at same time? It's really a bad omen to our family..
Dadi:Manish.. don't worry. We will invite Chopra's again after somedays and try to pursue them.. for now let's forget it and focus on veer.
Manish: that's right..
Swarna:maaji..lets ask kartik and naira to go to temple in Jubilee hills. Our neighbour vasundara told that whoever prays in the temple in Jubilee hills which is near Mumbai..their wish gets true.
Dadi:then i will immediately ask them to go there..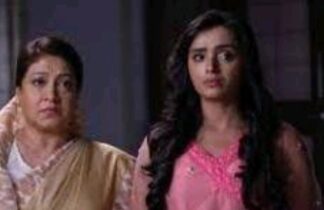 Dadi calls kartik and kartik answers..
Kartik:hello dadi..
Dadi:i know you will be angry on naira for spoiling manish's dream..but leave your anger aside and you both go and pray for veer in the temple in Jubilee hills. Whoever prays there.. they wish gets fulfilled so please go..
Kartik:iam not angry..iam just upset with her. Anyways..I'll go for veer.
Dadi:that's good..
They cut the call and kartik comes out of room and sees naira sad but doesn't comfort her..
Kartik:naira..we need to go to temple in Jubilee hills. So go and get ready..
Naira:why suddenly?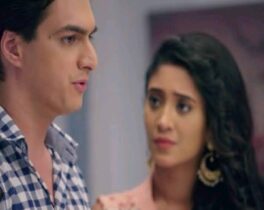 Kartik tells everything about veer and naira and niya too gets shocked..
Naira:i never thought veer would be going through this..poor veer..he should get fine. Then let's go to temple nowatself..
Kartik:then go and get ready soon..
He tried to go from there but naira comes near him emotionally..
Naira:iam sorry kartik..are you still angry on me?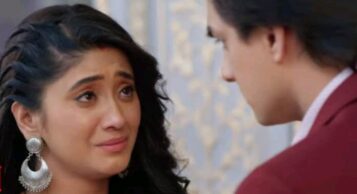 Kartik:iam not angry..iam just upset with you.
He goes away while naira feels sad..
Naira in mind: i couldn't prove that i dint do anything..but i should atleast make up with you. Along with veer..I'll wish that you get fine with me in temple. Iam sure one day.. Chopra's themselves will come for merger..
Naira goes to get ready..
UDAIPUR, SINGHANIA HOUSE:-
Bani reaches singhania house and informs about veer and his condition and surgery matter too while everyone gets shocked..
Akshara: my lord..veer have underwent a big disaster himself..if we had known it..we could have helped him..
Naitik: he had hidden it to not trouble us but poor veer..he had to undergo surgery..

Naksh:maa..papa..iam ready to go with them. Veer has to be taken carefully to Mumbai..so I'll help him while traveling as Abir and kartik aren't here.
Naitik:yes..yes..you shall go beta.
Bani:iam also going..i can't stay here with fear for my lo..friend. so I'll also go..
Akshara:it's good to support your friend but how can many go to hospital? There shouldn't be crowded..
Bani: don't worry aunt..I'll stay in naira's house. I'll visit whenever they ask to..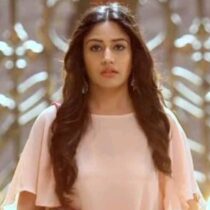 Naitik:sure beta.. you can also go. If veer's loved ones are nearby then he can get more courage so you guys go and support him. We will all pray for him here..
Naksh and bani goes after packing their things to Goenka house..
Bani: Manish uncle..we are ready. So shall we leave?
Manish:yes..the van has arrived so let's get settled now. And naksh you sit near veer and take care of him..
Naksh:sure uncle..

They all get settled in bus and they start their journey..
COLLEGE:-
After college gets over Mishti and kuhu are walking in road to their homes together..
Kuhu: today no one came to pick you?
Mishti: i don't know why no one came to pick me up. But it's ok..i feel like walking so let's go by walk.
Suddenly Mishti sees Abir near tea shop and gets suprised and smiles..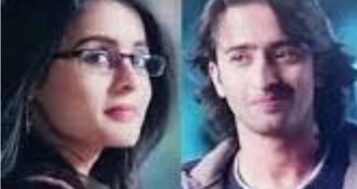 Mishti:abirr..
Kuhu:Abir..where?
Mishti:my Abir is there in coffee shop..see..
Kuhu sees the coffee shop and hits her head..
Kuhu:you became mad. Your love has become very mad that it spoilt your functions of brain i guess.
Mishti gets angry and pinches kuhu..
Mishti:how dare you speak ill of my true love?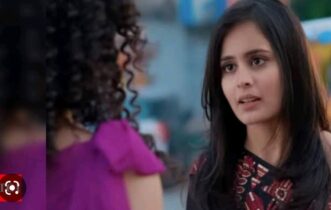 Kuhu: then what?wash your eyes and see who is there in coffee shop then you'll know why i told like that..
Mishti rubs her eyes and sees an old man standing in coffee shop who she was imagining as Abir and gets shocked and embarassed..
Mishti:iam a fool.. thank god you saved me orelse i would have hugged him thinking as Abir.

Kuhu: always look before you leap..
Suddenly Mishti sees other guy as Abir and gets angry and she screams holding her head..
Mishti screams: for how long will you trouble me like this abirrr?? Better you come in front of me for real orelse i will kill this guy who is looking like you in my eyes…
They guy looks her in confused way while kuhu shuts her mouth and pulls her aside and pinches mishti..
Kuhu: what were you doing mishti? You are going too crazy in love..thank god that guy is good that he dint get angry orelse you would have been dead if it was someone else.
Mishti:then what shall I do? Iam seeing Abir in all men..how to control my hallucinations?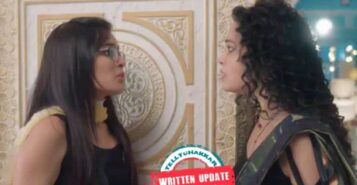 Kuhu:i have an idea..better confess your love to Abir through phone so that your mind will become calm.
Mishti;weird idea. You are trying to make my proposal boring..
Kuhu gets irritated and..
Kuhu: if it's boring then you yourself fight with your hallucinations. I have best idea to stop hallucinations because once you hear abir's love them your mind will stop yearning for him thus stoping your hallucinations…if it's boring then you do whatever you want crazily.
Kuhu angrily tries to walk away but Mishti holds her and holds her ears as apology..
Mishti:iam sorry.. don't get angry. I'll try to use your idea..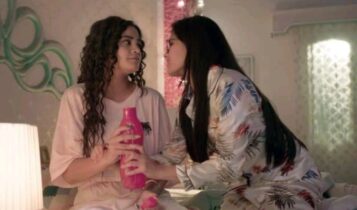 Kuhu:that's good..
They then walk home talking randomly..
MUMBAI, PARK:-
Keerthi is seen crying sitting in a bench and a lady comes there..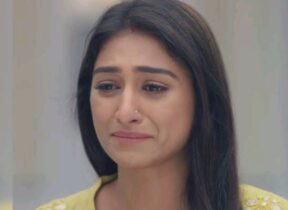 Lady:beta.. what happened? Why are you crying alone?
Keerthi wipes her tears and looks at her..
Keerthi: no.. nothing.. aunty. I..i..
Lady: i know you are hesitating to say your problem as iam a stranger..and don't worry..i won't ask you again. But whatever your problem is.. just go and cry before lord Krishna in the temple in Jubilee hills..he will surely hear your helplessness and will bless you.
Keerthi emotionally nods her head while the lady blesses her and goes..
Keerthi in mind : maybe that aunty is right..i can get some peace in that temple. I will go to Jubilee hills now which is just nearby..
Keerthi walks to temple in Jubilee hills..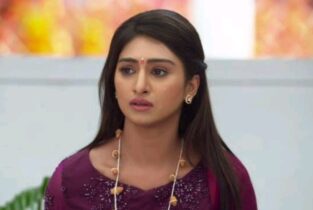 MUMBAI, CITY HOSPITAL:-
Rehaan wakes up from coma shocking the nurse and the nurse calls the doctor immediately and the doctor rushes..
Doctor: it's a miracle fact that a coma person woked up suddenly..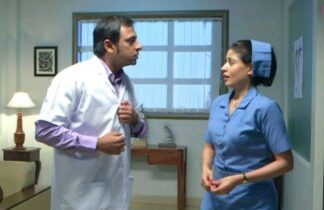 Nurse: should he be kept in hospital more?
Rehaan slowly gets up and..
Rehaan:no..i want to go immediately now.. please discharge me.
Doctor:no..as you have woken up from coma just now..you should be monitored for next 24 hours. So we can't discharge you now..
Doctor goes and rehaan recalls about niya..
Rehaan in mind:i know you made me like this Niya. I won't spare you now..
Rehaan pulls away the medicinal tubes and he runs away from hospital without anyone's knowledge and he searches for niya..
Rehaan in mind: you will never expect my return niya. I will give you a shocking revenge..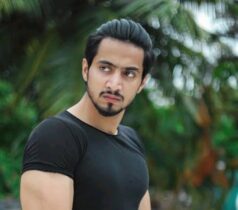 A VILLAGE :-
Sirat and ranveer reaches the village and..
Sirat:ok.. you go and join your medical team. And i will go to that downgrade of Jubilee hills..
Ranveer hugs her..
Ranveer:sure but be careful as there are lots of rocks and slippery aeas..

Sirat:ok..
Ranveer joins his team while sirat goes to the downward of Jubilee hills and she gets amazed seeing the beautiful site..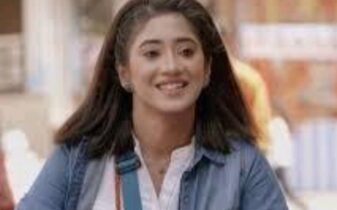 Sirat in mind:wow..this down region of Jubilee hills is so beautiful. When I looked down from above Jubilee hills near that temple..i couldn't see any of these beautiful sites but when I came near..it's so beautiful. Now I'll start searching for te herbs..
Sirat searches for the herbs carefully..
MUMBAI, KARTIK'S HOUSE:-
Kartik and naira gets ready to go to Jubilee hills..
Kartik:niya..do you want to come to temple?
Niya:no kartik..iam..iam not coming..i have to go home..so you guys go.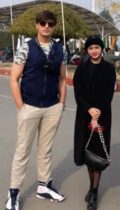 Kartik:ok..then let's meet some other day.
Niya:sure..
Kartik and naira goes in car while niya too follows them in car smirking..
Niya in mind: if i come with you both then i can't separate you both..so i will come without your knowledge and will split you both.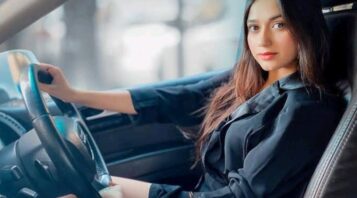 Niya follows them smiling evilly while kartik drives car silently without talking to naira and naira feels sad..
Naira in mind: today i should somehow make up with kartik..i should apologise him even though iam not at fault.
Then they reach the temple and both goes and prays before god while niya watches them hiding..
Kartik: krishnaji..you are our lord. Please cure veer and make his surgery successful..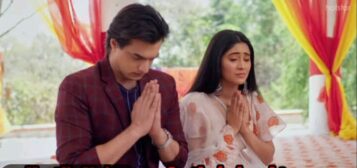 Naira:krishnaji..veer should get fine. He is a very good person..so please cure him. And please make kartik fine with me..
Suddenly the heavy wind blows and the diya gets off and a cloth flies and falls on naira thus erasing her sindoor while naira gets shocked..
Naira in mind: what's happening? This..this is a bad sign..will kartik remain angry with me? No..no..i won't let it happen. I will put sindoor again..
Naira takes a pinch of sindoor and she was about to apply on forehead but kartik stops her shocking naira while niya smirks..

Niya in mind: according to kartik..you have broken his dad's lifelong dream then how can he forgive you naira? I guess he understood that even sindoor on his name doesn't suits you..iam so happy that he stopped you from putting sindoor on his name.
Naira shockingly:kartik..
Kartik:though iam upset but iam your husband ..when iam there then why are you putting sindoor yourself? I should only fill your maang..
Kartik fills naira's maang while naira gets teary..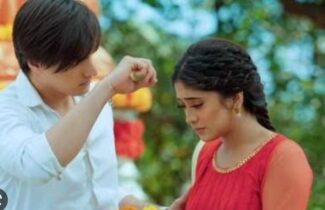 Niya gets angry seeing it..
Niya in mind: this.. this kartik..no..i won't let naira win. Until naira is there before him..he will be her puppet even though he is angry on her. I have to do something to clear my way to reach kartik..
She thinks about some plan while kartik and naira turns to leave and they gets suprised seeing Keerthi and Keerthi too gets suprised seeing them..
Kartik: Keerthi..
Kartik immediately runs and hugs Keerthi and they share an emotional moment..

Kartik:it's been many months since we saw you..how are you Keerthi?
Keerthi gets sad recalling Aditya and suddenly she realises it's naira's birthday..
Keerthi in mind:i really forgot today is naira's birthday..i should wish her first. I will hide my broken relationship now..
Keerthi:iam fine kartik..and happy birthday naira..i really forgot it..iam sorry.
Keerthi hugs naira happily and naira smiles..

Naira:it's ok..your wish is enough for me.
Keerthi teases kartik and naira..
Keerthi:my bhabhi.. what did my dear brother gift you for your birthday?
Kartik and naira hide their bitterness and they put a fake smile and..
Naira:he..he gave a beautiful chain Keerthi.
Suddenly Keerthi notices the bracelet in her hand with KN as initial and..
Keerthi: is it that bracelet with KN initial?
Naira:no..this bracelet was gifted by Niya. Kartik's gift is in home..
Keerthi:ohh..even this bracelet is beautiful.

Suddenly Kartik gets a call from Abir and he attends it..
Kartik:hello Abir..
Abir:kartik.. i came to Mumbai to suprise naira bhabhi as it's her birthday. So are you both at home now? Shall I come there?
Kartik:no..we are at temple in Jubilee hills. You come here..i want to tell some important matter too.
Abir:ok..
Within some time Abir reaches there and four of them stands near cliff end and they talk..
Abir: happy birthday bhabhi..
Naira:thank you Abir..it's suprised that you came from Paris.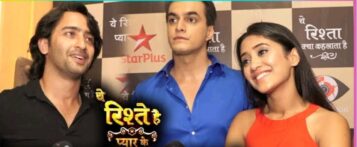 Abir:woh..i decided to return to udaipur doing my music career atself. So before going to udaipur..i thought to give a suprise wish for you that's why i came here.
Naira:you are nice..thank you once again Abir.
Abir:it's okay..and Keerthi iam really suprised to see you here..and iam more happy to see you after many months.
Keerthi:i settled in Mumbai with Aditya. And luckily when I came to this temple..i spot kartik Bhai and naira bhabhi.
Abir:keerthi..please contact us regularly and visit us as we all were tensed regarding you.

Keerthi in mind: now i can't tell my matter..i will tell privately in home about my problems. Now i will lie..
Keerthi:sorry bhai..woh..we were busy with some works that's why couldn't visit or contact you all.
Abir:and bhai.. what did you want to tell importantly?
Kartik tells about veer and his arrival to Mumbai for surgery while Keerthi and abirr gets shocked hearing it…
Abir:oh my god..i never knew veer would go through this pain. If i had known i would have came and supported him..
Keerthi:yes..he should have informed us instead of fighting it alone. Anyways..now we should support and give courage to him.
Abir:yes..we will pray here for him and then go to him once they reach here.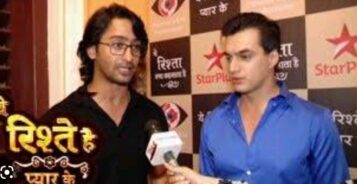 Kartik:yes..
Niya who was hiding behind a tree plans something evil..
Niya in mind: now its a nice time to end naira's chapter. I will kill her now..and once naira is gone, i will be the only choice for him for second marriage as he loved me first..
Niya covers her face with shawl and she slowly goes back of naira and she pushes her out of cliff and she runs away while naira screams..
Naira:kaaartikkkk..
Kartik tries to hold her hand but it slips..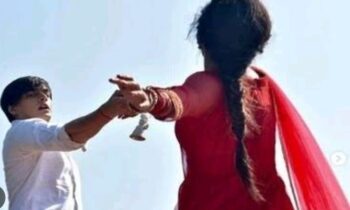 Naira falls from cliff sadly and she shouts..
Naira:i..i loveeee you kartikkk..
Kartik Abir and Keerthi gets shocked seeing her fall and they scream..
Kartik ,Abir and Keerthi:nairaaaaa…
Kartik goes into shock and he sees naira falling in a shocker state while naira gets emotional seeing kartik and she recalls the beautiful moments with him while she is falling..
Paas aaye
Dooriyaan phir bhi kam naa hui
Ek adhuri si hamari kahani rahi
Aasmaan ko zameen, ye zaroori nahi
Jaa mile… jaa mile
Ishq saccha wahi
Jisko milti nahi manzilein… manzilein
Rang thhe, noor tha
Jab kareeb tu tha
Ek jannat sa tha, yeh jahaan
Waqt ki ret pe kuch mere naam sa
Likh ke chhod gaya tu kahaan
Hamari adhuri kahani
Hamari adhuri kahani
Hamari adhuri kahani
Hamari adhuri kahani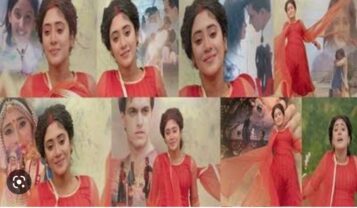 Khushbuon se teri yunhi takra gaye
Chalte chalte dekho na hum kahaan aa gaye
Jannatein agar yahin
Tu dikhe kyun nahin
Chaand suraj sabhi hai yahaan
Intezar tera sadiyon se kar raha
Pyaasi baithi hai kab se yahaan
Hamari adhuri kahaani
Hamari adhuri kahaani
Hamari adhuri kahaani
Hamari adhuri kahaani
Pyaas ka ye safar khatam ho jayega
Kuch adhura sa jo tha poora ho jayega
Naira emotionally smiles seeing kartik while kartik looks at her shockingly As she slowly goes far away from him..
Jhuk gaya aasmaan
Mill gaye do jahaan
Har taraf hai milan ka samaa
Doliya hain saji
Khushbuein har kahin
Padhne aaya Khuda khud yahaan
Hamari adhuri kahani
Hamari adhuri kahani
Hamari adhuri kahani
Hamari adhuri kahani
Soon naira disappears from their eyes and Kartik's ears echoes with naira's "i love you" shout and flashes of her fall appear again in his mind and gets panicked and he falls unconscious due to a big shock of his life which he never even expected..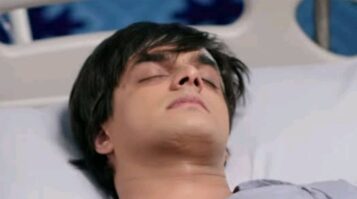 EPISODE ENDS..
precap:- Kartik gets traumatised. Sirat saves naira??. Veer's surgery. Mishti gets angry…