hello readers..here is the next part. Please do support..
PARIS, FRANCE:-
Abir gives resign letter to his boss..
Abir:sir..iam sorry..i know you trusted me to be your forever employee but..but i couldn't hold your trust.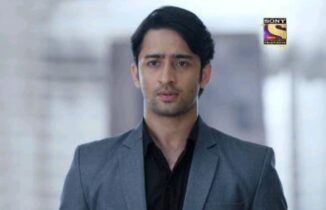 Boss:it's okay Abir..i understand your situation. It's good that you are returning to your family. Anyways all the best for your future career there..
Abir:thank you sir.
Abir leaves his office and meets his friends Adam and Prem..
Prem:we will miss you Abir.
Abir:you both are indians too..we shall meet when you both come there.
Adam:that's right..but still we will miss these 3 months beautiful memories. You became our best buddy. Anyways..all the best for your future.
Abir hugs Adam..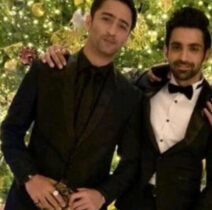 Abir:thank you buddy.
Prem: what time is your flight for udaipur?
Abir: flight time is tonight 10pm. err.. actually iam going to Mumbai. My bhabhi's birthday is tomorrow and she is my childhood friend too so going to suprise her in mumbai. And after 2 days i will return to udaipur.
Prem: that's great man. Congratulate her on pur behalf also..
Abir:sure..ok bye guys..I'll go to my house and pack my things and will leave sooner.
Prem:fine..but let's take a selfie before you go..
Abir:sure..
They take selfie together cherishing the friendship moment..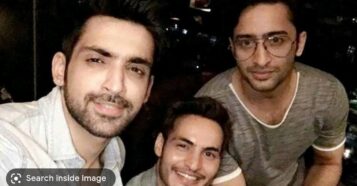 Adam and Prem bids bye to Abir and Abir leaves..
MUMBAI:-
It's night..
Kartik is seen working on laptop and naira is seen sitting sleepy near him..

Kartik:naira..you are so tired..go to sleep.
Naira:then won't you feel alone while working?
Kartik kisses her forehead and..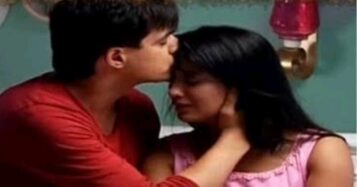 Kartik: absolutely not. Your presence is enough for me to not feel lonely..
Naira smiles and lies down on bed and..
Naira:fine. Then goodnight..you too sleep after finishing the work.
Kartik:yeah.. goodnight.
Soon naira falls asleep and kartik sits working on laptop..
At 11:40 pm the alarm rings near naira waking her and she sees kartik missing and gets shocked..
Naira:kartik..kartik.. where are you?
She gets panic and searches her in living area kitchen and balcony and gets tensed..
Naira in mind:where did kartik go at this time?
She calls kartik immediately and kartik picks the phone..
Naira:kartik..kartik..are you fine? Where are you?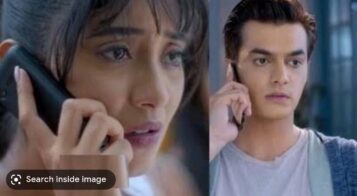 Kartik:relax naira.. don't panic..iam just there in terrace. I felt so sleepy that i couldn't concentrate on my work..so came to terrace to concentrate properly. Dint you sleep?
Naira:i slept but alarm woke me up and then i found you missing that's why i got scared..
Kartik:ohh..shit i mistakingly set alarm on 11:40 pm instead of 6:40 am. Iam so sorry for disturbing you..
Naira:it's okay..but now iam coming To terrace. I want to give you a company.
Kartik:it's okay naira..you go to sleep..i will soon finish the work and come.
Naira:no..now i dont feel sleepy now. I will come..
Kartik:ok..then i will wait for you..
They cut the call and naira goes to terrace and finds everything dark and she searches for kartik..
Naira:kartik..kartik..where are you?
She searches for him sometime and once the clock strikes twelve the decoration lights gets on and naira gets suprised seeing her birthday wishes written everywhere..

And suddenly kartik comes infront of her singing birthday song for her..
Kartik: happy birthday to you happy birthday to you.. happy birthday to my love.. happy birthday to you..
Naira gets emotional and she runs and hugs him..
Naira:thank you for celebrating my birthday kartik. But..how did you plan this sooner?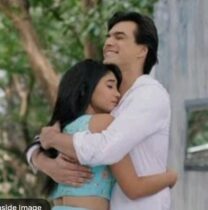 Kartik: I've already planned this before. And i just executed while you were busy in cooking..and i pretended to not celebrate your birthday to make you little irritated but you dint get shocked or irritated too…
Naira:why should i? As your dad gave you important work..i don't want you to spoil it because of me and that's why i accepted it. Anyways..why did you do this leaving your work? It's not so important to celebrate my birthday than your work..
Kartik: however i can't work continuously too and i need some break too. So I thought to do a little celebration on my break as i want your 1st birthday with me memorable for lifelong..
Naira smiles and kisses his cheeks..
Naira:i love you so so so much kartik..
Kartik smiles and he kisses her hands..
Kartik:even i love you tooooooo much naira..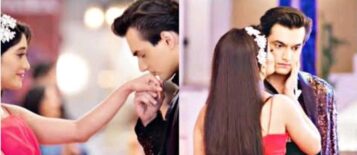 They both smile and kartik takes her near the cake..
Kartik:now cut the cake my lovely wife..
Naira blows the candle and cuts the cake while kartik claps hands for her..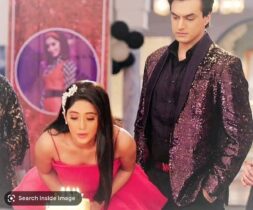 Then they both feed cake with each other..
Later kartik stands before her and..
Kartik:now you will see my special gift my dear wifey..
Naira:ohh..so you brought me gift also?
Kartik:it's mandatory for me to give you gift as you are my queen..
Naira:then show me soon..iam too excited..
Kartik removes his shirt and shows the tattoo on his arms and naira gets hell suprised and shocked seeing her tattoo on his hands and gets emotional..
Naira:kartik…is..is it not pai..painful for you?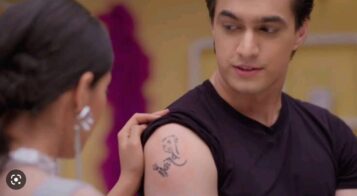 Kartik:whatever i do for you can't give me pain..it just gives more comfort to my soul..
Naira gets more emotional and hugs him tightly..
Naira:thank you so so much kartik..it's the best gift forever. No one can give this special gift to me. I love you so much..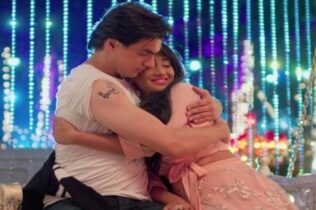 Kartik:even i too love you naira. Ok.. don't get too senti..now let's dance for a while making this day memorable..
Naira:yes..
They both dance passionately..
Happy Birthday To You Jee
Cake Shake Hai Toh Phir Bulao Jee
Aise Hi Tum Buddhee Hote Rahoge
Humko Usse Kya Matlab Batao Jee
Happy Birthday To You Haanjee
To Ispe Itne Khush Kyo Ho Haan Bhai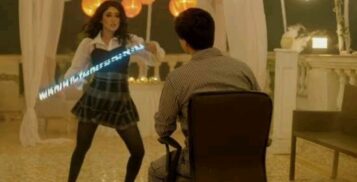 Tum To Barso Phele Hi Nikal Chuke Ho
To Birthday Wala Natak Yeh Kyun Hai Bhai
Candle Shandle Phoonk Se Bhujwake
Besuron Ki Veer Faltu Mein Lagwake
Birthdaywala Song Zor Zor Se Gawate Ho
Humse Taalishali Ka Hajamat Karwate Ho
Yeh Sab Nowtanki Phir Bhi Chalo Jhel Le
Cake Shake Aur Starters
Bhar Bharke Aye Plate Mein
Ghar Jake Phir Se Dinner Na Mangwana Ho
Chuhe Na Daude Pet Mein Raat Ke Paune Do
Happy Birthday To You Jee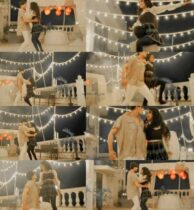 Soch Samajh Ke Invite Bhijwao Jee
Agar Petpooja Ka Full Intezam Hai
To Hi Nyota Consider Karenge Jee
Happy Bidthay To You Keh Diya Hai Jee
Tum Or Bhi Bhudhee Ho Gaye, Oh Teri
Dil Chota Na Karo Umar Ka Hai Kya
Baal Jharenge Daant Girenge Waise Hi
Dekho Koi Purana Gift Hum Jo Dhund Paye
Expect Tabhi Karna
Hum Kuch Hath Mein Lekar Aaye
You Are On My Friend List
Yeh Nahi Mazak Hai
Hum Time Nikal Ke
Aagaye To Bari Baat Hay
Waise Sach Batao Tum
Ab Kitne Saal Ke Huwe
Humko Kya Padi Hai Hum
Kisi Ko Na Batayen
Mu Na Bigaro Aaj Tumhara Birthday Hai
Tum Akele Ho Nahi Yaha Or Bhi Buddhe Hai
Soch Soch Ke Aur BP Na Barao
Sing Happy Birthday To Me
Battis Chamkake Chillakar Gao
Happy Birthday To Me
Aab Paise Waise Kharche Ho Or
Cake Bhi Mangwae Ho
To Party Khatam Hone
Ke Baad Sar Patakna Jee
Happy Birthday To You Jee
Kaisi Lagi Tumko Meri Philsophy
Paida Hoke Bhi Tumne Aisa Kya Kiya Hai
Dharti Pe Bhoj Tum Bane Ho Jee
Happy Birthday To You But You See
Umar Chupane Ka Naam Hai Zindagi
Mujhko Bulao Na Bulao Par Batana
Yeh Birthdaywala Song Hindi Mein
Tumko Kaisa Laga Hai Jee
Once they finish dancing they end the celebration with a beautiful selfie..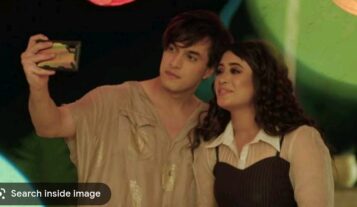 UDAIPUR:-
SINGHANIA HOUSE:-
Next morning mishti and naksh runs down holding the phone shouting..
Mishti:to hell with this signal..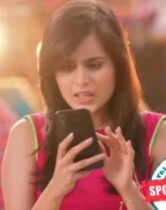 Naksh: even signals knows to irritate people..
Singhania ladies and men's laugh at them..
Naitik:naksh beta.. what's wrong with you both?
Naksh:papa..today is my sister's birthday. I want to wish her first but iam not getting signal..
Mishti: even i want to wish her first but this idiot signal has gone off..
Akshara smiles and..
Akshara: anyways you both can't wish her first. She would have received the first wish long time ago..
Naksh:maa..that's not possible. Naira doesn't wake up this much early and also kartik too doesn't wake up this sooner.
Akshara: duggu..you won't understand this. Kartik and naira realised their love and iam sure kartik would have suprised her already. You will understand this matter when you fall in love..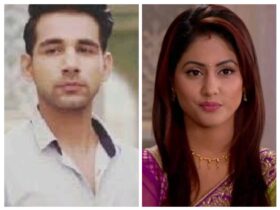 Naksh coughs and..
Naksh:i guess i should go krishna earlier today..i will call naira later.
Naksh tries to go away but mishti stops him..
Mishti:arrey mere bhai..i know why you want to go krishna now..it's just you want to escape from your love topic. Today you can escape from us..but one day a girl will attack your heart with love and your heart will also gets attacked and that day you can't escape for sure..
Naksh: shut up you specs.. then this will also happen.. that i willl be dancing and enjoying the day when your bhaarat comes.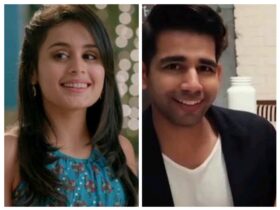 Mishti gets angry..
Mishti:bhai..how dare you..
Mishti chases naksh and naksh runs..
Naksh:chachu..save me from your chudail daughter..
Mishti:no chance my Papa will never save you. I wont go college without settling scores with you bhai.
The elders laugh at them..
Bhabhimaa: these kids never change even if they grow old..
Devyani:yes..they also make sure us laugh too. Iam sure we will be bored when they too get married.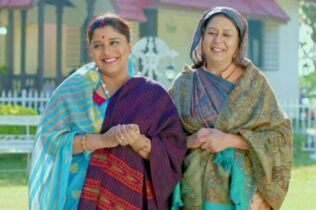 Akshara:yes..
Suddenly akshara get's naira's video call and akshara gets too excited and informs everyone and everyone rushes near akshara immediately to attend naira's call and they attend..
Naira: namaste..how..
Before she speaks everyone sings birthday song for naira..
Everyone: happy birthday to you.. happy birthday to you.. happy birthday to our beloved naira.. happy birthday to you..
They clap hands and naira gets emotional and very happy too..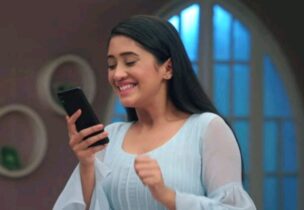 Naira:thank you so much..
Devyani: may my granddaughter live for many years happily. You become more cute today..
Mishti:arrey dadi.. don't you know the reason for her cuteness? The cuteness has come because of my jeeju's love on my didi. So praise him more..
Everyone smiles..
Naira:hey mishti.. don't you know other works except to tease me huh? I will bury you when I reach udaipur if you tease me again.
Mishti giggles..
Mishti: without my teasing..you will really miss me that's why.
Naksh: anyways.. we wouldn't have wished you first as iam sure kartik would have wished you but we will atleast show our gifts to you first..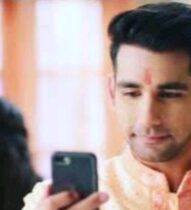 Naira smiles and..
Naira: bhai..iam sorry..kartik gave me first gift too.
Everyone gets suprised..
Akshara:hey duggu..i told you right.
Naksh:haha..i just tested kartik's love..i dint intend to give gift first. Now i understood how much my sister and kartik are in love..
Naira:bhaiiiii..i wont leave you..
Karishma: anyways.. what did your kartik gave you naira?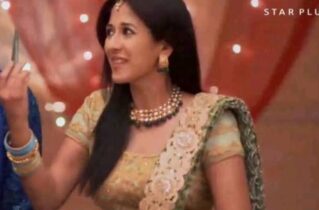 Naira thinks about her gift and blushes while everyone notices her and smiles..
Mishti teases:i think jeeju would have gifted ' a proposal to have baby' and that's why my sister is blushing..
Everyone smiles while naira makes a face..
Naira:mmishti..you are just teasing me too much. See what iam going to do in your marriage. Anyways.. kartik's gift is secret..i will show you all when I return to udaipur.
Naksh: oho naira.. nowadays you forgot us..
Naira:bhaiii..
They have good talks with naira for sometime and they cut the call..
Naksh:mishti..get ready soon..I'll drop you in college.
Mishti:ok bhai.
Msihti gets ready and naksh drops her in college and goes while mishti goes and sits near kuhu as usual..
Kuhu:hey mishti..today is your sister's birthday right?
Mishti:yes..we all wished her through video call. Iam so happy about my sister's life..she and my bff..i mean jeeju loves each other a lot.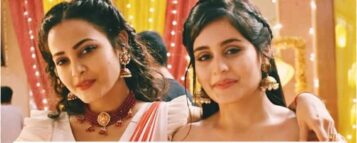 Kuhu: that's great. And what about your love story? You told Abir will come in some days..how are you planning to start your story?
Mishti thinks and smiles..
Mishti: i will start differently. Before proposing him..i should make him realise his love for me.
Kuhu:how are you going to do it?
Mishti:by making him jealous. He will absolutely feel jealous if i act closer with Rohit.
Kuhu gets shocked..
Kuhu:are you mad? Already you told that Abir fighted with Rohit misunderstanding him that day..then why are you using Rohit to get Abir?
Mishti:this is called my logic. If i use other men's he won't mind it but if i use Rohit then he will surely get jealous as he hates Rohit.
Kuhu:idiot.. what if Abir is true about Rohit? And if Rohit takes advantage when you use him.. what you will do?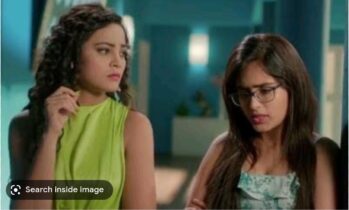 Mishti: don't talk like fool..Rohit respects girls. Abir just misunderstood him that's all. Iam sure Rohit will surely help me..
Kuhu: ok..do whatever you want. But i hope you don't land in trouble..
Then the professor come and they stop talking and they listen to their class..
GOENKA HOUSE:-
Veer gets up after sleeping whole night and he feels heavy headache and holds his head shockingly..
Veer in mind:why am i feeling headache? What happened to me suddenly..did my disease started to reincrease again?
Bani comes to Goenka house and everyone gets glad seeing her..
Akhilesh:bani beta..come in..
Bani goes inside..
Bani: actually i came to visit veer..is he fine aunty?
Sumitra: actually he dint wake up yet. Once he wakes up..we will get to know about it.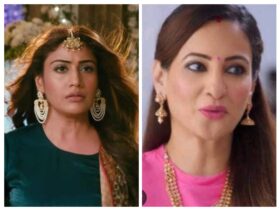 Bani:ok..then i will wait for him.
Swarna: bani..today is naira's birthday right?
Bani:yes aunty..i dint wish her yet. Actually naira told me yesterday that she is helping kartik in finishing his works and today is important day it seems. So i thought that not to disturb her until kartik's meeting with Chopra's gets over. I will wish her at evening..
Swarna:yes..you are right. Let her focus on dance and that work..we will wish her at evening.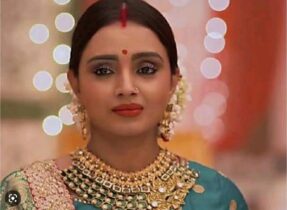 Veer comes down after getting ready and gets suprised seeing bani..
Veer:bani..how come you are here at early morning?
Bani: actually i came to visit you. Are you fine now?
Veer acts shocked..
Veer in mind:why is bani asking about my health? Did she came to know it…noo it can't be possible..then..
Veer: iam having little headache still..but how do you know?
Everyone gets shocked..
Bani:are you nuts? Yesterday..you got injured by goons on head while you were saving me and did you forget it..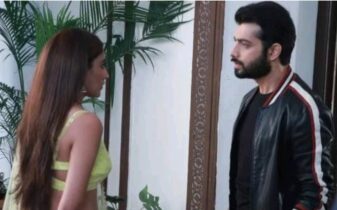 Veer gets shocked and holds his head..
Veer: but i dont remember anything..
Everyone gets shocked again..
Andy: did you fight yesterday after drinking wine?
Bani:no uncle.. yesterday he was fully alright. I don't know what happened to him now..
Veer in mind: is this happening due to my disease? I was recovering well but again…is my disease getting affected due to yesterday's incident which bani told? Anyways..now i should not let anyone doubt me..i will handle the situation now.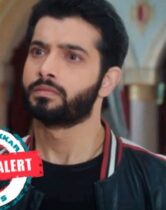 Veer:papa..i guess i just slept very deeply that's why i don't remember it. Don't worry iam fine..
Sumitra: Are you sure?
Veer: yes..iam really fine mom.
Sumitra:fine..then go and spend time with Bani as she came to visit you.
Veer in mind:thank god..i somehow managed the situation. But i should meet my doctor and enquire about this.
Veer:ok mom..
Later veer and bani soends some time together happily..
precap:- Kartik gets angry on naira. Veer faints before family. Mishti's idiotic work..