hello readers..here is the next episode. 
GOENKA HOUSE:-
Everyone gathers with their partners in backyard as the time almost arrived and they wait only for the moon to appear while naira waits for kartik and gets worried…
Naira in mind:where is kartik? Why dint he reach yet..even he is also fasting..then how will we break fast if moon appears?
Dadi:naira beta..where is Kittu? Why dint he come yet..call him and ask him to come fast as time is so less.

Naira:yes dadi.
Naira calls kartik but he doesn't pick so Naira gets more worried..
Naira in mind:krishnaji.. what's happening? This is my first teej.. please don't spoil it.
Naira decides to ignite diya and she goes and ignites diya before the idol but to her shock the fire get blown off making naira more worry..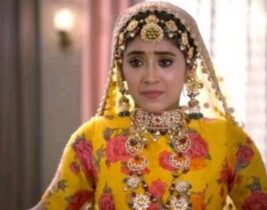 Naira:what's happening? Is this a sign that kartik is in problem? Now what will i do..I'll better go and search for him. Krishnaji.. please don't harm my kartik.. please keep him safe from any problems.
Naira takes her car and she searches for kartik everywhere and gets tensed..
Naira: i almost searched everywhere..but couldn't find him. Ohh krishnaji.. please help me find him and keep my kartik too safe.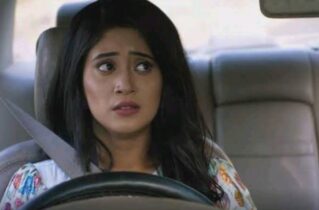 She drives again in searching of kartik while the family gets worried finding naira also missing..
Manish:where did naira go? Already we were tensed that kartik dint return home yet and now..
Swarna:manishji..wait I'll call her and check.
Swarna calls naira and gets to know that she went in search of kartik..
Swarna:maaji..manishji..naira have went in search of kartik as she felt that he is in trouble..
Everyone gets worried..
Dadi:when our partner are in trouble.. only their respective partners can sense it. And maybe that's why naira would have felt it..come lets pray that our Kittu should be fine and naira should find him somehow before moon appears.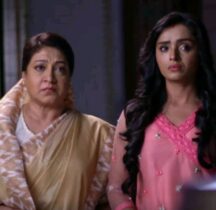 Everyone agrees and prays for kartik and naira while naira feels choking and she stops the car immediately..
Naira in mind: what happened to me? Why am i feeling breathless here? I will gets some air for few minutes and will search for my kartik..
Naira gets down the car and stands there getting the air and suddenly she notices kartik's car few meters away and gets shocked..
Naira in mind: kartik's car is here.. that.. that means..means he maybe here around..i will go and see..
Naira goes near his car and gets shocked seeing kartik unconscious and runs to him..
Naira:kartik..kartik.. what happened to you? Get up..
She gets tensed and sprinkles water on him and he slowly opens his eyes and sees naira..
Kartik:naira..you..
Naira:kartik..are you fine? What happened to you suddenly? I was so scared..i felt restless when you dint return..how did you faint here?
Kartik wakes up and holds her worried face and looks into her eyes with love..

Kartik:naira..relax.. don't stress yourself as you are already fasting.
Naira:then what about you? You are also fasting and you have fainted here..how shall i be relaxed?
Kartik: but now iam fine..so calm down. Actually i finished the work which my dad gave and was coming to house and suddenly i saw a girl in problem and helped her and when i was coming to my car..i fainted..
Naira hugs him and cries..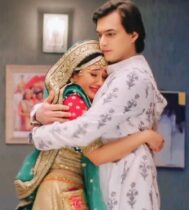 Naira: thank god you are safe..i was really so scared. Hereafter don't go alone..take anyone along with you.
Kartik moves her and rubs away her tears and holds her through shoulders..
Kartik: fine..i will not go alone hereafter but please you don't cry and make me faint again as i can't bear your tears.
Naira stops crying..
Kartik:now tell me one thing..how did you find me? You never knew that where i went then how did you find me?
Naira looks his eyes deeply and..
Naira: what stupid question is this? You are my love..i mean..my..my best friend so i can find you easily wherever you go as my heart..heart is connected with yours since childhood.
Kartik smiles..
Kartik in mind: she indirectly told me that iam her love..then i guess she too loves me..thank you so so much krishnaji. And yes..naira is right..our hearts are connected since childhood and that's why we are able to sense each other's problems.
Kartik smiles and admires naira..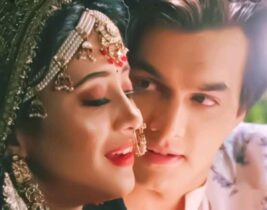 Suddenly naira notices him and..
Naira:why are you smiling like that?
Kartik: nothing..i just admired you as you look gorgeous in this lehenga.
Naira blushes and suddenly she notices moon appearing in dark sky and gets shocked and tensed again..
Naira:ohh no..kartikkkkk..
Kartik: what happened?
Naira:moon is appearing..we have to break fast..how will we reach home now?
Kartik gets shocked..
Kartik:ohh no..
Suddenly he sees something and gets idea..
Kartik:naira..we will break fast hereatself.
Naira:what? How is that possible? We don't have sieve ,diya or water..then how will we..
Kartik:i thought of an idea.. you use your pallu as sieve and see..there is a small temple there..so we will take diya from there and water too.
Naira likes his idea and pinches his cheeks..
Naira:you are smart mendak..
Kartik:ok..come..lets hurry to that temple before moon appears fully.
They both hurry to temple and they see full moon appeared and naira does rituals by seeing kartik and moon through her lehenga pallu..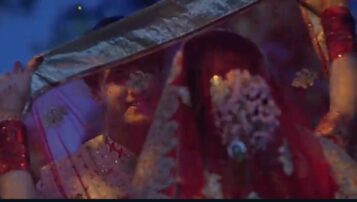 Then she does aarti and feeds him water..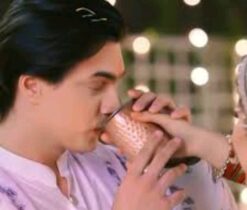 Before kartik feeds her naira faints scaring kartik..
Kartik:nairaa..
He takes her into his lap and wakes her up and slowly feeds her water..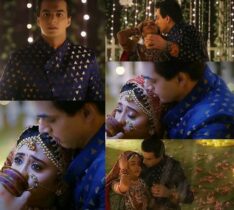 Thus they uniquely breaks the fast and kartik lifts her shocking naira..
Naira:kartik.. what are you doing?
Kartik: i know you are too tired and weak as you stressed a lot because of me..so i want to take care of you without giving any stress.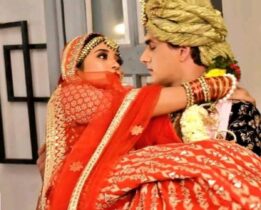 They both meet with an eyelock and walks towards the car….
PARALLEL SCENE
Goenka's singhania's and Maheshwari's breaks their fast by rituals..

Mishti bani naksh veer and Abir stands together while Mishti naksh and bani admire them but veer and Abir just thinks about their problem and lost in their world..
Mishti: this festival is so nice. It increases the love of a husband and a wife..
Bani:yes..and even you can keep fast.
Mishti:what? Iam not married..
Bani:if you love someone then you can keep fast for them even though you are not married..
Mishti: ohh..naira di used to keep fasts..but at end she didn't get married to Arjun..
Naksh: nuts..she dint keep for arjun. She kept fasts for kartik only.. she never considered fasts only for love..so she kept fasts for kartik as kartik was her so so best friend and her life friend.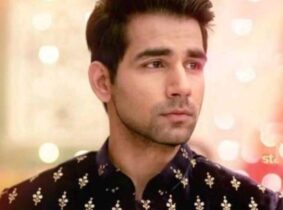 Bani:ohh… that's why god United them i think. They only can be best life partners..
Naksh:yes.. meanwhile naira has fallen in love with kartik..so..
Bani and Mishti gets suprised while Abir and veer are lost in his world..
Mishti:wow..it's so amazing. Infact they love since childhood but they couldn't identify it and finally naira realised it and hope kartik jeeju realises it.
Bani:he will..
They three talk nicely and they notice veer and Abir dull..
Bani:this veer is one idiot..he is behaving strange. I don't what is his problem nowadays..
Mishti:abir is lost again..i don't know why he isn't forgetting the incident yet.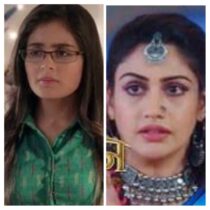 Naksh:leave my dear sisters..they will become normal soon.
The families worry as kartik and naira dint reach the house yet..
Akshara:kartik and naira dint reach home yet..and the moon has come out..i don't whether they broke their fast or not..iam really worried..
Swarna:yes..aksharaji..iam also worried.
Suddenly they hear the voice from the back..
Voice:no need to worry about us..we have broke our fasts as per rituals atself.
They all turn and see kartik and naira and gets suprised..
Manish: how did you break fast and where did you go missing kartik?
Naira:papaji..he..he helped a girl and have fallen unconscious near the brigade area and i found him somehow and broke fast using things from nearby temple..
Naitik:thank god you both are safe and also broke the fast as i was so much scared for both of you..
Naitik hugs them both..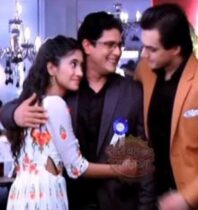 Dadi:haan.. rightly said naitikji. As i told you all only their partners can find them..see naira have found kartik..this is called true love.
Everyone smiles while kartik and naira looks each other..
Kartik in mind: yes..it is true love naira..i will propose you soon.
Naira in mind:i know it already kartik..i will soon make you fall in love with me.
Akhilesh shouts:what's the festival without dance? Come lets celebrate the festival with dance..
Everyone agrees and dances..
HEY..DHIN TADAAK, DHIN TADAAK
AAJA UDD KE SARAAT
PAIRON SE BEDI ZARA KHOL
NAGADA SANG DHOL BAAJE DHOL BAAJE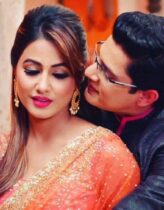 DHAANYE, DHAANYE, DHAM, DHAM DHAANYE
NAGADA SANG DHOL BAAJE, DHOL BAAJE
DHAANYE, DHAANYE, DHAANYE DHAM DHAANYE
HEY..DHIN TADAAK, DHIN TADAAK
AAJA UDD KE SARAAT
PAIRON SE BEDI ZARA KHOL
NAGADA SANG DHOL BAAJE, DHOL BAAJE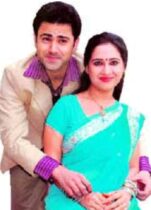 DHAANYE, DHAANYE, DHAM DHAM DHAANYE
NAGADA SANG DHOL BAAJE, DHOL BAAJE
DHAANYE, DHAANYE, DHAANYE DHAM DHAANYE
LEELI LEMDI RE
LEELO NAAGAR VEL NO CHHOD
PARBHU PARODH NA RE
MAARA GHER UTAARA KARTA JAAO
UTAARO NAHI KARUN REY
MAAR GHER SEETA JUVE VAAT
SEETA AKALA RE
JUVE RAAM LAKHMAN NI VAAT

HAA PAL PAL RE PAL PAL
BEETA JAL JAL NAACH AB CHAL AA JAA
RE THARR THARR HAAN KAAMPE THARR THARR
HAA DARR DARR JEE SE DARR AB NA NA
PAAKO MEIN BOLA BOLA RE BOLA MOR
BATLAVE DIL KA BHUGOL
NAGADA SANG DHOL BAAJE DHOL BAAJE
DHAANYE, DHAANYE, DHAM DHAM DHAANYE
NAGADA SANG DHOL BAAJE, DHOL BAAJE
DHAANYE, DHAANYE, DHAANYE DHAM DHAANYE
HEY..DHIN TADAAK, DHIN TADAAK
AAJA UD KE SARAAT
PAIRON SE BEDI ZARA KHOL
NAGADA SANG DHOL BAAJE DHOL BAAJE
DHAANYE, DHAANYE, DHAM DHAM DHAANYE
NAGADA SANG DHOL BAAJE, DHOL BAAJE
DHAANYE, DHAANYE, DHAANYE DHAM DHAANYE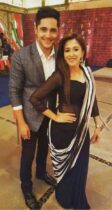 LEELI LEBADI RE
LEELO NAAGAR VEL NO CHHOD
PARBHU PARODH NA RE
MAARA GHER UTAARA KARTA JAAO
UTAARO NAHI KARUN REY
MAAR GHER SEETA JUVE VAAT
SEETA AKALA RE
JUVE RAAM LAKHMAN NI VAAT
HEY DHOL BAAJ
Suddenly Mishti slips on Abir and both meets with an eyelock..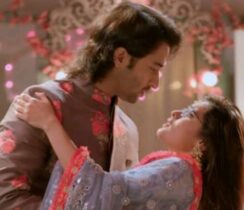 Suddenly Abir sees neha's soul near him..
Neha:i died only because of you Abir.. only because of you. If you had just said yes..i would have been living in thi world but you dint let me live..you just killed me by ignoring and unaccepting my love. So you are the murderer.
Abir gets shocked and gets scared and immediately moves away from Mishti and holds his head..
Abir in mind: what the hell? I couldn't even get a rest of peace..iam getting more distracted here. It's better i leave this place for sometime..
Abir goes away from there to his room while Mishti gets upset..
Mishti in mind:Abir is still affected with those incidents..why isn't he forgetting yet? He is always cheerful and funny…but now he is looking like saddist. I really miss my irritating Goenka. I don't know when he will become normal..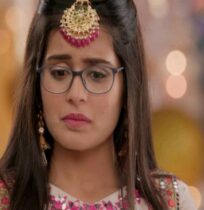 Abir goes to his room and closes the door and calls someone..
Abir:hello..what happened? Did they see my portfolio?
The guy tells something and abir gets happy..
Abir:thank god..i got selected. I shall leave to Paris after two days..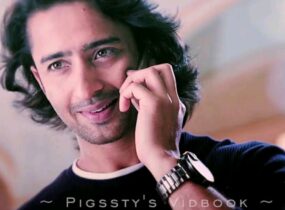 The guy cuts the call while Abir sees the family enjoying through window and gets sad..
Abir in mind:i dint want to go away from family but i have to go now..iam really sorry everyone. Iam getting affected more with past incidents here..so to forget that i need to move away from this place and to focus on something..so iam doing this..iam really sorry everyone.
Some drunkards are seen running in road..
Drunkard 1 Arav: the police are chasing us.. what shall we do now?
Drunkard 2 samrat:we should hide the wide bottles somewhere where the police can't find it out..if they find us with wine bottles then we will be locked in jail again.
Arav:but where shall we hide it?
They look here and there and one of the guy sees Goenka house enjoying festivals and..
Drunkard 3 Rishab:hey friends..see that family is celebrating teej festival..so let us hide there. We will keep wine bottles along their juice bottles..so that nobody doubts us and even police can't find it out..
The other two drunkards agrees and the three enters Goenka house secretly and they mix wine bottles along with juice bottles kept over tables arranged on backyard..
Samrat:our work is over..now police can't find the wine bottles.
Rishab:yes..
The three goes out happily and on the way police holds them..
Police: i saw you guys holding something..tell me what's it?
Arav:no.. nothing sir. After we got bailed..we realised or mistakes and we never took wines again.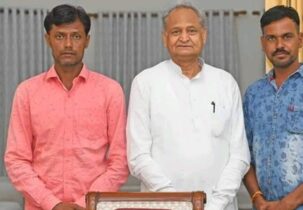 Rishab:yes sir..If you want you can check us.
The police checks them and also their bags and..
Police: that's good that you guys changed.. don't ngo to your previous habits..better live like this. You can go now..
The three goes away smirking while veer feels thirsty in house..
Veer in mind:i feel so thirsty..i will drink some juice kept in backyard and come..
Veer goes to the table on the backyard and sees many juice bottles and takes one of them and drinks it but mistakingly he drinks the wine thinking it to be juice..
Veer in mind:why is this juice tasting weird?
After sometime he feels dizzy and slowly he gets into drunken state and laughs..
Veer:wow..i feel..i feel like.. dancing..i will enjoy now.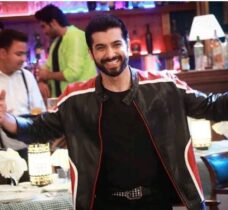 Veer goes and dances along with the family..
Suddenly he hits bani and bani was about to fall but veer holds her and they meet with an intense eyelock while veer stares her smiling..

Some minuters later bani comes to senses and gets angry..
Bani:hey idiot..why are you smiling at me like that..make me stand up.
Veer doesn't respond as he is lost in bani while bani gets more angry..
Bani: nowadays..you are behaving too weird mr.goenka. you are hiding something and now you are smiling at me like mad..i don't where is your sense?

Still he doesn't come out and so bani pushes him away and moves away while veer comes out of trance and states her..
Veer: bani..bani.. don't go away from me..i need to tell you something..
Bani:what?
Veer:i..i thought to hide it till..i..i become fine but can't control today.. today you look more beautiful.. infact i love you more today..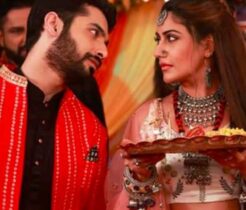 Bani gets shocked..
Bani:what?
Veer: actually i..i want to propose you already but..but i stopped as i was having..
Veer falls unconscious while bani gets shocked..
EPISODE ENDS..
PRECAP:- Bani confronts veer. Abir leaves for Paris. 3 months leap..kartik to propose naira?