hello readers..here is the 16 th Episode. And my special thanks to Revu, jiya, meena, Kanika for your constant support and keep supporting 😊. And i will be uploading 17 th Episode only on 3 or 4th October as iam going for treatment in Kerala..so kindly bare it for few days of my absence. And Don't forget this story as it will be continued from Oct..☺️☺️.
MUMBAI:-
At evening niya comes to kartik's house and rings bell while kartik opens the door..
Kartik:come in niya..
Niya gets super excited to know the suprise and she enters and was about to hug kartik but stops seeing naira..
Niya:naira..
Naira:woh..
Niya hugs naira..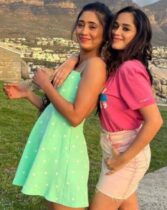 Niya:hey..why are you looking tensed as if you don't know me.. last time when you and your friends visited kartik here..he have introduced you all to me and we enjoyed a lot right?
Naira:it's not that.. actually..
Niya:arrey..leave it na..
Suddenly niya notices mangalsutra in her neck and sindoor on her forehead and gets suprised..

Niya:waah..naira..you dint even inform me about your marriage..kartik..you fool..you are my boyfriend right? Then why dint you tell anything about naira's marriage huh?
Kartik:niya..llisten.. actually..
Niya: it's ok..wait..who is that lucky guy naira? Please show him na..atleast by photo if he isn't here..
Naira comes near kartik and holds his hands in fear of her reaction while kartik tightens the hold indicating positivity..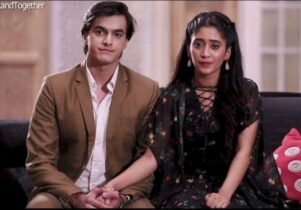 Kartik: niya..the guy who she married is me only..
Niya gets shocked and she feels as if world has stopped it's rotation…
Naira cries: please forgive me niya..i..i dint do it wantedly..woh..
Niya stumbles: is..is it true?
Kartik:yes niya.. please don't get me wrong. I married her due to circumstances.. If i haven't married her..her life would have been in trouble..
Kartik tells everything of how he married naira and niya breaks down…
Naira cries:i..i have snatched your love right? Please give any punishment for it..but don't cry like this..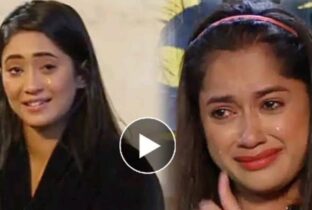 Suddenly niya stops her cry after few minutes and she wipes her tears and gets up and hugs naira shocking both of them..
Naira:niya??
Niya: naira..you dint snatched my love..it's god who writes destiny so he have written your destiny with kartik. Maybe he would have not chosen kartik for me…so it's not your mistake. I..i can't forget our love soon but as time goes..i will try to forget this..and this will not make our relation change. We will be friends now too..
Naira and kartik gets suprised..
Kartik:thank you niya for understanding..and iam..iam sorry for hurting you..
Niya:it's okay kartik..i can understand your situation. And please don't feel guilty..i will focus on my career and will forget it soon. And you too start your life with naira..she is an angel.
Kartik smiles unknowingly smiles while naira too smiles..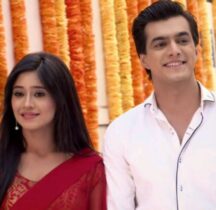 Naira:thank you for being supportive niya. And you can come here anytime you want..this is like your home as i heared that you don't have parents..
Kartik:yes..we may go apart  in relationship but our friendship doesn't go apart right? So be our friend and come here whenever you want..
Niya:thank you so much..and iam leaving now as i have to go for shooting..I'll meet you some other day..bye.
Niya goes while naira stares kartik continuously and kartik gets confused seeing her stare..
Kartik:iam not your kachori..why are you looking me like this?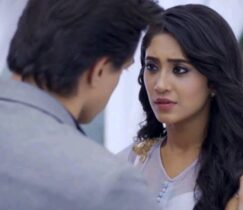 Naira: what happened to you? You was standing like a rock when niya cries..you could have hugged and comforted her right?
Kartik makes a weird face..
Kartik:are you a wife?
Naira pokes her finger..
Naira:aii..
Kartik holds her finger..
Kartik:B..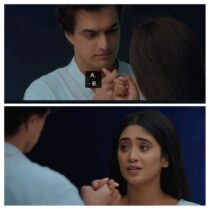 Naira:chi..
Kartik:it's not chi..it's c.
Naira:ok..shut up..tell me now..
Kartik:arrey..i felt bad for her condition but what can i do? If i hugged her..she will get hopes too na..she will feel nice in my embrace but if she is alone she will yearn for my hug again right..so only i let her to fight her battle alone..let her come out of it alone..so that she will be happy.
Naira: ohh..foolish mendak changed into smart mendak..
Kartik:haha..by the way what about you? I thought you are smart in pacifying her but what did you do..you started to feel guilty and also started to cry saying" i snatched your love right" then what is this called..are you a so called Sherni?
Naira:oii..you know about me na..i will change according to my surroundings. If someone cries before me then I'll also get affected and if someone is angry then I'll also get angry..this is my nature.
Kartik:acha..you are like chameleon which changes colours..
Naira beats kartik..

Kartik:ouch..iam sorry..
Naira: don't forget iam sherni..
Kartik:i agree..
UDAIPUR:-
HOSPITAL:-
Veer waits for his report after giving tests in hospital and suddenly he is called by the doctor..
Veer: doctor..is there anything serious about my health?
Doctor:i cannot say it's so dangerous or even i can't say you are safe but it's complicated..
Veer gets shocked..
Veer:tell me what symptoms is this and why am i having more headaches and feeling dizzy always..
Doctor: you are having brain tumour mr. Veer Goenka..
Veer gets shocked and stumbles..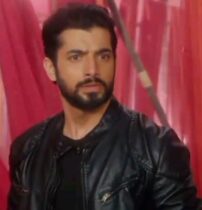 Veer:wh..wha..what?
Doctor: don't panic mr.goenka.. you are diagnosed with ependymoma type of tumour..so it's not very dangerous. But you should be very careful too and be regularly attending your treatment because there are chances of 60% of cure if you get treated..
Veer gets worried..
Veer: only 60%?
Doctor: mr.veer..this is possible only in this type of tumour and in other type there are less than 50% only..so you should be thankful. And you should not strain yourself or you should not be affected with your emotions like anger, sadness, crying like that… because it may harm your health.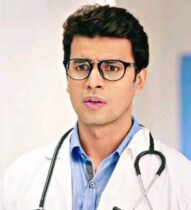 Veer:acha..
Doctor:and remember one thing.. you will feel dizziness, dull vision and also head ache as it's tumour's effects so you should not panic on that. I will give you some tablets..it will heal your state at that moment but it doesn't cure your disease. Your disease can be cured only with treatments here…
Veer:so i should come here regularly to get treatments?
Doctor:yes.. you should. And please don't take more business tensions till you recover..be cautious about your health.
Veer: okay doctor..then i will come for my treatment from tomorrow.
Doctor:good..
Doctor prescribes some medicines in a list and veer gets it from medical and he walks to his house sadly..
Veer in mind: i..iam having brain tumour..ohh my godd.. though it's not serious..it's dangerous too. Now what will i do? How will i tell my family?
What will they feel..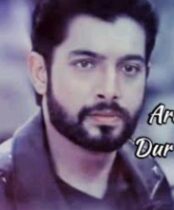 Suddenly veer thinks about bani and his eyes gets teary..
Veer in mind:i love bani a lot..i thought to propose her in some days but now..now i cant propose her and i will stay away from her to control my feelings till i recover.
When he walks suddenly he hits a women and the women was about to fall but veer holds her and gets shocked seeing bani..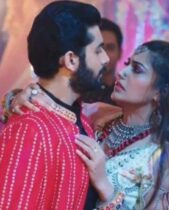 Veer:bani..
They move away immediately..
Bani:iam sorry veer..
Veer:it's okay..
Bani senses veer tensed..
Bani:are you fine veer? How is your head ache and..
Veer recalls his illness and gets sad..
Veer in mind: how will i tell this to you bani? I have to hide it..i don't want anyone to get sad because of me. And i can't control my feelings if iam near bani..maybe i will blurt it out due to emotional stress..better i will leave.
Veer:iam fine bani..and iam having a lot of works so iam leaving..bye.
Veer leaves while bani gets confused..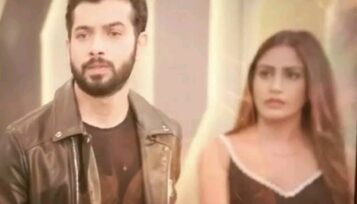 Bani in mind: why is he so behaving different? Whenever he gets a chance..he used to make fun with me and talk with me a lot but now..
She goes away thinking..
SINGHANIA HOUSE:-
Mishti calls Abir..
Abir:kon hai?
Mishti: mr.funny monkey's friend..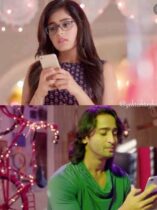 Abir gets suprised..
Abir:is it really Mishti?
Mishti:haan..
Abir:woh.. you was upset with me..how come..
Mishti:arrey..if iam upset will i be upset till i die huh? I was just upset just at that time but now iam not..
Abir gets excited and throws his pillows in excitement..
Abir:Woohoo..miss.useless universe's anger have vanished..from now i can tease her..wow..
Mishti:hey shut up..
To abir's shock the pillows hit on the running fan and gets torn and all the cotton flies..
Abir:ohh no..
Mishti:what happened?
Abir: i know you can't be so good.. though you anger passed away but your bad eye fell on me..
Mishti gets irritated..
Mishti: you…i don't know why my anger passed away..i would have been happy if i was angry with you. How dare you irritate me..mr.irritating Goenka.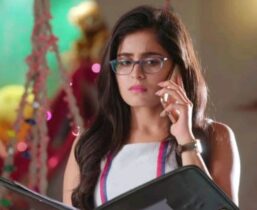 Abir:woh..i just joked as my pillows got hit on fan and torn apart due to my over happiness on your forgiveness.
Mishti laughs..
Mishti:you desrve it Mr.irritating Goenka..
Abir:hey..how many names have you kept for me?
Mishti:it depends on your actions..i will call you with any name according to your actions..
Abir:you can keep any names and whatever names you want but you are always my miss.useless universe only.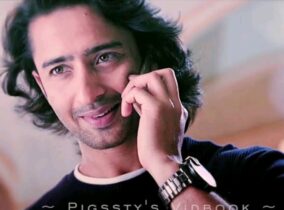 Mishti frowns..
Mishti: okk..shut up your idiotic talks and come to park where we met yesterday..
Abir:as you say madamji..
Mishti gets irritated and cuts the call..
Mishti: irritating Goenka..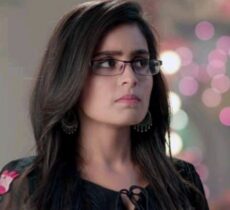 Abir smiles and goes and finally Abir and Mishti meet at the park..
Abir:hello madamji.. please have your seat..i will get you two ice creams ji..
Mishti gets angry and she takes stone and does acting like throwing on him while Abir pretends to get scared..
Abir:oye.. don't try to kill an innocent human orelse you have to spend your life in jail..
Mishti: shut up..i wont regret killing you as you are irritating me a lot..if you do it again then I'll get to yesterday's anger again..
Abir:acha..acha..iam sorry.. don't get angry. I will get you icecream..
Abir buys two ice Creams and they enjoy eating together..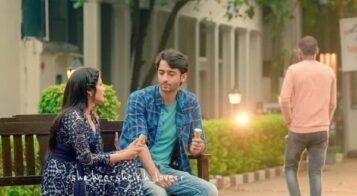 Suddenly Abir gets a call and he attends it angrily..
Abir:i told not to disturb me right neha?
Neha:if you don't come to me now near the hills..I'll jump down from this cliff and end my life. So please come..

Abir gets more angry..
Abir:you..you scoundrel..how dare you blackmail me? I already told your blackmail s won't work on me.. better do your own business instead of spoilng your time on me.
He cuts the call angrily and throws the phone in anger while Mishti gets shocked seeing his anger…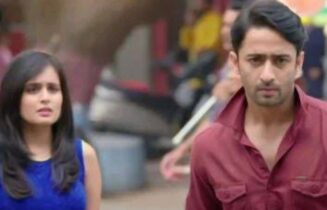 MUMBAI:-
At late evening kartik comes home after going somewhere happily and he brings some invitation..
Kartik:naira..naira..naira..
Naira comes there and suprised to see him happy..
Naira:what happened kartik? You are seemed to be very happy..
Kartik holds naira's hands and..
Kartik:haan.. actually my professor friend Mr.arvind has invited for a party kept for his daughter's success in architectural field..she have designed for more than 1000 buildings..so he have arranged party for that.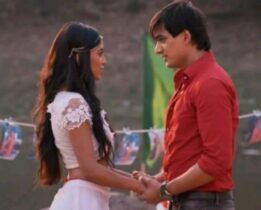 Naira: that's great..
Kartik:so..i have brought a gown for you to wear on the party tomorrow..
Naira gets suprised..
Naira:but why me?
Kartik:i told him about our marriage so he invited you also..and he knows niya too as i introduced her as friend at starting so he invited her also..
Naira gets happy..
Naira:that sounds great..then we will be going to party tomorrow..
Kartik:haan..and we will take niya too with us.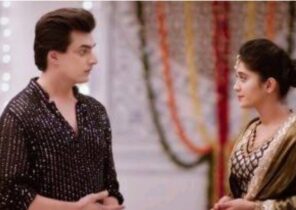 Naira:acha..
They both happily spend time afterwards..
EPISODE ENDS..
PRECAP:- Niya's true shade. Kaira's sizzling dance. Neha jumps off. Veer hallucinates bani..