Manzil GoHem GoGi RicIta SS Part 5

Warning: A non-numeric value encountered in /home/ftpusers/tellyu/public_html/wp-content/themes/publisher/includes/func-review-rating.php on line 212

Warning: A non-numeric value encountered in /home/ftpusers/tellyu/public_html/wp-content/themes/publisher/includes/func-review-rating.php on line 213

Manzil (Destination) Part 5
Sita sat near Ricky.
Sita:Ricky…why did you become so violent with that man?
Ricky:Because that guy was flirting with Maa.
Sita:Maa herself told you that he was just talking to her.Then why?
Ricky got irritated unknowingly and blasted at her:Because I don't like any man other than me talking to my mother.Only I can get closer to her.
Sita was stunned.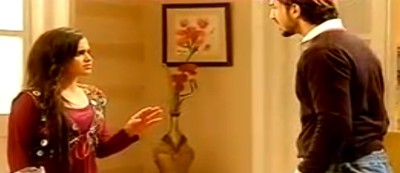 She thought:So possessive!Is'nt he over possessive about his mother?
Sita:But he was just talking..not getting closer to her..
Ricky:Talking is also like that Sita.I don't want any other man to even talk to her.
Ricky left the room in frustration.
Sita:For such a silly thing why is he behaving like this?Strange!
Ricky showed tickets to Sita.
Ricky:See…our honeymoon trip to Goa.
Sita:Wow…I am so happy Ricky.
Ricky:Sorry Sita.I can't take you abroad like your father.I can't afford it.
Sita:It's ok Ricky.It's not necessary to go abroad.We can make our honeymoon grand in India too and Goa is so beautiful and romantic.
Ricky:Thanks for understanding me Sita.
They rubbed their forehead with each others smiling.
Ricky and Sita are on Goa beach wearing beach attire.
Ricky Sita held hands together and ran along the wet sand.
Aaj phir tumpe pyar aaya hai
Aaj phir tumpe pyar aaya hai
Behad aur beshumaar aaya hai
They played in the waves.
Aaj phir tumpe pyar aaya hai
Aaj phir tumpe pyar aaya hai
Behad aur beshumaar aaya hai
He wiped the water drops from her face passionately while her eyes were on his face with passion.
Toote Toh Toote, Teri Baahon Mein Aise
Jaise, Shaakon Se Patte Behaya
Bikhre Tujhi Se, Aur Simte Tujhi Mein
Tu Hi Mera Sab, Le Gaya
He pulled her closer and romanced sensually.
Na Fikar, Na Sharam, Na Lihaaz, Ek Baar Aaya
Phir Zarre Zarre Mein Deedar Aaya Hai
Phir Zarre Zarre Mein Deedar Aaya Hai
Behad Aur Beshumar Aaya Hai
They danced in the Goa pub romantically.
Aaj Phir Tumpe Pyaar Aaya Hai
Aaj Phir Tumpe Pyaar Aaya Hai
Behad Aur Beshumar Aaya Hai


Tu hi meri awaaragi
Tu hi dua har sham ki
Tu khamakha, tu lazmi
Tu hi raza tu hi kami
Aur tu hi woh firaq hai jisko
Hai silsilo ne mere paas laya


Hothon pe tere izhaar aaya hai
Hothon pe tere izhaar aaya hai
Behad aur beshumaar aaya hai


They looked at the starry sky of Goa and chatted.
Aaj phir tum pe pyar aaya hai
Aaj phir tum pe pyar aaya hai
Behad aur beshumaar aaya hai
The resort room was filled with the fragrance of their passionate love.
Ricky's lips travelled all over her face.
Aaj phir tum pe pyar aaya hai
Aaj phir tum pe pyar aaya hai
They both jumped into the bed.Sita was on top of Ricky sharing a romantic eye lock with him.
Behad aur beshumaar aaya hai
Aaj phir tum pe pyar aaya hai
He placed her on the bed pecking her rosy cheeks.She was lost in him.
Aaj phir tum pe pyar aaya hai
Behad aur beshumaar aaya hai(Hate Story 2).
Sita realized that she was imagining romancing with Ricky in Goa during their honeymoon and blushed.
Sita blushed:I can't wait for the day we go to Goa.
Finally the day came when they planned to go for honeymoon.
Ricky saw Gopi coughing very badly.
Ricky:What happened Maa?
Gopi:Nothing Ricky.A small cough.
Ricky touched her forehead.
Ricky:Maa..this cough is not small.Guess you have chest infection.And you have high fever too.I will take you to hospital.
Gopi:No need Ricky.
Ricky:It's needed Maa.For me,you and your health are more important.Nothing is more important than your health.
Gopi looked at him emotionally.
Ricky took Gopi to the hospital.
Later Ricky came back home with Gopi.
Sita:How is Maa?
Ricky:She is not well.The doctor has prescribed some medicines n advised her to take bed rest.
Sita:Oh..
Ricky made Gopi have food with his hands and made her have medicine with water.
Then he made her sleep.
Ricky put wet cloth on her forehead
and caressed her face softly to comfort her.
Ricky went near Sita.
Sita:Ricky..our flight time?
Ricky:Sita..how can we go leaving maa here when she is sick?Sorry Sita…now Maa needs care.We will go for honeymoon later.
Sita became dull.


They heard Gopi murmuring:You both go for honeymoon.Don't worry about me.I will take care of myself.All these years I was taking care of myself alone.


Ricky:No Maa.Now the situation is different.Your son and daughter in law are with you to look after you.
Ricky kissed her forehead.
Sita:Yes Maa.Ricky is right.We won't be able to enjoy when you are sick.


Gopi was so weak that she slept off.
Sita thought:Wish Gopi Maa had'nt fallen sick.Then we would have been able to go for honeymoon.
After some days Gopi became alright.But due to hectic work schedule Ricky could not take leave and take Sita for honeymoon which made Sita frustrated.
Ricky brought a new plant home.
Ricky:See Maa..what I have bought for you?
Gopi was surprised:Wow..a new plant.
Ricky:Yes.You always loved plants.Right?
Gopi:Ya..,but…
Gopi became dull.She closed her eyes remembering a past moment.
Flash back…
Jaggi placed some plant pots before Gopi.She was surprised.
Gopi:These ones..?
Jaggi:Don't doubt Gopiji.I bought this only for you.
Gopi could not believe it:Really?
Jaggi:Yes.I know how much you crave for gardening.So as a friend I should fulfill my friend's wish.Right?I know it's just small plants.But…
Gopi:Don't say like that please.Though you did'nt buy a whole garden for me,these plants are very special for me.This is more than enough for me.I am very happy.
Jaggi:I feel very happy to see a smile on your face.
Gopi smiled.


Gopi thought:Ahemji does'nt care for my smile.He does't even like me showing interest in gardening.
Gopi watered the plant
and talked to the plant as if it's her friend.
Ahem who returned home saw it with irritation.
Ahem raised her voice:Did'nt I tell you not to do planting and all?
Gopi:But Ahemji…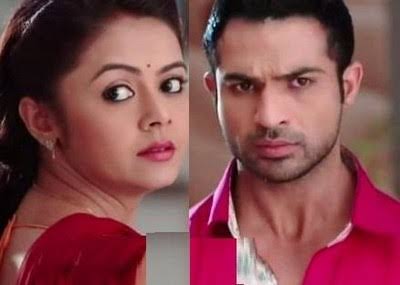 Ahem:How dare you disobey me?
He kicked the plant pots and tore the plants brutally.
Gopi cried:Ahemji…
Present…
Ricky:Maa..I know that you are thinking of your late husband who never allowed you to even touch a plant.But don't worry.Now your son is there to fulfil all your wishes.
Gopi smiled caressing his face.
Sita thought:Ricky wants to fulfill only his mother's wishes.Then what about my wishes?When his mother is around him he sees only her.He even forgets my existence.
Ricky got into the bathroom to bath to get ready to go to office.
Sita:Take bath and come.I will make break fast for you.
Ricky:No need yaar.Maa is there to make break fast.Right?She makes world's best food.You just help Maa.
Sita became dull.
Sita thought:Ricky likes only Gopi Maa's food.He is not even encouraging me to make food for him.
Sita went to the kitchen to help Gopi in making break fast.
Gopi:You know Sita?Ricky is choosy about food items since childhood.He is adamant that I should make his favourite food items daily.


Sita gave a pale smile.
Sita rang up Ishita:Ishi Maa
Ishita:How are you Sita?
Sita:I am fine Ishimaa.I just missed you.I felt like talking to you.
Ishita:That's so sweet of you Sita.I too felt like talking to you and I was about to call and talk to you.That's mother daughter relationship.
Sita was reminded of Ricky Gopi relationship.
Sita:What were you doing Ishimaa?
Ishita:I just fed your papa.


Sita:What?
Ishita:You know that your Ravan Kumar papa still wants me to feed him food with my hands.
Sita giggled:So funny.Why does he behave like a kid in front of you?
Why don't you refuse to feed him?
Ishita:Why should I refuse it Sita?It's lovely to feed our husband.Right?Love increases in such moments.
Sita smiled.
She thought:I will also feed breakfast to Ricky with my hands just like Ishimaa feeds papa..
After cutting the call Sita went to the dining room imagining her feeding Ricky.
She was stunned to see Gopi feeding Ricky with her hands.
Ricky:Maa…your hands are magical.When you feed me the food tastes yummier.
Gopi smiled.


Sita became upset.


Warning: A non-numeric value encountered in /home/ftpusers/tellyu/public_html/wp-content/themes/publisher/includes/func-review-rating.php on line 212

Warning: A non-numeric value encountered in /home/ftpusers/tellyu/public_html/wp-content/themes/publisher/includes/func-review-rating.php on line 213