Ricky embraced Gopi letting their hidden pain go.
Ricky:I wil not let you go away from me Maa.I want you.
Gopi wept:I also want you beta…
Ricky:Maa..how did you recognize me?
Gopi:I am your mother.How can I not recognize you?Seeing your eyes my heart said that it's you.
That's mother son relationship.
Ricky smiled.
Ricky:I missed you Maa.
Gopi:I also missed you every single second beta.Even though I failed to get your custody I had come to your house to visit you.
Ricky was shocked.
Gopi wept:But Ahemji didn't allow me to see your face.He kicked me out.He threatened me that if I try to visit you he will hurt you physically .

Ricky was shocked:I never knew this.How cruel he was!I am sorry Maa..though i promised that I will be always with you I was never with you.I was helpless Maa.
Gopi:Don't be sorry.I know that in childhood as a child it was'nt possible for you to search for me and come to me.But you came to me now.I am very happy.I never thought that in this life time i would be able to see you.Ricky beta..your father…
Ricky:He is no more Maa.
Gopi was shocked.Tears rolled down her cheeks.
Ricky:Maa..are you shedding tears for that cruel person?
Gopi:I have no feelings for that cruel person.But still he was my husband and the father of my son.I don't know why ..because of that connection this news affected me.
Ricky wiped her tears.
Ricky:You will never cry for him Maa.And now onwards I will stay with you in this house.That house is suffocating for me.I don't want to return there.
Gopi was very happy.
Gopi:Can I ask you something?
Ricky:What Maa?
Gopi:You are the one who sends me money.Right?
Ricky nodded his head.Gopi smiled slightly.
Ricky:How did you understand that i am the sender?
Gopi:Who else will are for me?Who else will send me money?Though you were away from me because of your circumstance I knew that your love for me will remain unchanged.
Ricky smiled.
Ricky:Once i was capable of myself I always enquired about you and knowing your financial difficulties I could not stop myself from sending you money after i got a job.I was worried whether you will reject it.
Gopi:I had rejected it in the beginning as you know.But that did not stop you from sending me money.
Ricky:Yes.I was very adamant about looking after you with my hard earned money.
Gopi:When you kept sending me money with note requesting me to accepting it I started feeling that my well wisher is my Ricky beta only.
Gopi caressed his face.He smiled holding her hand.
Ricky started staying with Gopi.He did not want to leave Gopi even for a moment as he wanted to compensate the lost moments of his childhood.He wished to spend every moment with Gopi.
Ricky bought a new house with his hard earned money and shifted there with Gopi.
Ricky brought Sita to Gopi.
Ricky:Maa..this is…
Gopi:Your beloved Sita.Right?
Ricky blushed.
Gopi:Ricky always talks about you.
Sita became shy.
Gopi:You are so lovely.No wonder my son loves you very much.


Sita smiled.She touched Gopi's feet and got blessed.Gopi kissed her forehead.
Sita's parents Raman and Ishita met Gopi and Ricky.They fixed the marriage of Ricky and Sita.
After 2 months…
Ricky and Sita got married happily.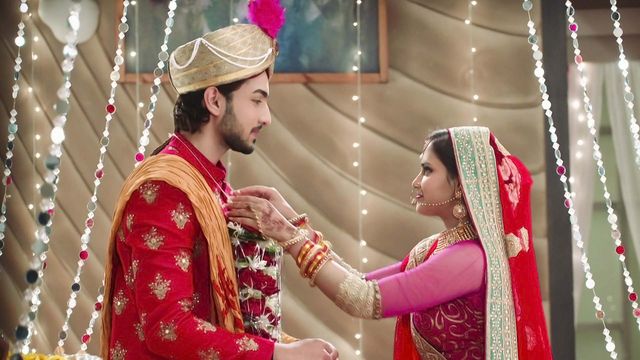 Sita wore a stylish black dress at night.


Ricky was lost in her beauty.He moved closer to her.She blushed.
Mila hoon ab jo tum se
Hai dil ko mere kasam se
Sukoon mila, sukoon mila..
He poured love on her bare shoulders.She closed her eyes.
Tujhe hai paaya Rab se,
Hai dil ko mere kasam se
Sukoon mila, sukoon mila.
They both looked at each other.
Sita:I love you Ricky.
Ricky:I love you Sita.


Har pal haseen sa huaa hai
Saanson ko tune chhuaa hai
Badhi tujhse nazdeekiyaan
Sukoon mila, sukoon mila.. mm..
Their lips met each others.
Mila hoon ab jo tum se
Hai dil ko mere kasam se
Sukoon mila, sukoon mila.. mm..
They had a passionate embrace.
Jab se juda tujhse jiya
Chain o qaraar dil ko mila (x2)
He placed her on the bed.They looked at each other with burning passion.
Jab bhi rahoon sang tere
Bhoolun har gham shiqwa gila
Tere ishq ka hi nasha hai
Their hands entwined together.
They melted in each other.
Meri rooh tak mein basaa hai
Tune aankhon se jo chhuaa
Sukoon mila, sukoon mila.. mm..
After a passionate romance they slept in each other's arms.
Mila hoon ab jo tum se
Hai dil ko mere kasam se
Sukoon mila, sukoon mila..
The next morning…
Sita woke up from the bed.She smiled seeing Ricky sleeping.
Sita:Just like Ishimaa does for papa I will also make your morning lovely with a nice tea.
Sita went to the kitchen and made tea.Then she went to the bedroom happily.
She was stunned to see Ricky drinking something and Gopi standing there and smiling.
They saw Sita there.
Gopi:Sita beta..come..
Sita went near them.
Ricky:So tasty Maa.I just love your Horlicks milk.
Gopi:You know Sita?In childhood Ricky used to drink Horlicks milk.
Ricky:When you make it's magical.That's why Maa.
Gopi:Now also he wants only Horlicks milk.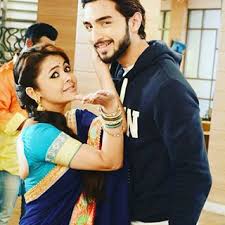 Ricky:I missed your Horlicks milk for years Maa.That's why now also I crave for it.
Ricky and Gopi giggled.
Sita became dull.
She thought:I did'nt even know what Ricky likes to drink.I will take time to know his tastes.

Sita:As a ritual I have to cook something today.Right Gopi Maa?
Gopi:Ya.You can make anything.
Sita:Ok.I will make cake.
Sita baked cake happily.
Sita served cake to Gopi and Ricky.
Gopi:It's so nice Sita.
Sita smiled:Thank you Gopi Maa.
Ricky:Your cake is nice Sita.But my favourite is the pineapple cake which Maa makes.Maa..please bake that for me.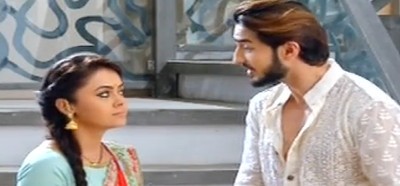 Sita became dull.
Gopi:Sure Ricky beta..I will make it specially for you.
Gopi baked pineapple cake for Ricky.Ricky was eating it like crazy.
Gopi:Sita beta..you too eat it.
Sita:Not now Maa.Actually I am dieting.
Gopi:Oh.Today's generation is diet conscious.We were not bothered about our figure and health in younger days.
Ricky:Maa..I think you add a lot of love into it.That's why your cake is the best.
Gopi caressed him softly.
Sita became dull.
She thought:I also made cake with lots of love.But my cake is still unfinished while Gopi Maa's cake is about to get over.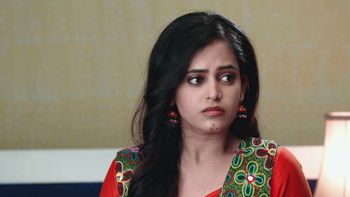 Ricky,Gopi and Sita went for grocery shopping.
The vegetable vendor asked Gopi in a funny manner:You want red red tomato..or red red apple?Or you want orange carrot or fruit orange?
Suddenly Ricky got angry and pulled his collar:How dare you flirt with my mother?
Gopi and Sita were shocked to see his violent side.
Veg Vendor:I was'nt flirting.
Gopi:Ricky..he is right.He was just talking to me.


Ricky:He had a bad eye on you Maa.
Veg Vendor:Why should I flirt with such an elderly lady?
Ricky pushed him.
Ricky:Because people like you can't even leave beautiful ladies without bothering about their age.
Gopi and Sita grabbed Ricky's hand to take him away.
Gopi:Leave it Ricky.
Ricky:No Maa.I won't leave anyone who talks to you like this.I don't like any man talking to my mother so closely like me.Only I can talk to you.
Gopi caressed his face:Ricky!
Sita was stunned.
She thought:Ricky is over possessive about his mother.He got violent with his father for his mother for a genuine reason.But now I am shocked to see this face of Ricky.For such a silly thing he got violent because of his possessiveness towards Gopi Maa.