hi friends!!. Here is the next episode 😘. Actually i have big projects this week so i will be uploading once in three or four but from next week it will be regularly uploaded🙂..so sorry for late..
Kartik is going tensedly while suwarna Stops him..
Suwarna angrily:did you shout with your dad kartik?
Kartik:mom.. actually..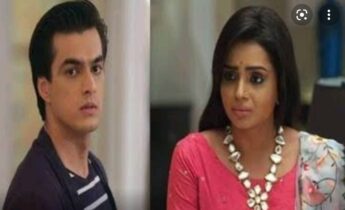 Suwarna:i heared everything..kartik. i know Manish is wrong but you are not elder than him to raise voice against him..understood?
Kartik gets upset..
Kartik:iam sorry mom..i got angry because he was praising aditya like his son that's why.
Suwarna:we still don't know why aditya is defaming naksh but one thing is sure..that naksh is not like that. He is good..
Kartik in mind:i know aditya is behind naksh to ruin his company and him..i will surely wont allow this. Now it's time to reveal his truth to mom so that i can expose him in front of everyone..
Kartik:mom..i know why aditya is defaming naksh..
Suwarna gets shocked..
Suwarna:w..why?
Kartik tells his whole truth to suwarna..
Kartik: this is the truth.
Suwarna gets shocked and she stumbles..
Suwarna:what?
Suwarna feels her head spinning and she was about to fall but kartik holds her..
Kartik:mom..are you okay? Shall i take you to room?

Suwarna steadies herself and..
Suwarna:no..need kartik. It's just because of sudden shock that's all..and i really got shocked hearing about aditya.
Kartik: do you believe me mom?
Suwarna cries and..
Suwarna:i..i.. believe you kartik. I always used to think why aditya never talks to Keerthi in phone also.. now i understood why. He..he just planned to marry keerthi only for property. How dare he..
Kartik:i know you will surely believe me mom and that's why i told you the whole truth.
Suwarna: thank god you told me.. orelse i would have ruined keerthi's life. Now we should stop this marriage and also must expose aditya before Manish.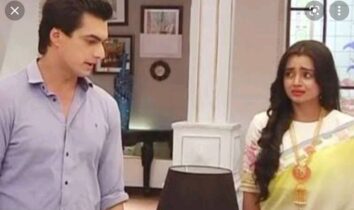 Kartik:yes..we should plan something.
Suwarna: don't worry about that.. aksharaji will help us.
Kartik:akshara aunty..i mean naksh's mom?
Suwarna:yes..she told to meet her in her house for discussing the plan but she doesn't know about Aditya's truth so i will go and tell her about aditya and we will plan together. She is expert in making things fine..so you don't take tensions and all.
Kartik smiles and hugs suwarna..
Kartik:now iam really happy because i got a hope that everything will become fine soon..
PARALLEL SCENE
Keerthi is walking on the road crying thinking about the happenings..
Keerthi in mind: why is krishnaji supporting evil ones?i..i never thought aditya is such crap..thank god i atleast got known about his reality before the marriage atself orelse..
Suddenly Keerthi hits naksh who was walking that side and naksh holds her..
Both meets with an intense eyelock..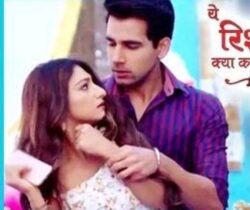 Both Breaks their eyelock and they move away..
Keerthi:i..i..iam so..sorry naksh.
Naksh:it's okay..
Keerthi:iam sorry for all the happenings.. because of me you got bad name.
Naksh:arrey..what's this?it's not your mistake at all..then why are you apologizing?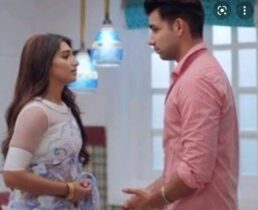 Keerthi sadly:if i tied my blouse myself then this problem wouldn't have occured.
Naksh holds keerthi's shoulder and..
Naksh: don't blame yourself.. everything is happening according to god's wish only so don't worry. I know the things will get fine soon..
Keerthi palely smiles..
Naksh:where are you going taking luggages?
Keerthi gets feared and hides..
Keerthi:a.. actually..woh..i..iam going to stay with my relatives for somedays that's why.
Keerthi tries to go from there as she fears whether naksh will find out but naksh stops her by holding her hand..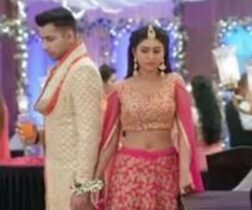 and pulls towards him and looks into her fearful eyes..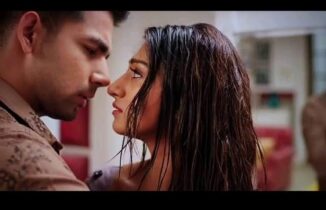 Naksh:if you want to lie..then learn to lie properly. I know you are hiding something. Your dad told that he will conduct your marriage within two days then how can he send you to relatives house at last minute? Tell me the truth..
Keerthi starts sweating due to fear..
Keerthi:naksh..woh..woh..
Naksh:tell me..
Keerthi: i ran away from my house.
Naksh gets shocked..
Naksh: what?why?
Keerthi starts to cry and..
Keerthi: because to escape from my marriage and to make my dad understood that you are good. I wrote a letter and kept so he will understand his mistakes now..
Naksh wipes her tears and..

Naksh: see..i know you will find difficult to face your marriage with aditya. But still there are two days left and we can surely make your dad understand and make things fine..so go to your home back.
Keerthi cries and..
Keerthi:my dad can never understand..even kartik fought with dad for you but dad is treating aditya like his son and he even slapped kartik for aditya. Then how can he change?
Naksh gets shocked..
Naksh:ohh my godd.. so much have happened. because of this one problem kartik and your dad relationship went to strain..i should meet kartik and apologize.
Keerthi:no..naksh. you should apologise only if you are wrong..i know about kartik. He is little temper but he fights only for right things so let it be..
Naksh:fine..but you return to your house atleast for your family's sake.
Keerthi:b..but..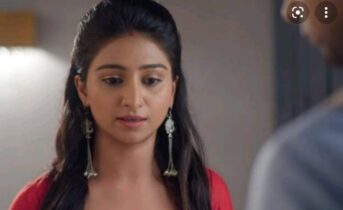 Naksh:we all are there to make things fine so don't worry..even my mom and your mom are making plan together to make Manish uncle understand so you don't worry please..
Keerthi gets suprised..
Keerthi: really?
Naksh:yes..
Keerthi:i think i took wrong decision myself..i should have talken this matter with everyone.
Naksh:leave it..now you go soon before they found you missing.
Keerthi:yes..i will go fast before mom or someone else sees that letter.ok bye..
Naksh smiles..
Naksh:bye..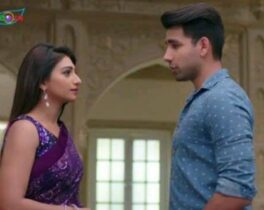 Keerthi runs towards her house..
PARALLEL SCENE:
Suwarna:ok..I'll go and check Keerthi and console her. You go and take rest for sometime..
Kartik:ok..
Kartik goes to his room and he feels his heart still worried for something..
Kartik in mind:now the things is getting fine..then why am i still worried for something?my heart is still not at peace.. but for what?
Suddenly he notices Tina standing near his balcony angrily looking at him and gets shocked..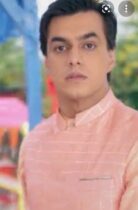 Kartik:Tina?
Tina shouts:why did you showed your anger in class today kartik?i know i did mistake but you should have told polite as iam your friend but you did not…so iam very angry on you.

She turns her face away while kartik realises his mistake..
Kartik in mind:ohh shit..what stupid work i did? because of this naksh's matter tension i showed anger on Tina..i should apologise first.
Kartik goes towards angry Tina and suddenly he hits the balcony door finding Tina disappeared..
Kartik:ouchhhh..
He sees here and there and realises that it was just his hallucination..
Kartik in mind:what type of imagination is this?iam always imagining Tina as if she is really there near me..why?. But it's okay.. atleast i realised my mistake. I will apologise to her at evening.
Kartik messages Tina to meet him at evening in mall and smiles..
Kartik in mind:i feel very happy to meet her..hope she forgives me.
Kartik jumps on the bed and he sleeps at afternoon…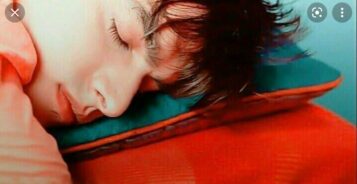 Tina pulls kartik closer and..
Tina:kartik..i love you so much.
Kartik:even i too love you my sherni..
He pulls her to bed and kisses her cheeks making her blush..

Tina shyly:kartik.. stop it.
Kartik looks her and smiles..
Kartik:iam your boyfriend so i have rights to kiss you..
Kartik sees her rose lips and comes closer to kiss her but Tina closes his mouth with her hands and nods as 'no'..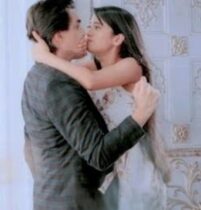 Tina shyly:kartik.. don't cross limits. I will only allow you to kiss me if you marry me..
Kartik takes her hands away and cuddles her face and…
Kartik:fine..but i won't sleep on our first night and iam going to disturb you whole night for making a condition now.
Tina notices his lips and understands it and laughs..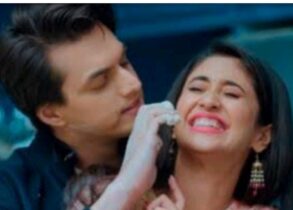 Tina:first marry me then let's see all that afterwards..
Kartik:ok but get ready to become mrs.goenka soon sherni..
Tina smiles and both of them join their foreheads together and they smile..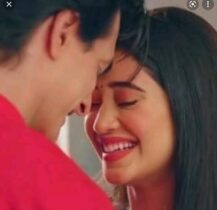 Kartik wakes up shockingly..
Kartik: what is happening with me?why am i always getting romantic dreams with Tina?i feel happy with her but why am i always getting romantic dreams?what is this sign?..
Ranveer:it's called sign of love..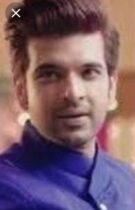 Kartik sees Ranveer near him and gets shocked..
Kartik:you?
Ranveer:yes..i came here to tell something but i saw you sleeping peacefully so i thought to leave but suddenly you got up and you are thinking about your gf..
Kartik: no..i don't have any gf.
Ranveer:then why were you blabbering something?
Kartik:i don't know..i like Tina because she is my good friend but i always feel her presence and dream about her and that's why i was blabbering.
Ranveer:you nuts.. this is called love.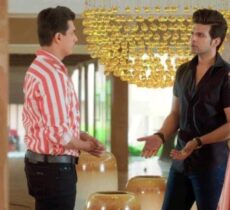 Kartik:no..how can i love such a good girl?
Ranveer:are you gone mad? everyone will love only good girls..
Kartik: this is not possible yet..
Ranveer:if you are confused then il tell you a plan to check your feelings..
1.if you love her then your eyes will get mesmerized seeing her even if she is ugly.
2.if you have feelings then your heart beats faster when she comes close but if you are just her friend then you won't feel such heart beat.
3.whenever she is happy you will also feel happy if you love her and if she is in sorrow then your heart will also goes to sorrow seeing her condition..

Kartik thinks..
Kartik: i think i should clear my confusion.. iam going to meet her today so I'll check my feeling as per your points.
Ranveer giggles and..
Ranveer:if you find that it's love then give me a treat..
Kartik stares Ranveer..
Kartik: don't expect too much then you won't get anything.
Ranveer gets up and..
Ranveer:ok..all the best for your heart test. Now i will go and you prepare for your meeting with your gf..
Kartik:stop..hey Ranveer..you came to tell something.. what's it?
Ranveer:i will tell you later. Now just focus on your girl..
Ranveer laughs and runs away while kartik smiles..
Kartik in mind: this Ranveer always teases me. Anyways he is right..i have to check my feelings.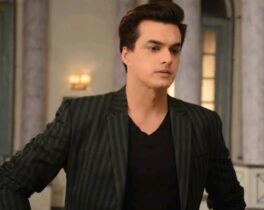 THE SCENE FREEZES.
Tina angrily sits on her room and she thinks something seriously..
Tina in mind:i should end this raghav's chapter soon before he creates more trouble.. i will put him behind bars with Niel bhai's help.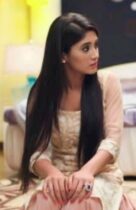 Tina takes her phone and..
Tina in mind:bhai told that he will reach udaipur within 2days so i think he will reach tomorrow…i will better message him to come soon for urgent purpose.
Tina messages Niel and suddenly she sees kartik's message..
Tina in mind: atleast kartik have messaged..i was scared whether he is really angry on me.
Tina reads the message and she gets happy..
Tina in mind:wow..kartik have called me to mall. It will be nice enjoying with kartik..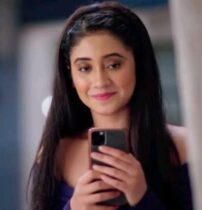 Tina gets up happily and she goes to her cupboard and selects a black gown..
Tina: always i only wear simple dress so i will wear this dress and go this time..
Tina goes and wears the black gown and suddenly Anu comes there and gets suprised seeing Tina and she goes before Tina and..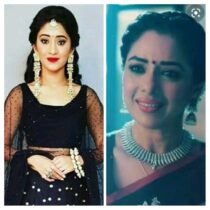 Anu:what a suprise Tina?why are you wearing a gown suddenly?
Tina notices her lips and understands it and smiles..
Tina:today iam going to mall with my friend kartik. I felt to wear a beautiful dress because i always wear only simple dresses that's why..
Anu smiles and caresses her head..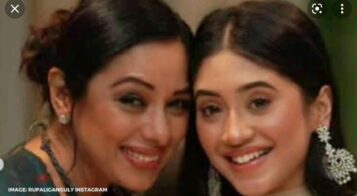 Anu: always enjoy your life like this Tina..
Tina notices her lips and understands it and..
Tina:yes maa..you know one thing..i really feel happy enjoying with kartik. He is such a nice friend for me..
Anu smiles and..
Anu in mind: finally god have sent someone to make Tina happy. Everyday she used to cry remembering her deafness but now she is happy because of him..iam really thankful to God for sending a good person like kartik.
Anu:ok..go and enjoy nicely.
Tina notices her lips and understands it and smiles..
Tina:ok..
THE SCENE FREEZES.
Mishti keeps on crying and Abir gets concerned and makes her sit on the chair and gives water..
Abir:calm down miss. Mishti.. first drink water so that you will get relaxed.
Mishti drinks water and she stops crying..
Abir:thank god you stopped crying.. orelse your water in the body would have got emptied with your tears..
Mishti sadly:sir..iam serious. I can't digest some facts that's why..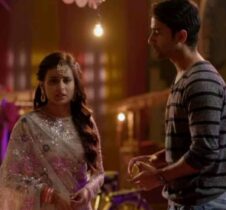 Abir:why?did doctor told anything wrong?
Mishti sadly: doctor told that they have to do surgery for my sister orelse there will be complications..
Mishti again starts to cry while Abir gets shocked and hugs her to make her calm..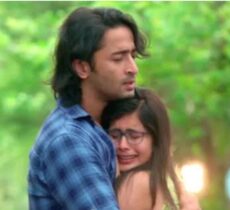 Abir:arrey..even kid is better than you. Surgery is not a big thing to get scared off..so kindly calm down. If you cry like this then who will pacify your sister?
Mishti calms down and moves away from Abir and..
Mishti:yes sir..you are right. I should be strong to convince my sister..
Abir:that's good miss.mishti.
Suddenly doctors comes there and..
Doctor:now sirat have gained consciousness so you can discharge her..
Mishti:thank you doctor..
Doctor goes while Mishti turns towards Abir and..
Mishti:i will bring my sister…
Abir:ok..
Mishti goes passing Abir but her leg slips and she was about to fall but Abir holds her immediately..
Both meets with an intense eyelock..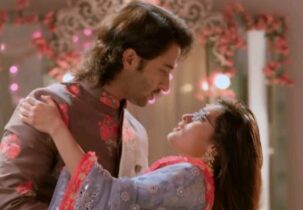 Abir makes her stand straight and..
Abir: always be careful because i will not be there always to save you..
Mishti stares Abir..
Mishti:ok..
Mishti goes to conscious sirat and holds her hands..
Sirat:w..where am i?
Mishti:di..you are in hospital. Now we will go home okay?
Sirat:Mishti..what did doctor say about my health?am i fine?
Mishti gets sad and..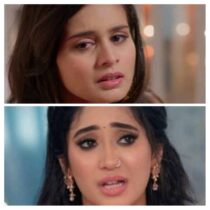 Mishti in mind:i should not tell anything now orelse di will get scared..
Mishti:you are absolutely fine di.. doctor told me to take you home. So come lets go home..
Sirat:okay…
Mishti takes sirat to abir's car and Abir drives..
Sirat confusingly:wh..who is this mishti?
Abir smiles and..
Abir:iam your crying beauty's boss..
Sirat:what?
Mishti glares Abir angrily in mirror..
Mishti:sir..
Abir:iam telling the truth. When you was incide icu..she was crying like crying queen. Her eyes was flowing with water like waterfalls..i never saw such crying girl in my life.
Sirat stares Mishti..
Sirat:still you haven't changed Mishti?
Mishti frowns and..
Mishti:sorry di.. i can change anything but i couldn't change my crying habit alone.
Abir: crying habit?
Sirat:yes..she cries for everything. Even when we buy her a new dress..she will cry for that. No one can beat her in crying.
Abir laughs..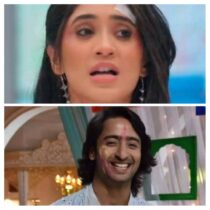 Abir:then from now..i will call you miss.cry.. am i right mishti?
Mishti stares Abir angrily..
Mishti:sir..woh..
Suddenly her home reaches and..
Abir:your destination have come..if you want to tell something then continue tomorrow.
Mishti and sirat gets down the car and..
Sirat:thank you so much for your help.
Abir:it's okay..
Sirat:Mishti..he is your boss right then why are you not thanking him?
Abir: because i have heared that crying babies wont have heart to thank anyone..
Mishti again stares Abir angrily..
Mishti in mind:this man..what a heck!.
Sirat:ok anyways..iam thanking in behalf of my sister.
Abir:it's okay..can we be friends?
Abir forwards his hands to sirat and sirat smiles and shakes hands with him making Mishti fume..
Mishti:sirat..you don't know him at all then why are you agreeing for his friendship soon?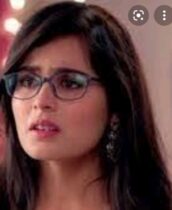 Abir: are you jealous miss. Cry?
Mishti:no..no..why will i be jealous?
Sirat:i never saw such good persons and that's why i accepted his friendship Mishti. But why are you tensed about it?
Mishti: nothing like that..iam fine only. I..i..just asked as you suddenly accepted outsider's friendship soon thts why.
Sirat:ok..
Sirat:bye mister. By the way whats your name?
Abir:iam Abir Rajvansh..
Sirat:nice name.. come to our house na?
Mishti glares sirat angrily..
Mishti in mind: why did krishnaji made sirat di attracted towards this stupid guy?..i thought to get rid of him but day by day he is coming close to me to irritate more. What a heck!!.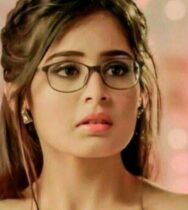 Abir:no..it's okay. I will come on other day.. now i have some works so..
Sirat:it's okay Abir. But come to our house surely one day..
Abir:ok..ok bye miss.cry..
Mishti irritatingly:sir..iam Mishti only.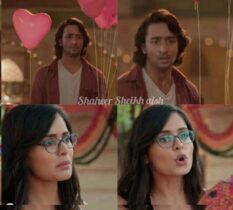 Abir:then bye..miss.crying queen Mishti..
Mishti gets more irritated and she goes from there while sirat and Abir laughs..
Sirat: i think you irritated her too much..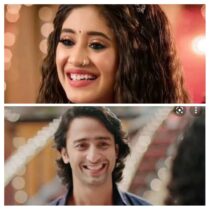 Abir:yes..i like to irritate her because it's my part of revenge.
Sirat:revenge?
Abir:yes..in flight she irritated me too much with bad words that's why.
Sirat understands that it was Abir only and..
Sirat:ohh.. so you only snored on flight that day?

Abir:what? i..i don't snore at all then..
Sirat:you may snored without your own knowledge and that's why Mishti got angry and shouted you.
Abir realises his mistake..
Abir:ohh my godd..so it was my fault only..i should first ask sorry to Mishti.
Sirat:ok..then i will send her here and you ask sorry.
Abir:no..i will ask sorry in office tomorrow.
Sirat:ok..then bye.
Abir:bye.
Both disperse from there..
THE SCENE FREEZES.
Nie and Avni are walking on road..


Avni:thank god..if..if you dint come there then..
Niel:leave it.. don't talk about past. Now be happy that finally vidyut's chapter is closed.
Avni smiles…
Avni:yes..you are right.
Niel and Avni passes an icecream shop and suddenly Niel stops..
Niel:Avni..iam so tired since we are walking more. So let's eat icecream and go..
Avni:ok..
Niel buys two ice creams and gives one to Avni and they both eat together..
After they finish eating Niel sees avni's mouth surrounded with ice cream and..
Niel:a..Avni..wipe your mouth because icecream is applied in your mouth.
Avni tries to wipe it but she wipes in wrong direction so Niel takes a tissue and he wipes it..

As Niel is closer both meets with an eyelock..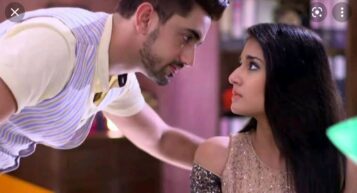 Then after wiping Niel moves away..
Niel:ok..now let's go.
Avni:ok..
Both starts going and suddenly Niel hits some lady and the lady was about to fall but Niel holds her and gets shocked seeing her face…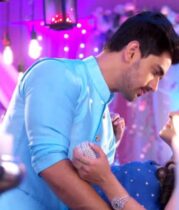 Even Avni too gets shocked seeing her..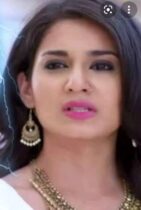 THE SCENE FREEZES.
precap: Raghav blackmails Tina. Kartik realizes his feelings. Naksh and Keerthi are shocked. Twinkle meets aly.niel and Avni are lost. Sirat fools Ranveer.