THE EPISODE START WITH……..
Vansh: riddhimaaa
Kabir smirked and then he was running towads exit. Suddenly he felt like someone pointed a gun on him. He turned to see riddhima. He was shocked. Riddhima smirked.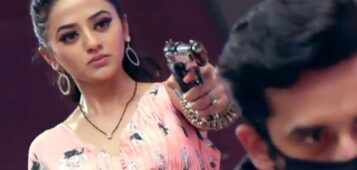 Riddhima: what happened kabir. Oh god shock laga? (Reader's ko bhi laga?)
Kabir: how is it possible. I have shooted you. You look fine?
Riddhima: well i have worn bullet proof vest. Now no more qna come with me.(She dragged him towards hall.)
Vansh was standing shocked so was sejal. But ishani was looking not shocked.
Riddhima sat on a chair and called someone.
Police camed inside and they saluted riddhima. She smiled and asked them to take kabir. They took kabir and left.
Vansh(recovering from shock): riddhima. You were shoted then also you are standing like nothing happened to you.
Sejal: why police saluted to you?
Sejal and vansh: who are you?
Riddhima: how many questions you guys ask no worry i will tell from starting. Okay listen….
Flashback starts…..
Riddhima listened to vansh's talk with angre about his past. After call ended.
Riddhima: ishani listen!
Ishani: yes say.
Riddhima: i need to catch this phycso named kabir. Help me.
Ishani: whatever you ask i will do it. Just say.
Riddhima: we need to play along with this kabir. So listen plan is i know that phycso will try to harm me. So whenever i will get chance to speak to vansh i will tell him i am underworld mafia.
Ishani: what?
Riddhima: first listen. Then he will digg out ever single information of me. I will set like this that it will show i was a mafia not dsp. (ya she was dsp)
Ishani: ok then?
Riddhima: then he will surely call you after what i will do. So you tell him that my dad forced me to join mafia. I know it's very bad that i will insult my dad and will destroy his image. But you know he never cared for us. He always used to torcher us. So there is no big deal.
Ishani: ok!
Riddhima: then rest of work is mine. Now that phycso will be dead.
Then you guys know what happened.
Main day means today in this episode.
Riddhima argues with vansh then he follows her. Then when they reach to vr mansion…..
Vansh: fine go.
Riddhima gone inside and asked angre's help…..
Riddhima: angre!
Angre: riddhima you any help?
Riddhima: yes. Listen you spread news to kabir's assistance that i am going to announce today that i will join underworld. I lnow this kabir will surely do something there. So just make sure you do it.
Angre: but…..
Riddhima: please just do this much for me and don't tell this to vansh. Ok bye
Angre noded
Riddhima camed outside…..
Then she asked for water to him. He left to bring water.
Riddhima called someone that was actually to inspector.
Inspector: jai hind mam.
Riddhima: jai hind. Now listen be ready when i will call you come inside my house. And send a bullet proof vest to temple.
Inspector: ok mam.
She disconnected and vansh camed.
Now in temple.
She reached there and seeked blessings from bappa. Then vansh got a call. Meanwhile riddhima took that vest from inspector and hid it. Then she reached hime. She left to her room. She worn it and camed down. She already spotted kabir and she smirked. Then she got shot and managed to catch kabir.
Flashback ends…….
Riddhima: plan was perfectly as per as i want. But i discovered that vansh didn't made a trust on me once again. (emotional)
Vansh: riddhima……(feeling guilty)
Riddhima: no vansh not again that you will never do this all again.
Sejal: so you are dsp not doctor?
Riddhima: i am both.
Vansh: i am sorry riddhima.
Riddhima left from there to her room.
Vansh thought to give her some time. So he left from there.
Im riddhima's room.
Riddhima was on call.
Riddhima: inspector Vijay do that kabir's encounter. He is burden on earth. He should not be alive. JAI HIND.
DONE WITH THE UPDATE. SHOCKED? IT WAS TOTALLY UNEXPECTED. TELL ME WILL RIDDHIMA FORGIVE VANSH AGAIN? IF YES EASILY? IF NOT THEN WHAT WILL HAPPEN. WILL RAGINI AVERAGE HER BROTHER'S DEATH? THERE ARE MUCH POSSIBILITIES. PIN DOWN IN COMMENTS HOW WAS THIS EPISODE. I WILL BE BACK SOON WITH OTHER EPISODE. BYE TAKE CARE.