Hai friends I'm really moved by the response given to Kaira VIVAAH. So happy to know that you all liked and enjoyed it. Here is the next episode
Kartik and Naira are having cute moments in the car as they go home
Others have reached Goenka house earlier as Kaira are being taken in a long route
Dadi: Jaldi..jaldi….they will be here anytime
Swarna: Prerna you take rest don't strain yourself
Surekha: See they have come
Swarna and Surekha perform the grahpravesh of Kaira
Abir: Welcome home bhabhi
Kartik and Naira are taken to their room to freshen up as the post wedding rituals were still pending
Kartik lifts Naira in his arms as they enter his (oh sorry sorry ) their room
Kartik: Welcome to our room Naira
Naira is exploring the room when Kartik bends down to kiss her . Just then
Abir: Bhaiya..here is…
He sees Kaira close to each other and : Ooppss…sorry sorry..I just came to give bhabhi's luggage so that..sorry
He runs out while Kartik leaves a deep sigh
Kartik: Villian of our love
Naira: Shut up Kartik..anyway I have to get changed Dadi has asked us to come down soon
Kartik: Okay okay..now I'm leaving you now
The scene freezes.
Kartik and Naira are doing the ritual where they are asked to find a ring from a plate filled with milk
Kartik holds Naira's hands
Naira (in a whisper): Kartik…everyone is here leave na
Kartik smirks. Naira relieves her hand and successfully finds the ring too
Prerna and Anurag cheer for her
Abir: Bhai. You have to obey bhabhi throughout your life
Kartik: Even if I had won this I would have done the same
Dadi: Muhurat for the nuptial night is here..is the room ready Swarna
Swarna: Yes Maa ji
Prerna and Surekha take Naira to the room. Naira blushes seeing the decorations
Prerna: All the best Naira
After sometime Kartik enters the room. He is totally smitten by seeing Naira in his bed with her face covered with goonghat
He slowly goes to her and removes the ghoonghat and gets  closer to her
Naira: Kkkaartikkk…can I remove these jewellery..they are….
Kartik: Haan..do you need permission for it
Naira goes to the dresser and is removing her jewellery
Kartik: These jewellery didn't make you beautiful..it's you who made them beautiful
Saying so Kartik gets closer to Naira.
Naira turns red in blush.
Kartik suddenly goes on his knees.
Kartik: Naira this night is special for both of us. On this special moment I promise you that I'll always be by your side. You will always have my shoulder to cling onto under any situation…
Naira: Kartik..I too promise you that I'll be a partner in all your feelings. You will have my lap to lie on and share anything.
Kartik: Of course because you are the only person who will listen to all my tar tars without judging me
Naira: Definitely. I'll also promise you that I'll put in all efforts to keep our love evergreen despite growing responsibilities.
Kartik: I promise that I'll always admire you the same way I did earlier.
Kartik looks at the time and is shocked.
Kartik: I think we have promised enough..it's pretty late
Naira: Why..is my mendak sleepy
Kartik: Naahh…you know something I drank plenty of black coffee from yesterday night for the sake tonight
Naira blushes.
Kartik slowly turns her around and hugs her from behind. Naira could feel his breath near her ears.
She gets redder in shyness.
Kartik slowly kisses her.
Kartik lifts her in his arms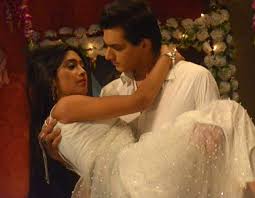 and takes her to the bed
the lights go off as Kaira unite in matrimony.
It's next morning. Anurag and Prerna are travelling in their car to the hospital for her checkup.
Samarth is following them in his car
Samarth: I think it's the right time..to do this
He hits Anupre's car with a bang. The car leaves the road as it loses control and ends up dashing on a tree. Prerna gets hurt and is unconscious
Anurag: Prerna….Prernaaaaaa
He calls the ambulance. The episode freezes.
PRECAP: WHY DID SAMARTH HIT ANUPRE❓