Hai friends Here I am with next episode. Please keep commenting and supporting. Thank you so much for all the support.
Episode starts
Anurag leads Prerna inside the hall
Abir: Bhai..you left us to get bhabhi right
Kartik: Abir..we have to learn this from our bhai
Abir: Learn what
Kartik: How to care for a wife
Abir and Kartik giggle. Anurag and Prerna turn red
Dadi: If your brother masti is over can we start the rasam
Naira is brought to the centre of the hall and made to sit. Swarna goes to apply mehendi to her
Swarna: I'm so lucky to have such a daughter in law.

Prerna comes near Naira
Memories of Prerna writing Kartik's name on Naira's hand flash.
Naira blushes.  Prerna takes the cone and holds Naira's right palm and makes it flat.
Prerna: See my hands are dry now , I'll write it for you. You see I'm your co sister that means Kartik's bhabhi. In our families bhabhi is called another maa. For a dulhan it is her saas who puts mehendi first. But in our case this bhabhi is writing her devar's name on your hand..maa herself will decorate your hands with mehendi and that day is not far.
Reality
Prerna: I told you na..this day is not far..and here it is…
Mishti gets on dance floor
mehandi rachan lagi hata me banade re naam ri
aai shubh ghari dekho mhare aagan aaj ji…..
baje baje re shehnai , dhola thare naam ri
aai shubh ghari dekho mhare aagan aaj ji….
mehendi rachegi geheri pyar gehera hoga, lal khushhal rang sang tere hoga
mehendi rachi he surangi banna thare naam ri
aai shubh ghari dekho mhare aagan aaj ji…
bhul na jana hame jake sasural tu, tadpegi mamta meri aayegi yaad tu
beti he paraya dhan parata hi jana, duniya ki rasamo ko hame he nibhana..
KARTIK IS MESMERISED SEEING NAIRA
bichhiya baje payal chanki, bannare naam ri
aai shubh ghari dekho mhare aagan aaj ji…
mehendi me naam hamne kiska likha he, padake bata o ji kiska likha he
gore hatho me saji he preet thare naam ki
aai shubh ghari dekho mhare aagan aaj ji…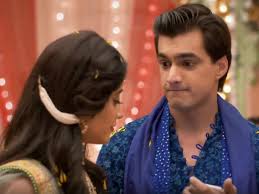 As other ladies sit for their mehendi Akshara is going somewhere she overhears
Naman: Hey idiot what did I ask you to do and what did you do..atleast this time do it properly
Suddenly lights go off.
Everyone is tensed. They hear a loud sound..Kartik fears the hoodie guy and goes near Naira. He stands near her with his arm around her shoulder.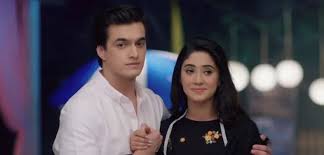 Lights are on and : SURPRISE
Naitik: Yash..Rose…
Everyone notice how Kartik is standing near Naira..they also see Anurag close to Prerna
Naman : What happened my dears
Kartik: We thought that it was the hoodie guy
Yash: Then nothing wrong in what you thought
All are shocked
Yash: Because it was me
Naman: Bechare..got scared for a prank
Naman , Abir, Akash,Vikram , Yash and Rose laugh
Anurag and Kartik in unison: PRANK.. 😱😱( 😁😁Sorry guys it was prank)
Yash: Haan
Flashback
On sangeet day Yash calls Naman
Yash: Mamu I'm coming to the function
Naman: Am I Dreaming
Yash: No Mamu..I left India as Maa and Dadi didn't accept Rose..but I can't miss my sister's wedding for that and moreover we have lost a lot of time already
Naman: Great
Yash: But,..
Reality
Naman: As you all know How big prankster Yash is..so
Yash: We planned our entry on sangeet itself
Abir: Myself and Vikram bhai spoiled it
Naman: So we made them a part too
Kartik holds Abir closer and : Acha bachu..that's why you kept calm when Abishek got hurt
Anurag: Vikram is a great actor
Naina: Akash..you too
Akash: I swear I didn't know it when Vikram came hurt,,it's only when I probed in
Naman: We made a part of the plan..it's been so long since myself and Yash pranked
All laugh. The scene freezes.
As everyone is busy with dinner..especially with men feeding women Kartik and Naira sneak out
Kartik searches for his name in Naira's mehendi and
Kartik: Yeah….hey… I found it
Naira: Good
Kartik: I need my gift
Naira: What gift
Kartik: Don't act smart my miss..I need a kiss
Naira: Miss only for 2 days then I'm mrs
Kartik: Joke thaa
Naira: Nahi fact..
Kartik makes a puppy face..Naira kisses him
Meanwhile Prerna is struggling as her blouse rope gets undone. Anurag comes there and notices this.
He ties the rope.

Prerna: Anurag..aap
Anurag: Its a husband's duty dear
Prerna smiles
Yash and Rose are pampered by Akshara and Karishma
Abir is feeding Mishti.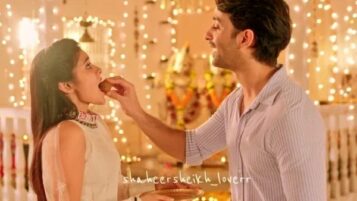 Naina and Akash are arguing over something silly.
Vansh dozes off in Naina's lap
Rishab and Neha are in selfie world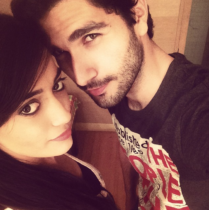 Viren is feeding Jeevika and Sara
PRECAP: SAMARTH IS OUT. KAIRA HALDI
HEY GUYS DO TELL ME HOW YOU LIKED THE WAY THE HOODIE GUY TRACK TURNED OUT IN THE COMMENTS BELOW.