Hey friends sorry for the delay. Some network issues due to Cyclone Nivar and data issues. Thank you for commenting and supporting.Please keep supporting. Let's go to episode now.
Naira: Farmayiye huzoor
Kartik: Itna mat tadpayiye na jaaneman
Naira: Kartik…just 2 hours ago you dropped me home
Kartik: Naira…college is closed for next whole week how will I be without seeing you
Naira: Acha ji..then kidnap me and take me with you
Kartik: Not a bad idea Naira
Naira: Kartik….shut  up you need not kidnap me..I'll come if you call me
Kartik: Acha then tomorrow I'm taking you out
Naira: Done
Kartik: I'll make plan for it..good night
Naira: Good night
Karik disconnects the call and gets excited for their outing. The scene freezes.
Jeevika makes Sara sleep in the cradle and rushes downstairs to help Maa. She feels dizzy due to lack of proper sleep. She falls down from the stairs.
Maa: Jeevika
Maa rushes to Jeevika who has bruises on her face.
Maa: Viren…Viren come soon
Viren rushes to her and lifts her in his arms.
Viren takes her to the room and makes her lie down
Viren: Jeevika..what happened
Jeevika: Don't know Virenji I felt dizzy and before I could manage myself I fell down
Maa: Jeevika..along with Sara you must take care of yourself Too
Maa hands over the medicines and goes down. Viren sits near Jeevika tending to her. His eyes get wet seeing her hurt.
Viren: Jeevika..women sacrifice a lot to bring up their children..but credit of baby's every good act goes to dad ..this is so unfair
Jeevika: Virenji why are you telling all this
Viren: Thats because I have realised your struggles . From now we will share the responsibility..you will get your rest and sleep time during which dad will take care of his princess
Jeevika smiles as Viren kisses her. The scene freezes
Scene shifts to Jaipur. Mishti and her college mates have reached there just then
Diya: Wow Mishti..such a nice place
Mishti: Haan…but
Diya: But what
Mishti: I miss Abir
Diya: It's just few hours since we left…
Mishti: I know still
Just then they reach the hotel where they are supposed to stay. After getting fresh they set out for their first site visit.
In the crowd Mishti feels someone very close to her. She is shocked to see Virat standing very close to her
Virat: Hey sweetheart
Mishti: You….here…
Just then Diya pulls Mishti by her hand.
Mishti is scared to know that Virat is following her everywhere. The scene freezes on Mishti's scared face.
Anurag and Prerna are in his cabin.
Prerna: Anurag..i still feel we are taking a big risk in this matter..let's talk to Sid and Komolika and sort the matter out
Anurag: But Prerna…
Prerna: Anurag…I can't act anymore..I really love you so that I can't even lie about hating you
Just then Komolika comes near the door and she decides to eavesdrop their conversation and stands with her ears close to the small slit in the door
Anurag: Prerna..understand the situation
Prerna: My love for you will not let me understand anything…I really love you and that can't be changed
Komolika turns psychic
 on hearing this. Komolika in mind: This Prerna is mad..Anurag loves me but she is blabbering something..I thought Sid will attract her..but this idiot is doing nothing. Total waste..I must train him now..ho Anurag how much should i do to make you confess….
Scene shifts to a park where Kartik and Naira are enjoying themselves.
Kartik holds Naira closer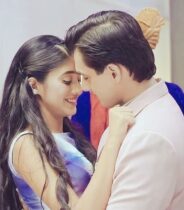 Naira: Kartik…it's a public place…someone will see us..leave me..
Kartik: Let them see..you are mine and then why should I fear about them
Naira: It's not fear budhu..atleast have some sharam
Kartik: Acha…my Sherni is getting shy..
Just then Rishabh comes there and seeing him Naira pushes Kartik away
Kartik frowns.
Naira: Hey Rishabh..
Rishabh: Hello
Kartik's phone rings and it is Vikram
Kartik: Naira you talk with Rishabh I'll be here in sometime.
Rishabh has a huge smile as Kartik leaves
Rishabh: Naira…it's been long since we spent time alone right.
Naksh calls Naira .
Naira: Rishabh…I'll be here in a moment.
Naira goes with the mobile near a tree there.  The call disconnects and she feels someone touching her shoulder. Within seconds someone embraces her
Naira realises that it's Rishabh
Naira: Rishabh….what are you doing leave me…
Rishabh: I won't hereafter Naira..but please don't leave me…I know you love me and I love you too..it's my mistake to have left without telling anything but that doesn't mean you can leave me for Kartik…
Naira: Rishabh leave me…
She tries to push him away..but his hold gets stronger with every try..
Kartik who comes there sees this and gets angry . Naira finally manages to push Rishabh away.
Kartik gets to Rishabh and slaps him hard
Kartik: How dare you misbehave with my girl…
Rishabh: If this is misbehaviour then what you did was too
Kartik: What do you mean
Rishabh: When you hugged too Naira was asking you to leave her.
Kartik: Are you nuts Rishabh
Rishabh: Its you who is nuts Kartik..Naira loves me..only in anger she thinks she loves you and asked me to leave her
Naira: Shut up…Rishabh..you are just my friend..the only guy in this world who has the right to my heart is Kartik..I love him like hell. Understand it
Rishabh: Naira.you don't have to act like this in order to take revenge from me
Kartik raises is hand in anger. Naira hugs him
Naira: Kartik..you don't lose your cool please..no one needs to certify our love. . Please stay cool Kartik…for my sake
Rishabh: See now also Naira is supporting me.
Kartik stares at Rishabh. Naira pulls Kartik away from that place. The episode freezes.
PRECAP: RISHABH's MADNESS. SID's MISSION LOVE. MISHTI IS SURPRISED.
HEY GUYS DO TELL ME YOUR VIEWS ON THIS EPISODE IN THE COMMENTS BELOW.