Hai friends Thank you so much for your comments and support. Please keep supporting. Let's go to episode now.
Its a fresh morning. Singhania house is shown. Rishabh comes there. Naksh is too excited to see him
Naksh: Rishabh…how are you
Rishabh: I'm good Naksh bhai..
Naksh: Yeh hai meri biwi Keerthi
Rishabh: Namaste bhabhi
Rishabh and Naksh get seated. Naira comes down the stairs dressed in a red top and blue jean. Her hair is set up as a tall ponytail.
Rishabh is excited to see her.
Naira: Hai Rishabh Hai bhai..bhai I'm leaving for college tell Maa..

Rishabh: Can I drop you Naira
Just then Kartik's bike horn is heard.
Naira: No thanks Rishabh
Naksh: Jaa jaa Teri Kartik aagaya
Naira smiles broad as she goes towards the bike. Rishabh looks upon with hatred in his eyes
Rishabh in mind: Whenever I plan to get close to my Naira this Kartik comes as a Boulder..my absence only made Naira think that she is in love with you Kartik..but now once I'm back I'll separate her from you and keep her for myself.
Meanwhile Kaira are going in bike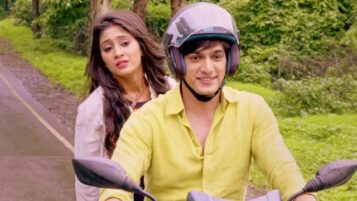 Kartik: Lagta hai Rishabh is very close to you
Naira: Haan Kartik he was our neighbor and schoolmate and childhood friend of me and bhai. Bhai had a nice cricket bonding with him
Kartik: Acha..waise Naira do you mind going out with me today after class
Naira: Will I mind going out with you..Huh..all my time is yours because I'm yours
Kartik kisses her hand. The scene freezes.
Scene shifts to a cafe. Jeevika is meeting Sid there
Jeevika: Sid…listen to me you are misguided..I don't know who told you but that was just a truth or dare game where the question was did Prerna hide anything from me and the Answer was your letter that's it..she didn't even mention your name.
Sid: If not..how would Komolika trace me and ask me to help her save the lives of Prerna and Anurag from a forced marriage and join them with people they love..
Jeevika: It isn't a forced marriage Sid
Sid: Oh fo Jeevs after marrying Viren you are more of bhabi and less of friend that's why you are justifying it..see Prerna loves me and I love her that's it..she is mine don't interfere between us
Saying this Sid gets up banging the table and storms away. Jeevika is confused on hearing Komolika's name. The scene freezes.
Scene shifts to Mishti's college. She is in the canteen scrolling through her phone. She gets a message from an unknown number
Message: Hai Mishti
Mishti: Who is this
The person sends some pictures of Mishti taken during the hike and some pictures taken outside her college.
Mishti is shocked. She calls Abir.
Abir: Hey Mishti…
Mishti: Aaaabbbbbiiirrrr(her voice shakes)
Abir: Mishti what happened..is everything alright
Mishti tells him the happenings
Mishti: I told you nah…someone is following me but you didn't listen..now see..he has sent my pictures to me….
Abir: I'll be there in 10 minutes . Don't panic
After 10 minutes Abir rushes there. Mishti is sitting in a bench and crying in fear
Abir sits near her. She leans her head on his chest and weeps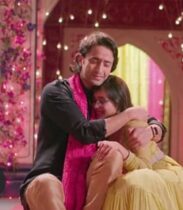 Abir: Mishti..we will trace out who it is
Mishti: Abir..
Abir: Dont get afraid..When I'm with you no one can even touch you..don't worry
Mishti Looks up into his eyes. The episode freezes.
HEY FRIENDS DO YOU WANT ANY PARTICULAR ACTOR TO PLAY SID AND THE STRANGER FOLLOWING MISHTI..DO TELL YOUR OPINION ON WHO SHOULD BE FEATURED IN THE CHARACTERS IN THE COMMENTS BELOW. DONT FORGET TO TELL YOUR VIEWS ON THIS EPISODE.