Love Makes Life Beautiful Episode 51
Hai friends thank you so much for your wishes for 50th episode. Please keep supporting through comments. Let's go to episode now.
The episode starts by showing Anupre's room. Prerna is sitting gloomy in her room looking at the clock. The clock shows 11:40
Prerna: People at mom's house are busy with the welcome of the baby…this yr is my first birthday here Anurag will be away too…what a grumpy birthday.
Times goes on its 11:57. She hears a knock on the door. Prerna goes to open it and sees Abir standing there
Prerna: Abir…what happened.
Abir: Bhabhi…come down na….it's urgent
Suddenly Kartik comes there and blindfolds her
Prerna: Kartik…Abir…what are you doing
Kartik: Shsh..bhabhi…you will know it in few minutes come with us
Prerna in mind: Atleast they are celebrating my birthday….even if Anurag doesn't remember
They reach the hall. Blind fold is removed and the hall is dark
Prerna: Kartik…it's dark anyway why did you blind fold me
Suddenly lights are on.
Anurag: Tada….
He brings in a cake trolly
Everyone: Happy birthday to you…happy birthday to you Happy birthday Prerna..Happy birthday to you
Prerna is too happy to see Anurag there.
Abir brings the laptop with video calls on. Naira,Mishti are on a call from home while Viren Jeevika are on a call from hospital ,Maa and Papa are on a call from their home and Naksh and Keerthi are on a call. They wish Prerna
Prerna gets teary eyed. Kartik takes her to cut the cake. She cuts the cake and feeds Anurag. Everyone dance and enjoy. Scene freezes.
Anupre are in their room. Prerna doesn't speak to Anurag and walks to her side of the bed.
Anurag holds her hand and stops her
Prerna: Don't talk to me…
Anurag: Arrey it was just a prank nah yaar…sorry
Prerna: I thought that you
Anurag: Forgot your birthday…how did you think like that…is that how much you know me
Anurag leaves her hand . Prerna turns to him and rushes to him. She hugs Anurag from behind
Prerna: I am sorry too..now don't ruin my day by being angry
Anurag smiles and pulls her in front of him
Anurag: Tumhara birthday mereliye bohot kaas hain…even I don't want to ruin it
He kisses Prerna and then turns the lights off. The scene freezes.
A week has passed by and Vadhera house is shown. It's NAAMKARAN of  VIRIKA's daughter
Viren goes to Jeevika who is struggling with her dress and the baby. He gets the baby from her and helps her
Jeevika: Atlast the day has come to name our cute princess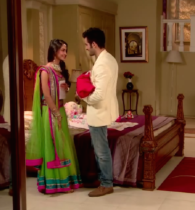 Viren to the baby: My princess you are going to be named by your pyari bua
They hear voices calling them and go down with their princess
Prerna is called for naming the baby. She names the girl Sara. Everyone love the name and rejoice the celebration .
Scene freezes on the happy faces of Viren Jeevika and the baby.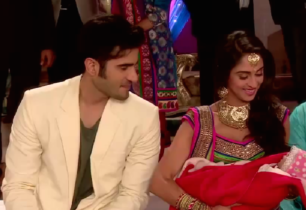 Scene shifts to Kaira's college. Naira and her friends are sitting in front of the Physiology department after lunch break for next practical class. Tara and her friends come there and give them a set of notebooks
Tara: Hey juniors complete these notebooks by tomorrow morning 10 am
Megha: But why should we
Tara: Because it's our order
Naira: Hello you must do your records why are you giving us
Priya: How dare you raise your voice against a senior
Naira and Priya get into an argument. Using this Tara slaps Naira.
Naira slaps her back. Kartik comes there with Vikram and Varun.
Vikram: Hey what's going on
Megha tells them the happenings
Kartik gets angry and raises his hand to slap Tara
Naira: Kartik she slapped me and I slapped her back…you don't get into trouble by slapping her now
Kartik: Tara will you never change..I have already warned you to stay away from Naira
Tara: Kartik…it's Naira who started the argument and insulted Priya that's why
Varun: Oh shut up Tara…giving records to juniors is a form of ragging and you very well know the punishment for it
Vikram: Naira Kartik you both go away..we will handle these girls…
Naira drags Kartik away from  the crowd.
Naira: Kartik….you get angry soon..anger is on your nose
Kartik: If anyone thinks of touching you even I will not spare them
Naira: Itna Pyar
Kartik: Naira..if you see yourself from my perspective you will know why I love you so much and you will fall in love with yourself
Kartik pulls Naira closer
Naira: Kartik its college
Kartik: So what let everyone see our closeness and burn with jealousy
What Kartik said was very true. Tara sees Kartik and Naira's closeness and is indeed burning with jealousy.
Kartik kisses Naira.

Naira sees the watch and: OmG I'm getting late..I'll go Kartik…bye…
Kartik: Arrey give me a kiss and go
Naira: Keep it in reserve I will give back with interest later
Saying this she pushes him and runs towards her lab. Kartik smiles sheepishly at her cuteness. The scene freezes.
Scene shifts to a bus stop near Mishti's college. Mishti is waiting for bus. She hears a bike horn and turns to see Abir there. She tells excuses to her friends and runs to Abir.
Abir: Aaaram aaram se….
Mishti: Why did you come here (panting hard)
Abir: To buy this bus stop
Mishti stares at him
Abir: Aur kya it's kinda obvious that I came to see you…I'm  it lucky like bhai to have you in my college
Mishti: Acha…ok go now…my bus will come
Abir: I will drop you home
Mishti: Abir..our love isn't public yet
Abir: Let me shout it aloud and make it public
He is about to shout when Mishti shuts his mouth
Their eyes lock. After moments Abir removes her hand from his mouth and goes on his knees.
He give her a flower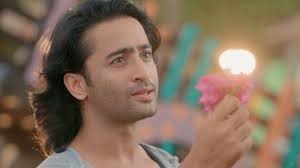 Abir: I love you Mishti
He takes out a gift from his bag
Episode freezes.
HEY GUYS DO GUESS WHAT GIFT WAS GIVEN BY ABIR TO  MISHTI IN COMMENTS BELOW. DO YOU WANT ANY TWIST AND TURN IN THE STORY OR DO YOU WANT IT TO GO IN A SMOOTH ROMANTIC WAY…DO TELL THAT TOO IN THE COMMENTS BELOW. AND DONT FORGET TO TELL YOUR VIEWS ON THIS EPISODE IN THE COMMENTS BELOW.