Love Makes Life Beautiful Episode 50
Hai friends Here is the 50th episode. Thank you so much for helping to reach this milestone. My hearty thanks to everyone who reads this ff and special thanks to every comment here for motivating me to keep writing. Thank you friends. Let's go to the episode.
Jeevika is in the labour room and Viren is with her. He holds her hands as doctor assists her to deliver the baby. Viren's eyes are wet seeing Jeevika in pain. Finally Jeevika delivers the baby.
Doctor: Congrats Mr and Mrs Vadhera it's a girl
Viren looks into Jeevika's eyes as it gets moist in happiness. He sits near her and kisses her on her forehead.

The doctor gives the baby in her hands. Viren puts his arm around and they admire the baby.
Jeevika: Virenji…our…our…
Viren: Our daughter…Thank you Jeevika for giving me such a happiness in my life
Jeevika: Thank you for being with me…during delivery
The nurse gets the baby for a wash and for vaccination.
After sometime nurse hands over the baby to Viren.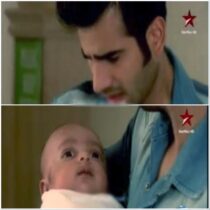 He gets emotional when he holds his daughter for the first time.
Tears role down his cheeks. He slowly takes the baby out to the families.
Viren: Maa…Prerna…it's a girl
Maa: Arrey Waah…ghar mein Lakshmi aayi hai.
Everyone get happy. Maa gets the baby in her hand first. Then Prerna and Anurag hold the baby and feel happy. Just then Kartik and Naira rush in
Kartik: Sorry we changed and came to see the baby…we are late
Naira: Aww…cute
She runs to Prerna and sees the baby. Prerna gives her the baby. Kartik and Naira hold the baby and get excited about it. Mishti stands there staring at Abir. The scene freezes.
Scene shifts to the Singhania house. Kartik and Abir come to drop Mishti and  Naira.  Naira senses that Mishti wants alone time with Abir and pulls Kartik out with her.
Abir: Seems like I must wait here till bhai comes.
Mishti: Haan…. Abir…I will get fresh and come…
Abir: Oh sure.
Mishti runs up to her room. She gets the red gown and wears it. She comes down. Abir laughs at her.
Abir: Arrey itni raat mein why are you wearing a gown…hmm..you are Cinderella right going to ball at night
Mishti: Kind of that…Cinderella waiting for her Rajkumar and has dressed up for him.
Abir: Acha who is that
Mishti goes down on her knees.
Mishti: It's you
Abira: Mishti stop kidding
Mishti: Arrey I'm not kidding…Abir I love you…I love you a lot
Abir: Mishti…I love someone else…
Mishti turns upset.
Abir: I love a girl who is so bubbly and talks reality and doesn't live in dreamworld…her name is Mishti Singhania
Mishti: What…..
Abir lifts her up.
Abir: Arrey Mishti you could have just told me I love you Abir…that's you..that's the girl I love…I don't need any dream proposal where you dress like a princess and go on your knees like a fairy tale to propose me
Mishti hits him
Mishti: You scared me
Abir holds his ears in apology. Mishti turns away. Abir goes to her and hugs her from behind.
Abir: I'm sorry…please maan jao…I don't want my silly nature to ruin our proposal memory
Mishti: Duffer…BFF was right…if I hadn't proposed you would have never told me nah
Abir: I actually was planning to propose you soon…
Mishti: Lie…
Abir: Sach yaar…I love you…it's true
Mishti turns red as Abir whispers I love you in her ears.
Abir slowly turns her around and looks into her eyes.
Abir: Mishti….I never expected that you will propose me first….though I didn't propose you first…my love is strong….I promise that I will love you endlessly till my last breath
Abir spins Mishti around holding her hand.
He slowly sways in a rhythm and lifts her in his arms
They cherish their moments of love.
The scene shifts outside. Kartik and Naira are in the garden of Singhania house.
Kartik: Hope Mishti and Abir get together like us
Naira: They will definitely
Just then they hear a thunder and it's starts to pour down heavily. Kartik and  Naira get shade under a tree.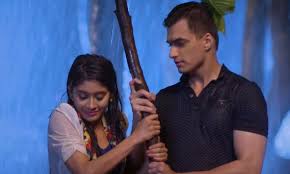 Kartik admires Naira enjoying herself splashing the rain water.
Suddenly a frog jumps near her and Naira holds Kartik in fright. Kartik puts his arms around her and comforts her.
Kartik: Naira….you love a frog Prince..yet you are so scared of a frog…Sherni fears a frog..but it's good I got a hug
Naira: Nothing like that..it came suddenly so I got a bit scared…
Kartik : Like my sudden entry into your life and you got scared on first encounter
Naira: Aii..I was never afraid of you…
Saying this Naira stamps hard on a stone and hurts her leg. She shouts in pain. Kartik lifts her in his arms.
Kartik: Naira…you are never careful and always hurt yourself and thus hurt me…be careful na jaan.
Naira: Kartik..let me down first
Kartik doesn't listen to her and takes her towards the front door. He makes her sit on a chair near the door and tends to her foot.
Naira: You spoiled our first rain romance…
Kartik: You are bleeding…I can't risk
He slowly wipes the blood oosing out and takes the first aid kit form the car and medicates her foot.
Naira:  Baarish dance with you would have been so romantic
Kartik: Achaa..
He takes her back to the rain. Parallel sequences are shown…Mishbir inside the house and Kaira in rain have a romantic dance.
Tumhein baarish bada yaad karti hai
Tumhein baarish bada yaad karti hai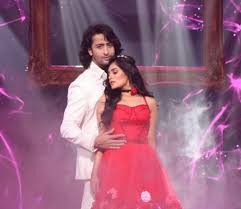 Aaj bhi mujhse teri baat karti hai
Tumhein baarish bada yaad karti hai
Tumhein baarish bada yaad karti hai
Aaj bhi mujhse teri baat karti hai
Tumhein baarish bada yaad karti hai
Woh pehli nazar woh chehra tumhara
Jab aankhon se tumko tha dil mein utara
Woh pehli nazar woh chehra tumhara
Jab aankhon se tumko tha dil mein utara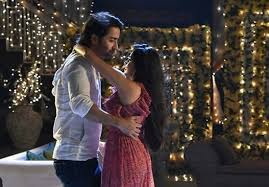 Main bhoola nahi hoon panaahon ko teri
Woh jismein tha maine zamana ghuzara
Bichhadne se pehle tera
Woh mujhse lipat jaana
Woh bebas nigahein meri
Ab tak fariyaad karti hain
Tumhein baarish bada yaad karti hai
Tumhein baarish bada yaad karti hai
Aaj bhi mujhse teri baat karti hai

Tumhein baarish bada yaad karti hai
Plays in the background.has
The scene freezes on the happiness of the couples.
It's next morning. Singhania family is at the dining table. Naksh rushes down the stairs in a good mood.
Naksh: Maa..Papa I have a good news for you people
Akshara: What's it
Naksh: Krishna has got a very great order…it's for one of the biggest functions in town
Mishti: Wow
Naira: Congratulations bhai…
Akshara: All credits to Keerthi for motivating Naksh
Naksh: True Maa..and it's your blessings…Chachu and chachi' prayers..Naira and Mishti's love and wishes
Naman: And your hardwork…that's very important beta
Keerthi: Naksh literally worked very hard.
All feel happy . Keerthi goes to the kitchen while Naksh follows her
He holds her close to him.
Keerthi: Naksh..everyone is sitting out…
Naksh: So what you are my wife
Keerthi blushes as Naksh gets closer
Naksh: This was possible because of you…thank you..I love you
Keerthi: I love you too
Scene shifts to Kashmir. Naina and Akash are in Kashmir for a trip to enjoy their victory and Naina's recovery. They are approached by AKASH's local friend for a help in an investigation.
Naina: Seems like we fall into something always
Akash: What to do…but if you don't want to
Naina: Akash…I enjoy such things with you and I will love it
They share  hug and proceed to the crime site.
Scene shifts to Goenka office. Anurag is in his cabin. He looks at the calendar and remembers something.
Anurag: Arrey Anurag how did you forget this….it's Prerna's birthday tomorrow …I must plan a surprise…
He decides something and calls Prerna
Anurag: Prerna I'm going to Delhi regarding a work..I won't come home tonight
Prerna gets upset but doesn't show it
Prerna: I'll send the luggage through the driver.
The scene freezes.
PRECAP: PRERNA IS SURPRISED. ITS NAAMKARAN OF VIRIKA's BABY. TARA CREATES TROUBLE. ABIR GIFTS MISHTI.
HEY GUYS PLEASE DO TELL YOUR VIEWS ON THIS EPISODE IN THE  COMMENTS BELOW.